The ATE HHV Gen 2 Ballistic Helmet from Hard Head Veterans is an NIJ-tested ballistic helmet at a price that will not break the bank. The helmet has the features you'd want from a helmet whether it's for duty use or personal protection.
The first thing to talk about, of course, is the helmet's protection. If you are paying the money for a ballistic helmet, you probably want to know how well it stands up to certain rounds. Hard Head Veterans makes this information readily available on their product page. You are able to look at even the most minute details recorded during their testing. Things like the helmet color, the temperature during the test, the humidity, the size of the helmet, the exact weight of the helmet tested, and so on is covered.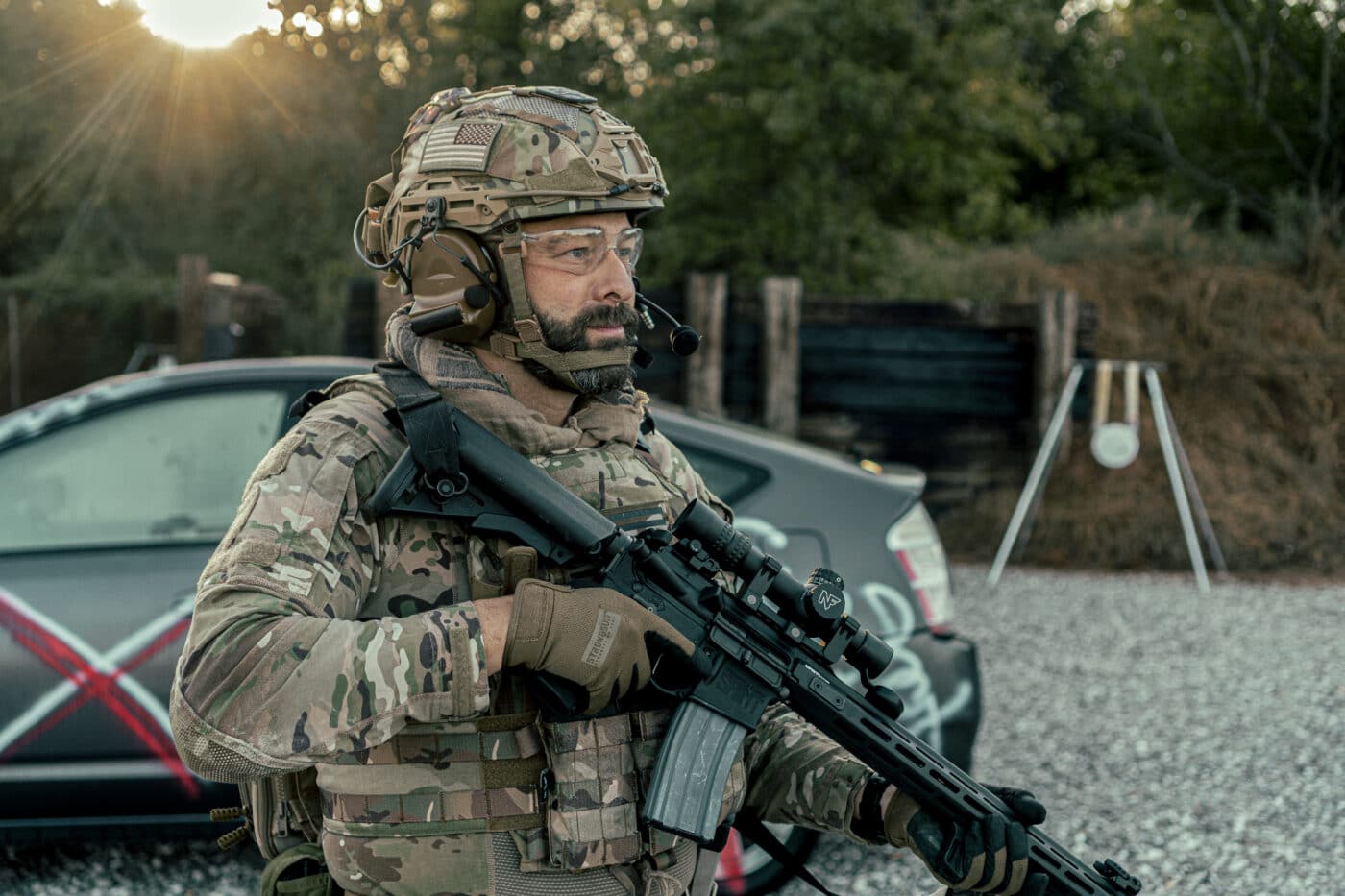 Obviously, of greatest concern is penetration. On their testing, the helmet withstood .44 Mag. hits on all four sides — the front, back, left and right. The chronograph clocked the Speer 240-gr. jacketed hollowpoint .44 Mag. round at a maximum speed of 1,441 fps. You can even read about the specific shot placement of each round.
The first shot tested was placed in the center of the NVG shroud on the front of the helmet. The impact is described as being 3.5" above the basic plane and 2″ from the mid-sagittal plane. Hard Head Veterans is forthright with the information you need to know.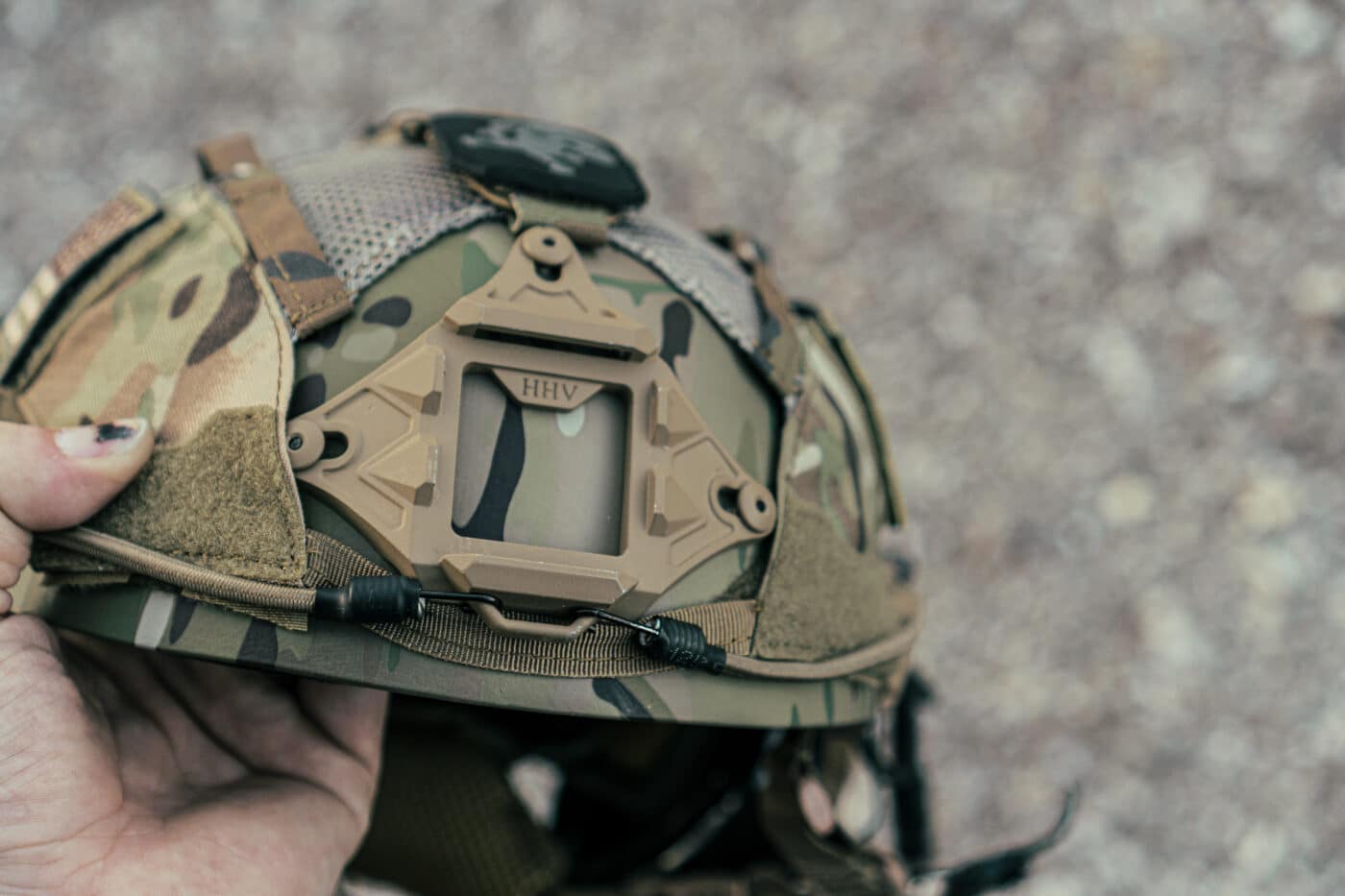 The Next Level
When you consider ballistic gear, you need to have a realistic understanding of their capabilities. While this one will not stop a rifle round, if that is something you feel you need, then there is an option. Hard Head Veterans offers a rifle-rated ballistic helmet up-armor plate that will defeat steel penetrating 7.62×39 rifle rounds.
This is additional armor that will bolt to the front of your helmet and it only adds one additional pound. If you are wondering what makes this helmet ballistic rated at all, that would be its DuPont Kevlar shell with heat-resistant para-aramid fibers that create a solid molecular structure.
Where It Counts
One thing you will notice about this helmet the second you slide it onto your head is the plush, comfy interior. The system used to fit the helmet to your head is great to fit it to your head. First of all, you order a size, and each helmet comes with two sets of interior pads. The additional pads come with adhesive dots to double-layer padding into the helmet, and it lets you build your helmet to your head shape. For example, if you have a narrower head, you can add dense padding on the side and not on the top, that way it's tailored to your head.
The helmet acronym ATE stands for "above the ear". This lets your helmet accept comm devices and ear pro that attach to the M-Lok rails on the helmet. Hard Head veterans sell the attachment to connect the M-Lok rails to your ear pro so you can connect a com headset or just your plain old range ear protection. The helmet also features an NVG shroud on the front of the helmet for attaching any mainstream mounting method for night vision and thermal optics.
The shape of this helmet is generic enough that a wide array of helmet covers will be accepted. For example, we had some no-name helmet cover from Amazon in the office and it fits perfectly. The helmet also has quick easily adjusting straps and a magnetic chin clasp to keep the helmet strapped around your head. The magnetic clasp is quick to put on and quick to take off, but not so easily undone that you will find it coming apart on accident. The shroud and rails feel very high-quality and I'm sure they could support the weight of any attachments. Speaking of weight, this ballistic helmet is ultra-lightweight. It actually comes in at weighing less than 3 lbs.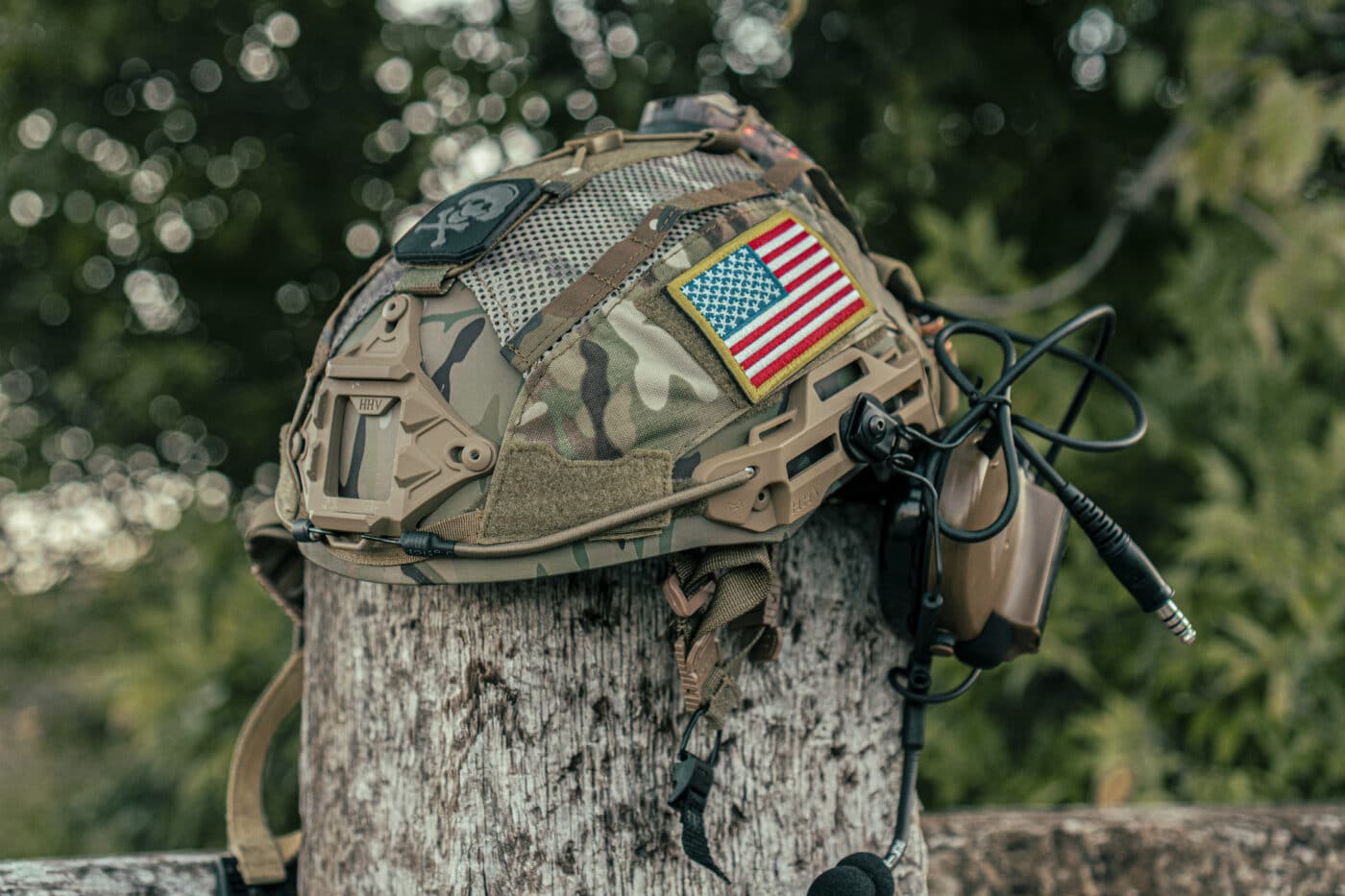 I (Dylan) am not an operator nor have I ever served in any capacity either military or LE. Grant, however, has served for years as both a U.S. Marine and on a SWAT team. According to him, this helmet is very comfortable and far better than any of the helmets he had been issued. Grant also had the opportunity to mount a borrowed night vision monocular onto the helmet and had no issues getting it set up to see comfortably down the optic.
Conclusion
The ATE Gen 2 Balsitic Helmet from Hard Head Veterans has an MSRP of $699, but you can find it on their website for $485, making it a crazy value. In addition, they donate a portion of the proceeds of every helmet and accessory sale to worthy organizations that give back to the men and women who protect our country both locally and overseas. They donate to organizations like the Navy SEAL Foundation, Green Beret Foundation and the Concerns of Police Survivors. Thank you, Hard Head Veterans, for making a great product and choosing to pay it forward.
Editor's Note: Please be sure to check out The Armory Life Forum, where you can comment about our daily articles, as well as just talk guns and gear. Click the "Go To Forum Thread" link below to jump in and discuss this article and much more!
Join the Discussion
Featured in this video
Continue Reading
Did you enjoy this video?
48