We've come a long way in the development of materials, design styles, ergonomics and comfort when it comes to body armor in 2021. Never before have American citizens had so many options for this life-saving gear.
In fact, the sale and general purchasing trends for armor to the civilian market has seen a steady increase in the last decade. This is largely due to the accessibility and affordability of armor these days, as well as a market more aware of the benefits these protection products offer.
Levels of Protection, Defined
The most common body armor types being commercially offered in 2021 include soft (flexible) armor, steel armor, composite material armor and ceramic plate armor. These types of armor are usually contained in "plate carriers" or are self-contained in accompanying vests.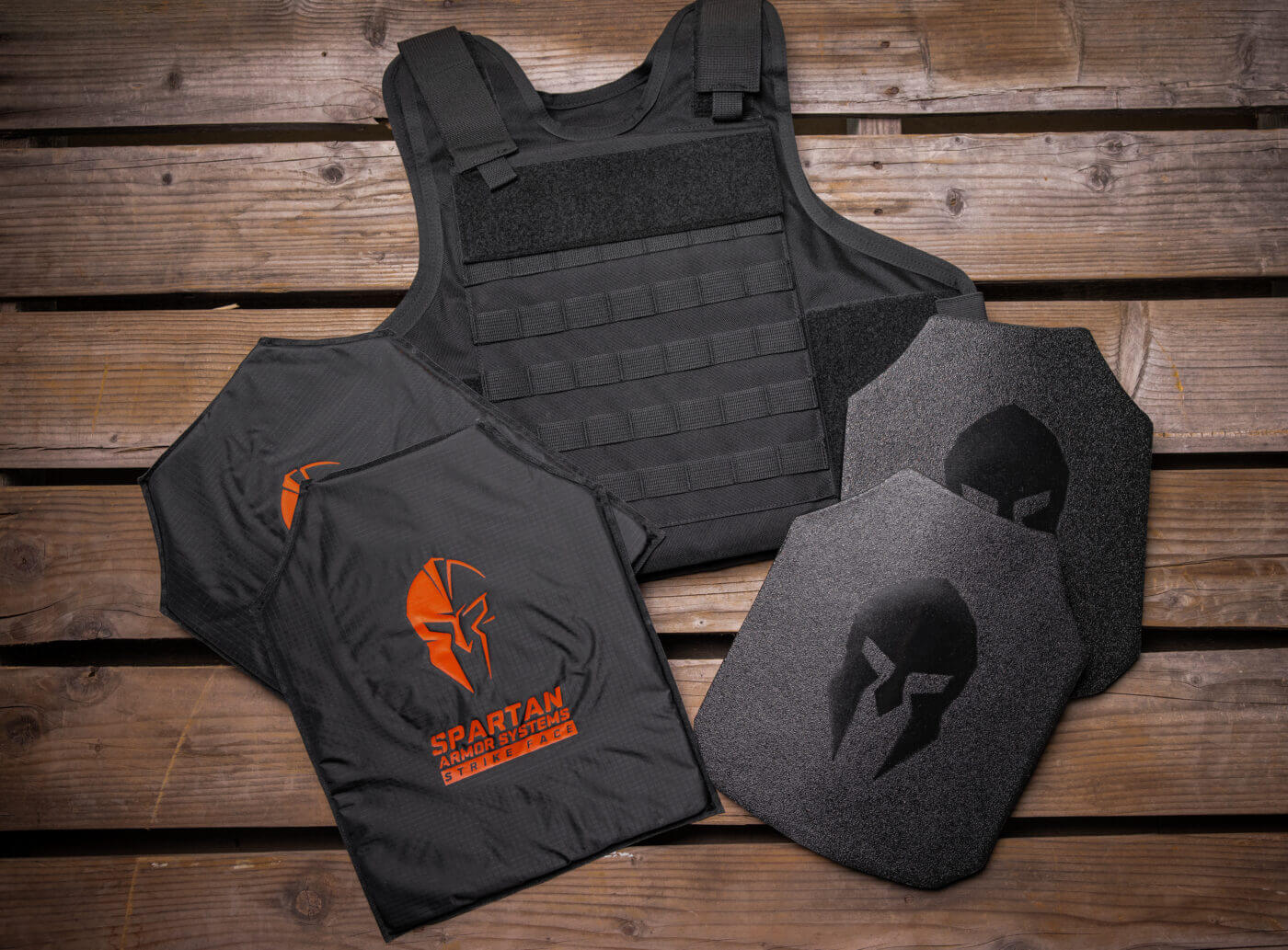 We'll take a deeper look at some of the most popular and common types of armor and carrier options, as well as brain buckets (helmets) that will protect your noggin', and some accessories that will help keep you and your gear in good condition.
But first, let's do a quick deep-dive into what exactly constitutes "armor" nowadays, and how it's classified. Armor is constructed and rated according to standards set forth by the National Institute of Justice (NIJ), the governing body that oversees performance standards and testing for ballistic armor. NIJ is the standard by which all commercially available body armor is judged for safety and ballistic stopping power. Simply put, no armor is bulletproof; it is simply produced at a level of NIJ certification to be resistant against designated calibers and has been tested to withstand a certain amount of abuse before degrading and no longer remaining effective.
The levels of body armor available on the market today, in order of increasing protection value, consist of NIJ Level IIIa, Level III, Level III+, and Level IV. It can be a little confusing, but essentially the breakdown goes like this:
NIJ Level IIIA armor is rated to protect against .40 up to .44 Mag pistol caliber rounds
NIJ Level III will protect against 7.62x39mm up to 7.62x51mm M80 Ball rifle rounds
NIJ Level III+ will withstand 5.56×45 M855 to .30-06 JSP rifle rounds
NIJ Level IV rifle protection affords protection against the black-tipped .30-06 M2AP "armor piercing" rounds
Selecting the armor that may be most beneficial and adequate for your scenario and needs is personal. However, one thing you can easily do to ensure reliability and quality when shopping for armor is verifying if it is indeed and truly NIJ certified. Simply log onto the Criminal Justice Testing and Evaluation Consortium website (a program of the NIJ) to see if the brand you are considering purchasing from checks out.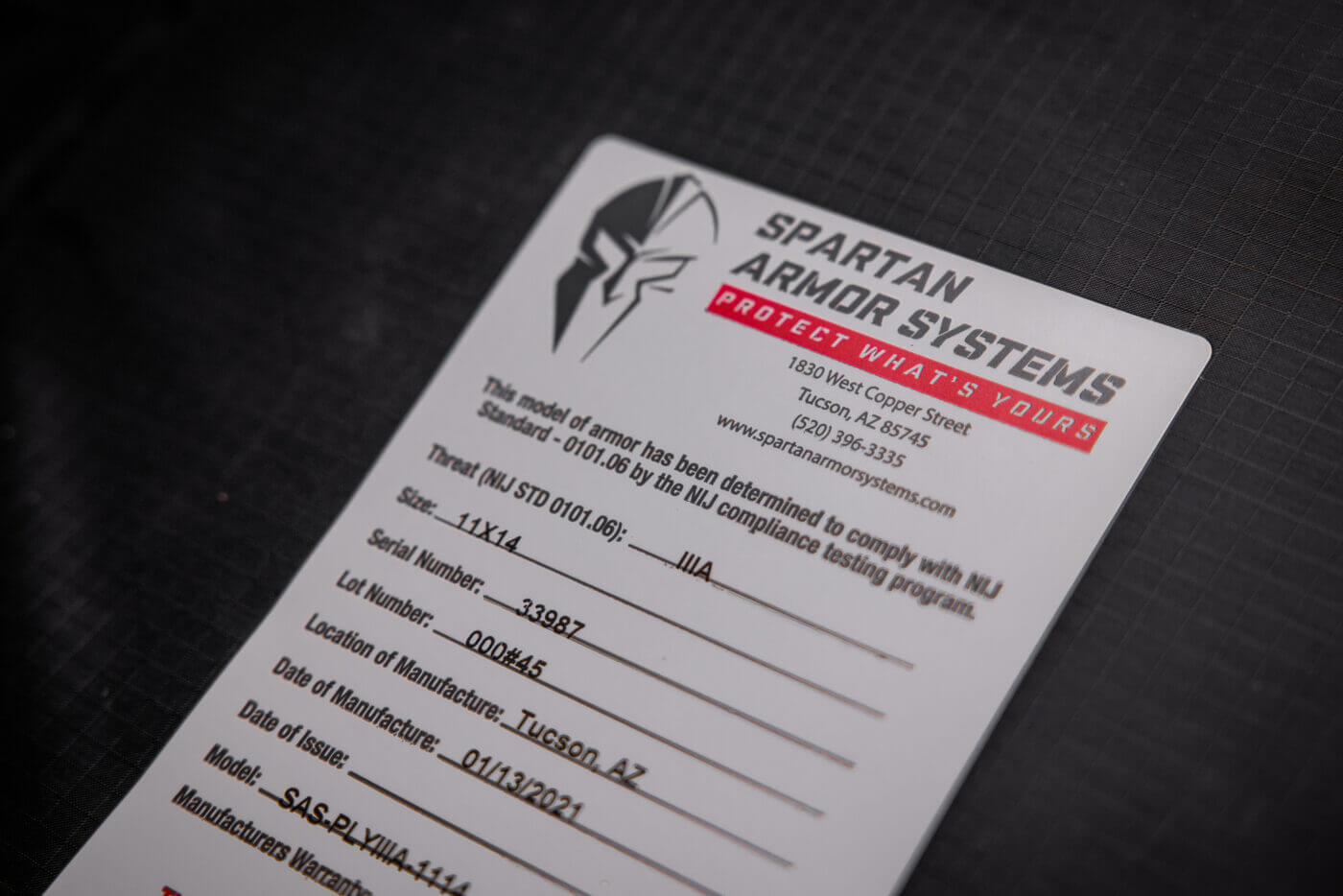 One such manufacturer that is NIJ certified and not only puts their armor through extensive internal and independent external laboratory evaluation and testing, but also produces all of their proprietary, patented armor in the United States, is Spartan Armor Systems, based in Tucson, Arizona.
Soft Armor
Spartan Armor Systems produces Level III through IV armor. Some of their most popular armor includes the Spartan 11×14 Flex Fused Core IIIA Soft Armor, which is Spartan's proprietary version of pistol-rated level IIIA soft body armor. Featuring the trademarked Flex Fused Core, this soft armor is flexible, comfortable and easy to wear.
Composed of high-grade American made materials, it is rated to stop .44 Mag. SJHP, as well as Special Threat Rated to stop .357 SIG FMJ. When it comes to taking multiple hits, it is rated to stop six rounds. This soft armor can be used stand-alone, giving level IIIA protection, or in conjunction with as a backer on any of hard armor systems for additional protection.
AR550 Armor
Spartan Systems new AR550 Body Armor is a steel armor plate that affords Level III+ protection, which defeats higher velocity threats such as XM193, M855 and M80. Spartan recognized that steel plate armor can pose the potential for spalling (or fragmentation) upon bullet impact, and the resulting projectiles can pose harm to the wearer and individuals nearby.
Many plates use a standard truck bed liner coating on the plates to try to mitigate this possibility. However, after testing a wide variety of bed lining, Kevlar sleeves and urethane coating systems with mixed results, Spartan set out to create a superior coating. Factoring in durability, adhesion, consistency, texture, elasticity and price point during testing, Spartan Armor Systems developed a specially formulated fragmentation mitigation coating called Encapsaloc.
This prevents or greatly minimizes these types of potential injuries. These plates come with a base coat of Encapsaloc standard, which also helps reduce corrosion from exposure to the elements, and aesthetically looks great. For a nominal fee of $60, you can upgrade your plate to a full coat of Encapsaloc, mitigating fragmentation further.
Wraparound Tactical Vest
Spartan Armor has constructed a wraparound vest that is 1,000 Denier material, extremely durable and comfortable. Providing Level IIIA Certified protection, the wraparound outer carrier is designed for streamlined use in the field. This carrier can be a standard Level IIIA protection or you can add in a rifle rated ballistic insert up to a 10″x12″ plate for additional protection. This carrier is fully adjustable at the shoulders as well as the side closures.
Carrying the Load
5.11's TacTec Plate Carrier is an extremely high quality, lightweight, durable and comfortable plate carrier. Built with rugged, lightweight 500D nylon, it features padded yoke shoulder straps, perforated mesh, front and back padded panels with built-in airflow channels, and an innovative design for maximum range of motion. It holds two ballistic armor plates (medium/large), includes a low-profile Grab-Drag handle and a single-handed quick-release cable escape system in the event you need to separate yourself from your armor system rapidly.
One of the greatest benefits to owning a plate carrier is the enhanced load bearing and modular capability. In brief, you can attach and customize your carrier to include all sorts of accessories, pouches for med kits, spare magazines, tools and cleaning kits — the list goes on. 5.11's TacTec carrier features PALS (Pouch Attachment Ladder System) webbing, or the horizontal grid of repeating fabric webbing strips often found on backpacks and bags, which makes attaching any of their MOLLE (Modular Lightweight Load-carrying Equipment) accessories, like the aforementioned pouches and attachments, easy. Some of my favorite attachments are the 5.11 Double AR Mag Pouch and Double Pistol Mag Pouch.
Two other types of beneficial gear that aren't generally ballistic-rated but will protect your joints against bumps and hard impacts and keep you on the move are elbow and kneepads. If you're in a kinetic environment and you're moving fast, chances are you're going to bang up these sensitive joints.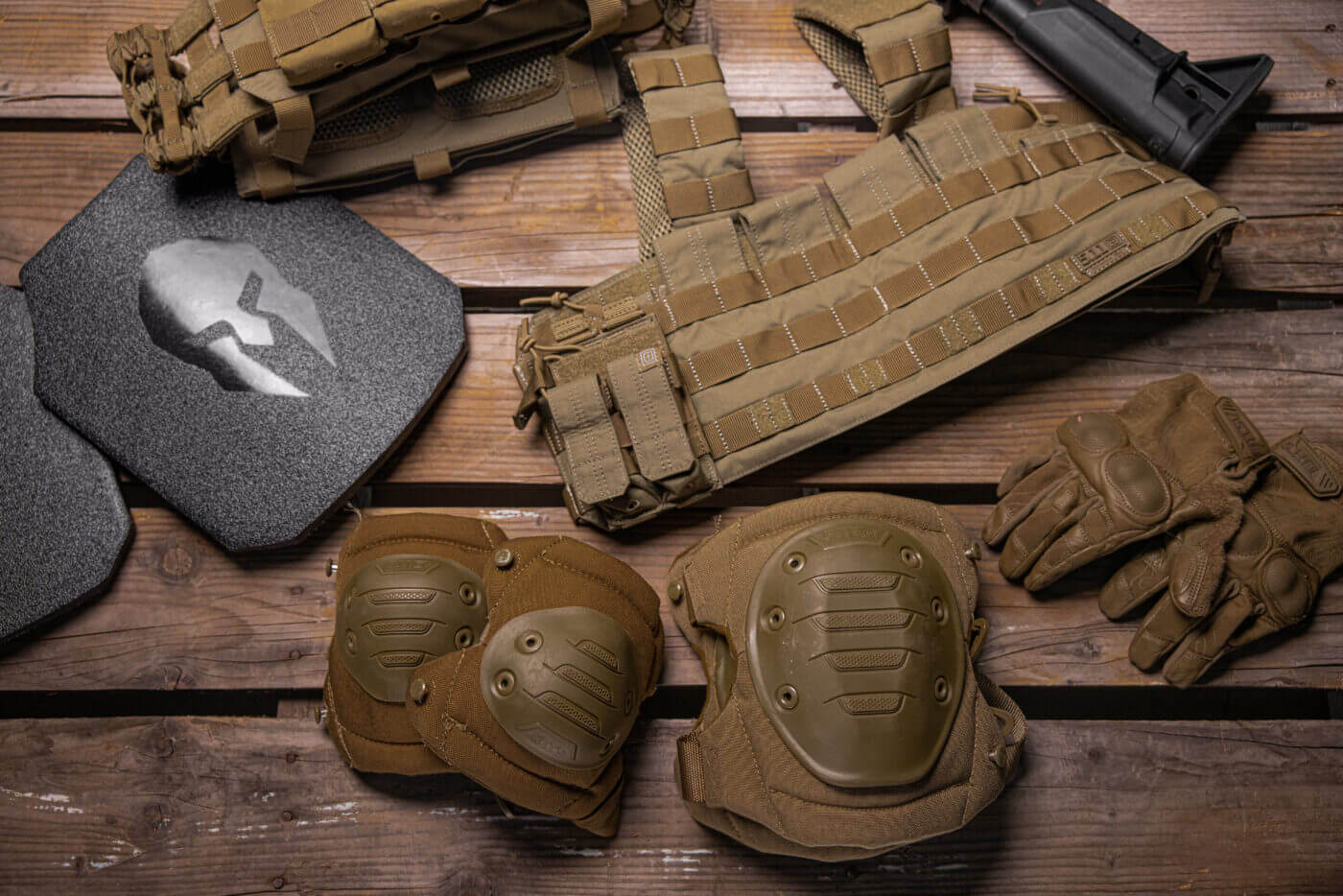 The Exo K1 Kneepads and Elbowpads are made specifically to take the brunt of this type of force and feature molded, flexible caps with built-in traction grooves. The kneepads have a flat face, providing a stable, quiet shooting platform-even on hard surfaces. Beneath the cap is an EVA foam pad for shock absorption and even more protection. The thick woven upper elastic strap and polypropylene lower strap make for a secure fit, that in my experience is very easily adjustable, silent, stay in place without slipping. Best of all, it features a quick disconnect that's a breeze.
Protect Your Dome
Speaking of bumps and scrapes, you have to protect your melon and that moneymaker from taking hits. Hard Head Veterans produces some of the finest, lightweight, well-constructed and ergonomic lids on the market. When it comes to helmets, there are two general types: bumps and ballistic. Bump helmets protect against exactly what their namesake implies: bumps, dings and abrasions. Ballistic-rated helmets provide a level of NIJ ballistic rated protection. Hard Head Veterans offers both types.
The Hard Head Veterans Tactical Helmet ATE Bump is the non-ballistic version of their ATE Ballistic helmet. This lightweight polycarbonate blend constructed helmet weighs in at a mere 1.4 lbs. and offers blunt impact protection that far exceeds industry impact requirements. Lightweight and modular, it provides the ideal bump helmet for tactical helmet applications, search & rescue (SAR), and recreational sports.
The HHV ATE GEN2 Ballistic Helmet, offers NIJ Level IIIA protection and is touted as the ideal ballistic helmets for law enforcement, military, and private security contractors. This helmet's shell is made from advanced para-aramid fibers, and the high-cut helmet offers significant weight savings, weighing in at 3 lbs. Hard Head Veterans has taken ear protection and personal comfort preference into consideration, offering both above the ear or high cut design options for their discerning customers.
Now that you have your lid covered, you may want to consider the ol' moneymaker and protect the face from hits, sprays and debris with The HHV Tactical Face Shield kit. This add-on provides blunt impact, and ballistic/fragmentation protection for your ATE ballistic helmet or ATE bump helmet. They mount directly to the ATE M-Lok slots for a secure, bolted connection to the tactical helmet. The kit includes a full face riot face shield and a half-face shooter's shield that are interchangeable, allowing the user to swap out face shields as the individual users' situation dictates. Each shield is anti-fog & scratch coated and is ideal where eye protection is needed, but where being able to properly shoulder a firearm is equally as important.
Breathe Easy
You've shielded your outsides, now protect your insides. The TR2 Tactical Respirator from O2 Tactical will keep your air supply clean and free from lead contaminants, dust, mold and particulates. I think in 2021 the entire world has a good understanding of how important it can be to filter what you breathe. Consider this body armor for your lungs.
This streamlined respirator is a fantastic training aid and general-purpose breathing respirator. Key features of the low-profile TR2 design include minimal cheek-weld interference, a low-riding seal that is eyewear compatible, 97% filter effectiveness at 0.3 microns and a very simple filter replacement. It also features an accessory port for mic integration and very comfortable soft-touch medical-grade silicone that is designed to work well with facial hair for those scruffy bearded weirdos out there like me.
Although not designed as a full-fledged "gas mask" for protection against gases or VOC's (Volatile Organic Compounds), the compact nature and generally effective level of protection afforded by the TR2 is ideal for civilians that train often and may include this piece of kit in their go-bag and deploy it should they encounter challenging destructive urban environments, dusty road conditions, and more.
The Takeaway
There are many protective solutions available to civilians on the market today. Armor solutions are vast, and they are personal to the user and individually customizable. Consider your concerns, the most likely environments you will encounter and engage within, and the challenges you might face should you require armor.
You should select a kit that best represents your individual needs as they are in 2021 and then get out there and train with it, bang it up, and see if your gear succeeds or fails in the field. After all, body armor is meant to take abuse — so put it through its paces and modify accordingly. Try new products and combinations to learn what will work best for you, your body type, and skill level. A small investment in protective gear like body armor could just save your life — and that's well worth the small cost. Stay safe out there.
Editor's Note: Please be sure to check out The Armory Life Forum, where you can comment about our daily articles, as well as just talk guns and gear. Click the "Go To Forum Thread" link below to jump in and discuss this article and much more!
Join the Discussion
Featured in this video
Continue Reading
Did you enjoy this video?
76