Besides guns, optics and lights, one of the necessary and "tacticool" purchases you should make for your range kit is a belt. Most of the time you hear people call them range belts, gun belts, war belts or battle belts. But it's all the same thing.
You might be wondering: What is a battle belt? What we are referencing is a sturdy outer belt system that keeps your pistol, magazines, and some extras at the ready. In this article and video above we here at GunSpot try to coach you through what gear you might need, how to set it up, and what to look for when making the purchase.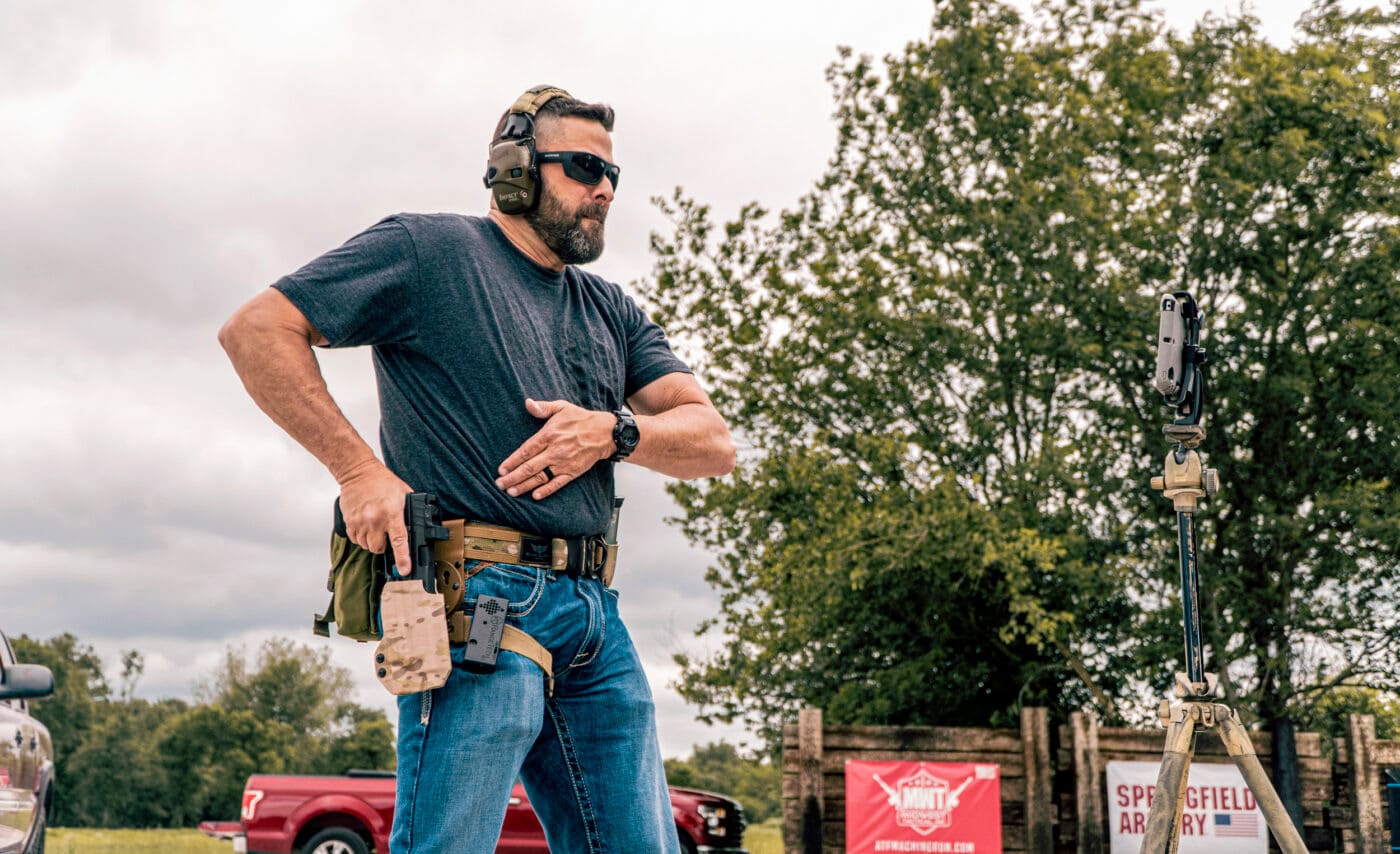 Why Use a Battle Belt?
Let's first address the purpose of this belt. People, myself included, like to have one to train with at the gun range and for dry fire at home. The application of this belt is going to be mostly training for those of us who are civilians. These belts will rarely be what civilians are wearing when trouble strikes, but anything is possible.
Hopefully, we all don't ever need to strap up with our battle belts to defend ourselves or our family. If so, chances are things are pretty bleak. That being said, tons and tons of red-blooded Americans have these belts set up and they are used heavily in training classes around the country. For example, Grant has taken his battle belt to multiple classes, including a class with Aaron Cowan (Sage Dynamics) and a class with Scott Jedlinski (Modern Samurai Project).
These belts should be very sturdy, and all the gear should be able to take a beating.
What Kind of Belt?
If you are building a battle belt or wanting guidance on setting it up, we are here to help. Let's talk about the foundation of it all, the belt itself. What should you look for when you are selecting a belt? You want something sturdy that can support the weight of a gun, loaded magazines along with some extra items. A thick belt that is sturdy will make wearing the belt and supporting the weight bearable.
Now, here comes our opinions, so buckle up. We recommend that you get a belt no wider than 2". Most modern attachments are going to be 2" in width, or a smidge less. We also recommend you stay away from the large cummerbund-looking belts that are really wide.
In our video above, Grant shows that he has a belt system with two belts. This consists of an inner belt that has loop velcro on it and an outer belt that has hook velcro on the inside of it. The inner belt goes in the belt loops of your pants and the outer belt then sticks to it.
This is an excellent set-up because it keeps the belt from shifting and sliding around on your waist. This may be how you want to wear a battle belt. You will never have to straighten this kind of belt up. I on the other hand have a belt with just a grippy rubber texture on the inside, which works but it is not as secure on the waist.
Lastly, we recommend you get a belt with at least just a few MOLLE loops around the outside of the belt. There are several attachments like medical kits, dump pouches, etc., and many of them will have MOLLE strips on the back to weave in the MOLLE. It never hurts to have more than one option for mounting. The belt Grant uses in the video is the Blue Alpha Gear Belt. It is 1.75" wide, with two loops of MOLLE that goes all the way around, an inner belt system, and a cobra buckle. With that belt, you can do just about anything you want with what is on the market today.
What About the Holster?
Obviously, the main point of the belt is to carry a pistol. For that, you need a holster of course. The bigger thing here is how to attach a holster to the battle belt. There are really two good options for this. The Safariland QLS system is really popular and, with a name like Safariland, it has to be good right? Tons of people use this mounting system.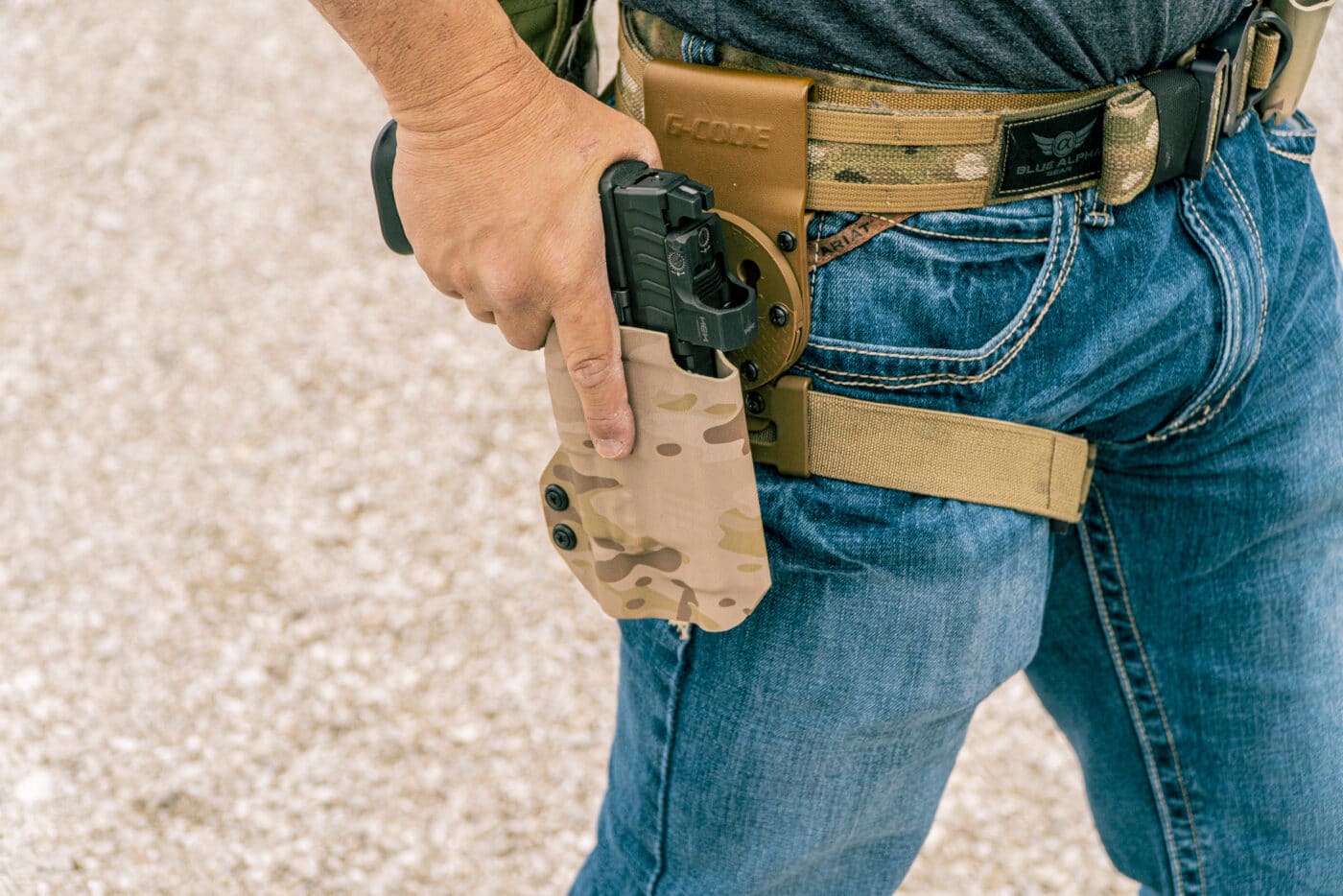 The second method is the G-Code RTI hanger system. The RTI system is our personal favorite of the two. The RTI mounts are metal and have a smaller footprint. We tend to like that, so our vote is for the G-Code. The reason it's best to go with a mounting system like one of these is that you can swap different holsters in and out as long as your holsters have the corresponding attachment.
Both of these hanging systems feature toolless swaps so you can change holsters in a couple of seconds. There are also tons of holster options on the market that make holsters with these mounting methods. Holsters for these can be bought from G-Code, Tier 1 Concealment, Safariland and T-Rex Arms, to name a few.
Setting Up Magazines on the Battle Belt
If you gonna carry a gun, you gotta have bullets, right? Next on our list is the magazines. Grant recommends you carry two to three pistol magazines and one to two rifle and carbine magazines. This will really depend on what you train on and what you want to carry.
Grant trains with mostly pistols and his waist size will allow it, so he carries three pistol magazines and one AR magazine. If your carbine or rifle you train with is chambered in .308, you might not be able to carry more than one rifle magazine. If you are interested in mainly shooting USPSA where it's handgun only, then you won't want any rifle mags, possibly. The choice is yours.
We recommend you store your pistol mags with bullets pointing toward the buckle of the belt. This lets you grab it in a way that makes loading the magazines easier. For rifle magazines, we recommend you load-store them with the bullets pointing away from the belt buckle. If you reach around and grab the mag the right way as you bring it around, the bullets will be pointing forward and ready to go into the rifle. You will want your mags stored on the support-hand side opposite of your pistol holster.
What Else Should You Carry on the Belt?
Grant likes to carry a medical kit on his belt so if he or someone gets hurt at the range he can help stop any bleeding. This would not be the best place for a big extensive medkit; maybe instead just focus on things to stop bleeding. Having this on the back of the belt is okay because if ever someone gets hurt you can just take your belt off to help or you can even get kits that pull off the belt.
Secondly, we like carrying a dump pouch. A dump pouch is nice because you can drop spare mags or whatever else in the pouch to keep your hands free. This pouch is a convenience, but at the same time if you are in a survival situation you really wouldn't want to just drop empty mags and discard them like trash. This isn't "Call of Duty" where magazines just spawn already loaded. You are going to want to hold onto those magazines so you can refill them later.
Conclusion
So, are battle belts "worth it?" The battle belt may not be the piece of gear you'd use the most for home defense. If you're a civilian, more than likely you'd be using your everyday belt and EDC gear. But never say never, right? It's also a good idea to incorporate some survival items on your belt since that may be a setting in which you need it.
The best thing you can do is be prepared and train. A belt set up like this can aid you greatly by having items within arms reach. And even if you never actually need it, it makes training more fun than just always practicing with your concealed carry gear.
Editor's Note: Please be sure to check out The Armory Life Forum, where you can comment about our daily articles, as well as just talk guns and gear. Click the "Go To Forum Thread" link below to jump in and discuss this article and much more!
Join the Discussion
Featured in this video
Continue Reading
Did you enjoy this video?
63