When it comes to chest rigs, there never seems to be one option that fits all. This is true not only in the literal sense, but also in the ability of one piece of tactical gear to fulfill the many uses you might have. You would need a wide range of customization to get multiple types of configurations that fit almost any situation.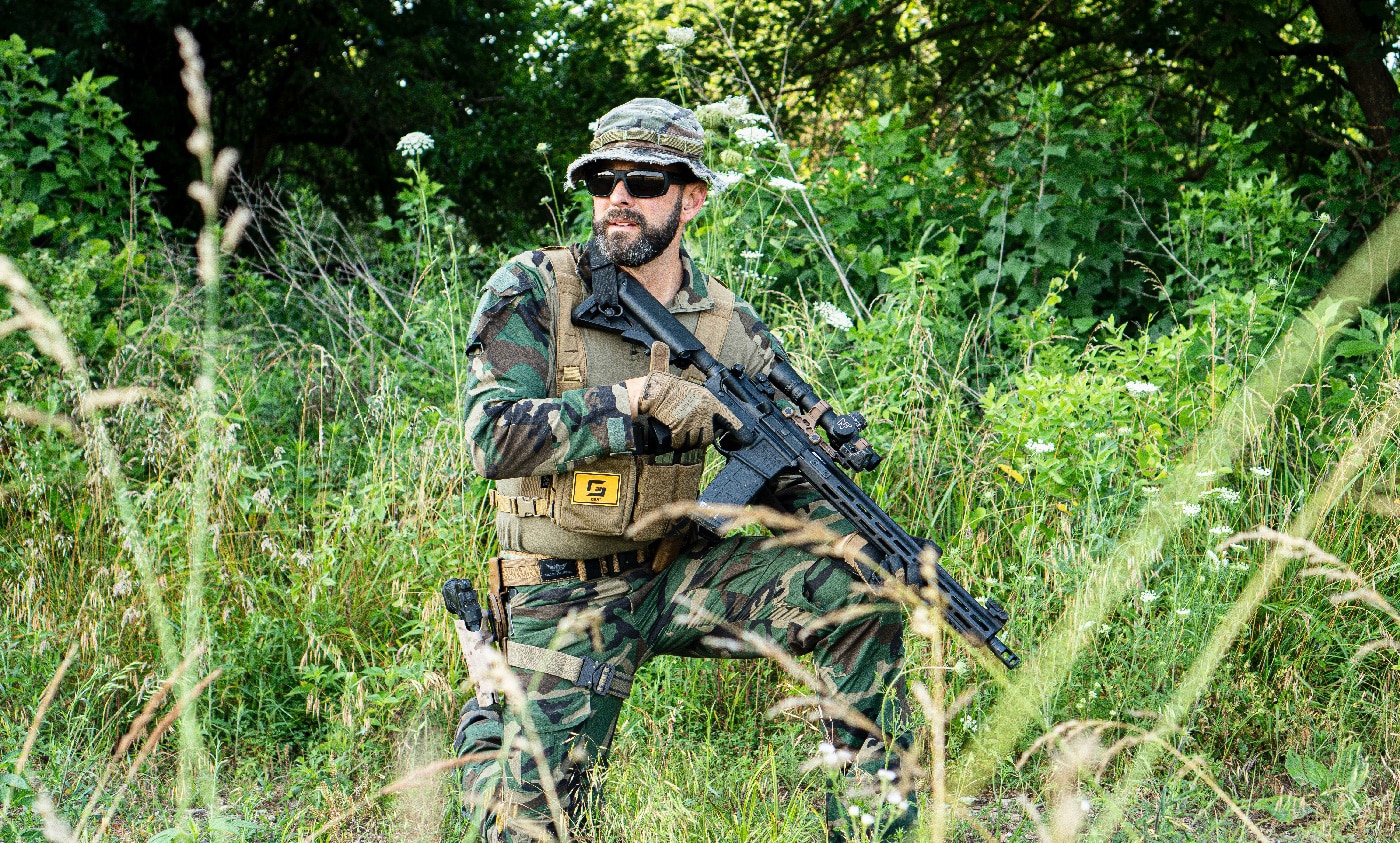 However, HRT Tactical Gear seems to have come up with a solution to this. If you are focused on urban survival preparation, you probably have several questions with few clear answers. Having multiple options at the ready for you is a good starting point for gear, which is why the HRT Modulus Placard caught my eye.
Specs and Gear
While the Placard is incredibly customizable, the base specifications and features are down to the core essentials you need. The adjustable straps connect to most harness systems and plate carriers out there. Inside the Modulus Placard are three AR-15-style magazine slots in the leading carrier.
This base pouch comes outfitted with the three AR-15 magazine slots, or can be swapped out with additional inserts sold on HRT's website. You can swap out the AR-15 insert with an insert that holds SMG mags, one that holds two 7.62 magazines, or their Response Insert that holds two AR-15 mags and two pistol mags. In this large pouch, you can also remove the mag inserts and attach a full-length zipper to turn it into a pouch appropriate for carrying loose items.
On our particular set-up, there are two pouches in front of the primary pouch; one comes with a zipper that can hold multi-tools or any other piece of gear to which you would need quick access, and the additional pouch comes with two pistol magazines slots. There's Velcro material on the front of these pouches for identifiers or patches. There is also a shotgun shell caddy attachment that can Velcro to the front of the open-top pouch.
In the open-top pouch, you can also swap the two pistol mag insert for another AR-15 insert. The point is that with all the Velcro and accessories available on HRT's website, you can build this kit out any way you want.
Core Elements
Speaking of the Velcro, the pouch is mainly held together by it. The Velcro is very sturdy, requiring a good amount of effort and a little time to remove pouches. This is both a good and a bad thing, but mostly is positive. Changing on the go can take some effort; however, the times you'd need to do this are rare.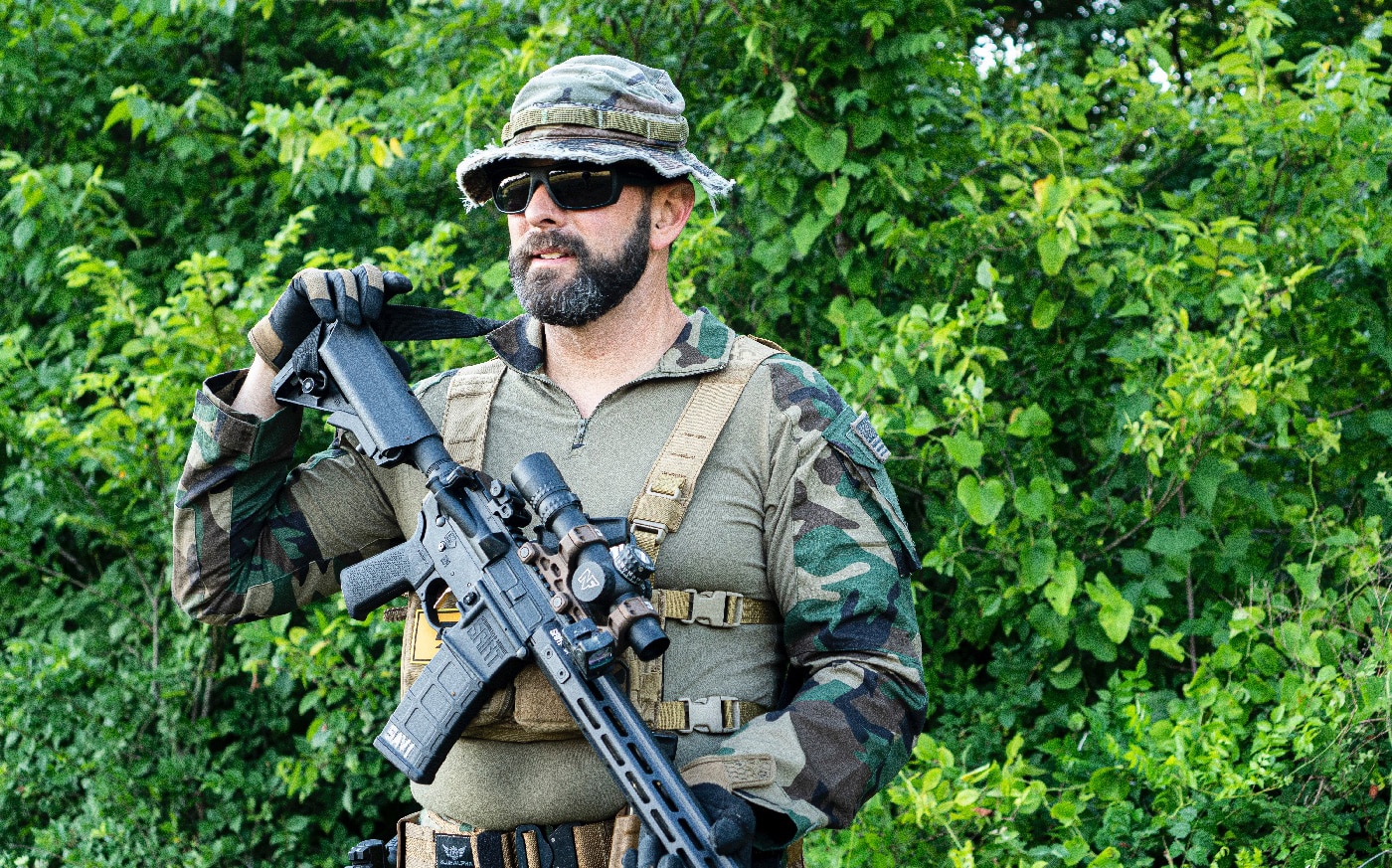 Once you have your set-up in mind, there likely are not too many situations where you would want to change it on the fly, and the Velcro does a great job of keeping the pouches in their intended position.
Then we have the harness itself. If you already have a harness you're satisfied with, I'd recommend just holding onto it and attaching the Modulus to that, or you could attach it to a plate carrier instead. While the harness is a good product, it's not quite the standout level of gear as the Modulus Placard itself. The harness doesn't stay as tight to the shooter as an X-pattern harness does, but people also hate getting in and out of X-pattern harnesses. So, there are two sides to this choice.
Compared to others of this quality, the price of the Modulus Placard is reasonable. It comes in at $74.95 for the flat colors or $89.95 for the Multicam options. The colors include Black, Ranger Green, Coyote Brown, Multicam and Multicam Black. You can also mix and match options to get unique color schemes, like a Coyote base with Multicam pouches.
The HRT H Harness costs $44.95 for base colors and $64.95 for the Multicam options. The colors include Black, Ranger Green, Coyote Brown, Multicam, Multicam Black and M81 Woodland. Again, you can mix the options with your placard and its packs to get unique color combinations.
Is It Any Good?
With inflation being a problem these days, the question of "is this good enough for my money" can often be tricky. The market is more competitive for your money than ever, so why pick these pieces of gear over others?
The configuration process of the Placard is easy to understand, and you'll likely never get lost — even if you don't follow a tutorial. The customization options of the system are unmatched as far as I can tell, and you can constantly adjust for different load-outs. The ability to switch this from an AR-focused rig to an SMG to a 7.62 rig means you only need one chest rig. If you're looking for a one size fits all option, this may be the one.
The HRT harness, as mentioned before, will do the job. But, if you have a harness system you love or a plate carrier you love, you can easily use that. The Modulus Placard system is customizable and will likely be able to fit most harness and plate carrier systems out there.
This level of customization is something I hope will become a new standard for products like these. With so many combinations available, it'd be difficult to come up with reasons I wouldn't recommend this to anyone who wants to step into the realm of chest rigs.
Editor's Note: Be sure to check out The Armory Life Forum, where you can comment about our daily articles, as well as just talk guns and gear. Click the "Go To Forum Thread" link below to jump in!
Join the Discussion
Featured in this video
Continue Reading
Did you enjoy this video?
46