When you hit the range to train, you have several options for choosing your target type. In most cases, this means traditional targets that range from steel to paper and cardboard, as well as rubberized/composite targets such as the self-healing rubber torso dummies.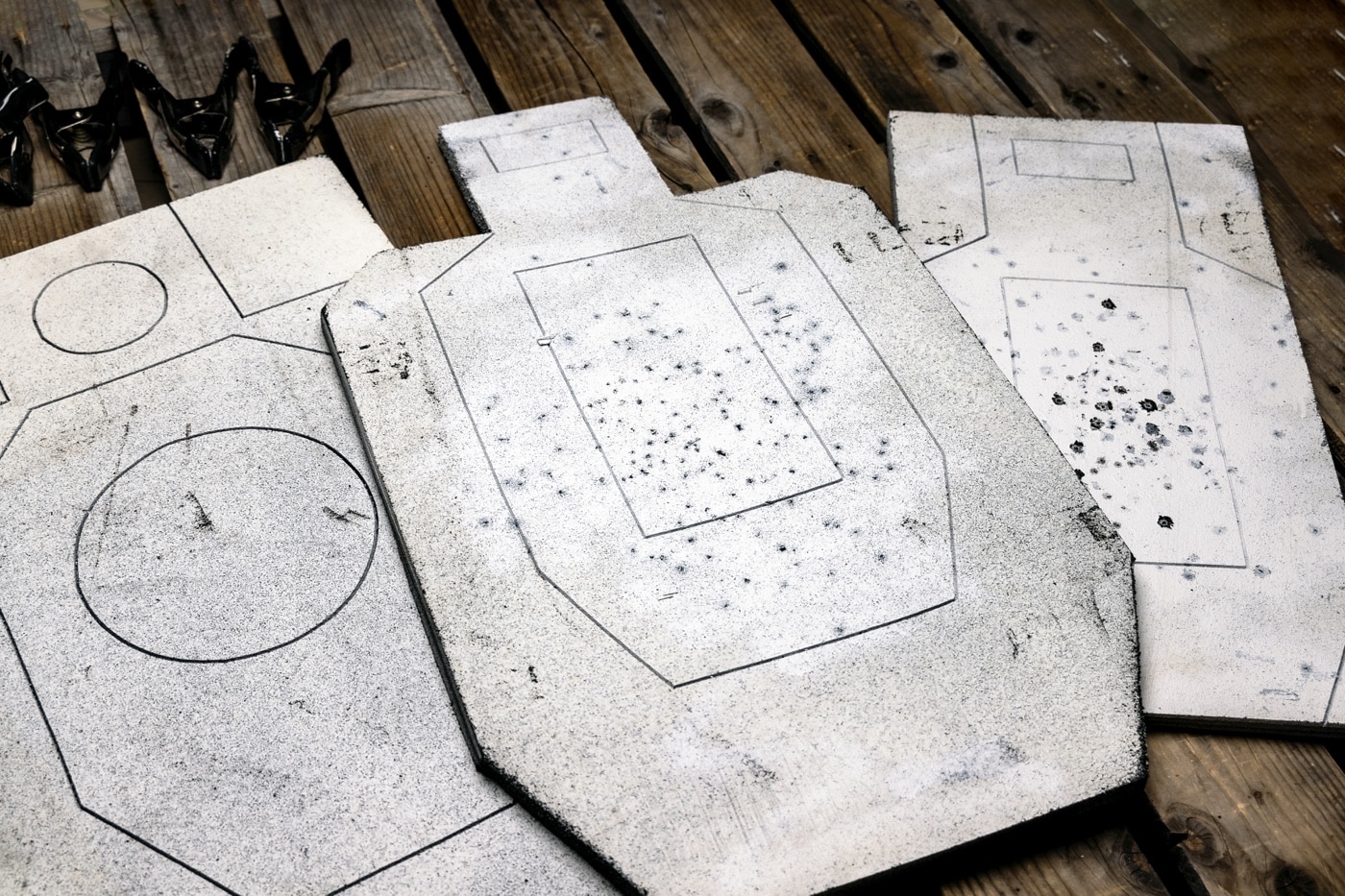 During training sessions and classes, I've shot all of the various forms and find that each presents a unique purpose, a distinct experience, and a different benefit regarding how I train.
I enjoy paper and cardboard for the cost-effective nature of the targets and their vast array of designs, zones and accuracy indicators. I also appreciate how you can safely train in close proximity to them without risk of ricochet and spalling.
On the other hand, I enjoy steel targets for the reactive feedback quality, particularly when engaging them at distance. However, I find determining the exact point of impact on many steel designs to be limiting when it comes to confirming the accuracy of shot placement.
"Rubber dummies" as targets are effective for self-defense training and gauging shot placement, but these rubber composite assailants can be expensive and a bit heavy. The space in between where each of these target types lives in the market is where an offering from Infinite Defense nicely fits.
A New Paradigm
By developing an entirely new form and style of self-healing targets, Infinite Defense filled this gap with the development of the Infinity Target in early 2019. This low-cost, highly durable target is composed of a self-healing rubber that is reusable for up to 110 rounds per square inch of target surface. In addition, they are safe for self-defense training whereas steel would not.
I think the cost-savings is significant enough to benefit the average shooters. Still, if that weren't enough, these rubber targets can also fit on your existing target stands, will outlast their cost compared to paper and cardboard targets, and are offered in many target design templates as well as being able to be customizable to suit your training style. Also, they are proudly made in the USA.
I had seen a great deal of good hype on social media, and when I received a three-pack of the Infinity Targets, including the Infinity Target with Zones and a C-Zone Target with Zones, I was excited to take them out and try them for myself.
The first thing I noticed when unboxing the targets was how lightweight but substantial they felt. As far as rubberized targets go, they can often weigh a ton due to the dense nature of the material. These felt rugged and tough but weren't nearly as hefty as traditional steel targets would be. The package also came with a dozen steel clamps with rubberized grips.
I took them to the range, and all I had to do to get them set up was to use my 1"x2" lumber posts and existing expandable steel target bases I typically use for paper targets to clamp the Infinity Targets in place.
Range Time
Putting rounds on them with my Hellcat Pro, SAINT Edge, and SAINT Victor 9mm over the course of the session was very satisfying as the impacts were clearly visible against the white paint coating the targets. When I wanted to reset the range, all I had to do was use a rattle can of Rustoleum white spray paint and generously coat the target for maximum coverage, and within seconds I was ready to engage in another course of fire.
Although the targets lack the satisfying "ping" of steel, the clear positive visual feedback of paint going black on impacts was tremendous and provided the same accuracy of shot placement verification that paper targets would afford.
As mentioned before, I could also engage in close-quarters drills just like I could with paper or rubber dummies, with no risk of spalling or injury that would likely result if shooting on steel, which is never advisable under any training condition.
Speaking of range conditions, an added benefit of the material the ID Targets are made of is that they are water- and weatherproof, so for all those who train in all conditions, rain or shine, you don't have to worry about your targets rusting or degrading due to a little moisture.
Conclusion
What I really liked beyond all of the benefits already mentioned was also the versatility, ease of transport and use, and level of creativity you can get out of these targets. For example, you can clamp a target onto another target to create "no shoot" or hostage scenario drills, and you can even paint the "no shoot" target an alternate color to the intended target.
For that matter, you can paint your targets and the zones contained on the target in whatever color scheme you'd like for training. Some users on social media even discussed camouflaging the targets by painting portions of them to match the surrounding training environment to make it more challenging.
We happened to have some paper targets out at the range on the day of our training, and although it's not an advertised use case for the ID Targets, we easily stapled some papers onto the ID Targets and then plucked the staples easily from the rubber at the end of our session. The point is your training creativity is up to you, and there are endless ways the Infinity Targets could benefit your range time. And in my experience, they really did hold up exceptionally well, showing minimal (and I mean minimal) backface degradation.
When comparing the benefits and low-cost nature of the Infinite Defense Infinity Targets versus what I've trained with in the past, I am a big fan on a number of levels. Innovation, in this sense, is "simply genius" because it just works, and it works really well. I look forward to picking up a few more designs of Infinite Defense targets and zone styles to keep my training regimen fresh well into the future. The Infinity Targets come in various styles and range in price from around $59 to $129 and also come in multi-pack assortments.
Editor's Note: Please be sure to check out The Armory Life Forum, where you can comment about our daily articles, as well as just talk guns and gear. Click the "Go To Forum Thread" link below to jump in!
Join the Discussion
Featured in this video
Continue Reading
Did you enjoy this video?
50