Inforce WILD1 Weapon Light Review
June 4th, 2023
7 minute read
While Inforce might be newer to the scene than some of its competitors, you wouldn't be able to tell from looking at the WILD1. As my carry gun is a Hellcat Pro, I am always interested in weapon-mounted lights that are designed with reasonably compact dimensions and ideal for a CCW pistol.
Since I fall into that group of people that prefer the end of their handgun and light to be as close to flush as possible, the Streamlight TLR-7A has been a staple on many of my compact and sub-compact pistols. So, when the WILD1 was released in January, I was excited to get my hands on this similar-sized light to see how it stacked up.
Features of the Pistol Light
Compared to some of the other popular lights on the market, the WILD1 may not have as many operational "functions" as other lights out there, it's certainly not lacking in features. Instead of focusing on adding numerous functions, laser or interchangeable activation attachments, Inforce focused on build quality, core features and an intelligent design approach.
Would you like an example? Even something as simple as the battery being able to be replaced through the front of the light as opposed to the rear or top, is a huge pro over some of its competitors for me. Then, we get to the paddles. A seemingly small aspect, this aspect can be very important. The paddles on the WILD1 have aggressive serrations and are large enough to place your entire finger pad on essentially, making it very easy to turn on and off.
Once you do activate the light, there is one function — ON. There is no high, low or strobe settings. Once on, you get all 500 lumens, every time. It does, however, have a constant on or momentary option, which is accessed by simply clicking the paddle or holding the paddle down, respectively. While in theory I'm a fan of having a strobe feature for defensive purposes, you really have to train with it to avoid accidentally disorienting yourself as well. There is something to be said for keeping things simple.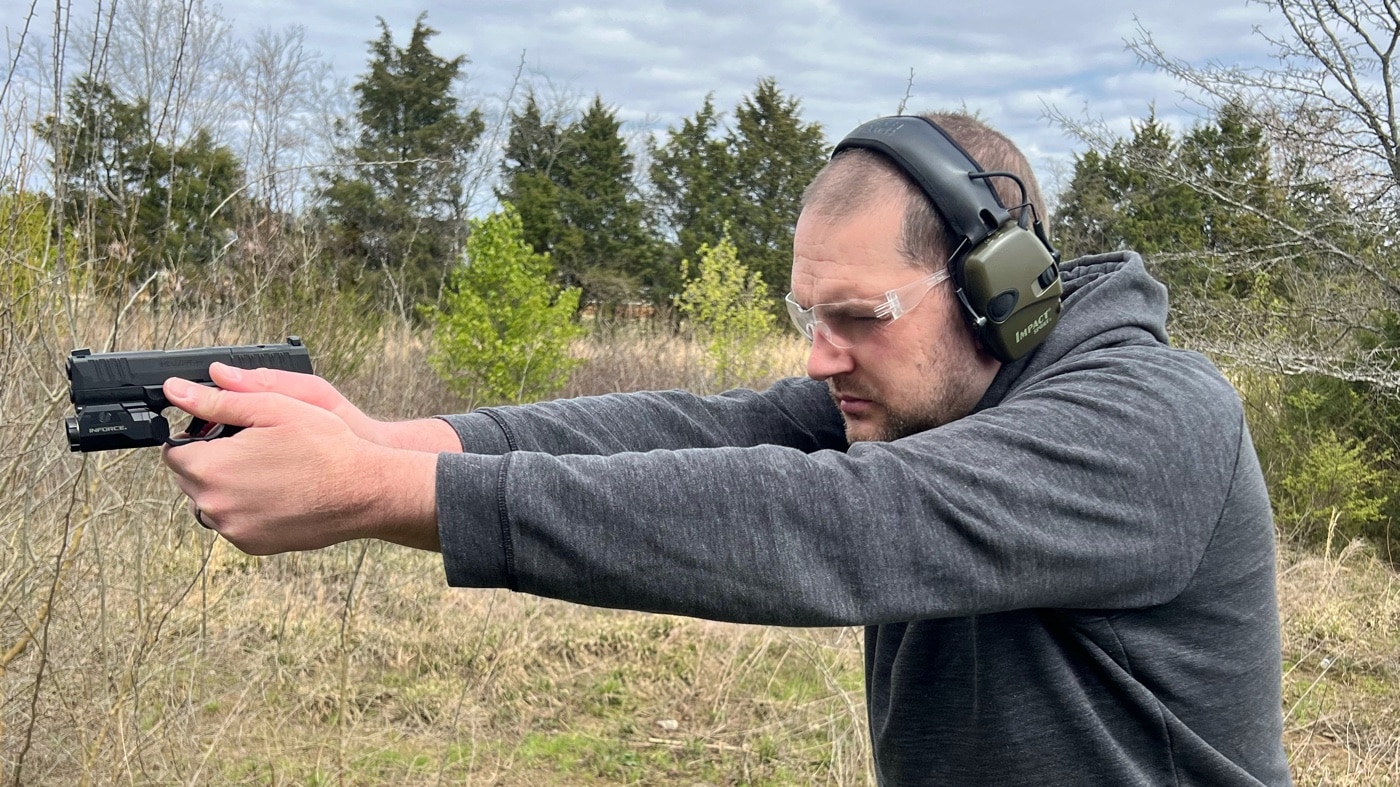 For some of you light aficionados out there, you may be questioning the fact there is "only" 500 lumens of output being emitted by the WILD1. But for the purposes of home defense and even general personal defense, I actually find that more than 500 lumens can almost be a detriment. Take for example a typical home with separate and closed-off rooms, hallways and tight corners. If you are clearing your home in complete darkness and activate a 1,000 lumen light too close to a wall or door, it can very easily disorient you in a time of need.
Yes, 500 lumens could technically as well, but it is much less likely. Even outside, 500 lumens still gets the job done, unless you're trying to illuminate an open field. I have a smaller backyard that is roughly 95 feet by 50 feet, and the WILD1 does a fantastic job illuminating exactly what I need to see and more within that area. It has a nice amount of spill, but with a somewhat focused beam that ends with a concentrated hot spot.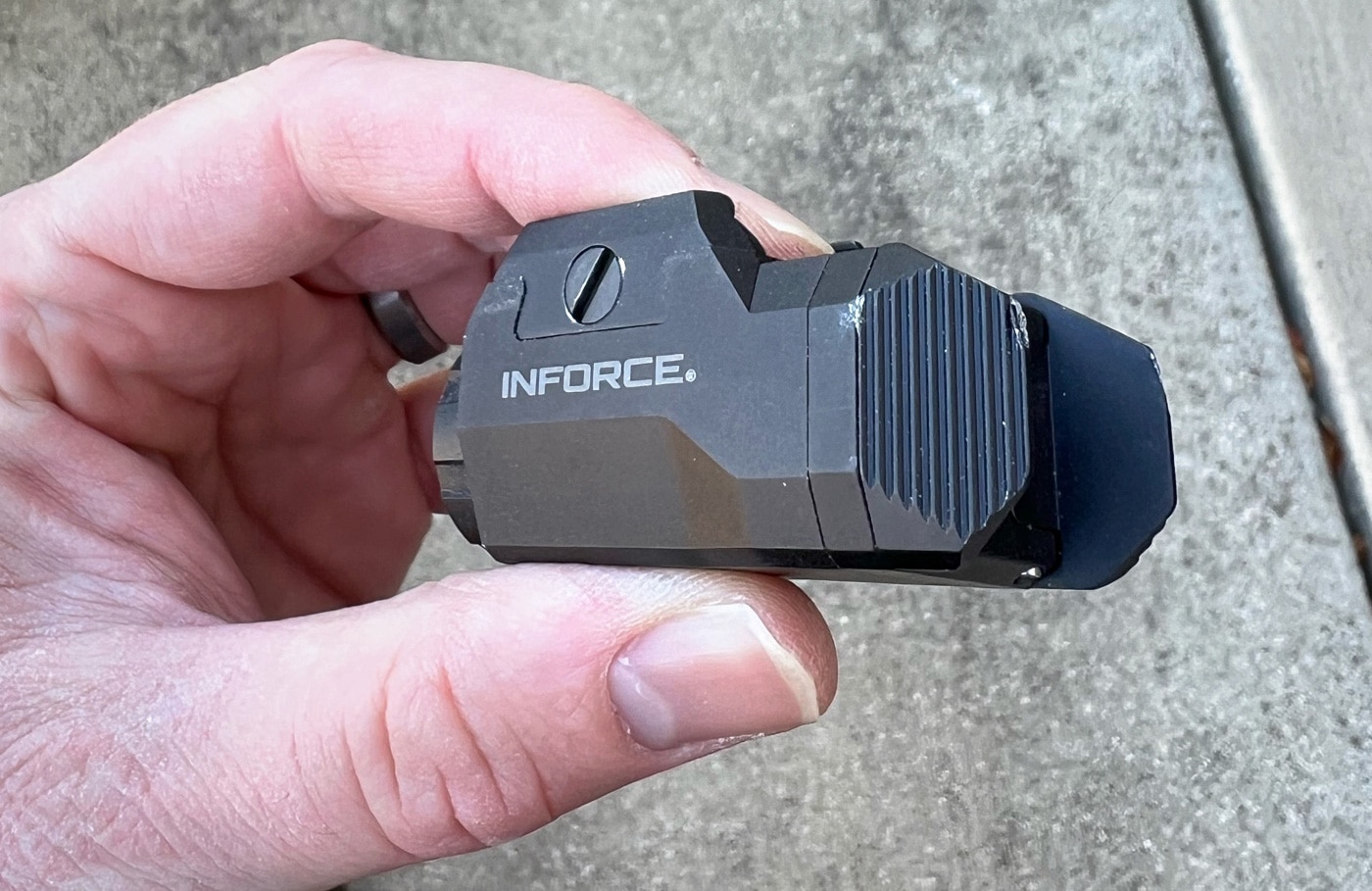 Durability is extremely important for any light, or EDC gear in general for that matter. With the Inforce WILD1, durability should not be an issue. It's constructed out of 6061-T6 aluminum and is waterproof to 66 feet. For testing, I've dropped this thing in the dirt and on concrete from various heights with no resulting functional issues, just some dings and scratches that you'll see in the photos. I've shot with it in the rain as well, again with no issues. I have yet to submerge it for any amount of time, but I'd imagine it would perform well due to the O-ring sealing the battery compartment.
Like I said, the light may lack in its total number of "functions" compared to some others, but it definitely doesn't lack in features.
Inforce WILD1 Specifications
Here are the specs on the Inforce WILD1 weapon-mounted light.
| | |
| --- | --- |
| High Output | 500 lumens |
| Peak Beam Intensity | 5,000 candela |
| Distance | 462 feet |
| Run Time | Up to 2 hours |
| Battery Type | Single CR123A (included) |
| Length | 2.53 inches |
| Weight w/ Battery | 2.9 ounces |
| Bezel Diameter | 0.95 inches |
| Switching | Ambidextrous paddles |
| Functions | Constant/momentary |
| Mounting | 1913 or universal rail |
| Lockout System | Paddle activated |
| Construction | 6061-T6 aluminum |
| Finish | MIL-SPEC hard anodize |
| Waterproof | Up to 66 feet |
First Impressions of the Weapon Light
From a purely aesthetic perspective, it looked right at home on my Hellcat Pro the second I installed it. Looks aren't the most important thing when it comes to your gear, but let's be honest, they certainly help!
Playing around with the paddles at home and while dry-firing, I found the light easy to manipulate, but due to the angle and direction of which you have to press the paddles not so much so that you might accidentally activate the light. I've had issues with the switches/toggles on other name-brand lights activating too easily, but the paddles on the WILD1 seemed just "right" straight out of box.
Once it passed my quick fit and function test, it was range time.
Carrying and Shooting
With the WILD1 fitting so well on the Hellcat Pro, it doesn't add too much bulk to your holster. Since I appendix carry, I appreciate as minimal of an increase to overall size as possible. Unfortunately, not as many holster companies have configurations that include the WILD1 as say the TLR-7A. I have noticed more and more companies accommodating it though. I've been carrying it in a "Rev-Con" holster by Black Arch and have really been enjoying it.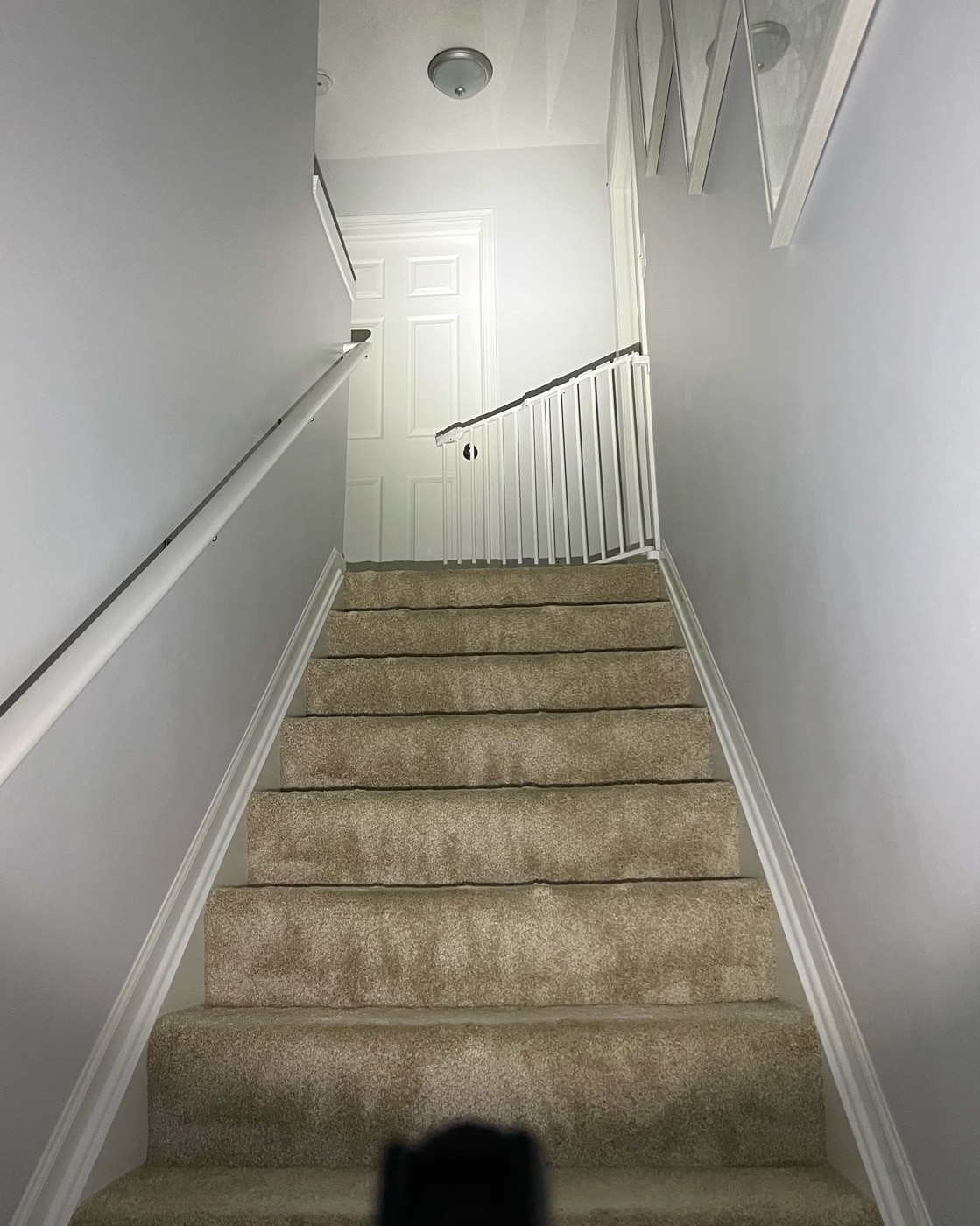 During my first range trip with my new light, I probably got no more than 15 rounds in before my WILD1 came loose. For safety purposes, I decided to leave it off for the remainder of the range trip. Once I got home, I added some threadlocker and haven't had an issue since during numerous follow-up range visits.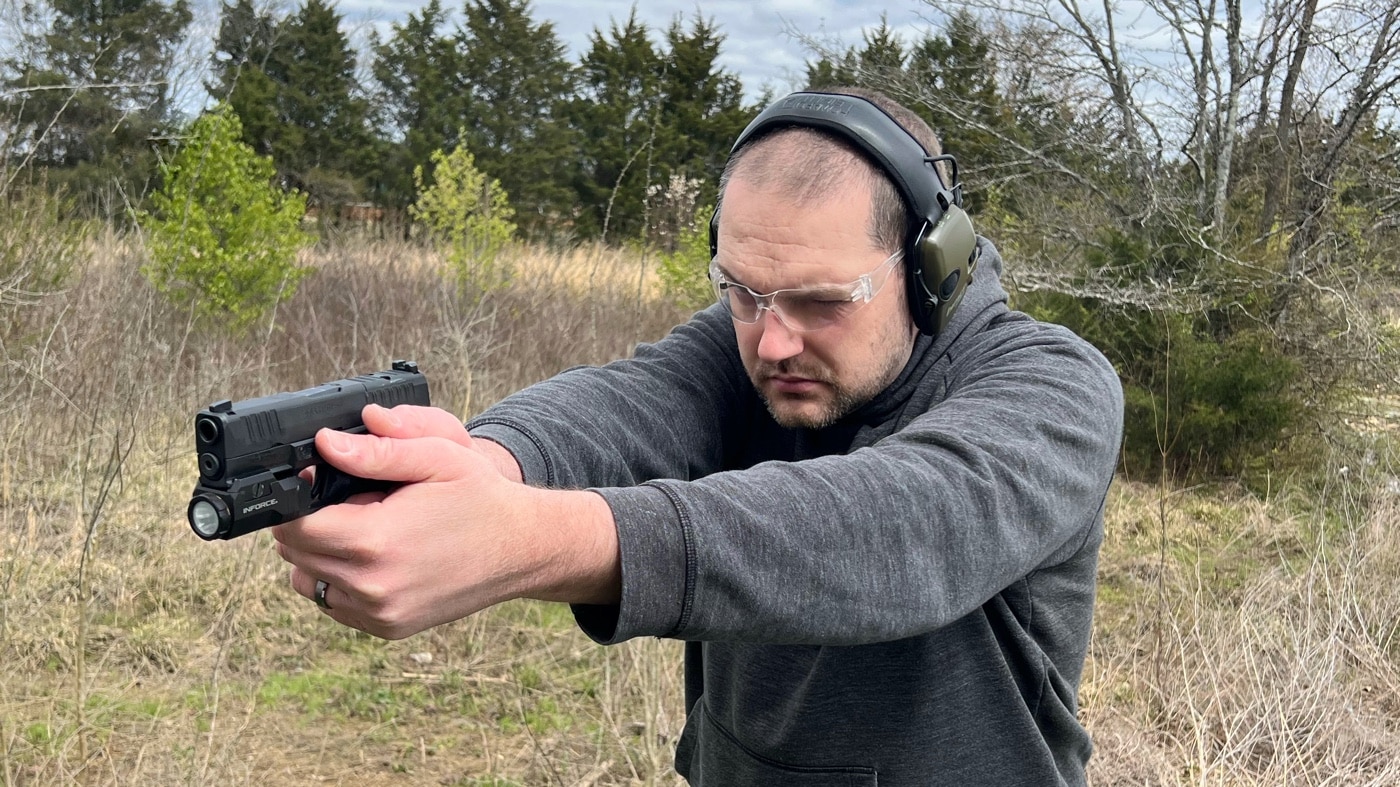 I haven't got to shoot in total darkness with it yet, but I have been training in low-light scenarios quite often. The light output from the WILD1 has performed great in low-light. I've still been able to use my optic and iron sights easily without the light drowning them out.
I'm typically shooting indoors at distances between 5 and 20 yards, and the light works great at those distances. When you are using it to focus on your target, there is a prominent enough "hot spot" without it seeming overly focused. You still get that nice spill of light to see all around your target as well.
Overall, after I was able to secure the light properly, it's proven to be a reliable and well-equipped pistol light.
Final Thoughts on the Inforce WILD1
The Inforce WILD1 has earned its spot on my Hellcat Pro for the foreseeable future. The pairing of its compact size and optimal light output makes it a very strong option for what I look for on one of my EDC setups. Don't let the $199 MSRP deter you if you are interested in the light, as you can typically find it floating closer to $120 to $140, on either Inforce's website or Amazon. For a bright white light with about two hours of run time, this pricing is reasonable
If you're in the market for a new weapon-mounted light, I suggest you consider the Inforce WILD1 for yourself. If you have a local gun shop, see if you can test one out by attaching it to your carry pistol and seeing if the intuitive controls work for you.
Editor's Note: Please be sure to check out The Armory Life Forum, where you can comment about our daily articles, as well as just talk guns and gear. Click the "Go To Forum Thread" link below to jump in!
Join the Discussion
Featured in this article
Continue Reading
Did you enjoy this article?
50