Meprolight is a name well-known in the tactical optics and sighting systems community, having been founded in 1990 as the primary red dot, sighting system and battle optic supplier for the Israel Defense Force (IDF). In addition to these enviable credentials, all citizens of Israel are required to serve in the IDF, which means that the company's employees bring impressive military experience to their job. As a result, I started out this test with some high expectations for quality and performance from the product we are considering here — the Tru-Vision red dot.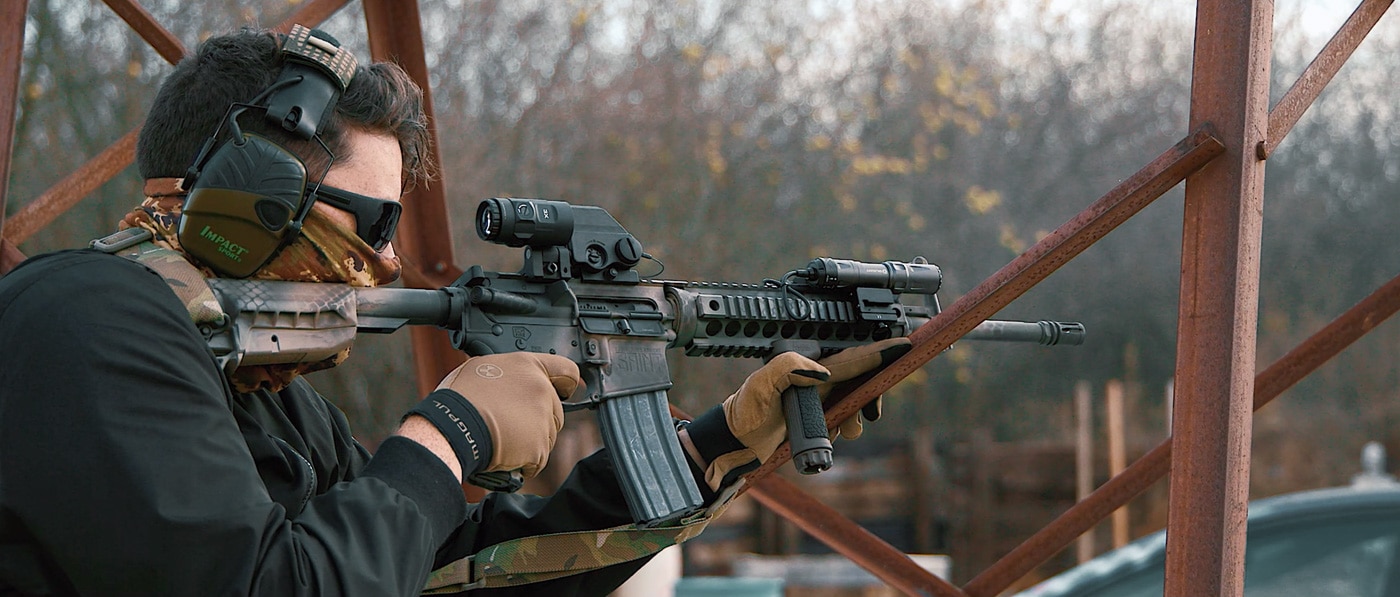 As I started digging in on this review, I decided to learn as much as I could about the quality standards behind Meprolight products. Sure, I expected a high level of quality, but where exactly does the company stand on this front? A quick perusal of the company's website revealed that all its products are held to meticulous quality assurance requirements, with Meprolight being certified to ISO-9001:2008, ISO-14001:2004, and OHSAS 18001:2007 standard. This brings their products into compliance with NATO and U.S. military specifications, as well as international MIL Standards. Needless to say, this sets the bar high for the product.
The Details
So, we have clearly set our expectations here. Would the Tru-Vision live up to them? Let's find out. Upon receiving the optic for review, I learned that the Tru-Vision comes with all the latest bells and whistles in red dot sights, as you can see here in its technical specifications:
Meprolight Tru-Vision Specifications
| | |
| --- | --- |
| Optic Type | Red dot |
| Dot Size | 2.0 MOA |
| Magnification | 1x |
| Weight | 10 oz |
| Dimensions | 2.87″ (L), 2.2″ (W), 2.67″ (H) |
| Interface | Picatinny rail |
| Body | Polymer hood, waterproof (MIL-STD 810G: 20m for one hour) |
| Lens | Non-reflective, 1.14" (W), .78" (H) |
| Operation Modes | 12 day/4 night modes, auto brightness control, motion sensor "sleep" and "wake" |
| Battery/Life | Single CR123, 15,000-20,000 hours |
| MSRP | $549.99 |
Among the things on that list, the Tru-Vision is both shockproof and waterproof, indicating a good level of strength and durability. Its overall dimensions are reasonably small (measuring 2.87″ in length, 2.2″ in width and 2.67″ in height). The result is a compact design that is also quite lightweight, weighing in at just 10 ounces.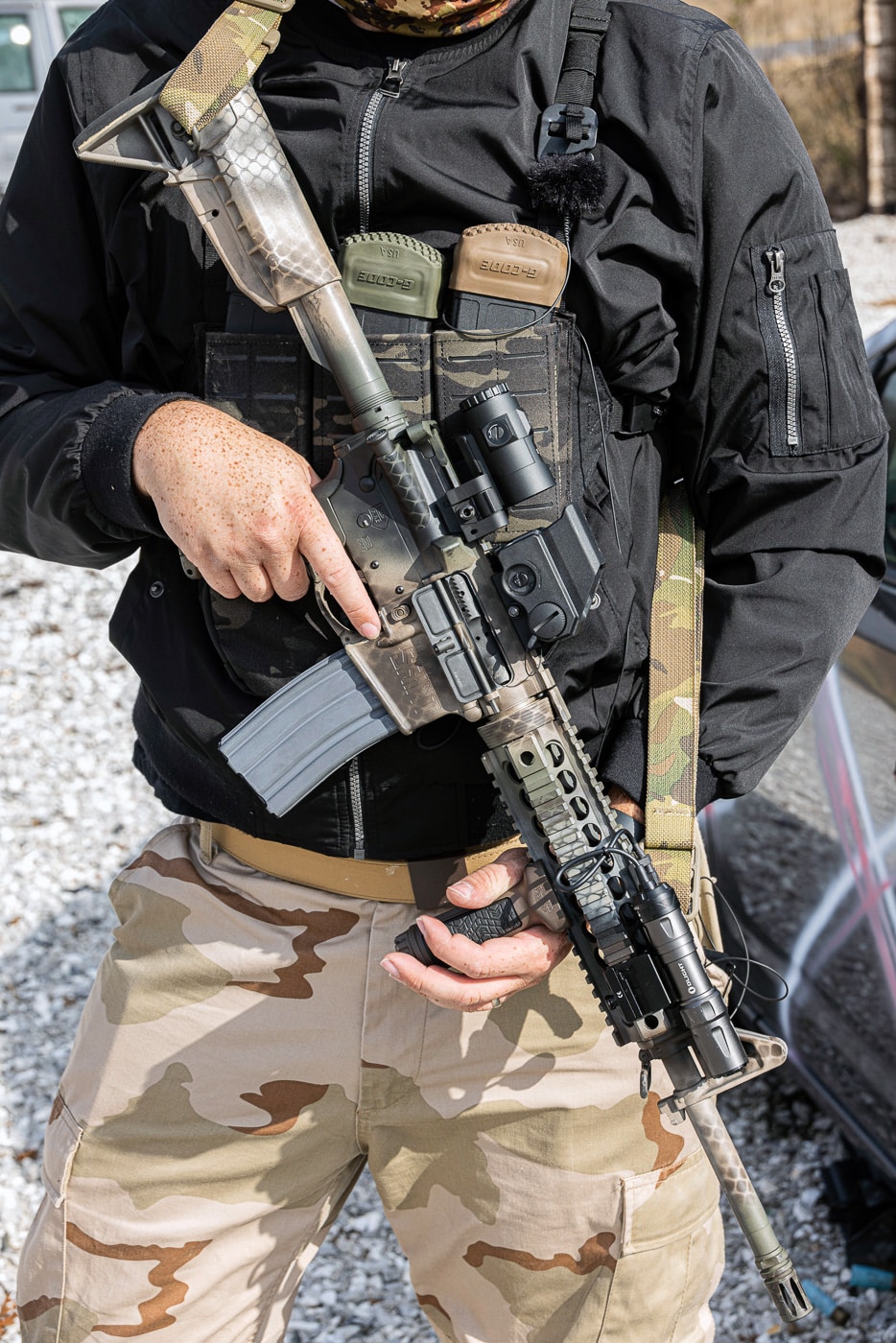 When first unboxing the Meprolight, I noticed immediately that the packaging was top-tier. The branding on the packaging is fantastic, and the optic itself comes attached to a plastic 1913 rail insert that is part of the packaging. Atop the sight is a nice soft dust cover to protect the optic in storage. Does packaging matter regarding the actual capabilities of the product? No, but this kind of attention to detail at the front end certainly creates a good impression right out of the box. So, from the start, my initial impressions were good.
Hands-On
Once I got the optic out of the box, I was pleased to see it has a built-in quick-release mount designed to interface with standard Picatinny rail. The optic is an enclosed sight with lenses featuring a crystal-clear non-reflective display optic windows. Controls are simple and straightforward, with "up" and "down" brightness control arrows on the left side, along with an NV night vision mode button. There are 12 daytime settings, and four night settings. The buttons are recessed, which is nice as it helps prevent accidental activation or adjustment.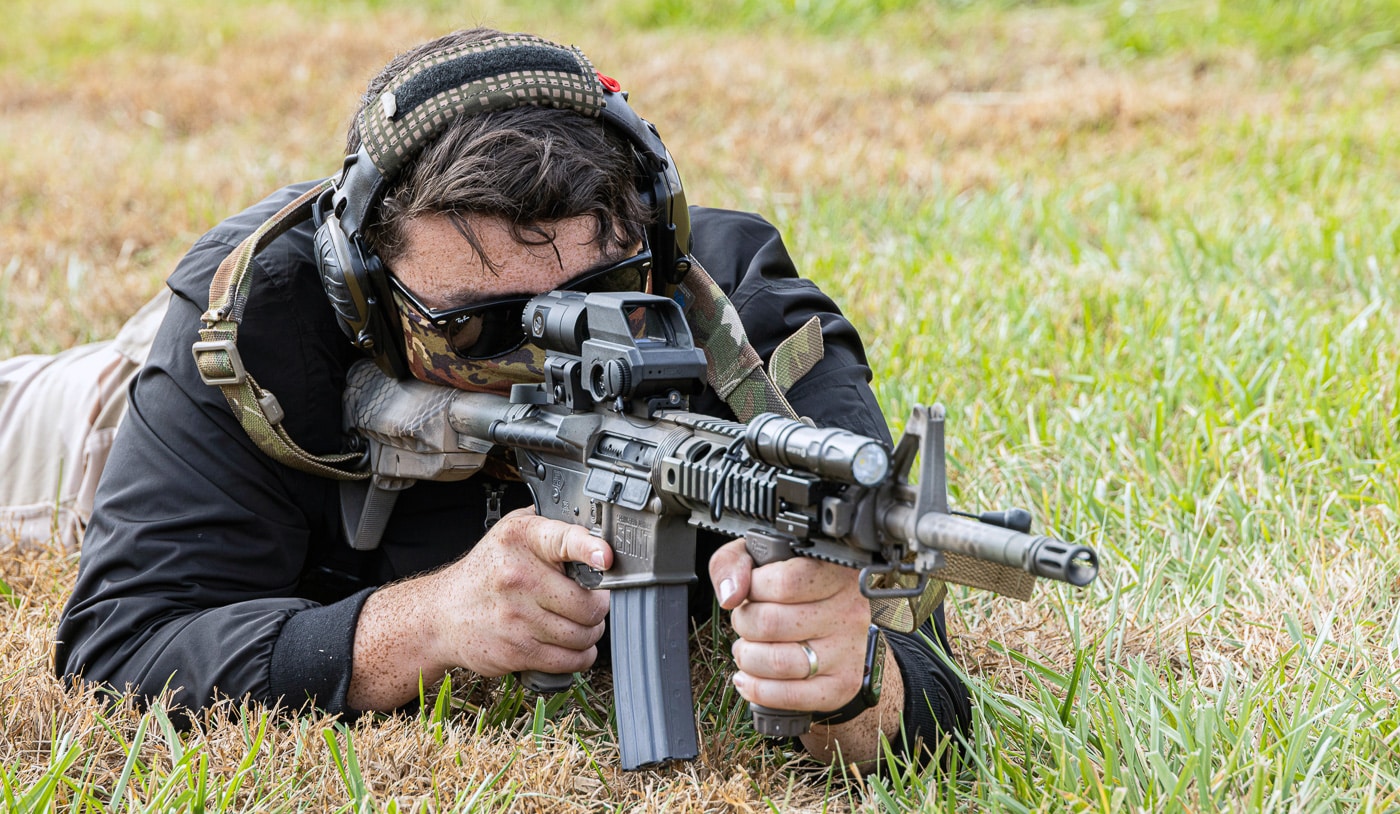 A physical feature pertaining to the body of the optic I appreciated a ton was the fact that it features a polymer "armor" that shrouds the optic and can be removed. This feature is fantastic if you like to paint your optics. This allows you to easily slide off the armor shell by removing some bolts, painting the shell and placing it back on the optic.
When testing optics, the first thing I test out is the brightness of the optic. It's very easy to crank up the brightness and go point it at the brightest surface you can and see if you can still pick up the optic, and that is exactly what I did. I was happy to note that not only is the Tru-Vision very bright, but also that the 2 MOA dot is crisp and precise.
As noted, the Tru-Vision has a total of 16 brightness settings, with 12 of them for daylight and four reserved for use with night vision. Naturally, I also tested that out. I mounted a PVS-14 right behind the Tru-Vision on my SAINT Victor 5.56mm carbine, and again noted how well the dot stood out. It looked great under night vision, remaining crisp and clear in the four night-vision brightness settings.
In addition to the NV settings, the Meprolight also has a light sensor located on the front of the optic to read ambient light levels. This sensor allows the emitter to auto-adjust the brightness of the reticle. The placement is perfect for being sure to read the light in front of you instead of the lighting conditions around you. I found that this helped immensely when in a room and aiming out through a window into brighter conditions.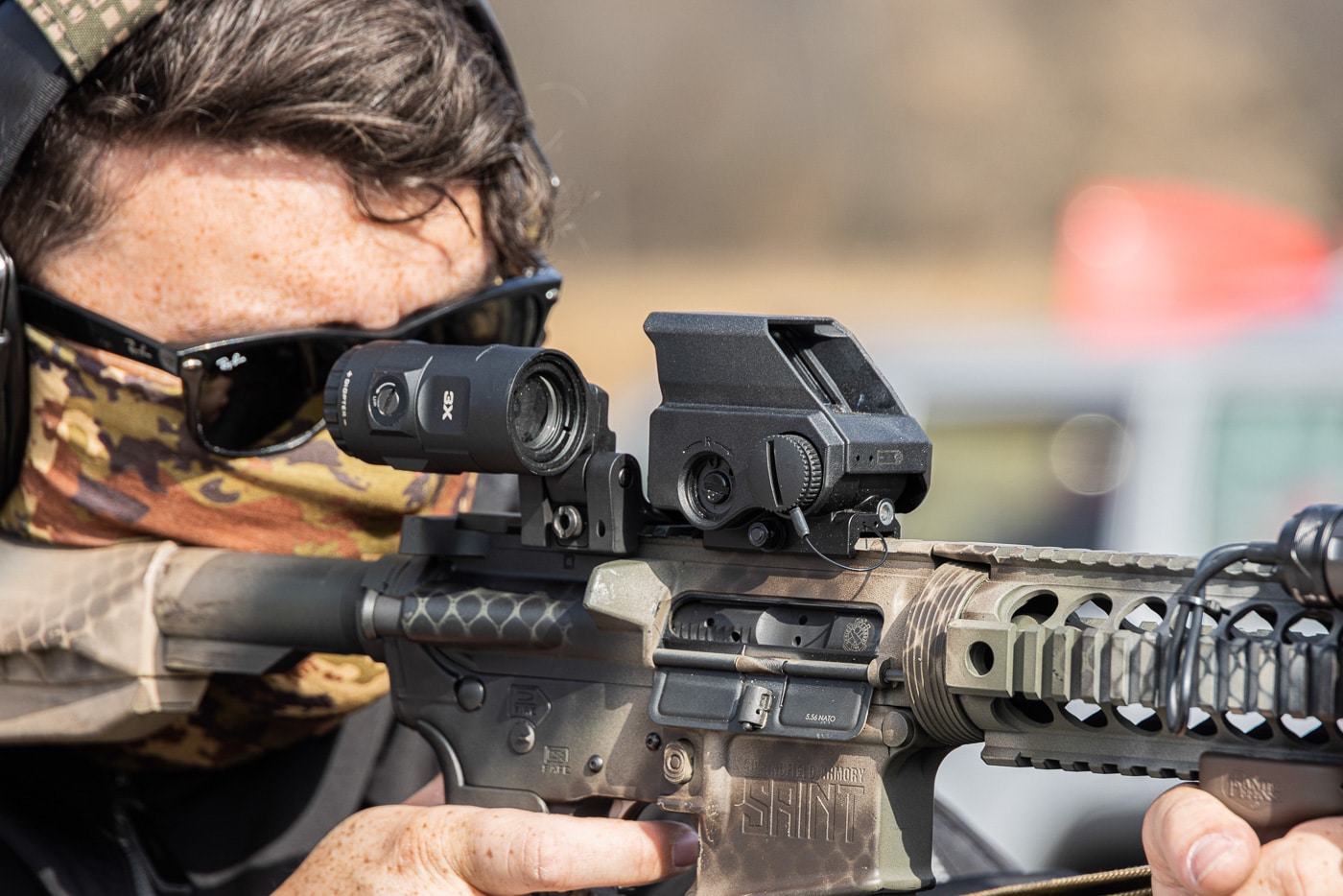 I was also pleased to learn that the optic has high-quality turrets to adjust the point of impact. The turrets adjust the point of impact by using a flat head knob of 0.5 MOA per click. The click adjustments of the turrets are stiff, but not too stiff. They have very nice positive clicks that are both felt and heard as you adjust the point of impact. That means it's easy to count out the adjustments as you feel the sturdy clicks.
Needless to say, my first impressions of quality were born out to be true. But what about durability and performance on the range? To find out, I started out by getting a good zero at 50 yards. After getting it sighted in and seeing it was retaining zero, I proceeded to give it a good drop from shoulder height. I dropped the gun twice in the grass and saw no point of impact change.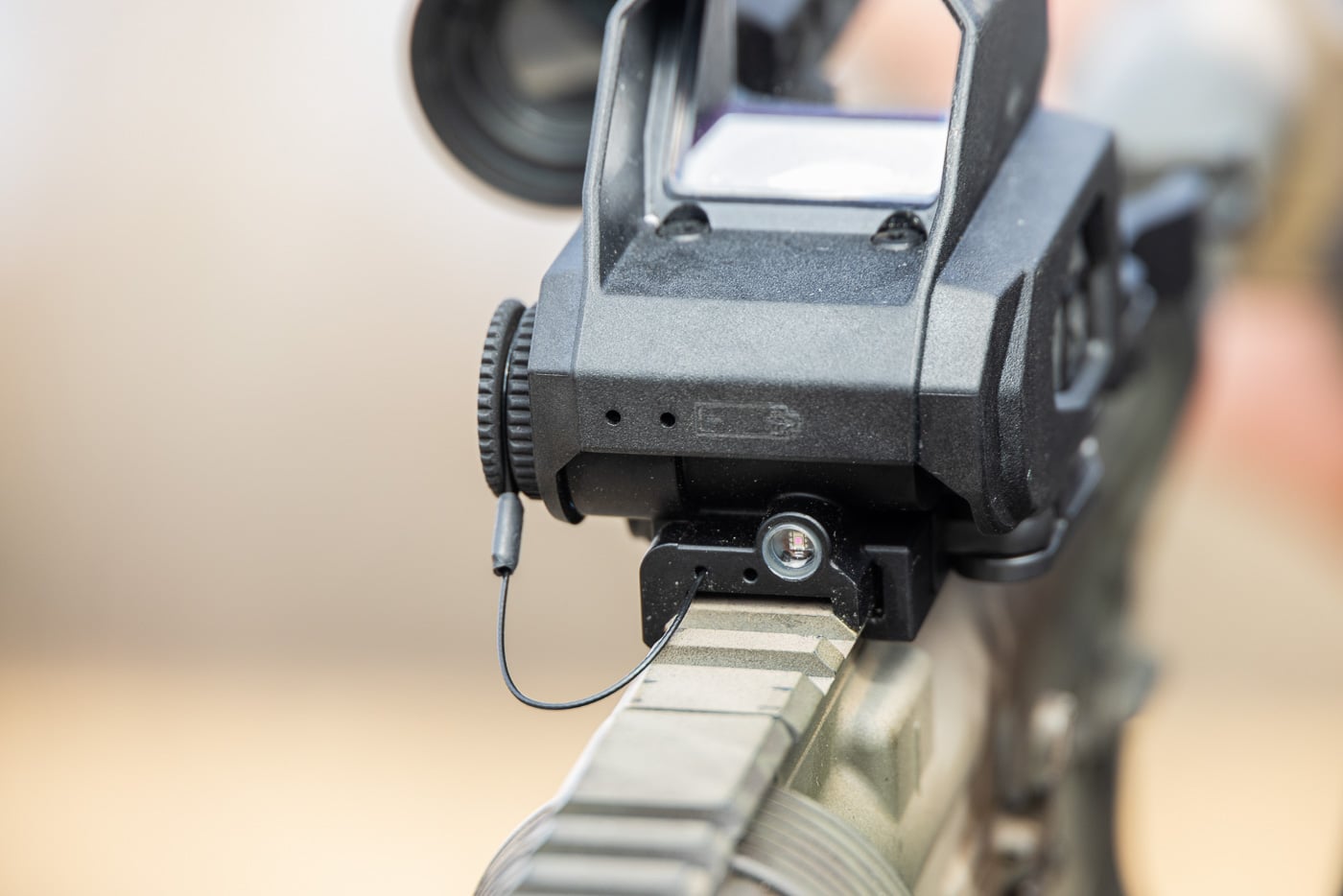 Then, we moved to a harsher test, dropping the optic onto limestone from six feet. After this drop, I believe there was an ever-so-slight zero shift, but an inconsequential amount (and it might have been shooter error). The optic had zero damage to it besides one scratch on the polymer housing. The glass was still perfectly clear with no damage whatsoever.
For accuracy testing, I ran Patriot Defense Ammunition 5.56x45mm NATO M193 55-grain FMJ ammo through the SAINT Victor topped off with the Meprolight Tru-Vision red dot. Once I got settled in, I got some very tight groups with the optic at 35 yards, and it proved to be very consistent.
Conclusion
I feel with 100% certainty that I can say the Meprolight Tru-Vision is a duty-quality optic that is extremely bright and very tough. The optic's large viewing window is perfect for quick target acquisition and would be ideal for close-quarters target engagement. It also has a small footprint that makes it ideal for adding other rail-mounted accessories around it like switches or magnifiers, especially on shorter rifles.
With an MSRP of $549.99, the Tru-Vision is clearly not a bargain-basement optic, but it is also still reasonably priced. Combine this with its proven pedigree of performance and quality and the results I got out on the range with it, and I'd say it's a solid purchase.
Editor's Note: Please be sure to check out The Armory Life Forum, where you can comment about our daily articles, as well as just talk guns and gear. Click the "Go To Forum Thread" link below to jump in and discuss this article and much more!
Join the Discussion
Featured in this video
Continue Reading
Did you enjoy this video?
54