Review: Milt Sparks Summer Special 2 for the
SA-35
August 20th, 2022
6 minute read
I'll admit it. I'm usually a Kydex holster kind of guy. All my carry guns are micro compact striker-fired pistols. I like the rigid designs and the positive passive retention they offer. Up until I discovered the Milt Sparks holsters, I was wary of leather holsters and all the "horror stories" of the leather bending into the trigger guard, etc.
That is, until I received a Milt Sparks inside-the-waistband (IWB) Summer Special 2 for my new, custom SA-35 from Mk3 Firearms. The pistol is a gem that is unique and pristine with a gorgeous tri-blend Cerakote finish. It's also an extremely capable pistol for self-defense, boasting a 15+1 round 9mm capacity. So, I decided it deserved some quality leather.
A Considered Choice
When I began looking for holster options, I was worried about using a Kydex holster with this specific pistol. Normally I am totally fine with my pistols getting beat up with holster wear and tear. But I just couldn't bring myself to scratch this SA-35 up. That's where leather comes in.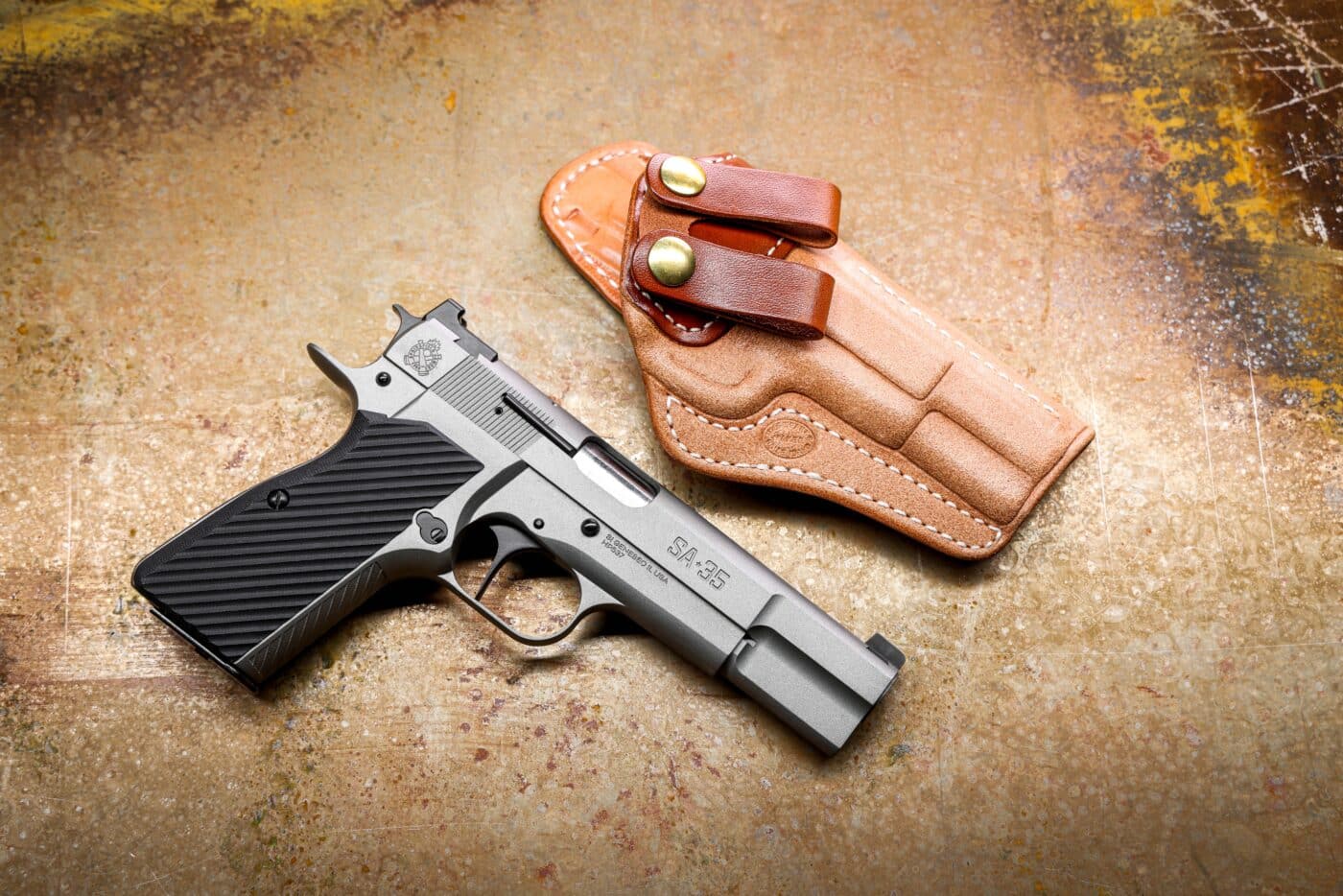 I got the chance to speak with Jim Wall of Milt Sparks Holsters on the phone, and he was able to give me the history of the Summer Special as well as all the details on what ensures the holster can bear the Milt Sparks name.
The Summer Special was originally a Bruce Nelson design. Nelson was a police officer who began creating holsters out of personal necessity. He realized that when undercover he needed a quality holster that was both concealable and readily offering access to his pistol. His holsters became very popular upon their release in the early 1970s, but he was making them by hand and his output was limited. This is where Milt Sparks stepped in.
With permission from Nelson, Milt Sparks in the 1970s began producing the Summer Special to help meet the demand for the design. Sparks took the basic strengths of the core design and added some important enhancements such as adding sight rails, then later adding a second belt loop.
Later, to address the changes coming about in handguns in the 1990s, the Summer Special 2 was introduced. It features a protective backflap that protects the user from the gun, and vice versa. Also, an interchangeable belt loop system was added. And finally, a metal-lined top band under the belt was added. The Summer Special 2 also featured a lower ride height and F.B.I.-style rake (although straight-drop is available upon request).
The Summer Special 2 is made from high-grade cowhide, smooth side towards the pistol for protecting the finish, and the "rough" side out to help grip your clothing and keep the holster in place on your hip. The holster is also designed to allow a full firing grasp, which is of extreme importance for getting a proper grip on your pistol when drawing from concealment.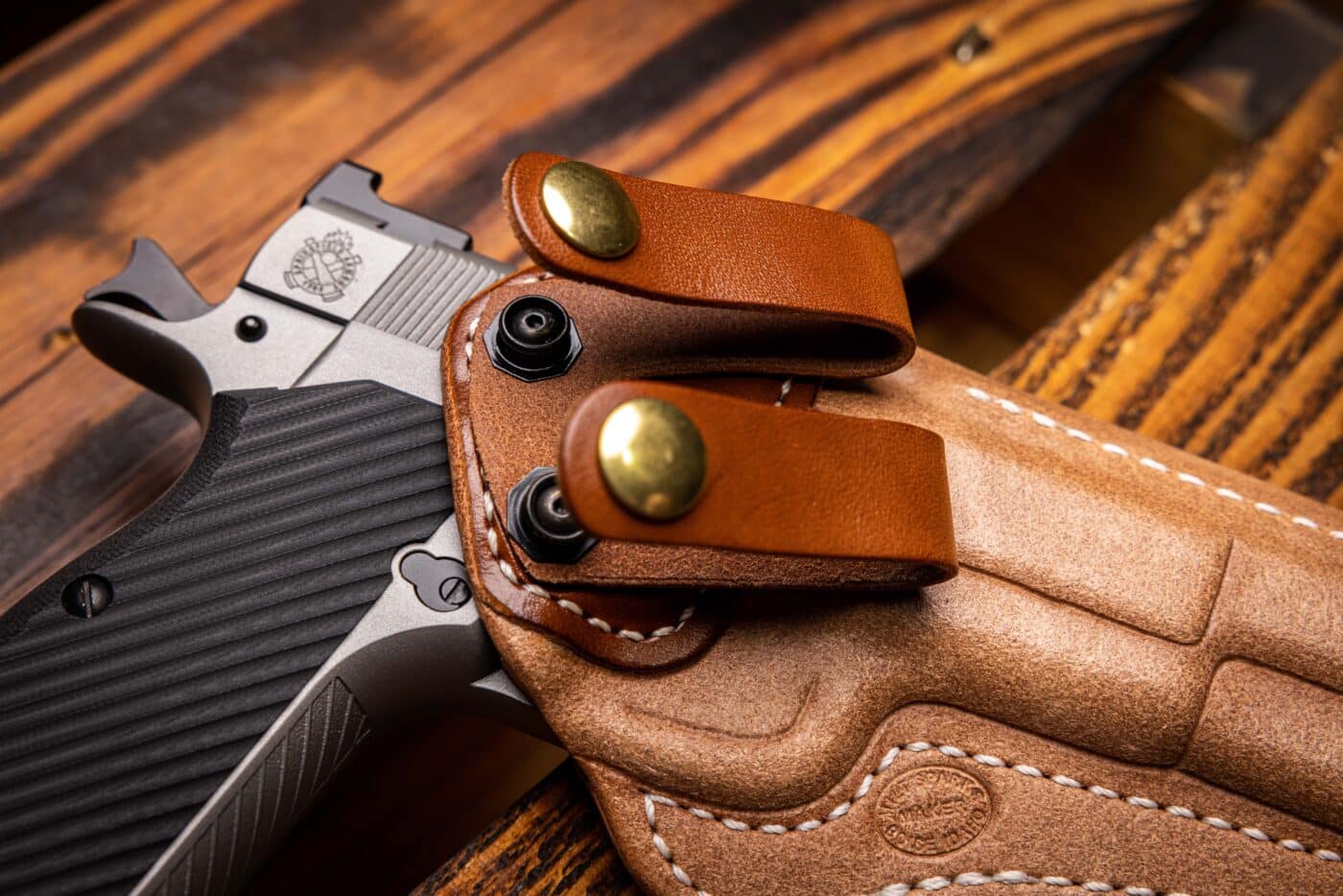 Another benefit with a leather holster is a silent draw. As many of you know, Kydex holsters' passive retention creates a "clicking" noise as you draw your pistol. Leather holsters have no such noise when drawing, which can be a tactical advantage in a defensive situation.
Milt Sparks has been producing the Summer Special 2 holster since 1998 using all American-made materials. From the thread and dye all the way to the finish, it's all made in the USA with parts from American suppliers.
Housing Perfection
As noted earlier, I mostly carry micro compacts such as the Hellcat. A quick review of the SA-35 shows it isn't a small gun by any means, so I figured it might be a little bit uncomfortable to carry for extended periods of time in an IWB holster. I affixed the holster to my belt at about the 3:30 position, and then walked around the office for a bit with the SA-35 holstered. I stretched, and moved my knees up and down. To my surprise, I barely felt anything.
I'm not a large-framed guy, so I would have expected to print a lot concealing the SA-35. The design and cant of the Summer Special 2 made my SA-35 very concealable and comfortable to carry. Because of the holster's forward tilt, the pistol's grip is moved up rather than protruding out the back of my shirt when wearing at the 3 o'clock position. It held solidly in place without feeling bulky or unwieldy, which is generally how a similar-sized pistol in a Kydex holster in this same position would feel.
When practicing my draw stroke, the angle of the pistol in the Summer Special 2 was perfectly set to accept a high and tight grip on the SA-35. The leather does a great job at retaining the pistol, but not so much so that you cannot remove the pistol easily. The draw was stealth-silent and graceful. Presenting the pistol to target was quick and intuitive, as my right hand was in a comfortable and ergonomic position to immediately begin orienting the SA-35 to the target once it cleared the leather.
Final Thoughts on the Summer Special 2
You can immediately tell these holsters are made by people who use them and carry firearms themselves. The craftsmanship and attention to detail are impeccable. I appreciate the full firing grasp design, which ensures you can get the proper grip on the pistol as you draw. This is often overlooked, but quite possibly the most important quality of a holster. Sure, keeping the pistol lower on your hip will conceal it more, but if you cannot get a proper grip on the pistol, it will affect your entire draw stroke and ultimately your accuracy and speed to the first shot.
I also liked the way the Summer Special 2 attaches to the belt. You simply slide the leather straps under your belt and then bring them back over to snap onto the buttons. This is quite different than some holsters that require you to affix them as you are attaching your belt.
As I carried the SA-35 in the Summer Special 2 from Milt Sparks, the leather against my body was cool and dry even in the Arizona summer heat. By the end of the day, I nearly forgot I was carrying my pistol at all. Best of all, my custom SA-35 is still looking pristine. And even better, the Summer Special 2 is part of the company's "In Stock" line, meaning you can order one right now for $155, rather than wait the normal six- to seven-month wait for a Milt Sparks holster. (Editor's Note: These "in stock" are in right-hand only. Milt Sparks does offer left-hand variants, but you have to put in an order for them to produce one for you.)
If you often carry a 1911, SA-35 or even a modern polymer-framed pistol, Milt Sparks has something for you. They've got a lot to offer and create some of the finest leather holsters on the market. I'm glad I decided to give leather a chance with my custom SA-35, or I would not have discovered this exceptional holster.
Editor's Note: Be sure to check out The Armory Life Forum, where you can comment about our daily articles, as well as just talk guns and gear. Click the "Go To Forum Thread" link below to jump in!
Join the Discussion
Featured in this article
Continue Reading
Did you enjoy this article?
187