My Gunsite Pilgrimage
March 20th, 2020
4 minute read
"Please excuse our noise. It's the sound of liberty."
The sign on the fence next to the entrance clarifies in words what most in the gun world already assumed by the sight of the giant black raven towering over the entrance to Gunsite.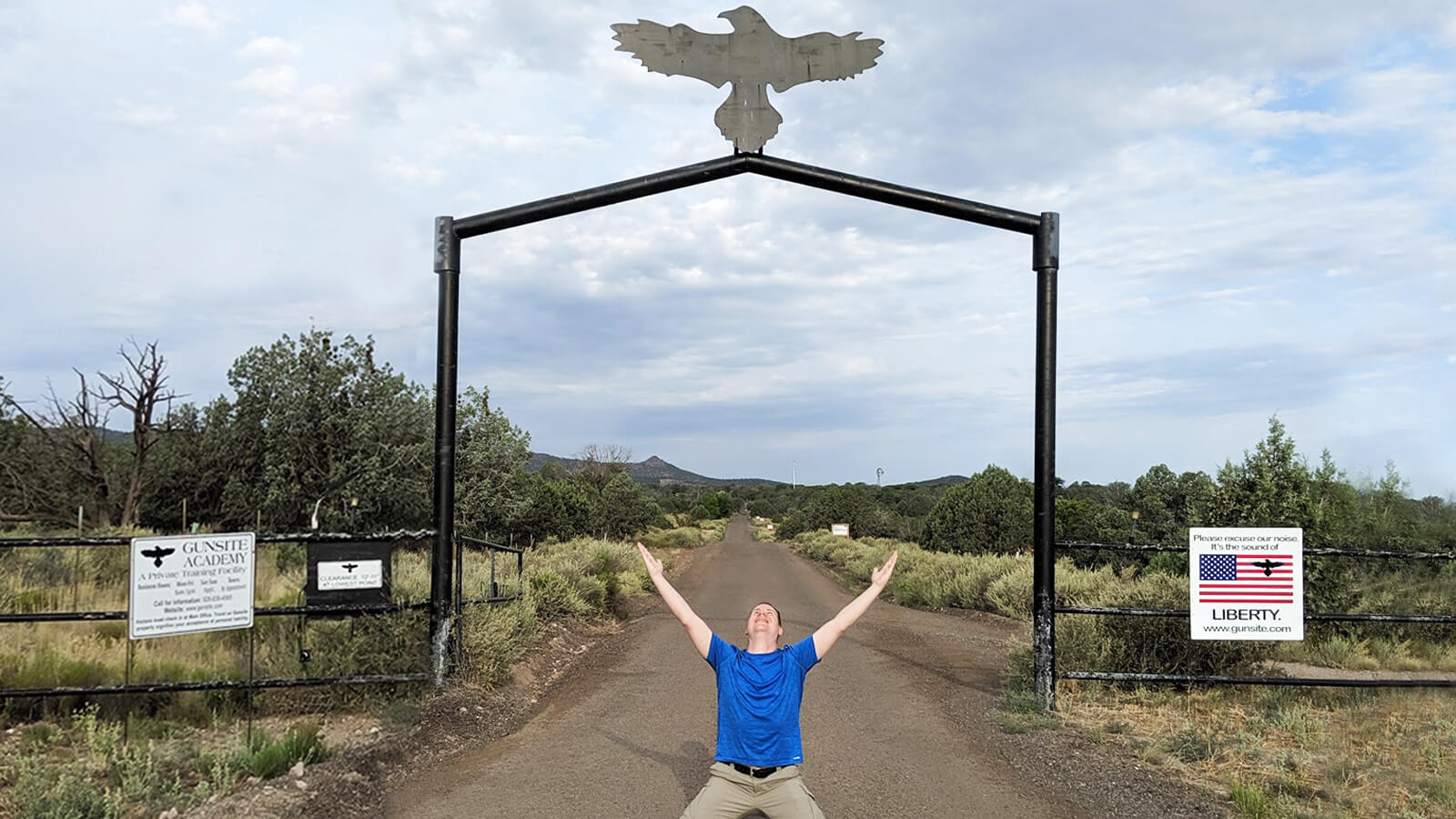 Located about two hours north of Phoenix, Gunsite is a 2,800-acre facility established by the late Lt. Col. Jeff Cooper in 1976. Originally called the American Pistol Institute, what we now know as "Gunsite" has become an icon in the self-defense training world. In fact, going to Gunsite for a training course is more than a trip — it's a pilgrimage. Or, at least that's what it was for me when I went for the first time in July 2019.
The Man, the Legend
Jeff Cooper was a veteran of both World War II and Korea, and he developed what has become known as the "Modern Technique of the Pistol," which is comprised of the following five things: a large caliber pistol (Cooper preferred a 1911 in .45 ACP), the Weaver stance, the draw stroke, the flash sight picture, and the compressed surprise trigger break.
He was also the first one to define and stress the Four Basic Rules of Firearms Safety: All guns are always loaded. Never point your muzzle at anything you do not wish to destroy. Keep your finger off the trigger until your sights are on the target. Always be sure of your target.
Beyond training and safety, Cooper also lent his expertise to the design aspect of the gun world. It was with his input and support that both the 10mm cartridge and the Bren Ten pistol came to be in the 1980s. While the Bren Ten is no longer available, the 10mm round is alive and well, enjoying notable success and popularity.
The Legacy Continues
Lt. Col. Cooper passed away in 2006, and his wife Janelle passed just days after I was there in July 2019. Nonetheless, Cooper's legacy lives on through the devoted following of the students who flock to the 200+ courses taught there each year by its numerous instructors with military, law enforcement and other specialized experience backgrounds — many of whom were trained by Cooper himself. To say that an attendee and their firearm(s) are put to the ultimate test while there would be an understatement.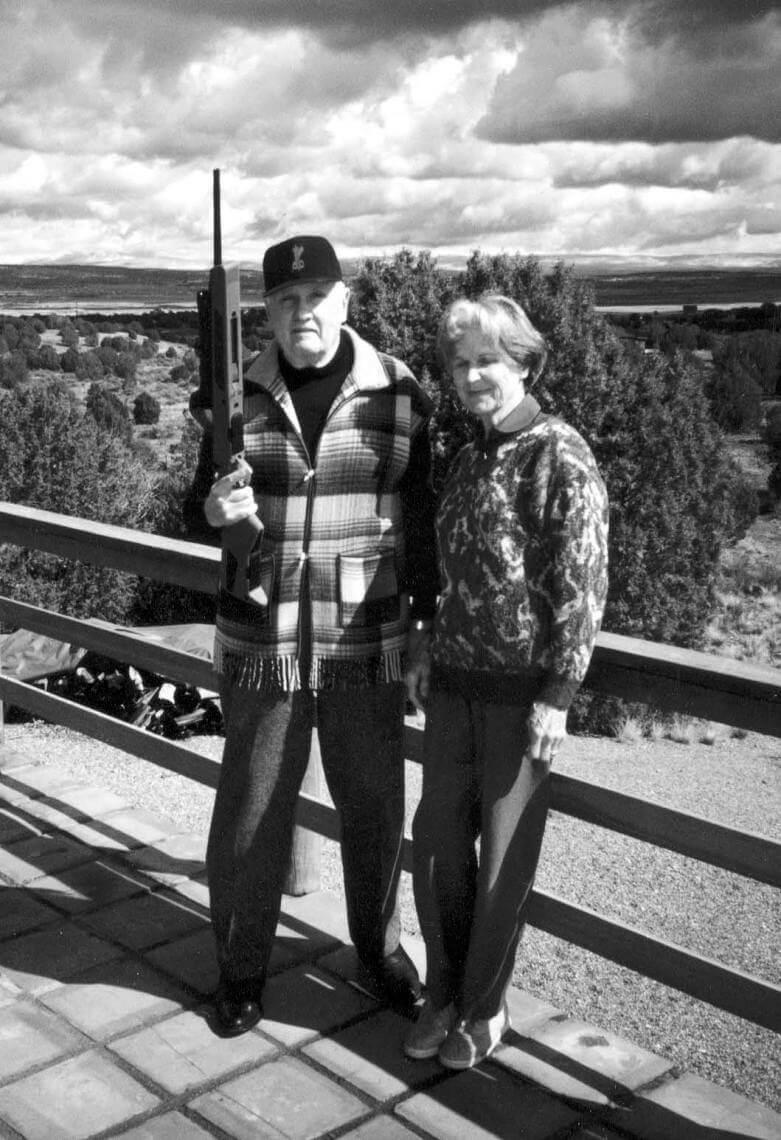 Gunsite was more than just a training facility to Jeff and his wife. They also lived on the 4.5-square-mile property, which houses a variety of different purpose-built ranges, including outdoor and indoor simulators, a 2,000-yard rifle range, an unknown distance range, and various other steel ranges. They've even got a pro shop and a gunsmith on site, just in case you forget to bring enough mags or something goes sideways with your gear.
The variety of training available is expansive and comprehensive. "Pistol 250" is considered the quintessential five-day Gunsite experience; there are classes specifically designed for veterans, women, kids and "seasoned citizens," described as "those of us who have been around and have the aches and pains to prove it". New for 2020, there's even a defensive lever-action rifle and single-action revolver course!
Want to train for an active shooter, or church defense, or with edged weapons? They've got classes for those, too. If you can't make it to Arizona, Gunsite also hosts official off-site training classes in eight different states across the country.
My Turn
The course I took was led by Training Director Dave Hartman and Chief Executive Officer Ken Campbell. Between the two of them, they have more than 60 years of law enforcement experience and more than 35 years of instruction at Gunsite alone. Without a doubt, we were in very capable hands.
Because of the size of Gunsite and its multiple different ranges, I was able to run training drills in a wide variety of scenarios that I had never had the opportunity to do before then. This included clearing a house, shooting in and around a vehicle, and more.
Conclusion
In 2019, Gunsite celebrated the 20th anniversary of Gunsite ownership by Buz Mills, who first attended as a student in one of Jeff's classes many years ago. Now, in 2020, Gunsite will mark the 100th birthdays of Jeff and Janelle Cooper, both born in 1920, with a special shoot in their honor on Memorial Day weekend.
If you've ever wanted to attend a class at Gunsite, don't wait. Do it now. It's one of the most amazing experiences I've ever had. Now that I've been once, I understand why there are so many repeat pilgrims — er, students.
Editor's Note: Please be sure to check out The Armory Life Forum, where you can comment about our daily articles, as well as just talk guns and gear. Click the "Go To Forum Thread" link below to jump in!
Join the Discussion
Continue Reading
Did you enjoy this article?
69