Hunting is, at its core, a game of patience and resolve. A hunter will likely spend a significant amount of time observing their prey before a shot is ever taken. It takes skill and observation to outsmart wild animals, and a good pair of binoculars is a necessity.
Recently, Primary Arms debuted two sets of binoculars at the 2023 SHOT Show in Las Vegas. They reached out to us and asked for some feedback on their new binoculars, wanting us to try them out on some of our hunts.
What's New?
The two new 10x42mm binoculars from Primary Arms are the GLx and SLx. Frankly, the world of binoculars is flooded with options ranging from budget-friendly to high-end Swarovski units which cost more than some folks' cars.
With the two new offerings from Primary Arms, the company strove to provide impressive quality at two very reasonable price points. The GLx 10×42 binocular retails for $259.99, and the SLx comes in at $129.99.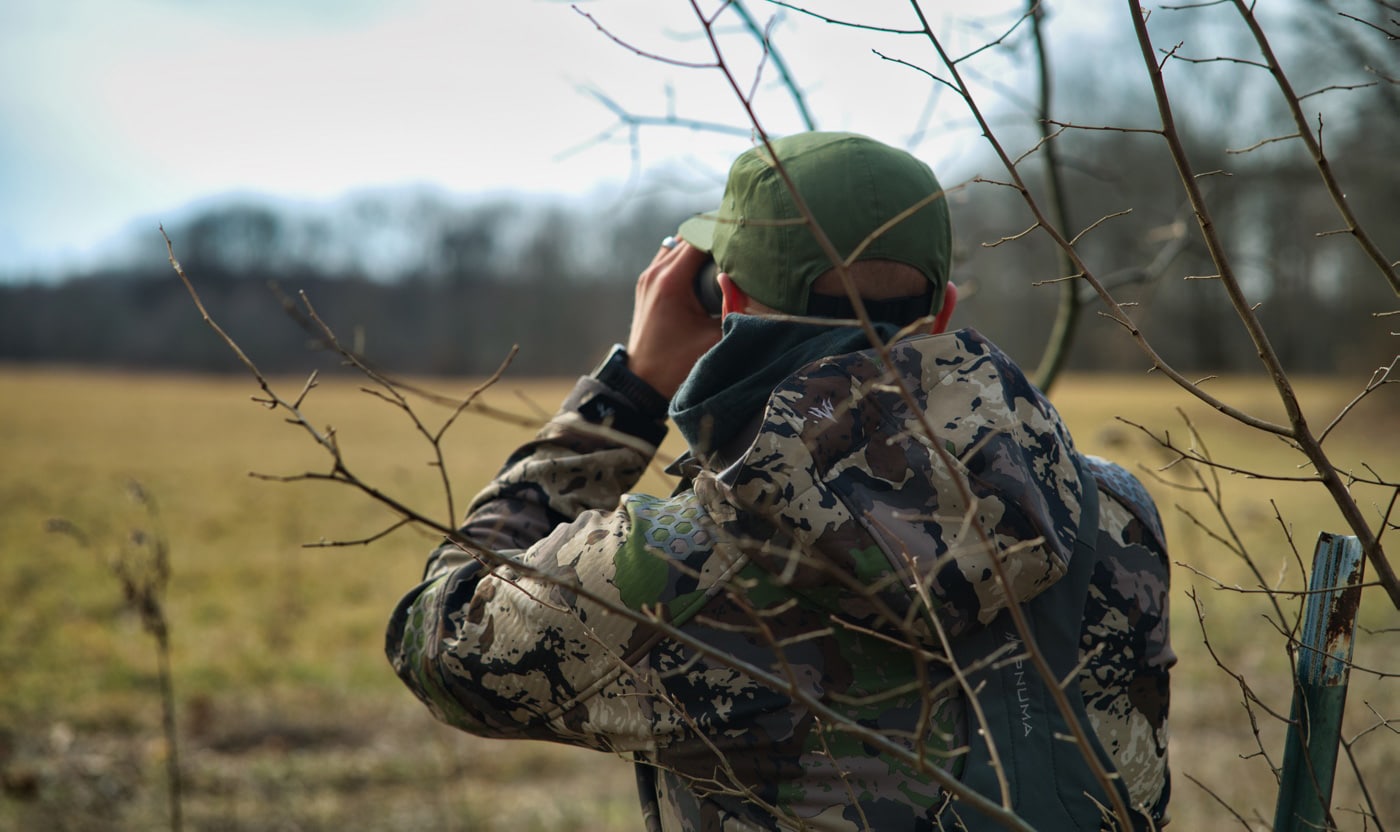 Out of the gate, we can tell you both the GLx and SLx binoculars compete with other well-established companies on the market. In fact, in our opinion, the GLx binos should cost closer to $400 if you compare them to other options on the market.
While there are many that feel you need to spend into the thousands to get acceptable quality binos, not everyone needs (or can afford) that level of optic. For the average midwestern or whitetail hunter, spending that much on glass is a waste of money.
We feel great glass can still be achieved at lower prices if done right. With the Primary Arms GLx and SLx 10×42 binoculars, there is value where the average hunter will have everything they need, without a high price tag.
What's Included?
When unboxing the GLx and SLx, you will find a thin, soft case. We'll be honest, with us, a soft case like this is often discarded and the binos are immediately thrown into a bino harness like our Pnuma Outdoors Bino+ Tech Harness.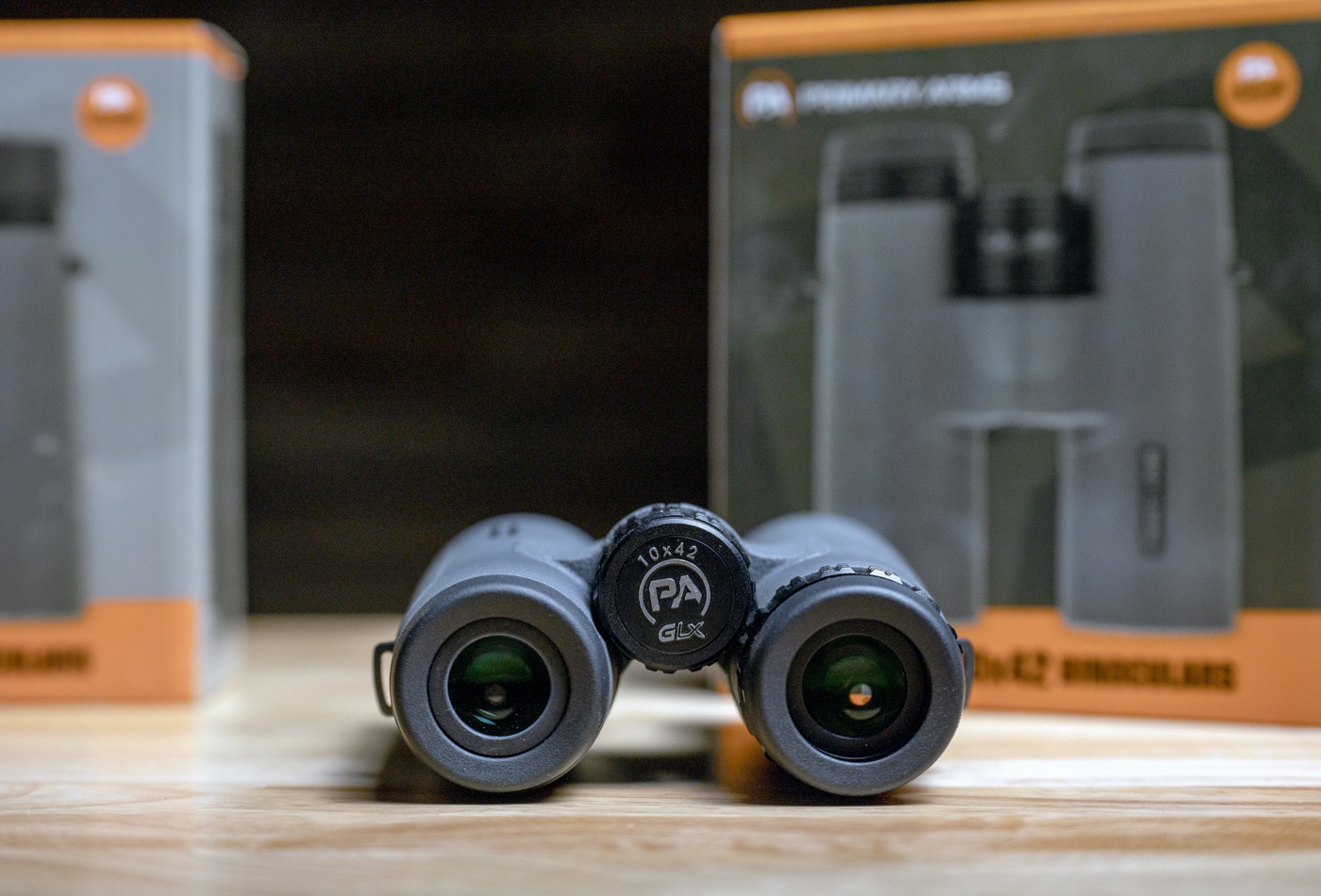 The Primary Arms binoculars will also include a padded lanyard and lens cleaning cloth. Ocular and objective lens covers are included, but these also fall into the "toss them" category for us as the binoculars will go in an enclosed harness. In summary, if you have ever purchased binoculars before, you will get the same in-the-box stuff to which you are accustomed.
How Do They Differ?
So how are the GLx and the SLx different to warrant the price difference? To start off, I looked out over our hayfield where deer usually stand, and I could tell the difference in glass clarity between the GLx and SLx binoculars. Even at 700 yards, the GLx produces a very bright and crisp image. The colors within the GLx glass are spot on as I looked at a bluebird at roughly 300 yards against the green grass. Now with the SLx, they have a bright image, but there is an ever so slight "fuzziness" to the image at a distance. However, the SLx is roughly half the price of the GLx — and both are quite reasonably priced.
Outside of glass quality, the knurling on the focus and diopter is pronounced and "knobby" with the GLx set of binoculars. This SLx has a less-aggressive texture that still works well. However, we preferred the GLx's texturing as it is great for gloved hands or cold, numb fingers.
Primary Pros (and Cons)
The build quality seems quite good on both sets from Primary Arms, and both have rubber-coated magnesium alloy bodies. With that being said, I'm frankly not that concerned with longevity. Why? Due to the Primary Arms lifetime warranty.
While we do think the SLx binoculars feel "cheaper" than the GLx model, that is all relative. To be honest, even with the low price of $129.99, they feel nicer and have better glass than most others at a similar price point. Yes, the GLx ones are better, but the SLx ones are quite a deal at their price.
We did note that with both the GLx and SLx binoculars, the edge-to-edge clarity at low light had some minor issues. Edge distortion becomes noticeable during dawn or dusk times. Both binoculars have good light transmission, but I can't say either gathers light well. Generally speaking, in our experience, good light-gathering qualities for binoculars are reserved for those costing $500 or more.
Conclusion
For us, these new binoculars are a perfect option for new hunters looking to get quality binoculars without having to take out a line of credit. Although neither pair could replace someone's $700 Japanese or European glass binoculars, no reasonable person would expect that.
For the avid hunter who wants a great pair of binoculars and doesn't want to blow their budget, the GLx 10×42 is one heck of a pair of binoculars. The GLx rivals anything the other manufacturers make in their price range. We would even go as far as to say the GLx 10×42 binoculars should cost more than they do for their overall performance.
If we were to pick between the two, we think the GLx model is well worth the extra money. But if you don't have the extra money, the SLx will be a great option, too. Primary Arms has an extensive line of optics, and these all-new binocular models are a great addition that we think will make quite a splash in the hunting market!
Editor's Note: Please be sure to check out The Armory Life Forum, where you can comment about our daily articles, as well as just talk guns and gear. Click the "Go To Forum Thread" link below to jump in and discuss this article and much more!
Join the Discussion
Featured in this video
Continue Reading
Did you enjoy this video?
43