It's often said, "to be the best, you have to beat the best." Therefore, it only makes sense to take two of the best full-size double stack 9mm handguns on the market and compare them head-to-head against each other.
In my opinion, the Springfield Armory 1911 DS Prodigy and the Springfield Armory XD-M Elite OSP are the finest 9mm handguns in their classes. Both 9mm pistols deliver incredible performance but do so in slightly different ways.
Each raises the bar with accuracy, modest recoil impulse and increased shooter confidence. I love nothing more than firing a full-size handgun that makes an average shooter feel like a professional. Hearing the steel ring shot after shot is a sign of a well-built handgun.
In my experience, the Springfield Armory 1911 DS Prodigy and the XD-M Elite OSP offer everything that shooters enjoy with accuracy and reliability that is unmatched.
1911 DS Prodigy
In September 2022, Springfield Armory released the 1911 DS Prodigy. Springfield entered the growing trend of double-stack 9mm 1911s with the Prodigy, and the internet was lit on fire.
I cannot fully describe the excitement I felt when I first got my hands on the 1911 DS Prodigy. A 1911 DS Prodigy with a HEX Dragonfly installed crushed others in the same class with an MSRP of just $1,699. Show me another double-stack 9mm 1911 with similar features at that price, and beers are on me. Simply said, it doesn't exist.
Springfield Armory teamed with Agency Arms to create an optic mounting system that suits the DS Prodigy perfectly. Dubbed "AOS" for "Agency Optics System", it allows the red dot to sit low on the slide, which allows the tall U-cut rear sight and the fiber optic front sight to co-witness completely. This aids with the initial red dot sight in along with adding shooter confidence when shooting.
The frame and slide finish is Cerakote black with a textured polymer-wrapped grip module that feels amazing in the hand. It doesn't matter if the shooter's hands are wet or slick, the shooter will remain in control of the pistol due to the textured grip.
Regarding capacity, the 9mm 1911 DS Prodigy ships with 17- and 20-round magazines. In addition, Springfield offers 26-round magazines that are available on their site.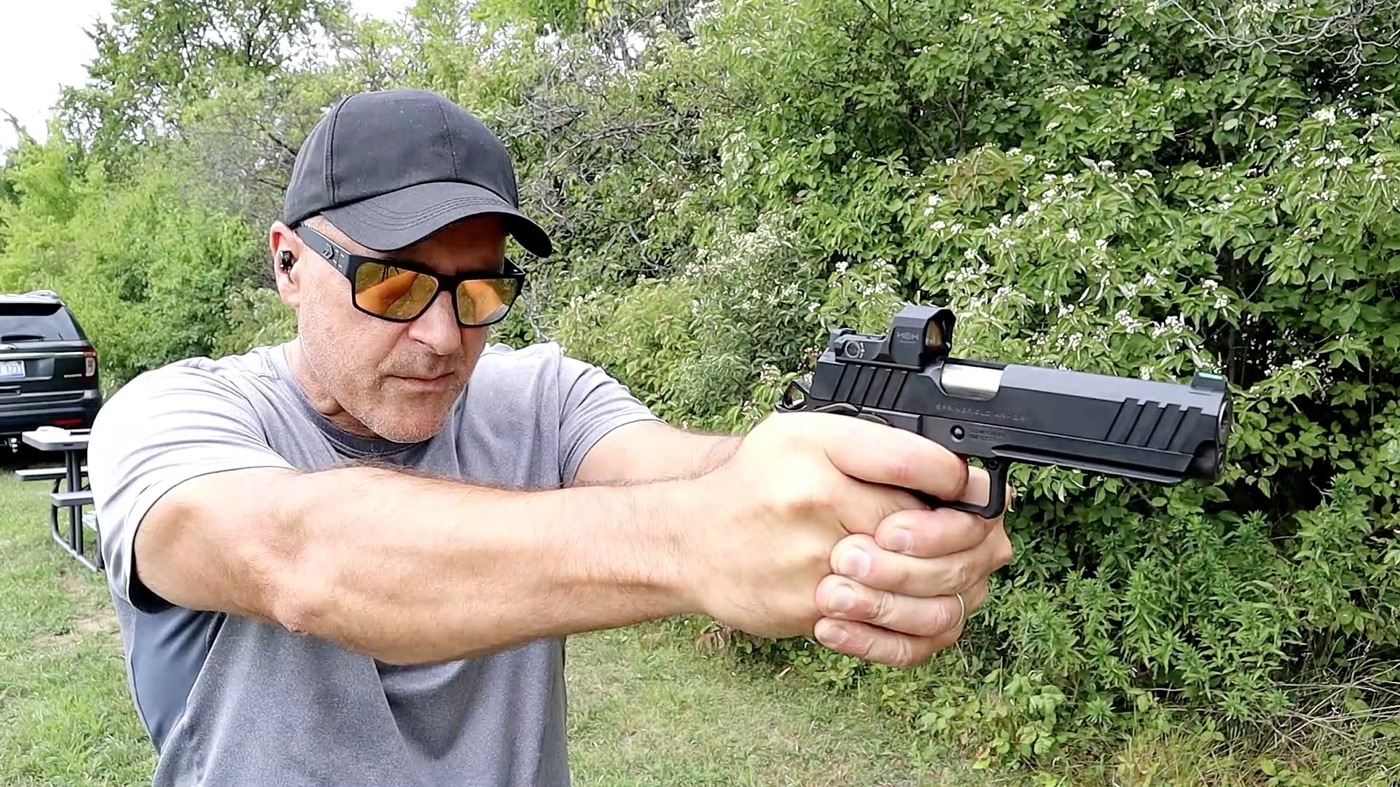 The 1911 DS Prodigy, as tested, uses a 5" bull barrel that tames any recoil the 9mm offers, helping the shooter to stay on target easily. A shorter 4.25" version is also available. Coupled with the single action 4–4.5-lb. trigger, shooters will find themselves ringing steel with ease.
Additional features include an extended magazine release, an ambidextrous thumb safety and a long five-slot Picatinny rail to add a light. The 1911 DS Prodigy is an all-around beautiful-looking and wonderful-shooting double-stack 1911 handgun.
Desert FDE
XD-M

Elite OSP

Springfield Armory raised the bar when they created the XD-M Elite OSP (Optical Sight Pistol). For those who enjoy full-size 9mm pistols that are loaded with useful features, you will love this handgun.
This model — available in black or Desert FDE as tested — has a 5.28" threaded barrel along with metal "suppressor height" sights for those who prefer suppressed shooting. Left-handed shooters often feel overlooked, but not with the Elite Series because they are "left-handed" friendly. With an ambidextrous magazine release and slide stop, lefties will feel right at home with this pistol.
The XD-M Elite OSP ships with two 22-round magazines. On top of that, Springfield Armory offers a whopping 35-round magazine that is available on their site for only $55. That is an incredible bargain considering competitors charge $80 + for similar magazines. This is one sharp-looking handgun with a Desert FDE polymer frame and matching Cerakoted slide.
[Read more about Cerakote in our article Common Coatings and Finishes for Modern Guns.]
The Springfield XD-M Elite handguns use a "META" trigger system. META stands for "Match Enhanced Trigger Assembly." Personally, I love this trigger assembly. It is a flat-face trigger with a smooth take-up that breaks at 4.5 lbs. The reset is incredibly short.
Topped off with an optional HEX Dragonfly red dot and the META trigger, I found myself ringing steel as well as I did with the 1911 DS Prodigy. That is saying a lot!
Additional features include a removable extended and flared magwell for quick reloading, a grip safety that forces a high grip on the pistol, a cocked striker indicator on the slide backplate and a three-slot Picatinny rail on the dust cover.
The XD-M Elite series grip feels great on the hand with moderate texturing and additional backstraps available to custom fit the shooter's hand size. This entire package, without a red dot installed, has an MSRP of $733. What a deal for such a fine and featured loaded full-size 9mm handgun.
"My Thought" Comparisons
Grip: Although I love the grip on the XD-M Elite series, I have to go with the 1911 DS Prodigy. That fine polymer overwrap texture wins me over. The grip is a bit wider; however, my hands are large. For those with smaller hands, they may choose the XD-M Elite grip.
Sights: I have to call this one a draw. Both the DS Prodigy and the XD-M Elite have tall metal sights for red dot co-witness. I like the fiber optic front sight on the DS Prodigy, however, both pistols are optic ready, therefore, it's a non-issue for me.
Barrel: If I were a suppressed shooter (I really want to be), I would choose the XD-M Elite's threaded barrel all day long. However, the 1911 DS Prodigy 5" bull barrel will win me over 10 times out of 10.
Magazines: The DS Prodigy has 17- and 20-round magazines with a 26-round magazine available. The XD-M Elite has two 22-round magazines with a 35-round magazine available. I can't resist that 35-rounder option, so I'm going with the XD-M Elite OSP.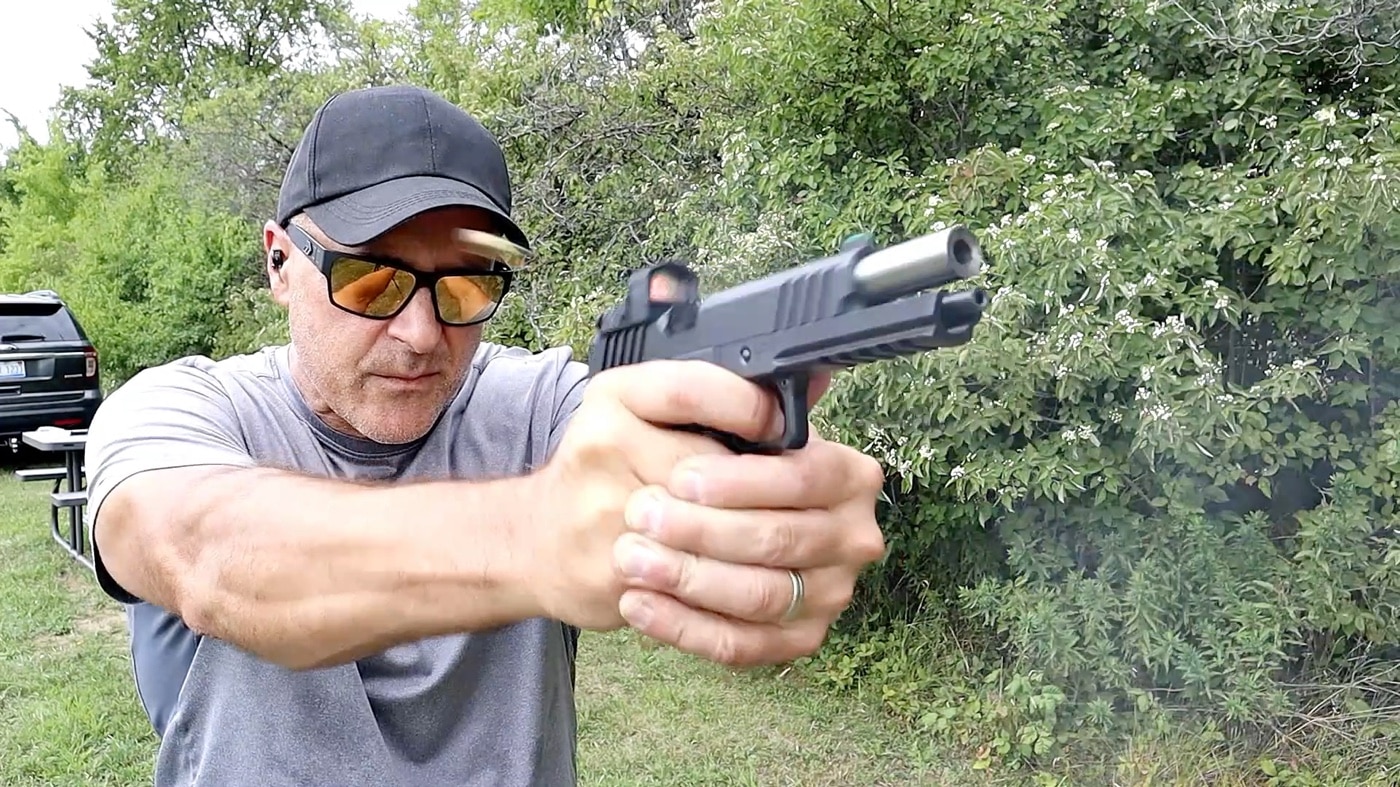 Features: Both of these handguns are feature-loaded. Honestly, for a full-size polymer frame XD-M Elite and a double-stack 1911, I can't think of any other features to add. The fact they are both "optic ready" and perform great for their intended class, I rate this one as a tie.
Reliability: Simply said, every round I have fired with these two pistols fed, fired and ejected without any issues. So, it's impossible to choose one over the other when both handguns have performed flawlessly. Draw.
Aesthetics: I am a 1911 fan through and through, and I can't get enough of the 1911 DS Prodigy. However, I love flat dark earth and the overall beauty of the XD-M Elite. I also love how the magazine seats with the flared magwell. Forgive me 1911 people, but I choose the XD-M Elite.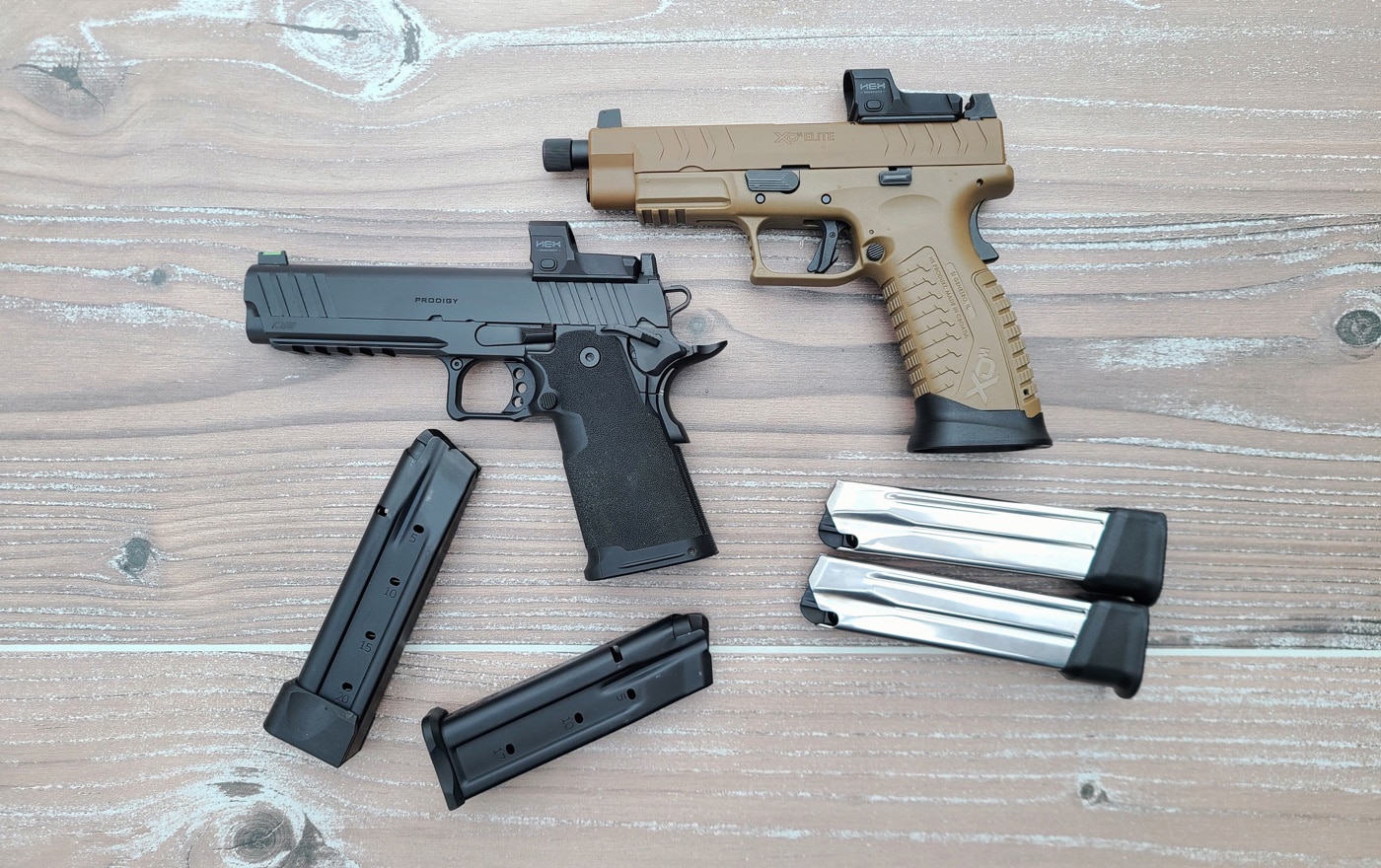 Trigger: The META trigger on the XD-M Elite handguns is nothing short of exceptional. A Springfield 1911 trigger is even more excellent. I don't think any type of trigger will ever beat a 1911 trigger. DS Prodigy for the win with me.
Slide Serrations: Both the DS Prodigy and the XD-M Elite have wide-cut forward and rear serrations. The serrations on the 1911 DS Prodigy are a hair deeper, but not so much to win me over. Both offer a strong slide purchase when charging the pistol, so it's a draw.
Shooting Impressions: This one is — by far — the most critical category. If you watch the attached video, you will notice I shot each pistol very well. For their intended purpose, each gets an A+ in my grade book. As I mentioned earlier, I am a huge 1911 fan. For me, to choose any handgun over a 1911 would be dishonest. When I shoot the 1911 DS Prodigy, I feel like the handgun was built specifically for me. I love them both; however, the win goes to the DS Prodigy for shooting impressions for this 1911 guy.
Final Thoughts
This comparison was both challenging and exciting. As I opened this review, I said, "to be the best, you have to beat the best." I believe the 1911 DS Prodigy and XD-M Elite OSP are the finest full-size 9mm pistols in their respective class.
They each offer a lot for the money as their MSRP prices are fit for the working man's budget. Having said that, the quality and build construction is first class. Simply said, you cannot make a poor choice with either of these Springfield Armory handguns. So, I am glad I have both!
Editor's Note: Please be sure to check out The Armory Life Forum, where you can comment about our daily articles, as well as just talk guns and gear. Click the "Go To Forum Thread" link below to jump in and discuss this article and much more!
Join the Discussion
Featured in this video
Continue Reading
Did you enjoy this video?
50