Remora 2-in-1 Combo for CCW
November 29th, 2020
4 minute read
Over the years, I've tried a lot of different holsters, and most end up in a box with all the others.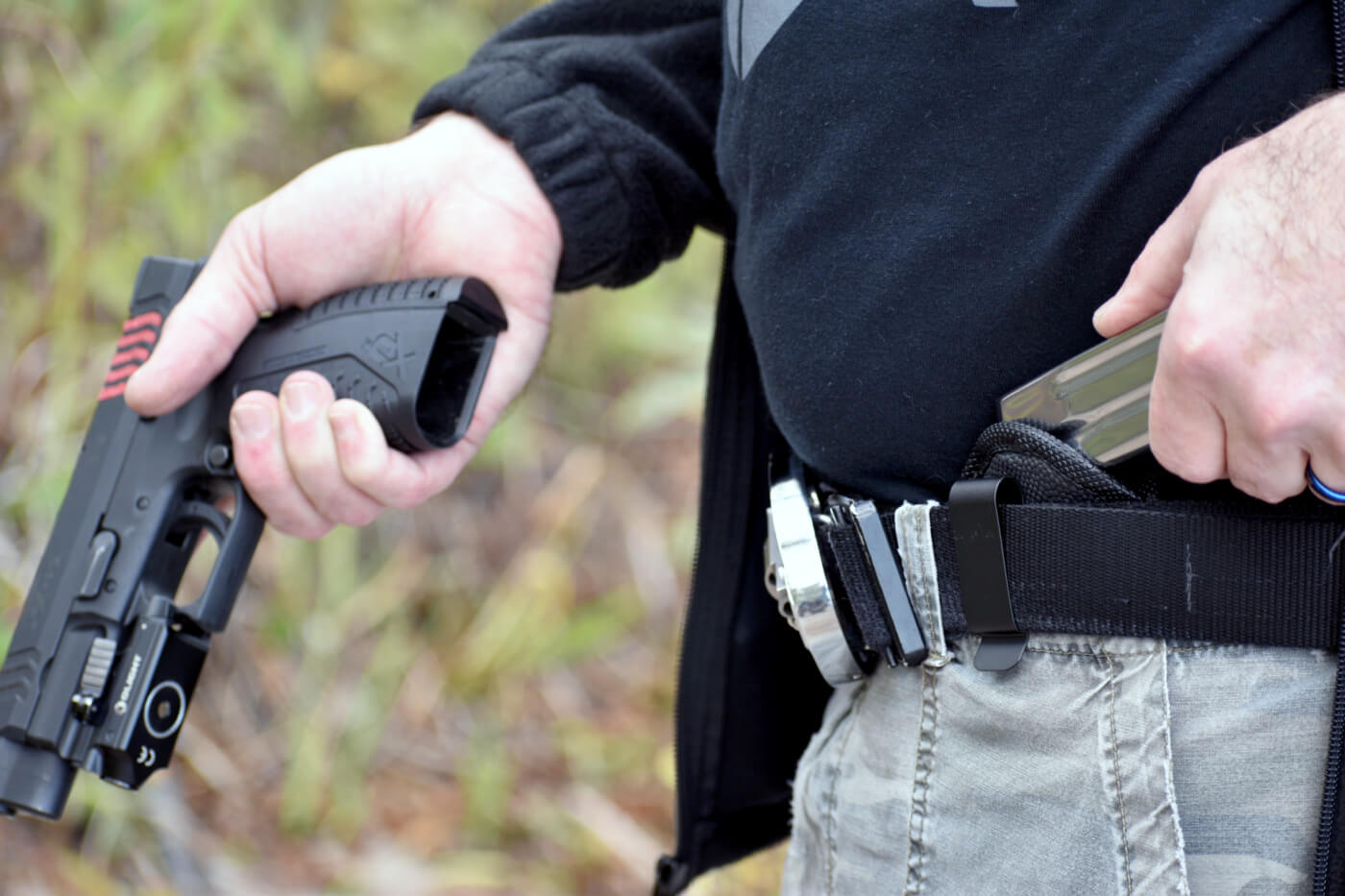 To be honest, when it comes to holsters I have two go-to options. Rigid Kydex for OWB, and a combination of leather and Kydex for IWB. So, when I removed the Remora 2-in-1 Holster Combo set — including a holster and matching mag carrier — from the packaging I was sent for testing, it did not really fit in with my normal tastes. However, once I gave it a try, I must say I was pleasantly surprised. So, what say we jump into this to find out why?
How I Carry
When I carry a firearm, I'm always holstered at the 4 o-clock position. It's where I'm the most comfortable. I never carry appendix because, well, I'm an old and slightly chubby guy. So, I removed my everyday holster and put the Remora 2-in-1 Holster in its place. It actually felt very comfortable. So, I moved it about and to my surprise, the appendix position also felt comfortable. In case you are wondering, it is called the "2-in-1" because it is designed for IWB carry with the clip, and pocket carry without. Obviously, in pocket carry mode it would need to be selected for smaller firearms.
This holster is the standard cut, which means it covers much of the firearm and keeps it from contacting your skin. One thing that jumped out at me was the belt clip. It's held in place by a snap. This allows you to remove the clip and put it on the other side, making it left- or right-handed. My concern was the unused snap was going to rub and irritate me. That wasn't the case. I do however wish there was a second snap on each side to allow the holster to ride deeper inside the waistband.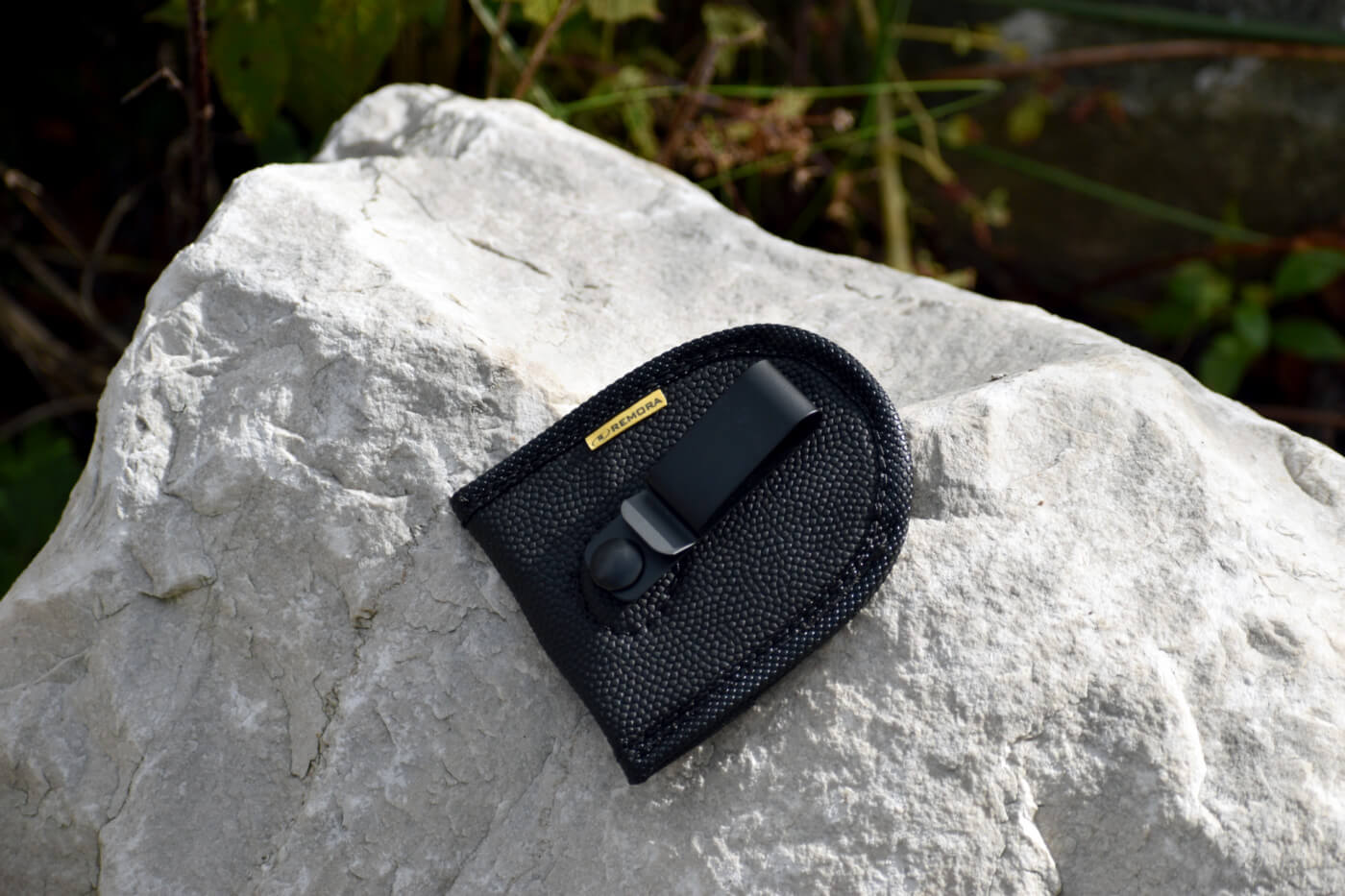 Your Way
What about options? Well, first off, most if not all major brands of handguns are supported by the holster, as are most of the models each manufacturer offers. After you've chosen your brand and model, you have options for lights, lasers and even an RMR. There are two styles of cut, one being the standard, and the other the slightly lower Artemis cut.
Also, there is sweat shield option, something I do recommend to help keep sweat off your firearm. Finally, you have an option of liners, such as black, blue, pink or camo. Some of the holsters on the site do have an option for exterior color as well.
Also included with this combo package was an extra magazine pouch. It holds the magazine very firmly and sits down low on the beltline, making it comfortable. The pouch's belt clip locks onto a standard inch and a half belt, holding it securely in place. This allows for the spare magazine to be removed with little effort.
Hands-On
Overall, I would give this holster a high rating. I tried it out with my XD-M 10mm and was pleased with the comfort and how well both the firearm and the spare magazine stayed in place. My only wish was if the firearm would sit a little deeper in the waistband. The price point on this combo set is $35.95, which I find to be a very fair price for a holster like this along with a spare magazine pouch. Also, the quality of the manufacturing is higher than other holsters in this price range. Most very basic nylon web one size fits most holsters are $10 to $15 less, but I've never found any of those to have the fit and comfort like the Remora holster.
One option I wish Remora holsters offered would be active retention to make it a level II holster. This really only comes into play if you're not actively concealing your firearm under clothing. A simple strap over the firearm with a snap would be a great future addition.
When I drew the firearm from the holster the action was smooth and easy, and the holster didn't move thanks to the locking clips holding the holster firm to the belt. Being a soft material along with the liner, drawing the firearm is also very quiet. Finally, returning the firearm to the holster is nearly effortless and silent. Other holsters I've used can be a struggle getting the firearm in place.
Even with the few issues I had with it, the positives far outweigh the small negatives. Because of this, I do recommend giving Remora Holsters a close look.
Editor's Note: Please be sure to check out The Armory Life Forum, where you can comment about our daily articles, as well as just talk guns and gear. Click the "Go To Forum Thread" link below to jump in and discuss this article and much more!
Join the Discussion
Featured in this article
Continue Reading
Did you enjoy this article?
50