Back in the day, shooting long-distance shots would have involved a lot of guesswork. I always think of the movie Quigley Down Under where Tom Selleck's character, Mathew Quigley, is portrayed in the movie at shooting accurately at 1,200 yards with nothing but iron sights, the naked eye and his old Sharps rifle chambered in the .45-110.
Can the feats of Mathew Quigley happen in real life? Sure! Is it super easy or likely, especially with wind? No, it's not. To pull off shots at that distance like Mr. Quigley, you have to be highly skilled and have a lot of time on your rifle. Not to mention you'd have to be really good at guessing the X variable of distance, which over certain terrains can be nearly impossible to gauge correctly.
Fast forward to today, though, and now we have a way to more easily gauge that distance — rangefinders. Laser rangefinders would have made a shooter like Quigley even more capable. GunSpot recently got invited to shoot the inaugural NRL Hunter match by Bushnell who is a match sponsor, and they let us try out their Nitro 1800 rangefinder.
Nitro 1800 Details
The Nitro 1800 is priced at around $350 and can accomplish quite a bit. The rangefinder itself is lightweight and it comes with a lanyard to make packing it easy. The Nitro 1800 has 6X magnification and a large 24mm objective lens, which makes this rangefinder very bright to look through. It is also water-resistant with an IPX4 rating. It can range objects like brush out to 1,200 yards, something like a deer out to 800, and it can range reflective targets out to 2,000 yards.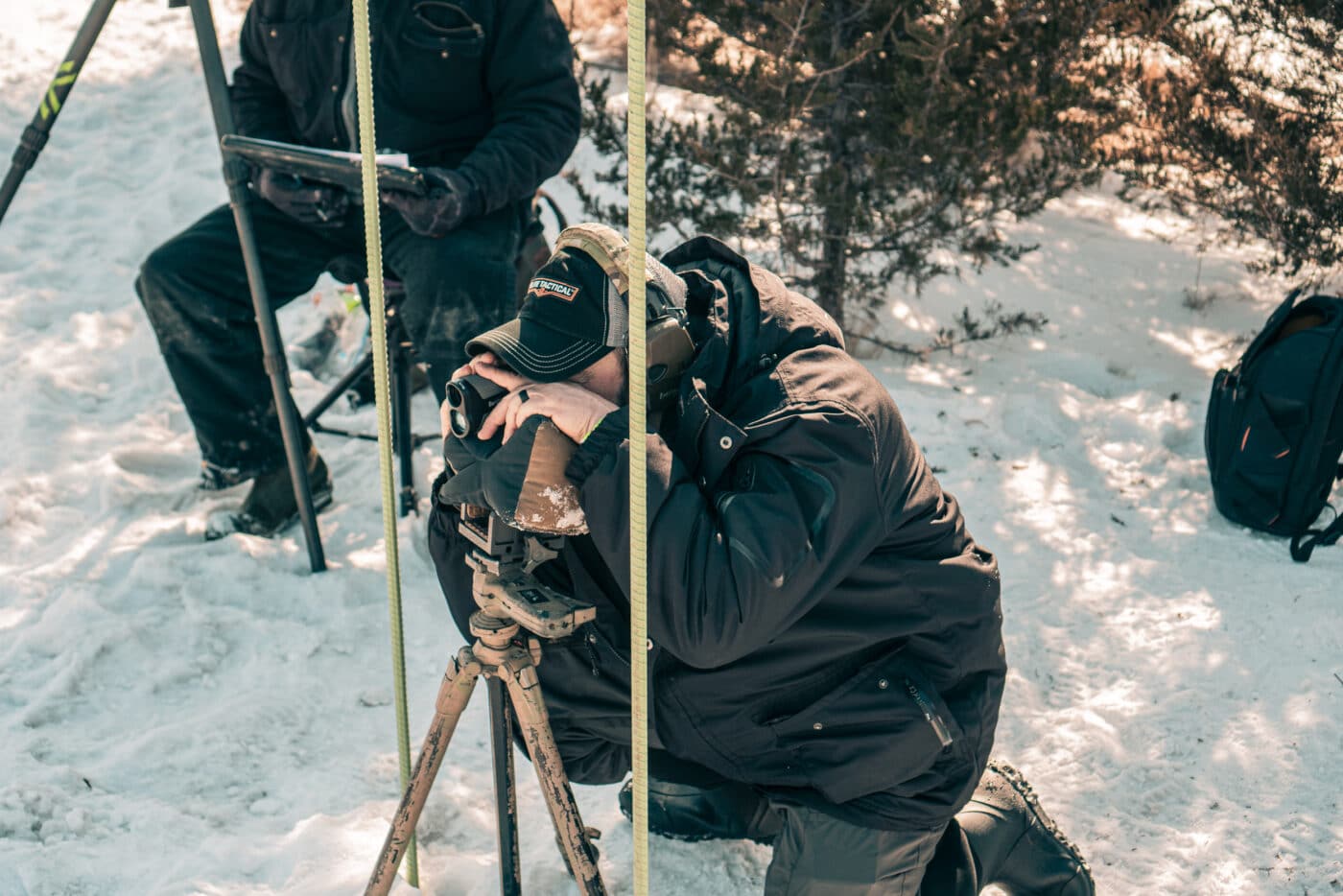 Where this rangefinder is going to shine is that it can spit out ballistic solutions instantly. Once you have the Bushnell Nitro 1800, you can download the Bushnell Ballistics app, pair to your rangefinder with Bluetooth, and you can also upgrade your app to work with data provided by Applied Ballistics.
Within the app, you can add information to get ballistic data to plan your shots. Information on your bullet can be input with the bullet library, or you can add it in manually in case your bullet is not in the library. Information that can be plugged in is bullet diameter, weight in grains, drag model, ballistic coefficient and bullet length. Gun specs can be added in as well, like your muzzle velocity, zero range, zero height, sight height, twist rate and zero offset. You can also include your scope model from Bushnell so that you get even more accurate solutions.
If you have the elite upgrade to this app, you are allowed to fill in all the information we just mentioned and get instant solutions when you range your target. Applied Ballistics has been in the game for a long time, so you know that it's going to be solid.
Last but not least, the app can also pull in and apply changes to your ballistic information based on atmospherics in the environment. This will be especially useful for shooting during hunting seasons. Spring and summer day temperatures can change and fluctuate widely as the sun comes up. Another great feature this has is that it factors in the angle (or elevation) that you are to your target. For example, if you're up on a mountain shooting down at a target, the distance in which gravity works on the bullet is what matters. This rangefinder calculates all of that with the upgrade.
Ranging In the Field
So, you might be wondering how it does? Well, it did have issues reading on bright snow during the NRL Hunter match. But so did every other rangefinder in the competition. Grant used it to range and shoot accurately at targets as far as 1,280 yards. One factor that will always be a guessing game (unless you have a Magneto Speed or Lab Radar) will be knowing your actual muzzle velocity.
We were shooting a Springfield Armory Waypoint that had less than 200 rounds through it, so our barrel was still getting faster with every shot. During the match, this caused us some issues, but when we took it out for a long-distance day at the range and monitored the muzzle velocity closely, this data put us on some good hits.
Conclusion
The Nitro 1800 is a solid rangefinder that has upgradeable packages/options after your purchase that can push you into longer-distance shooting. To start out, you can buy the rangefinder for $350 and then upgrade it at a later date for $150 with the Applied Ballistics information.
When looking at the other models on the market, the things this rangefinder will help you with is how light it is, how bright the optic is and the optional Applied Ballistics data. It's a good product from Bushnell, and if you're in the running for a rangefinder I encourage you to give it a look!
Editor's Note: Please be sure to check out The Armory Life Forum, where you can comment about our daily articles, as well as just talk guns and gear. Click the "Go To Forum Thread" link below to jump in and discuss this article and much more!
Join the Discussion
Featured in this video
Continue Reading
Did you enjoy this video?
26