If you have not heard of Smith Enterprise, Inc., it is one of the most respected names in the M14/M1A world. In addition to providing civilian customers with a wide range of popular products for the platform, the company has also played an important role in both developing and providing weapon systems for use by our troops.
As a little background, the Smith family's ties to the firearms world go back more than a century. And today, due to its extensive knowledge and success at pushing the M14 design to its seeming limits (and beyond), Smith Enterprise was one of the few companies chosen by the U.S. Military to help breathe new life into the M14 platform.
A Notable Need: The M21A5 Solution
In the early 2000s, the U.S. Army needed a powerful rifle that could engage at distances past what the current M16 rifles and carbines could achieve. The U.S. Army had thousands of 7.62 NATO M14 rifles in the armory that were in poor shape, but were still a very viable option for use.
Smith Enterprise's founder, Ron Smith, was one of the men brought in to get these rifles back in fighting shape and updated for use by the 2nd Infantry Division, 10th Mountain Division, 25th Infantry Division, 503rd Parachute Infantry Regiment and more. These rebuilt M14 rifles needed to be capable of 1 MOA accuracy, and they would be going into the hands of designated marksmen. The rifle that was delivered to these units was the now fabled M21A5 "Crazy Horse" rifle developed by Smith Enterprise.
Over the years, Smith Enterprise has delivered hundreds of Crazy Horse rifles to the U.S. Military, with great success and performance in the hands of the troops. The rifles were extremely reliable in the harsh Afghanistan deserts, and they were put to use with devastating accuracy.
Lucky for us here in the civilian market, you too can own a Crazy Horse rifle from Smith Enterprise. You can purchase each item that Smith has developed for the Crazy Horse rifles separately and put on your own Springfield Armory M1A rifle (a semi-automatic sibling of the M14), or choose to have your M1A sent in and built up by Ron Smith and Andy Horton, Ron's shop manager and armorer, over at Smith Enterprise.
M1A: A Solid Foundation
I've always been a bit of a history nerd on the M14 and its variants over the years and in different conflicts. Seeing footage and photos of soldiers in the GWOT (Global War on Terror) putting the M21A5 and MK14 Mod 0 rifles to use in the early 2000s, along with knowing the rich history of the M14 rifle, has inspired to pick up my own M1A rifles for my personal collection.
After some research, I happily realized Smith Enterprise operated its shop a mere 20 miles from my office. I set off with a goal to get their help in turning my M1A Standard Issue rifle I recently picked up into a Crazy Horse rifle. The M1A from the factory is an impressively capable and accurate rifle without any modifications. But, as anyone who knows me is aware, I love to customize my guns. So, I set out to see what master craftsmen like Ron Smith and Andy Horton could do with my rifle.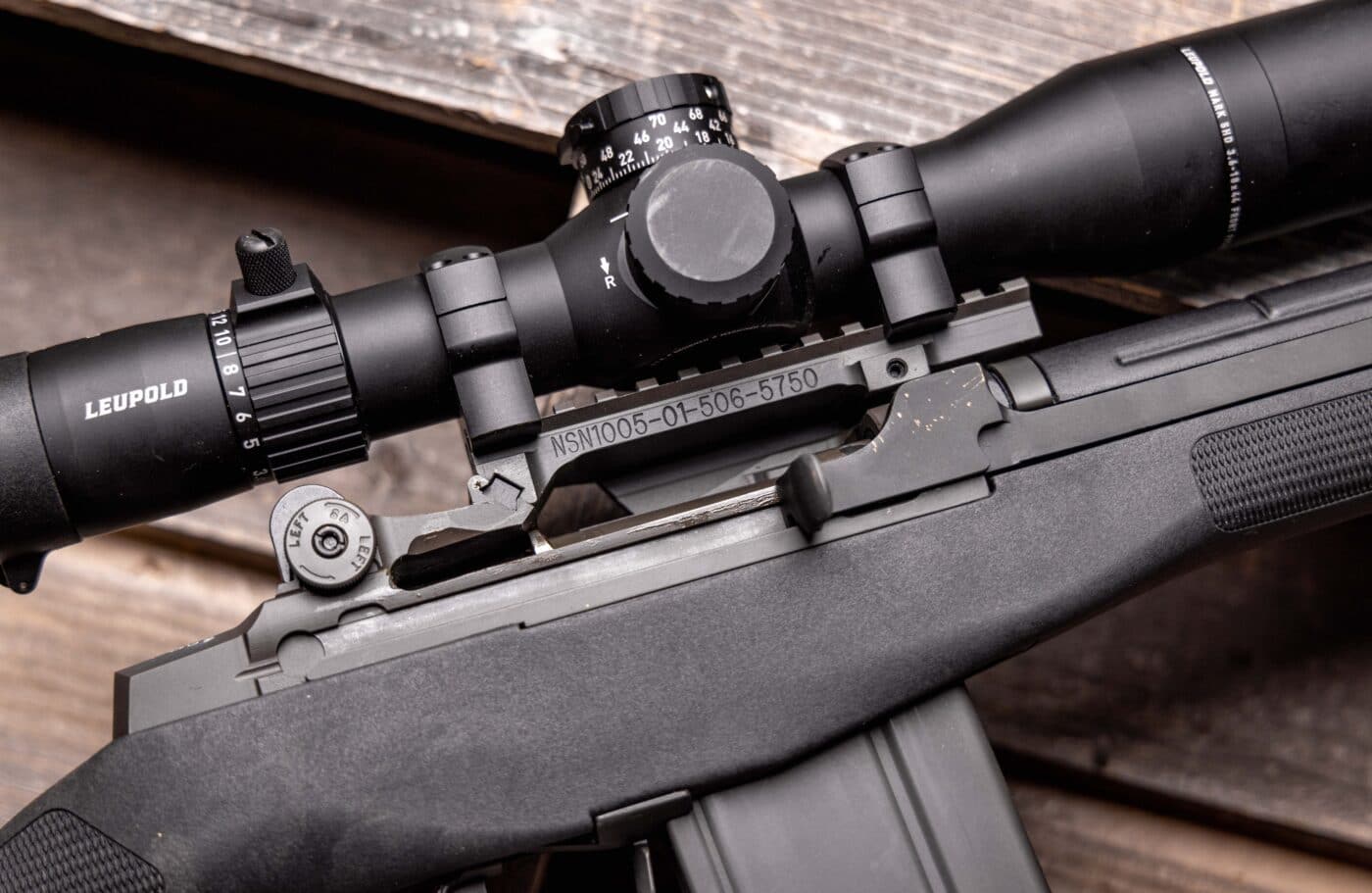 I dropped off the rifle at Smith Enterprise, and the team got to work doing what they do best. And, for the purposes of this review, I asked them to keep me in the loop on the work they did on it. First up, they set to work on the trigger group. Through some tuning and parts replacement, they got the trigger tuned to a very crisp 4.5-lb. break. Already an extremely good trigger from the factory, this work made it one of the finest M1A triggers I have tried.
Taming the Stallion
As part of the Crazy Horse treatment, they replaced the G.I.-standard barrel with a Smith Enterprise 22" 1/10" RH twist medium-weight barrel with a chamber tuned for Lake City M118LR 175-gr. ammo and salt bath nitrided. The rifle's op rod was polished and then also sent off for a salt bath nitride. Smith also installed his Warfighter Gas System, which includes their M80HT gas cylinder, SBR hard chrome piston and M80HT standard gas plug.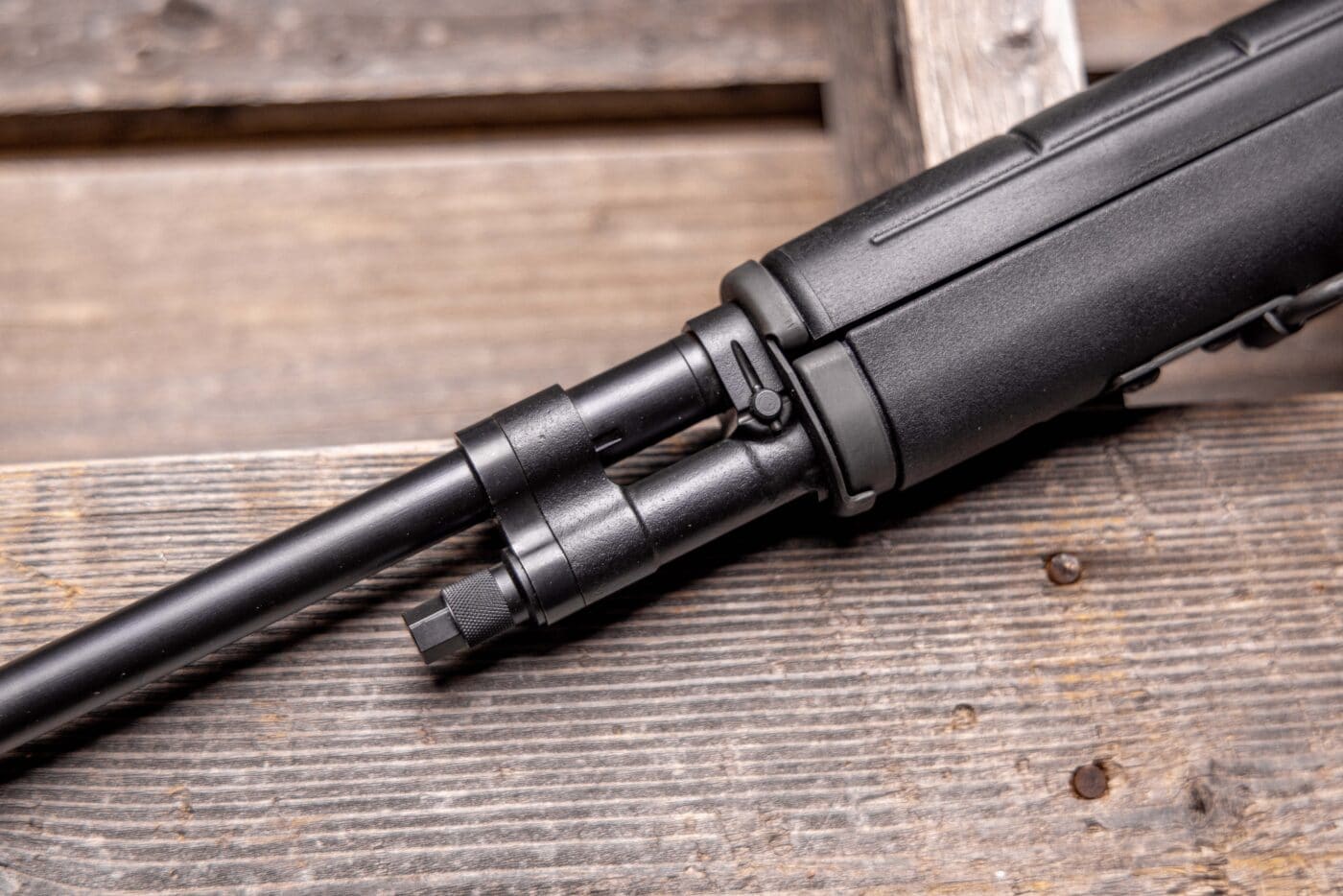 The scope mount used is made by Smith and is wire EDM 4140 CM steel that is double heat treated as well as M80HT, and has a corrosion-resistant 60 HRC surface. The mount has a see-through channel for the use of iron sights. This is one of the few M1A scope mounts with an NSN number, meaning that it has been sold to and used by the U.S. Military.
Smith added their M14 National Match front sight that is heat-treated, 4140 Chromoly and MIL-I-171 manganese phosphate finished to reduce glare. The match sights feature a narrow, .062" wide front blade for a crisp, clean sight picture.
Taming muzzle rise is the Smith Enterprise M14 National Match Muzzle Brake. This brake was designed to match perfectly the profile of the USGI flash hider, making it legal for use in CMP and other matches. It is a two-piece brake manufactured from 8620 steel with 60RC surface hardness and salt bath nitride, corrosion-resistant finish.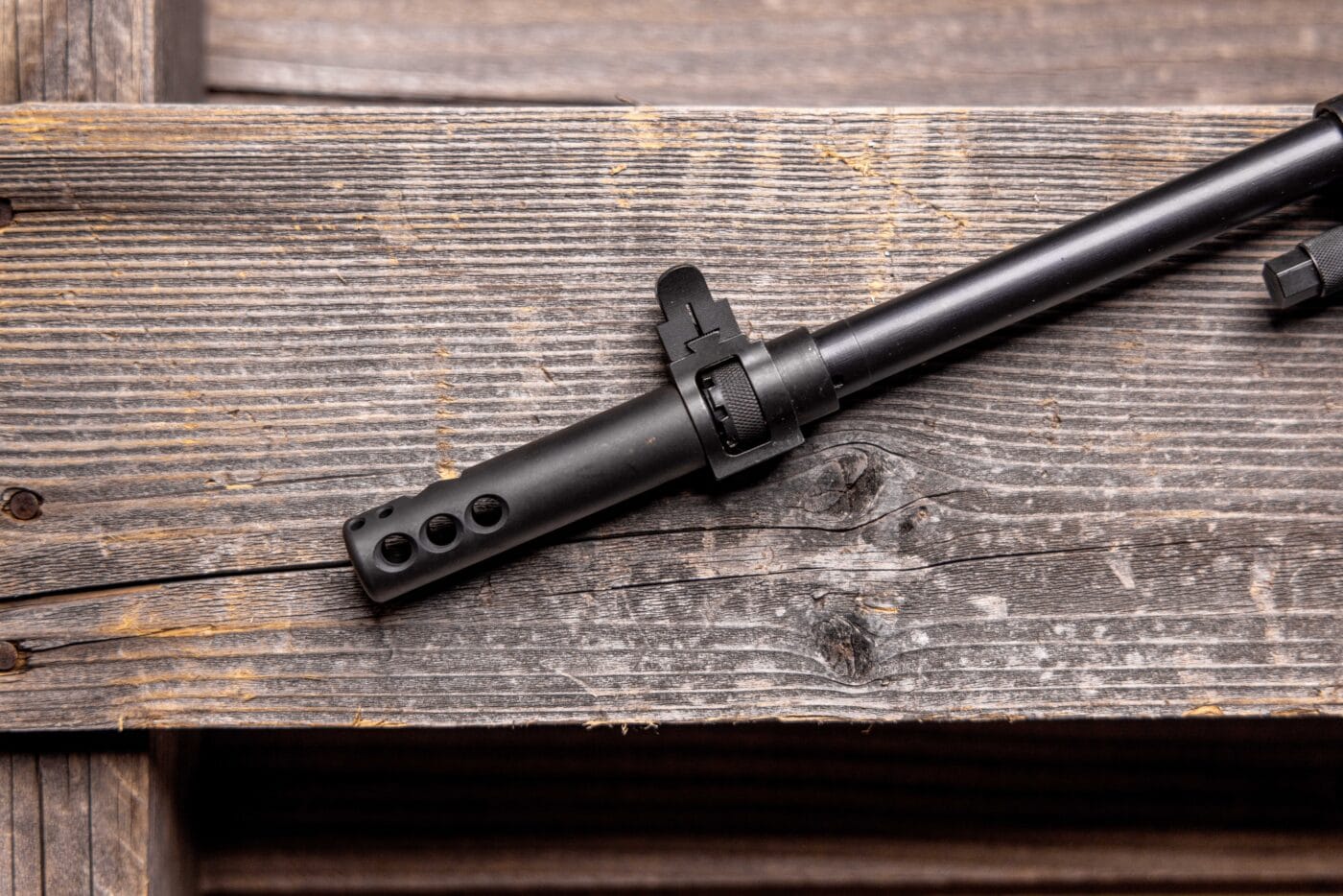 Another modification is the Smith Enterprise steel extended bolt stop/release. This gives you a bolt catch that is very similar to what you would find on your AR-type rifle. It's large and easy to actuate when locking the bolt back, and you can release it without having to manually move the op rod.
For the optic, Smith chose a Leupold Mark 5 3.6-18x44mm scope. Smith has a good relationship with Leupold going back many years, so it was an obvious choice as the pick for this rifle. The Mark 5 is crystal clear, easy to zero and tracks perfectly. Pricing for the labor and parts (sans the Leupold scope) from Smith Enterprise for this project is about $2,150, on top of the pricing of the M1A rifle.
Range Time with the Crazy Horse
On the range, we tested the handling and accuracy of the modified M1A Crazy Horse rifle. It was very cool to see Ron and Andy shooting the legendary rifle that they have spent decades refining. This M1A Crazy Horse was smooth and very easy to control, and with match ammo this rifle shoots ½ MOA all day long.
The trigger was excellent. There was no mush, it's very crisp, and it's a smooth 4.5-lb. pull. It helped my accuracy knowing exactly where the break was without having to press too hard. Once the shot broke, the muzzle device really tamed muzzle rise without obnoxiously concussing anyone to my right or left. The Bradley M1A Cheek Rest we added is an absolute must for shooting with a magnified optic. It was comfortable, easily adjustable for the right height and didn't add much weight to the rifle.
The M1A/M14 is easily one of my all-time favorite rifles. From its history, solid design, military heritage and reimagined role (with the military's M14) in the early 2000s, the M1A/M14 is just a workhorse that delivers. When you handle an M1A, you can immediately feel that you are holding something special. The weight and feel of the rifle as well as the mechanical nature of racking the bolt stirs something inside of me.
Beyond the M1A work itself, I also really respect the way Smith Enterprise approaches customer relationships. Before suggesting what they think the customer wants, they ask questions to make sure they are meeting each customer's specific needs. Building rifles and parts for individuals and applying their craftsmanship to each firearm that leaves their shop is their passion.
Conclusion
I feel honored to be able to help tell stories on this venerable platform, especially ones that include legends like Ron Smith and his team who helped pioneer the next era for the M14. They helped give our troops a new edge in which to serve their country and overcome their adversaries.
If you haven't had the pleasure of handling an M1A, I would suggest finding a store or range with one and giving it a close look. If you already have an M1A, give Smith Enterprise a call and see how they could make your experience with the rifle even better like I did with this Crazy Horse conversion. If you live in Arizona and get a chance to head down to their shop, go shake Ron's hand and hear a few stories from the man himself. It'll be a trip to remember.
Editor's Note: Be sure to check out The Armory Life Forum, where you can comment about our daily articles, as well as just talk guns and gear. Click the "Go To Forum Thread" link below to jump in!
Join the Discussion
Featured in this video
Continue Reading
Did you enjoy this video?
400