Review: Emissary 4.25″ .45 ACP
November 4th, 2021
8 minute read
"It's a deadly serious business, so you better be sure about what weapon you carry," said the veteran sheriff's deputy. Long before I began my own law enforcement career, I was riding shotgun with a deputy in my home county trying to find out if this was the career for me. He seemed a virtual giant to me with his green wool uniform and shiny silver star. We would be the only law enforcement in our end of the county, he told me. Whatever kicked off, we would have to handle it.
"We?" I thought.
As if answering my unasked question, he explained that back-up would be about 20 minutes away under the best of circumstances. If things went sideways, I better know how to use the shotgun and extra pistol he carried in the car. The shotgun was a standard 12-gauge pump. The pistol? None other than a 1911.
Since that time, I've learned more lore about the 1911 than I ever knew existed. Even so, I'm always learning more. My latest revelation about the platform is how impressive the new Springfield Armory Emissary 4.25" is. The pistol combines custom-level refinements with defense-ready features, and I believe while its styling will appeal to collectors and hobbyists it can solidly be classified as a "professional's" pistol.
A Different Approach
As compared to the earlier released Emissary 5″ .45 ACP pistol, this new version shortens the slide and barrel down ¾". While that may not sound like much, it makes a significant difference in its portability and handling.
And while other guns with shortened top ends like this often employ an alloy frame to reduce weight, the Emissary 4.25″ retains the forged stainless steel frame of the larger pistol. In case you were wondering, the carbon steel slide and stainless steel barrel of the pistol are also forged for strength.
Regarding the frame, while aluminum can be tough enough to handle years of service, forged stainless steel removes all doubt. With its matte finish, it pairs extremely well with the blued carbon steel slide.
And the pistol has some very distinctive visual cues. That frame features a very interesting squared-off triggerguard, that harkens back to the custom pistols of the 1980s, while also offering generous space for a gloved hand. The pistol also has a very distinctive "Tri-Top" cut slide, featuring a really nice sighting groove section along the top of the slide with 40 line-per-inch grooves. This gives the pistol some custom-style visual appeal as well as offering notable light diffusion for a great sight picture.
Housed within that slide is a bushingless heavy stainless steel bull barrel, which gives the pistol a very distinctive look at the muzzle as well as the potential for impressive accuracy.
Professional Perks
Depending on where you look, you can find a wide range of definitions for the word "professional." Apply the word to a pistol, and you are likely to get an even broader range of meanings.
For my money, a professional's pistol is one a police officer could carry, the concealed handgun carried by a protection detail, or a sidearm carried by a covert representative of our nation in foreign lands. All of the qualities that make a gun like that ideal for professional use also can make it exceptionally qualified for self-defense duties for the average citizen. And the fact that this one is a real eyecatcher is just a nice bonus for me!
Reliability
What is most important in a professional's pistol, and how does the new Emissary 4.25" align with them?
Reliability is a bright line rule: it must be reliable. By this, I mean to say that every time I press the trigger I better hear a boom as a copper-jacketed projectile races downrange. A gun that will not fire every single time I press the trigger is a useless weight hanging on my hip.
In a defensive shooting, survival can come down to fractions of a second. I don't want to spend time running a tap-rack-bang drill when I should be focusing on a threat. In this regard, the Springfield Armory Emissary was flawless. No matter what kind of ammunition I fed it or how many rounds I fired, the gun kept cranking like the well-oiled machine it was.
When I received the pistol, I gave it a quick inspection and ensured it was properly lubricated. That was the only fieldstrip and lubrication I allowed to the gun until after I completed my range testing. A professional's gun may be exposed to all kinds of environments and may not have the pleasure of regular maintenance. So, it should run under less-than-ideal conditions. The Emissary 4.25" did.
Shootability
Accuracy is another important characteristic of a professional handgun. A defensive pistol should be accurate enough to reliably hit a man's chest at 25 yards. Greater degrees of accuracy should be expected from a professional handgun.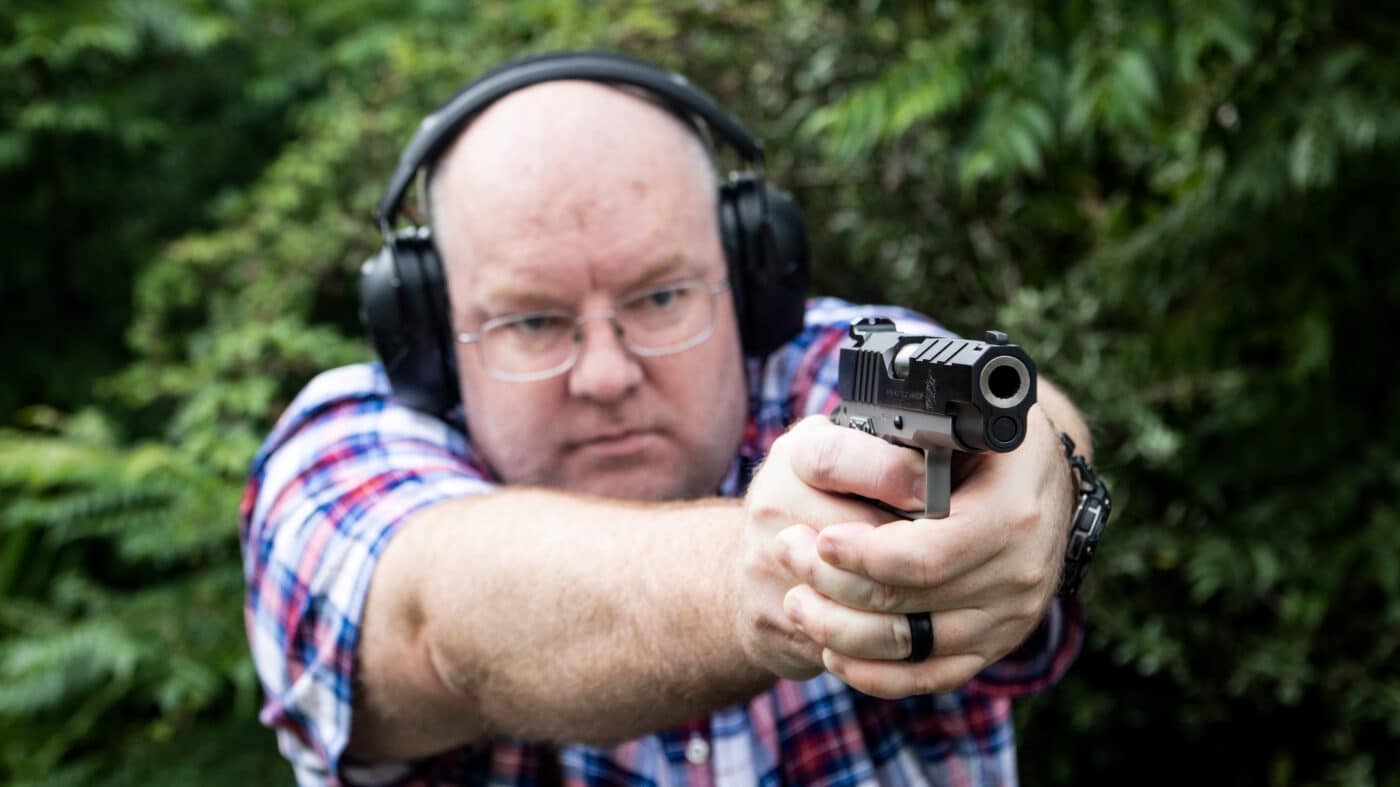 Springfield's Emissary 4.25" pistol had exceptionally good accuracy. Pushed out to 25 yards, I was able to shoot unsupported five-shot groups at just over 3″. Considering I'm not the spring chicken I once was, I found this to be more than acceptable. In even better hands, those groups would likely shrink significantly.
A multitude of factors affect the inherent accuracy of a pistol like the Emissary. Springfield uses a forged stainless steel bull barrel along with precision fit parts to get the best potential accuracy. For real-world accuracy – that level of accuracy that is attained by a real person holding and shooting the gun – Springfield Armory focuses on details to match human performance.
For example, the VZ thinline grips with a "grenade-pattern" texture and a matching texture of the frame and mainspring housing combine to anchor the pistol in the hand for a stable shooting platform. Additionally, the solid-body, flat-faced trigger offers great control over the shot break – which is exceptionally crisp.
Another great feature for facilitating shooter accuracy is the use of Springfield's U-Dot sights. These sights work extremely well for both fast acquisition and precision aiming in my experience. U-Dot sights incorporate what years of training, experience and research have shown me works in high-stress engagements.
The front sight has a tritium vial at its center. Tritium is a radioactive isotope that, in layman's terms, glows in the dark. During low-light conditions, the self-powered tritium vial provides an aiming point. Surrounding the tritium is a wide luminescent yellow-green circle. In bright conditions, the circle provides a bright, large aiming point for fast target acquisition. In other words, I find the front sight easy to pick up and use for aiming in all lighting conditions.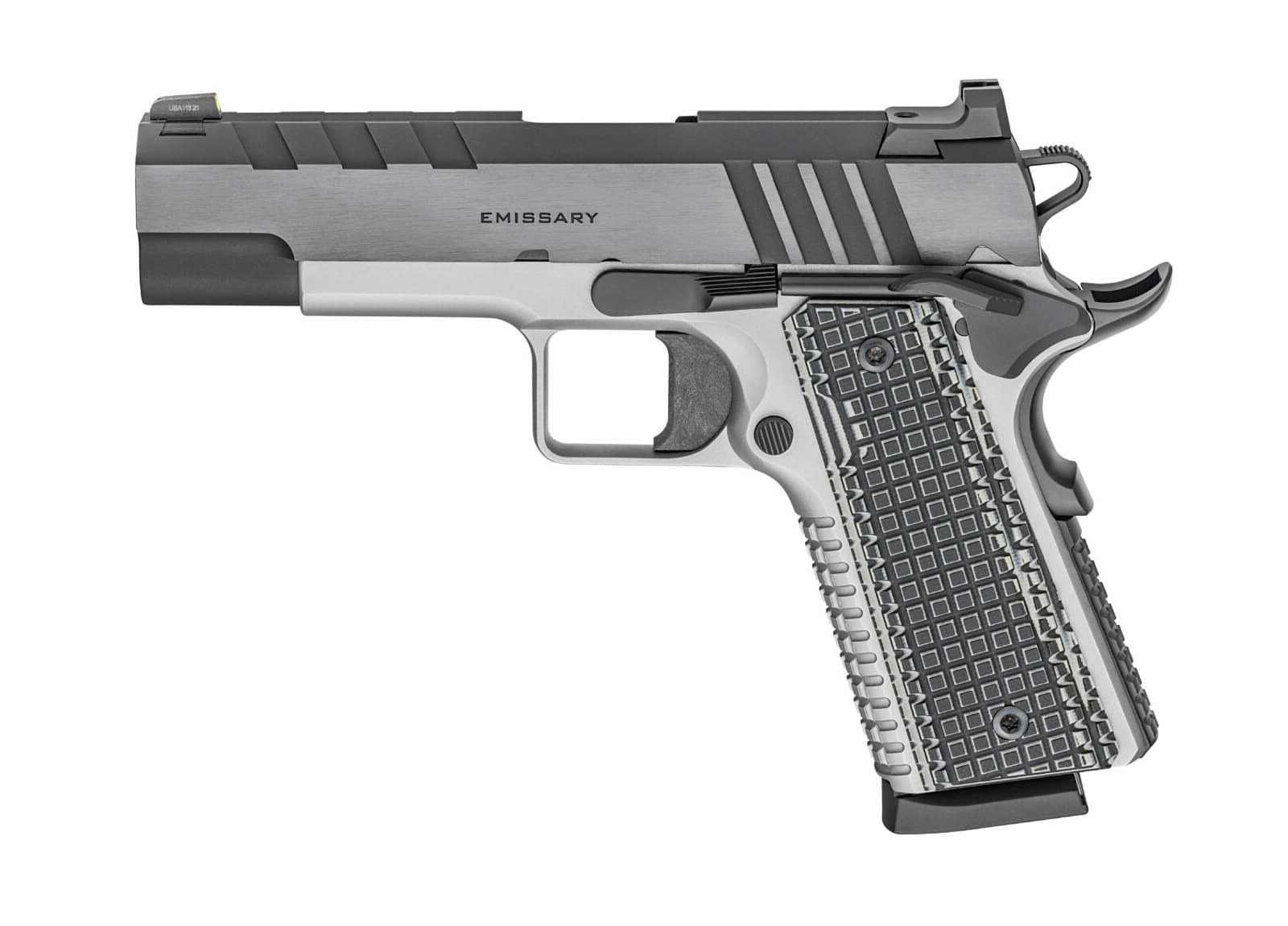 The "Tactical Rack" rear sight on the Emissary uses a wide and deep U-shaped notch. It allows you to drop the front sight dot into it in a very natural, smooth motion. There is plenty of space in the rear notch to quickly find the front sight for fast shots close in. Yet the rear sight is more than enough to ensure accurate shots at longer distance – just take an extra fraction of a second to ensure perfect alignment of the notch and your rounds will go where you intend them.
An additional professional feature of the rear sight is the hard, flat front. This ledge allows a shooter to manipulate the pistol's slide using just one hand and a stiff surface like a boot edge, rigid belt or tabletop — hence the "Tactical Rack: designation. In a worst-case scenario where one arm is wounded, you can stay in the fight — shooting, swapping magazines and even clearing malfunctions with just one hand.
Stopping Power
Stopping power is both a mythical measurement and an important concept. As a unit of measure, stopping power simply does not exist. There are too many variables in real-life combat to assign a score to a caliber or specific load. However, as a concept, stopping power is an important consideration.
As the Emissary 4.25" is chambered for the .45 ACP, it ticks the box for having adequate power for professional use. While there have been numerous studies that show other calibers to be as effective, there are no studies I am aware of that show the .45 ACP to be ineffective as a personal defense cartridge. In fact, it is widely regarded as being an excellent manstopper. There is something to be said for a big-bore round with more than a century of use under its belt.
Size
Pistol size is always a compromise. Larger guns tend to be more accurate, hold more ammunition and be lighter recoiling. Smaller guns, however, are easier to conceal and can weigh a lot less. Carrying a gun for professional purposes requires you to choose the best size for your expected needs.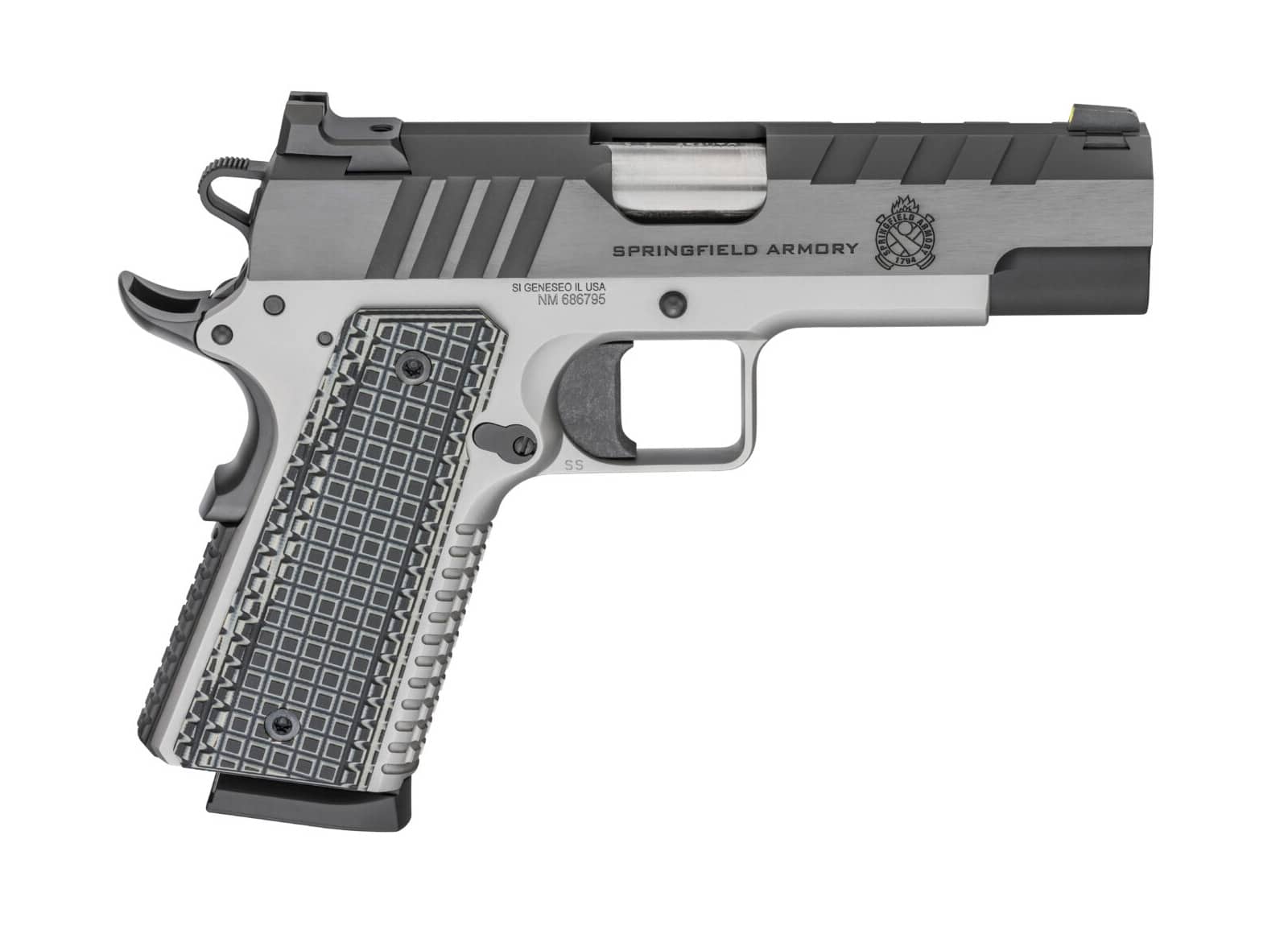 In many cases, a large gun is best suited for uniformed carry. A full-sized 1911 can be concealed with a quality belt and holster. However, a smaller gun is concealed more easily. This Emissary is a 4.25" gun as opposed its 5" older brother. With the 4.25" barrel, a projectile has enough length for a stable flight and to build near-optimal velocity, yet offer a gun that is easier to carry and conceal.
Even with the reduced length, Springfield Armory gave the Emissary a full-size grip. You can wrap your whole hand around it for optimal control and feed it with the two included 8-round magazines. The magazines feature "slam pad" baseplates.
Specifications
Looking for just the nuts and bolts? Here are the Emissary 4.25″ specs:
| | |
| --- | --- |
| Chambering | .45 ACP |
| Barrel Length | 4.25″ |
| Overall Length | 7.73″ |
| Weight | 38.6 oz |
| Sights | U-Dot |
| Grips | VZ Grips G10 thinline |
| Action | Semi-auto, single action |
| Finish | Two-tone |
| Capacity | 8+1 (two magazines included) |
| MSRP | $1,279 |
Final Thoughts
After riding with that deputy many years ago, I wound up going into a career in law enforcement. I never worked in the same rural environment as that man, but I did work in urban and suburban areas where the cost of failure commanded the same price.
Self-defense — be it as an armed citizen, street cop or deployed Marine — is all serious work. The 1911 is a proven platform and the Springfield Armory Emissary 4.25" pistol is an excellent example of that lineage. I'd feel well prepared carrying it in virtually any circumstance where a pistol was the preferred arm.
And the fact that the pistol is incredibly eye-catching, with its custom-style features and great quality, is just an added bonus. Why shouldn't your defense-grade pistol be nice to look at, right? And at an MSRP of $1,279, it is a really good deal for all that you get. So, check out the new Emissary 4.25″ .45. And in addition to the new 4.25" .45 ACP version of the Emissary, Springfield Armory has also released a 5" 9mm version as well for the same MSRP. Either one might just be the next 1911 you need to add to your collection regardless of your stance on the eternal 9 vs. 45 debate.
Editor's Note: Please be sure to check out The Armory Life Forum, where you can comment about our daily articles, as well as just talk guns and gear. Click the "Go To Forum Thread" link below to jump in and discuss this article and much more!
Join the Discussion
Featured in this article
Continue Reading
Did you enjoy this article?
241