Review: Galco Combat Master Holster
February 23rd, 2022
5 minute read
I'll admit, "Combat Master" is a unique name for a holster with a decidedly classic leather feel. When I think of combat holsters, I think of full-sized holsters with active retention — maybe a bomb-proof drop-leg rig from Safariland? But Galco has always led the market on leather and polish — and that's exactly where this classic beauty fits in.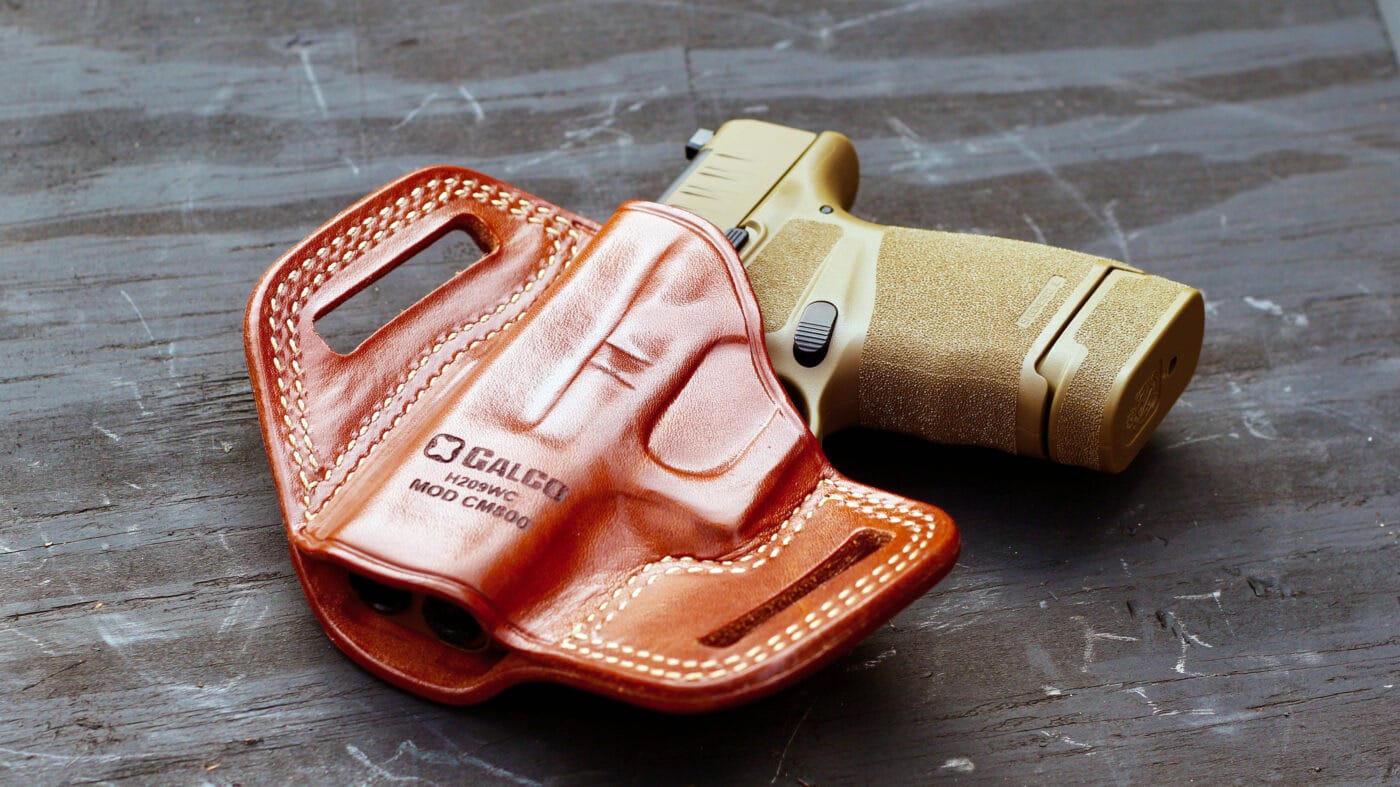 The outside-the-waistband (OWB) Combat Master is a multi-fit holster designed around multiple similarly sized guns. A few of the larger single-stack 9mms, and the Hellcat on the stagger-stack side, fit very well. The basic design is familiar — a robust pancake design that holds guns close to the hip.
The design is canted forward. As such, it is excellent for strongside carry. With the butt forward, it works towards the small-of-the-back, too — if that's your thing. In both positions, the draw is unencumbered by active retention. The friction of the leather and the tension created by the belt is enough to hold it down through most activities.
The Combat Master Leather
The material construction of the OWB holster is clean. Like most leather holsters, there is some glue that shows in the joints where the front and back meet. I picked up this one in tan and it has a nice contrasting white stitching that adds a touch of flair. While it isn't what I think of when I think of combat, it is what I know to be the defining aesthetic of Galco.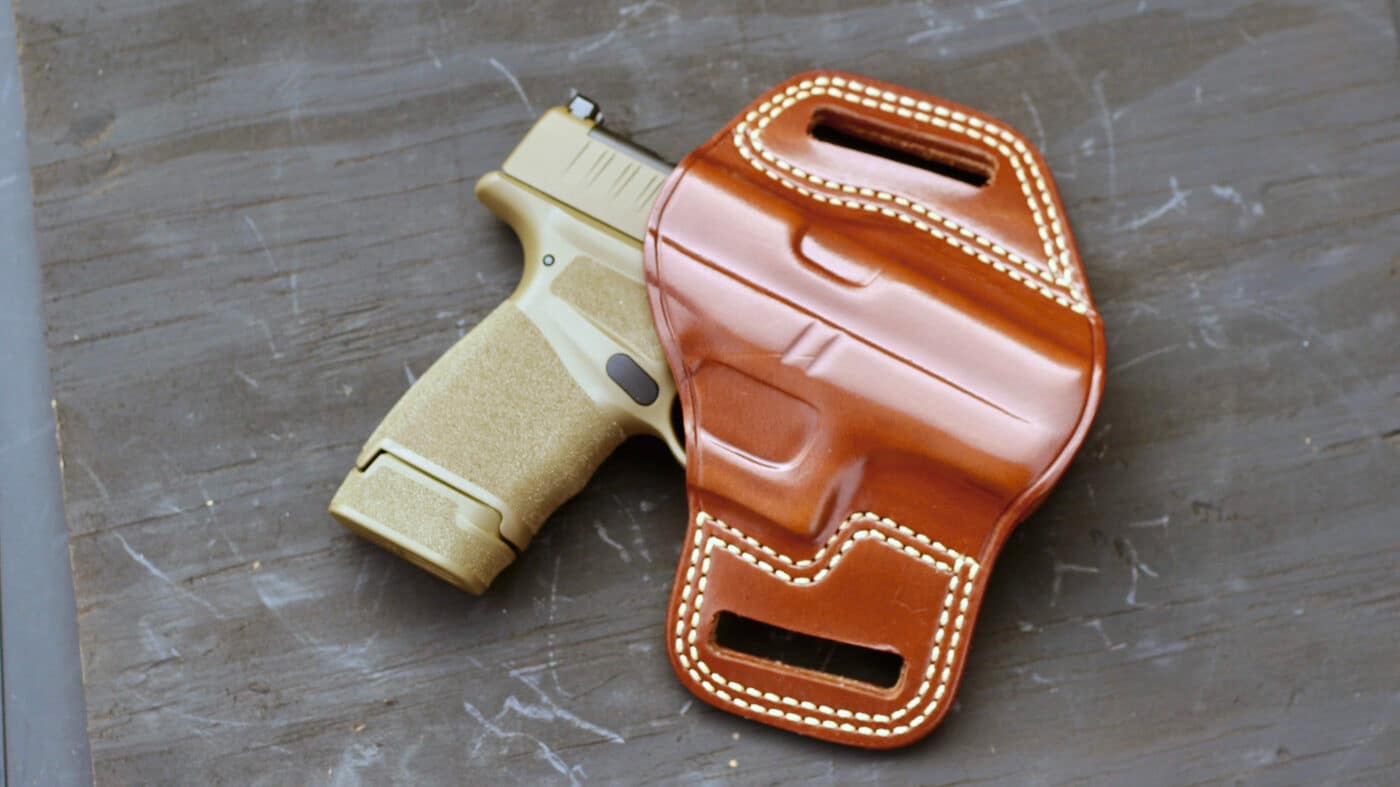 The stitching itself is doubled all the way around. Again, this is a mix of practical strength and pleasant aesthetics. The surfaced has been boned to match — roughly — the profile of these types of guns. There is a slight rim pressed around the edges that aren't stitched, and the edges have been polished and slicked, but not finished with edge coat.
Where Function Meets Fashion
The tan dyed leather does have a gloss surface treatment that makes the Combat Master shine. This is a piece of firearms fashion. As a result, it's good for the Springfield Armory Hellcat. The earlier XD always seemed to put form behind function to me. A quick tour around #Hellcat on IG will show you the flipside. With its 13 rounds of 9mm and easily concealable size, the Hellcat is popular for its potential. But the gun looks good, too, and has drawn thousands of new shooters to the brand. This is one eye-catching pistol, that can back those looks up with some skills.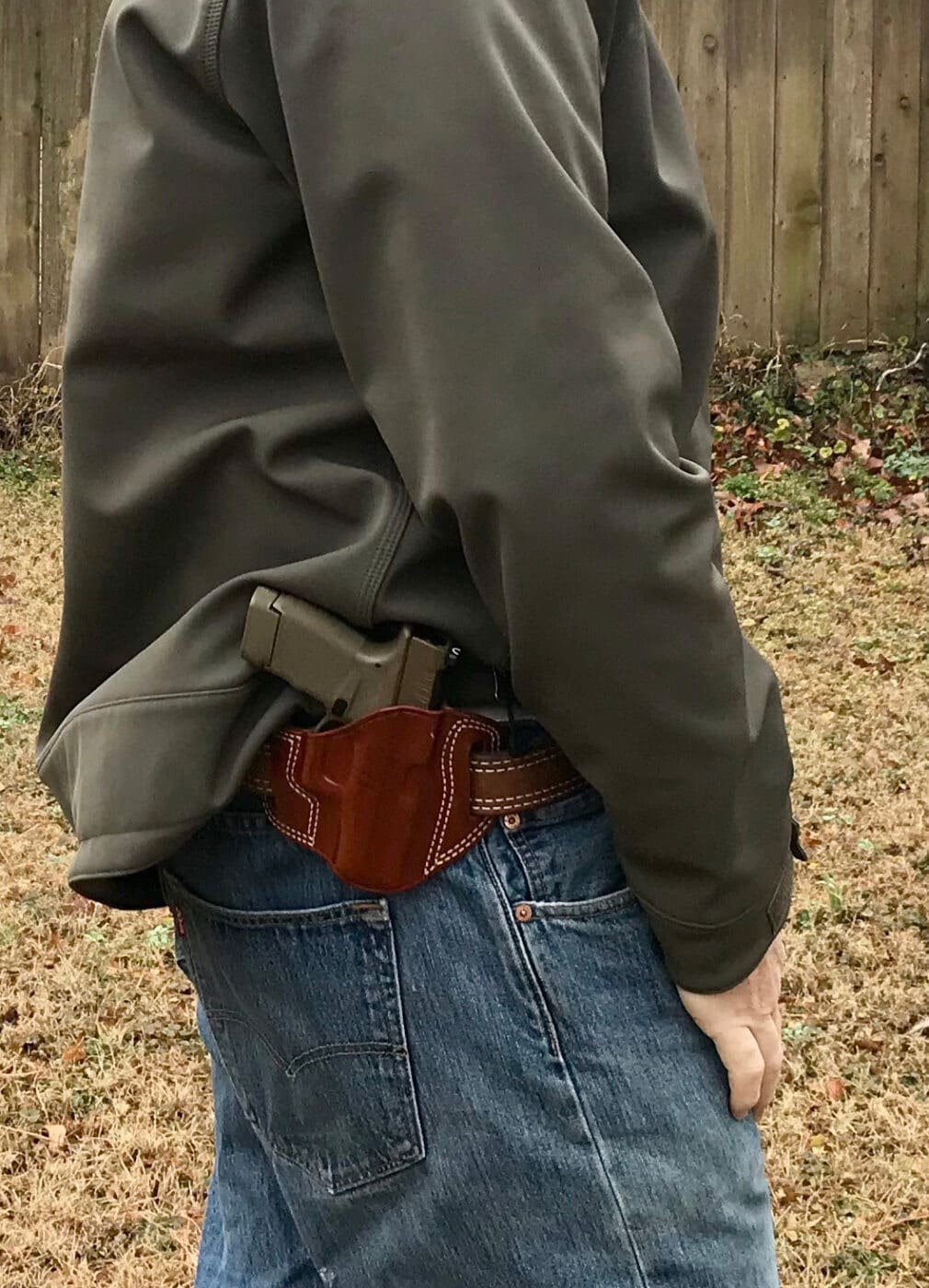 Form and function. The Hellcat has both, and so does the Combat Master. Galco has made a holster that's easy on the eyes. And the time's right to look past Kydex in my mind. Why not have a holster with a classic look for a modern polymer pistol?
While this is an OWB holster designed to be seen, it is easily concealed. Most coats would cover it well. A bowling shirt would cover it well enough. The snug fit pulls it in tight, and the cant helps to reduce printing. In total, there may be an inch and a half that hangs below the level of the belt with this size of the holster.
What It Is … and Isn't
There are a couple of points that should be mentioned. The holster is made of steer hide. Steers are raised for beef, so there's sustainability there. Vegetarians won't agree, but at least Galco is using what's left over. This steer hide is a split, so there's a uniform thickness throughout.
The steer hide isn't lined. Many higher-end leather holsters are, and that adds a cushion. A bit of pig skin or suede will help protect the finish on steel. But vegetable tanned leather isn't too aggressive and it will take a lot of daily wear to begin to cut through the finish on the Hellcat.
There's nothing odd on the back, either. Many of the newer inside-the-waistband leather designs are being backed with synthetics, but this is an old-school OWB.
The Combat Master isn't cut for red dots. The classic designs weren't. Since I'm championing a mix of old and new, I'm arguing for fixing that as it would be a nice option for an OSP version of the Hellcat. (Editor's note: Own a Hellcat OSP? Check out Adam Scepaniak's article on red dot holsters for the Hellcat.)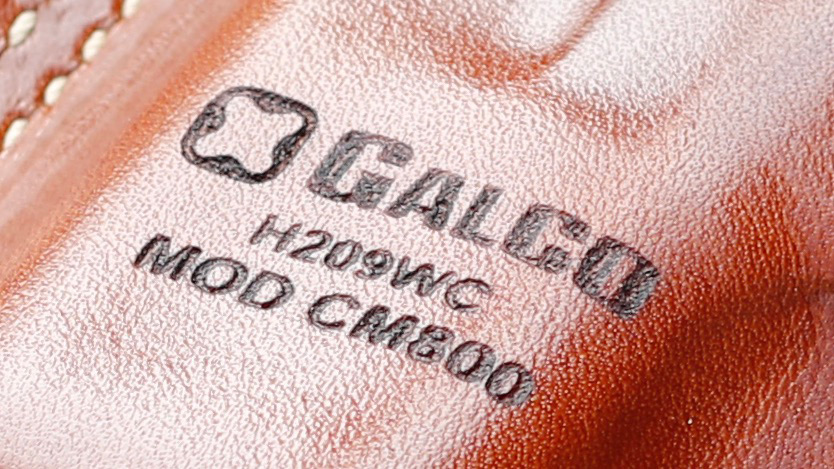 I'd also like to see the stitching follow the lines of the belt slots, too — but now I'm splitting hairs. The belt loops, such as they are, work fine. The slots will fit belts as wide as 1.75″.
Conclusion
The Combat Master is built for pistols and revolvers and comes in tan or black. It is also available for left- or right-handers Both colors have a super-slick gloss — the black isn't as shiny as patent leather, but it isn't subtle, either. MSRP on these is $109. All in all, this is a solid CCW holster with classic materials at a good price.
Editor's Note: Please be sure to check out The Armory Life Forum, where you can comment about our daily articles, as well as just talk guns and gear. Click the "Go To Forum Thread" link below to jump in and discuss this article and much more!
Join the Discussion
Featured in this article
Continue Reading
Did you enjoy this article?
64