A while back I reached out to HRT Tactical to see if we could make a video about their RAC Plate Carrier, which isn't just a normal plate carrier. Fortunately for us, they were willing to send us one out for testing and evaluation. This plate carrier didn't disappoint, and today I'm going to share with you the features I most loved about it.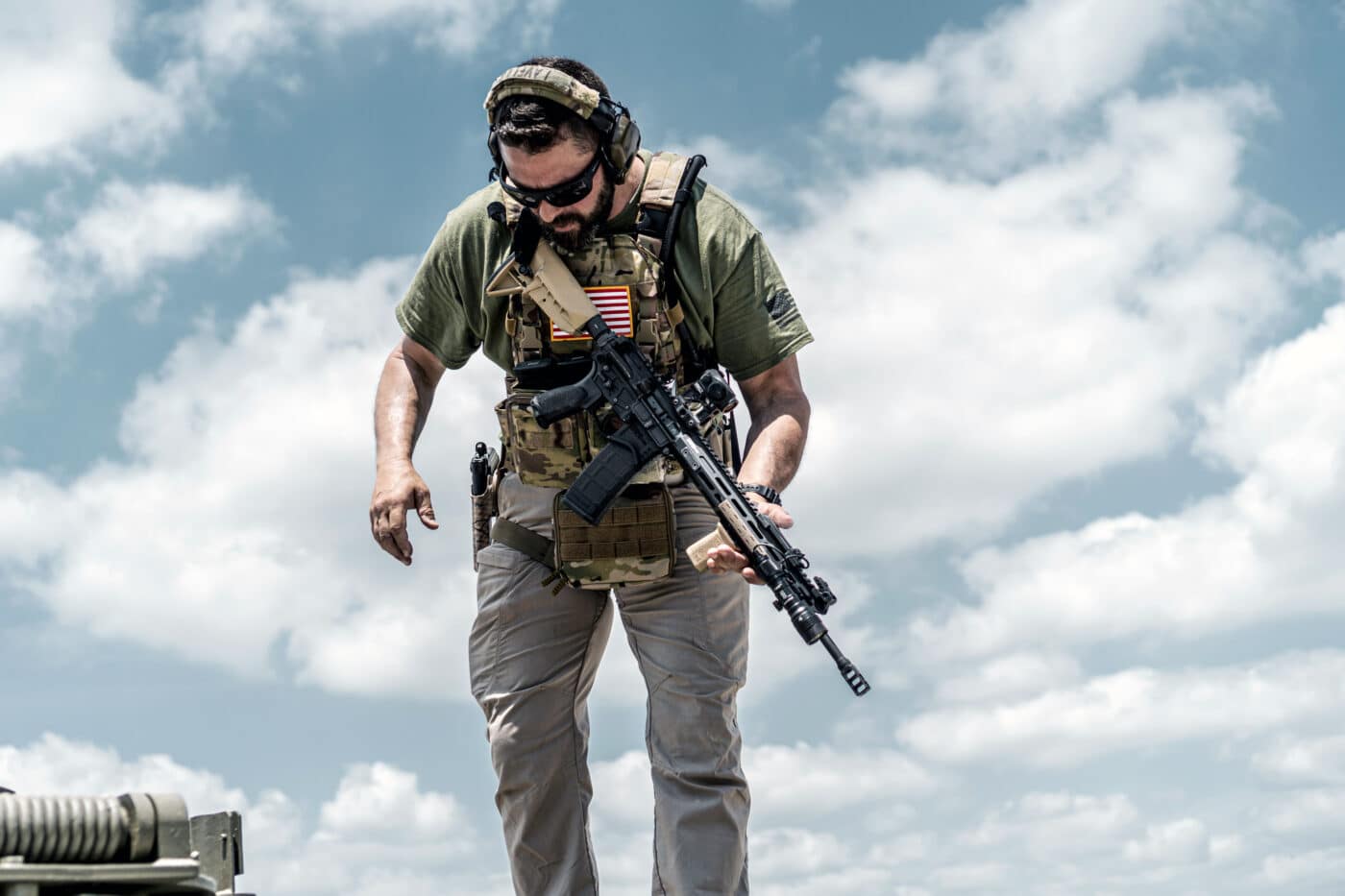 The big thing that I loved about the RAC Carrier is its modularity, which is really what we will be diving into the specifics of here. To summarize, I really appreciate its modularity, and how HRT's website handling this quality. You can go to their site and start with the plate carrier for your base and pick all your pouches and colors, right there on the site. It's just about a one-stop shop for any plate carrier set-up you want in any color or Multicam pattern. HRT also has a great, easy-to-use, and fast website.
The Details
Starting with the plate carrier itself, it feels like it features great quality material. The stitching looks good and the material is very lightweight. I mean that in a good way. The material is light in weight and is really breathable for a fabric that has to be so durable. All of the hook and loop Velcro also feels like it will last for a long time without losing its stick. The plate carrier also has loops on both shoulders so you may run a hydration pack hose on either side, or comm cables, or whatever else you may need.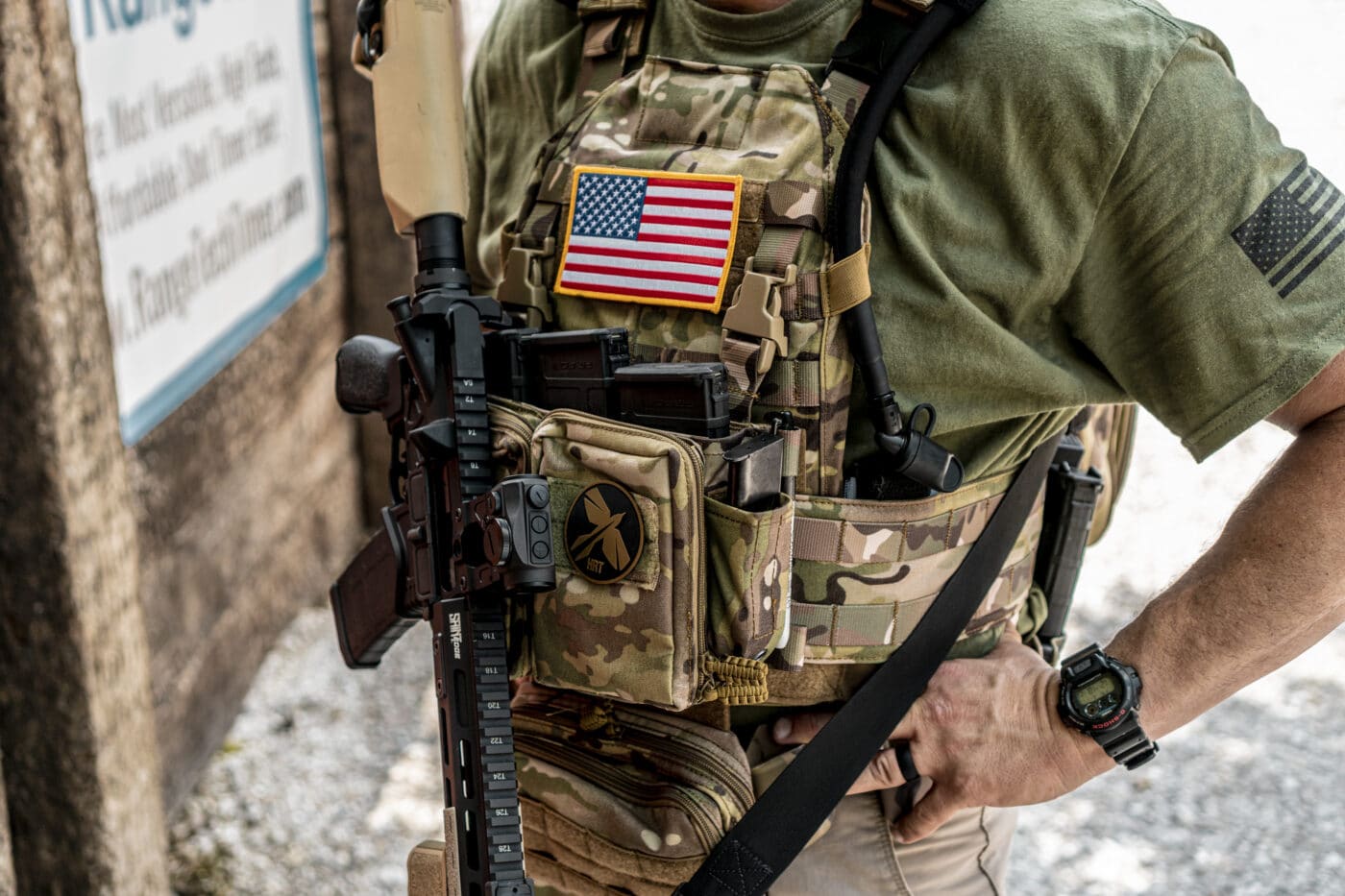 The plate carrier on the front lower portion is all Velcro and designed for quick detach placards found on HRT's website. This was one of the reasons I was drawn to this setup. You can swap out the entire front of your plate carrier in seconds by undoing two plastic clips and pulling the placard off the Velcro. Then you can just clip on your new placard and stick it down for the quick swap.
HRT makes front placards for pretty much everything you need. On the placards section, you will find the Maximus, which has room for three rifle mags, two pistol mags, and has two utility pouches. The Maximus has a customizable inner pouch that can hold three AR mags, two .308 mags, SMG mags or you can convert it to just a large zip-up pouch. Other placards that can be found are two different combinations, so pistol and rifle magazines only. There is also one that is a placard full of shotgun shells in case your main long weapon is a scattergun. Then if you want just good ol' fashioned molle loops, that is something you can do as well.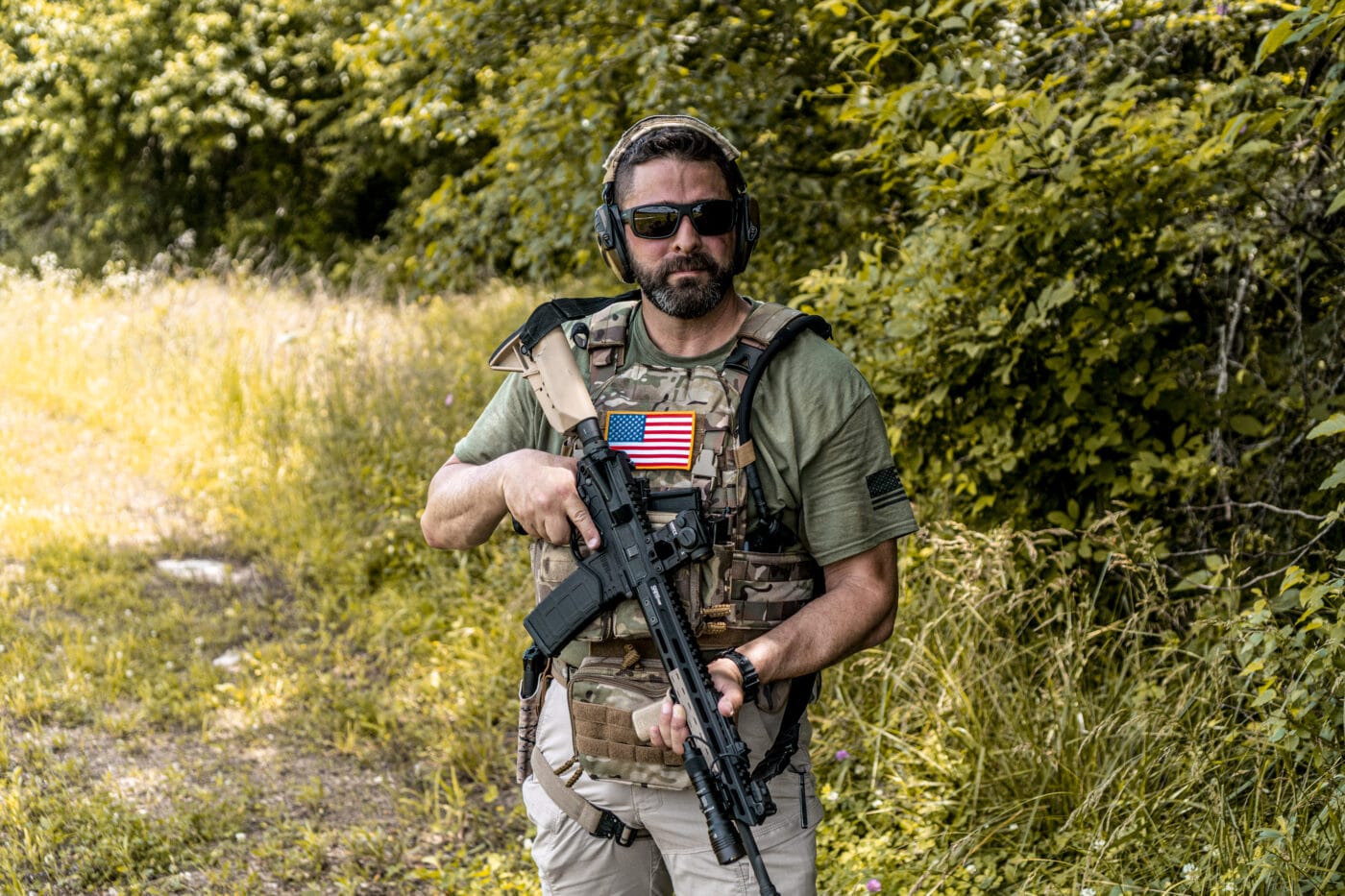 I really wanted to test this front placard system out here because on the GunSpot YouTube channel we review all sorts of guns, so being able to swap out the placard, or with the Maximus being able to swap out the mag inserts, it has the ability to make our work as content creators much faster and more efficient. No more weaving loops in and out for minutes to get set up for a video.
The Other Side
Now, let's talk about the back of the RAC Carrier, which is where this thing is set apart from others. The entire back of the RAC Carrier will zip on and off. This design makes swapping massive back panels as simple as four zippers, two snap buttons and some Velcro. Like the front, this is a fast transition system. Now, if you don't like this zip-on method because maybe you already have pouches you'd like to just add to this carrier, HRT sells another plate carrier that has solid molle on the back.
As with the front placards, there are several back panels that will zip on the RAC Carrier. Among this section of the website, you will find large attachments like a full pack, dual pouches, a helmet mesh cinch sack, side pull medical pouch, quad flashbang pouch, a hydro max pack with a hydration bladder, and a full zip-on molle panel in case you want just straight molle to the back. The back has tons of options that can swap out the full back of the carrier, or just the top or just the bottom of the back.
Solid Core
Now, of course, the real reason a plate carrier exists is to hold plates. The RAC Carrier can hold 10"x12" plates in front and back, and the lightweight material of the carrier does a great job of holding them. For our field test, Grant wore both his front and back level IV plates which, at 6 lbs., made for a total of 12 lbs. worth of plates. Plus, the ammo and the hydration bladder we had him loaded down with. Grant felt that this plate carrier supported the weight very well and was comfortable to wear.
Inside the carrier, there are raised-loop Velcro sections to put pontoon sets for extra breathability. Grant felt that this carrier had good air circulation anyways, but if you're wearing it for long stints in the heat, those pontoon sets would be a great addition.
Like the pontoon set, there is a page on the HRT website dedicated to other accessories including the different inserts for the Maximus placard, tourniquet pouches, a sport hanger pouch for an extra pouch, and a hand warmer for those cold days on duty.
Conclusion
We could dive into all of the awesomeness of the HRT RAC Carrier, but it'd take forever. We truly have been impressed with this plate carrier; the options are limitless and quick to change out, too. You won't end up spending $500-$600 on a plate carrier that you feel stuck with. The number of things you can do with it is fantastic. You can really build it for your needs, your team's needs, the department's needs, or the mission's specific needs, and all in a few minutes.
Editor's Note: Please be sure to check out The Armory Life Forum, where you can comment about our daily articles, as well as just talk guns and gear. Click the "Go To Forum Thread" link below to jump in and discuss this article and much more!
Join the Discussion
Featured in this video
Continue Reading
Did you enjoy this video?
39