Review: Olight Baldr Pro R Weapon Light
May 1st, 2022
4 minute read
If you have been following my reviews of the Olight Baldr Pro series, you know that I have had some good results with their products. Well, recently I had a chance to try out their Baldr Pro R rechargeable light with green laser and give it a full test.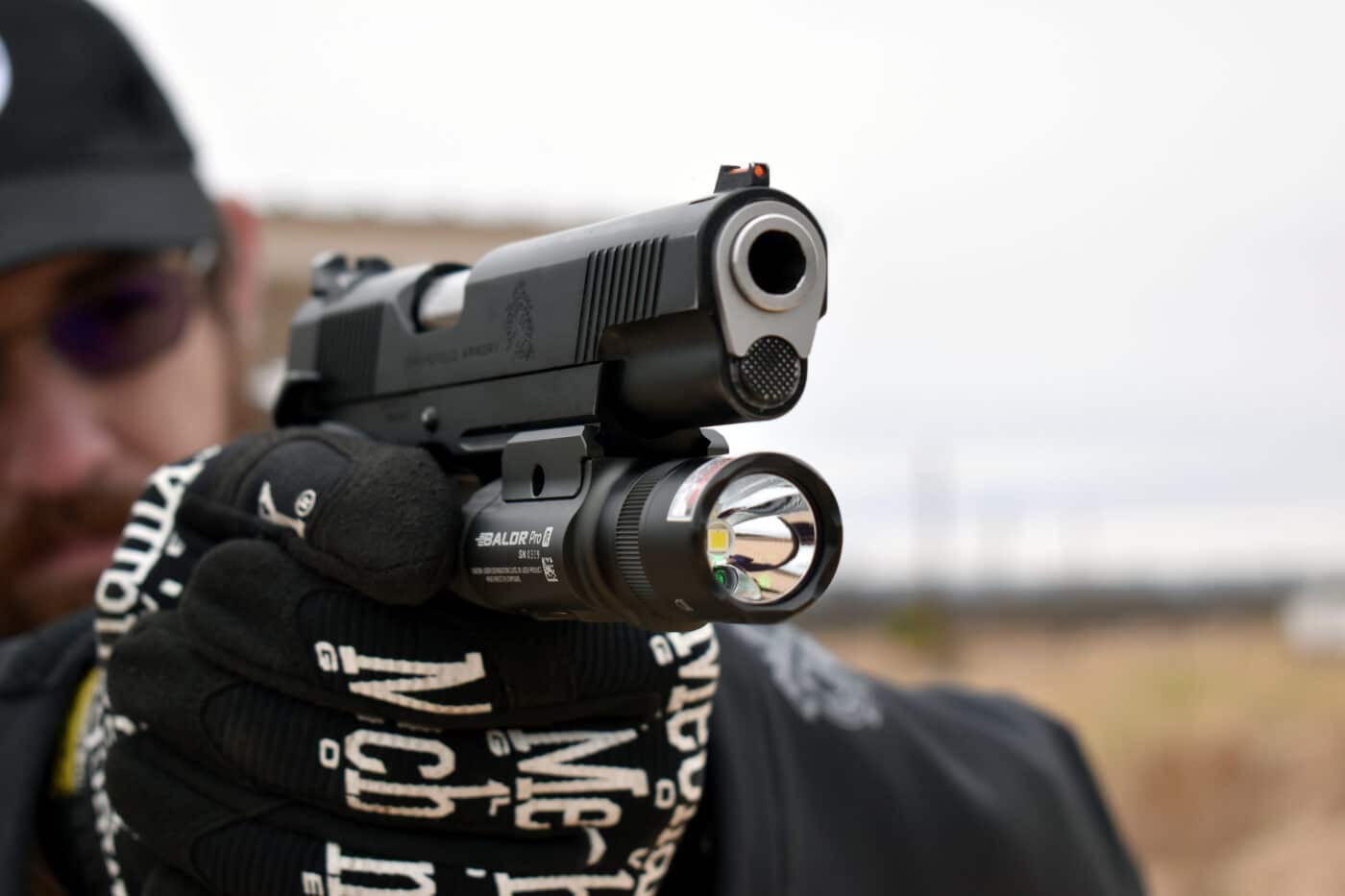 A Unique Location
In previous versions of the Baldr Pro, the green laser was located underneath the unit, giving it a very distinct shape. Well not anymore. Olight took that green laser and tucked it up under the powerful 1,350 lumen light. This resulted in downsizing the overall height by ½". It also decreased the weight of the unit by 3 grams. And they did it all without losing any power. The green laser beam shines out to 200 meters, and being a green laser, it is highly visible in both daytime and low-light settings.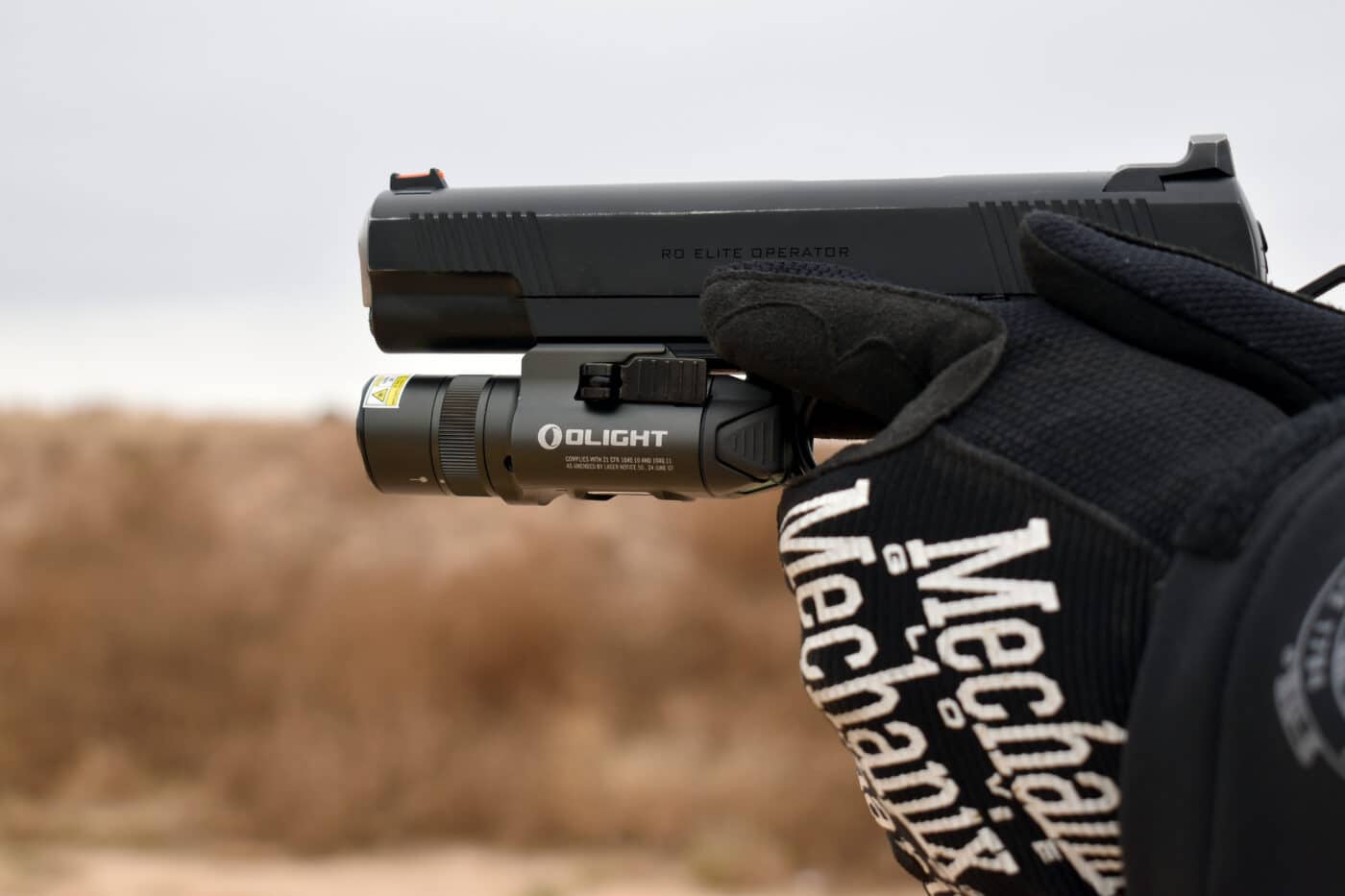 Say goodbye to batteries, as the Baldr Pro R is rechargeable. No need to remove your tac-light from your trusted sidearm just to change out batteries once a year. No more having to re-zero your laser. Now, once you use those 93 minutes of light, all you need to do is connect the patented Olight MCC 1A magnetic charger to the bottom of the Baldr Pro R while you sleep and you are good to go in just a few hours. Another great thing this magnetic connector does is allows you to connect a remote pressure switch (sold separately) just in case you decide you wanted to install the Baldr Pro R on your long gun.
Selecting Your Selections
Previously, The Baldr Pro had a distinct three-position light selector switch located on the back of the green laser. Olight did away with that on the Baldr Pro R and put that three-position mode selector ring behind the front cone of the unit, while only adding to its length by ½". This allows you to seamlessly choose between green laser beam, 1,350 lumen light or a sweet combination of the two. This makes the unit more user-friendly and far less bulky.
The Baldr Pro R still comes with those comfortable ambidextrous rear switches for easy on/off of the light, laser or both, depending on your mode selection. When a light selection other then laser alone is selected, clicking the ambidextrous rear switches together gives you a highly effective strobe function.
Fitting Options
Just like previous Baldr Pro systems, the Baldr Pro R comes with the "Quick Install System". If you don't know what that is, let me enlighten you. The "Quick Install System" is a lever that, when flipped forward, allows you to press it down to quickly install or remove the unit from your pistol. No needing an Allen head wrench to install your tac-light to your firearm.
The "Quick Install System" locks down tightly to your firearm, with no wiggle. So, no worrying about it coming loose. The Baldr Pro does come with an interchangeable rail adapter for those firearms that use either the Glock style rails or 1913-style rails.
The Baldr Pro R doesn't come with a huge hit to your pocketbook, ether. The total cost before tax on the Baldr Pro R is only $169.95. If you wanted to add that sweet remote pressure switch, it's only $29.95. This allows you to get the complete set-up for only $199.90 before tax. Don't worry about shipping, because Olight has you covered there, along with a two-year warranty and a 30-day money back guarantee.
Conclusion
With the Baldr Pro R, you get a rechargeable weapon light and laser with a sleek, compact design. Powerful and affordable, this is a great option for your rail-equipped pistol or long gun.
Editor's Note: Please be sure to check out The Armory Life Forum, where you can comment about our daily articles, as well as just talk guns and gear. Click the "Go To Forum Thread" link below to jump in and discuss this article and much more!
Join the Discussion
Featured in this article
Continue Reading
Did you enjoy this article?
60