Best Weaponlight for the 1911?
August 6th, 2021
4 minute read
It's no secret that danger lurks in the shadows. Many self-defense altercations take place at night in darkness or low-light, resulting in a difficult standard of accuracy.
For years, law enforcement taught the use of a handheld flashlight in conjunction with the handgun. One downside of this technique is that it forces the shooter to pull away his support grip off the pistol for the handheld light. This can result in more perceived recoil from the pistol. Eventually, law enforcement began attaching lights to their handguns, for more control when night shooting. As this trend grew in popularity, more firearms became equipped from the factory with a light rail. It is no doubt that a light on a handgun is a versatile tool for self-defense.
The Browning-designed 1911 pistol is no exception to this trend. Springfield Armory offers railed versions of this timeless classic from their inexpensive Loaded Model all the way to the coveted FBI Professional. However, with a market flooded with lights from the cheap to the outrageously priced, what is the best weapon light for a 1911?
Surefire's Answer
With a pistol design as rugged and aesthetically pleasing as the 1911, it's important (for me at least) to have a weapon light that also embodies those characteristics. I tried a number of lights on my Springfield Range Officer Elite Operator, with many of them leaving me wishing that the light had "this" feature or "that" feature. It wasn't until I finally sucked it up and acquired a Surefire X300U-B that I found the perfect light.
The X300 is not a cheap light, by any means, but it is of fantastic quality and possibly the best weaponlight for the 1911! Immediately I fell in love with this light before I even mounted it to my RO Elite. Make sure to read our Surefire X300 review to see what attracted me to this weapon light.
There are variations on the light, and for my 1911 I selected the X300U-B. The mount is one of my favorite parts about the X300U-B. The Bravo configuration (-B in the name) uses a t-slot thumbscrew clamp, which makes it perfect for the rail of a 1911.
The "U" in the lights model designation stands for "Ultra-High Output," and as part of that, the body houses a 1,000 LED lamp, with a large center beam for short to medium-range engagements. This is a very powerful light.
Running on two CR123 batteries, the X300U-B has a run time of about 1.25 hours. Controls for the light are ambidextrous, with both a momentary-on and constant-on functions. I have found these controls to be slightly on the "stiff" side, but they have slowly smoothened out. As I alluded to earlier, the light is on the heavier side. Weighing in at 4.1 ounces, this pushes my fully loaded Range Officer Elite Operator toward the hefty 50-ounce mark. Good thing I've got a thick Galco belt.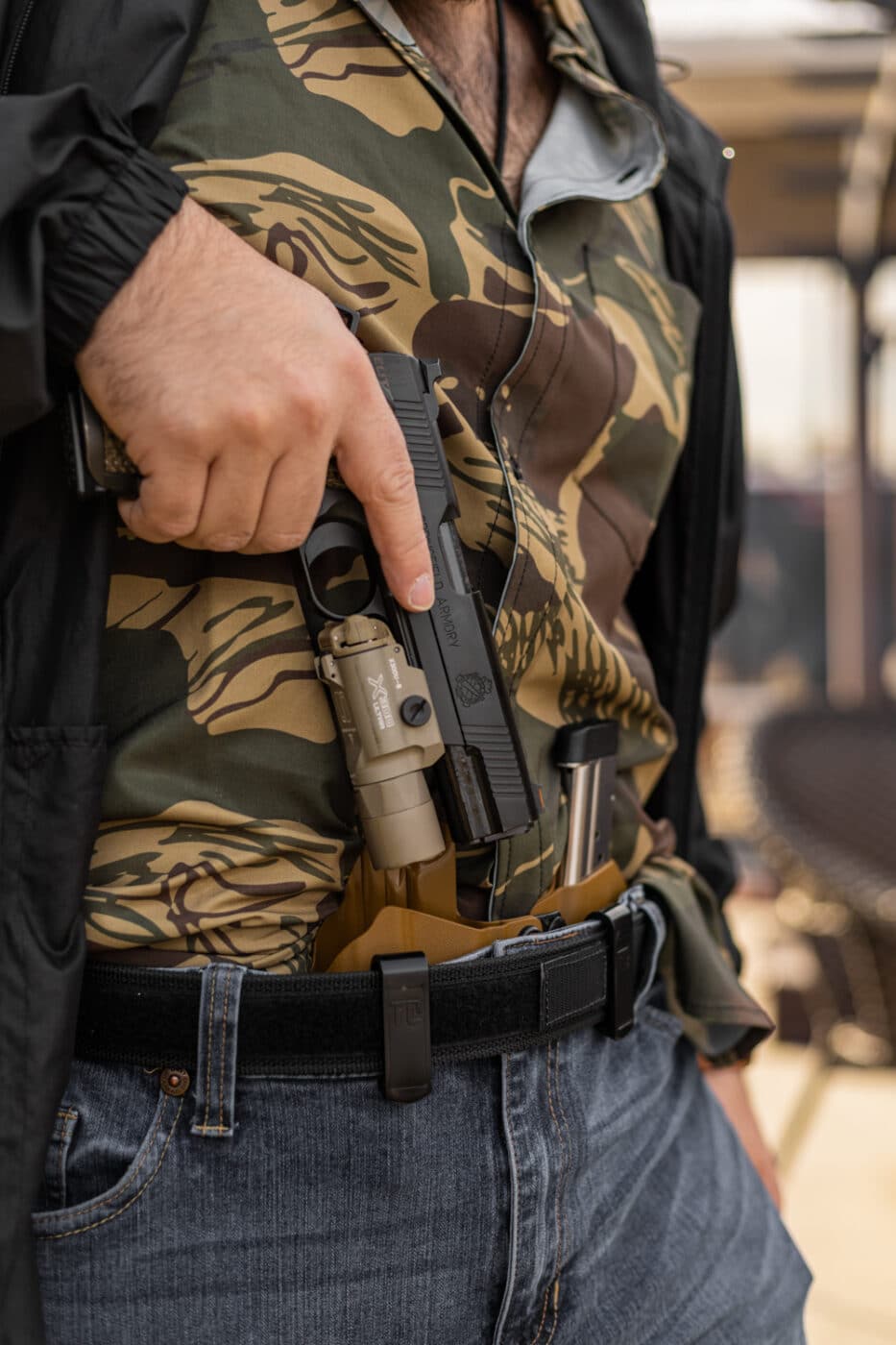 While the X300U-B is a fantastically made light, I have noticed that the finish shows wear quickly. Quickly after unboxing my weapon light, I mounted the light to my 1911 and shoved the weapon in my Safariland duty holster for dry fire practice in the living room. After a number of draw strokes, I noticed the coyote finish (it is also available in black) began to show black streaks from the holster. However, for a gun that I will use daily, I don't mind the cosmetic wear.
Another note; with weapon lights like the X300U-B that sit flush with the barrel of the pistol, you can expect carbon build-up on the lens of the flashlight while shooting. To combat this, I keep an eraser in my kit or coat the lens lightly with chapstick before I shoot. This makes carbon cleanup a breeze and will not inhibit the function of the light.
The Perfect Match
I put off getting this light for almost a year, trying less expensive weapon lights and being dissatisfied in one way or another with all of them. Surefire's X300U-B fits the aesthetics of the Browning-design perfectly, with the flawless function to boot. I am often amazed at just how bright this weapon light is, being able to easily light up targets at 100 yards (that goes to say I'm not engaging targets at 100 yards with a handgun, especially at night). Without a doubt, this X300U-B is the perfect companion for the 1911.
Editor's Note: Be sure to check out The Armory Life Forum, where you can comment about our daily articles, as well as just talk guns and gear. Click the "Go To Forum Thread" link below to jump in!
Join the Discussion
Featured in this article
Continue Reading
Did you enjoy this article?
57