The nature of optics continues to evolve, and technological improvements create new options that weren't available just a few years ago. In this Riton Optics 5 Tactix 1-10×24 scope review, Hunt Fish Shoot examines the optic in field conditions to see if the broader magnification range delivers a quality experience.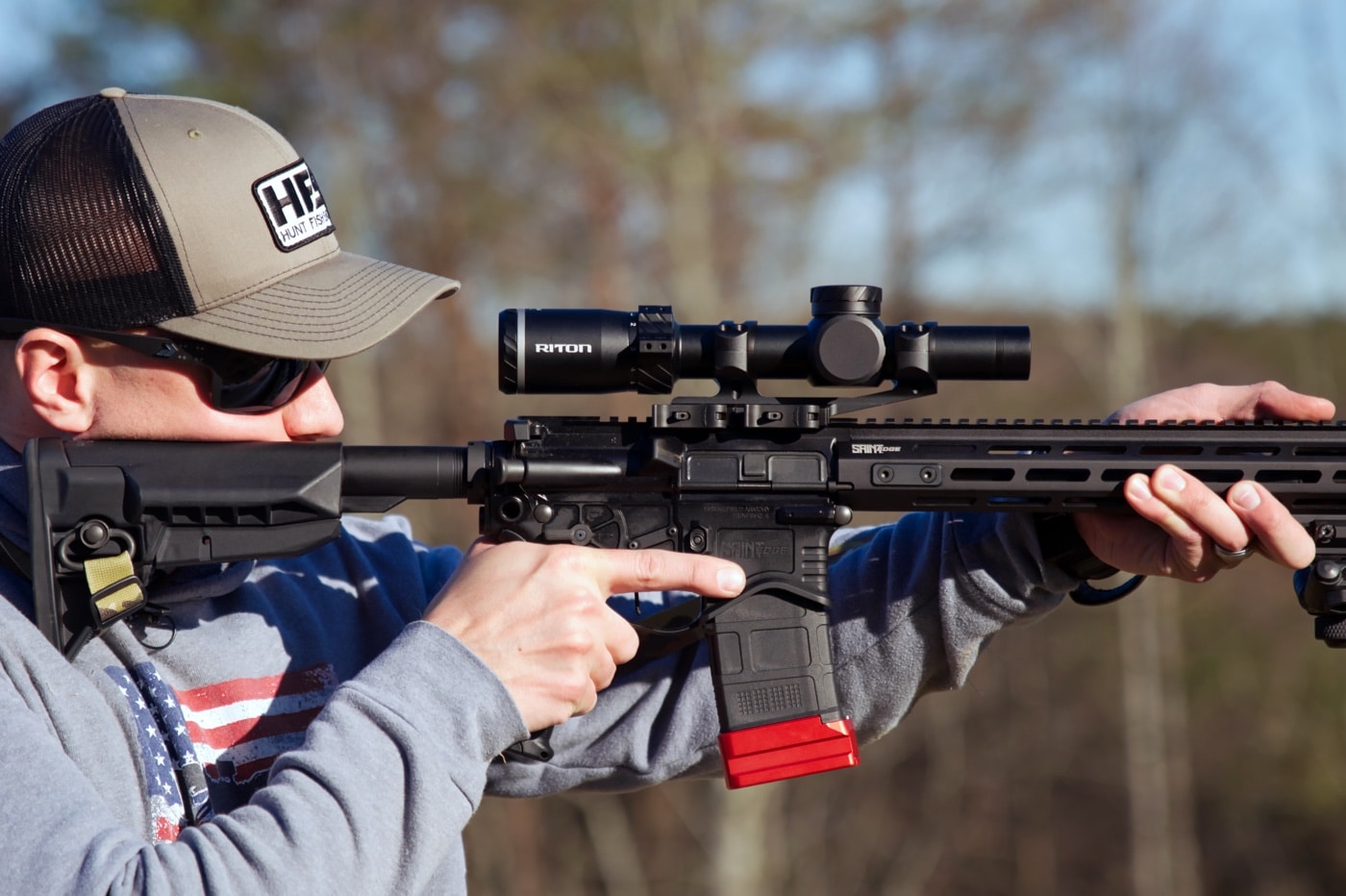 Options, options and more options! Lower power variable optics (LPVO) have become increasingly popular. In particular, a magnification range of 1-10X is somewhat newer for LPVOs, and in the last few years, they have become increasingly more popular. Riton Optics is bringing the 5 Tactix 1-10x24mm rifle scope to the market. And it found a home on our Springfield SAINT Edge AR-15 rifle.
[Not familiar with these kinds of optics? Read our article What Is an LPVO Scope? for more information.]
Fine Details
The Riton 5 Tactix 1-10×24 is a first focal plane (FFP) scope with a 30mm main tube and a 28mm objective lens. New for 2023, Riton Optics changed their knurling on all surfaces where a user may turn a knob, turn a scope cap or turn the magnification wheel up.
[Don't understand focal planes? No problem. Read First Focal Plane vs. Second Focal Plane to learn more.]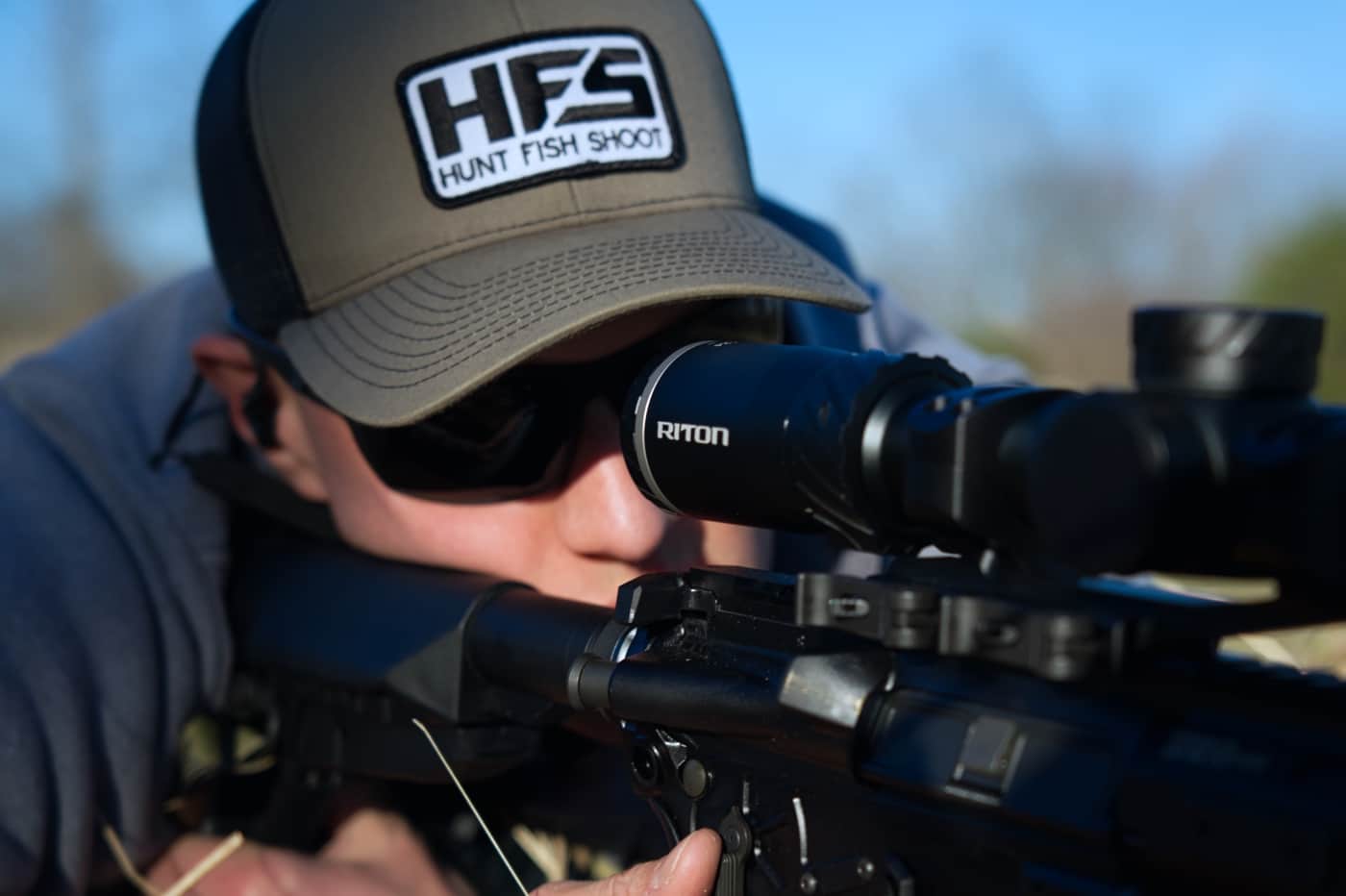 The magnification wheel features a throw lever that can be adjusted or mounted in two different locations. On the ocular focus ring, Riton states they placed knurling on the focus ring to help users recognize the ocular focus ring for focusing the reticle within the scope.
The 1-10 Tactix scope features capped turrets in MIL adjustments and could be returned to zero under the cap. The left side of the scope has an illumination knob with an "off" setting between each illumination setting. When maxed out, the reticle was illuminated brightly enough to be used in bright sunlight. The scope itself is described as being 100 percent waterproof, fogproof and shockproof.
Glass Quality
This all-new scope from Riton features HD glass that is fully multi-coated, anti-scratch, anti-reflective and low-light enhanced. It has crisp, bright glass. Edge-to-edge clarity is good, with some chromatic aberration or blur on the furthest edges.
Whether shooting low light, at a distance or in the mid-day sun, the 5 Tactix 1-10x performed well with clean, bright images. When used at distances from close quarters to 300 yards, was just about perfect. I was impressed by how crisp the image quality was at 300-yard C-Zone steel targets.
Benefits
What does this new offering from Riton do well? Number one on my list is how crisp and clean the images were. With the FFP reticle setting shooting at 300 yards was a breeze, with good holdover markings on the MIL-based reticle system and turrets. Although I personally prefer MOA measurements with my optics, for MIL fans, this thing is spot on. Holdovers and turret adjustments were spot on, with no issues tracking.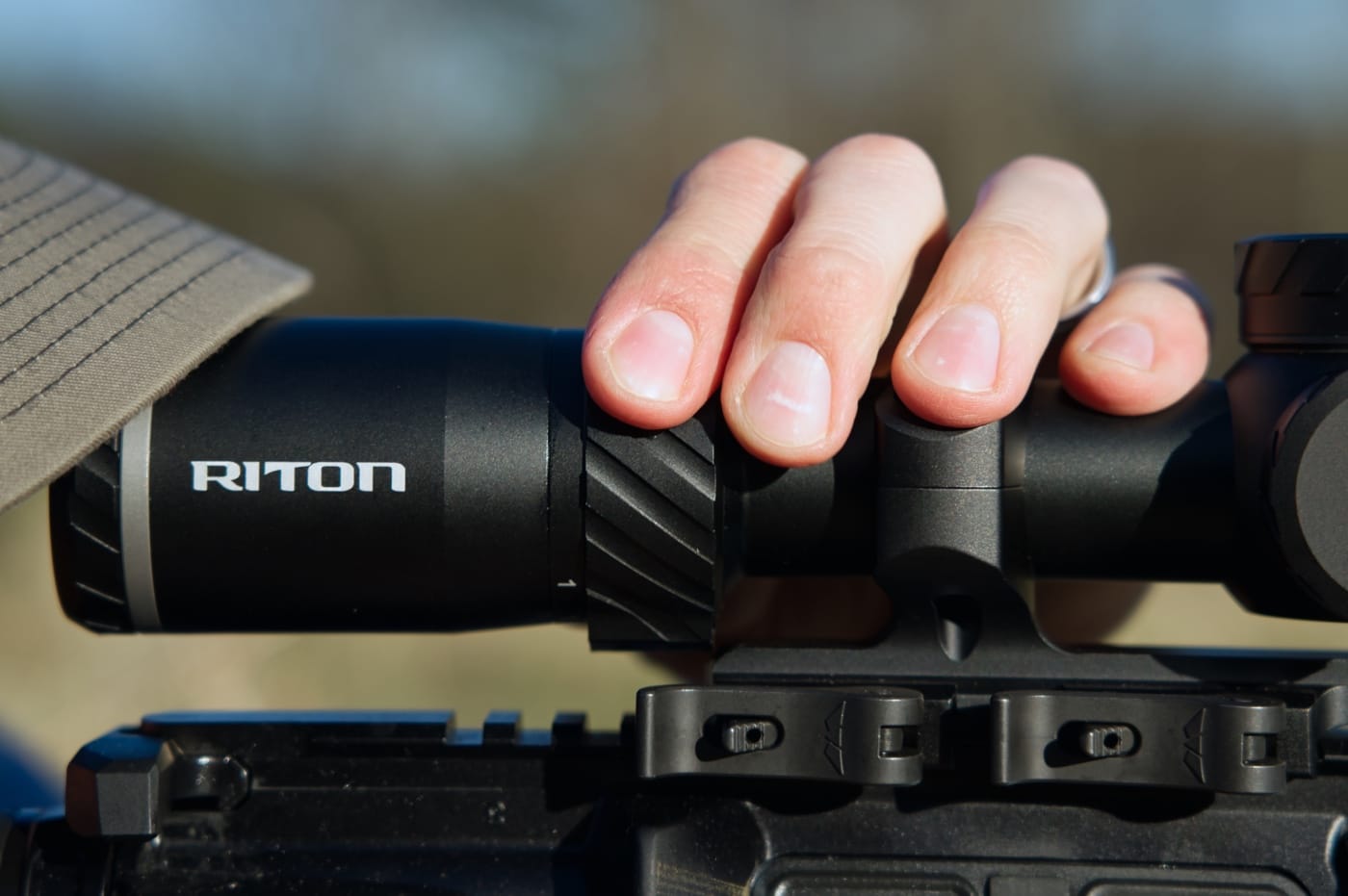 The build quality on the scope is on par with other scopes in this price range, and above. The focus wheel and magnification wheel adjustments were smooth and had just the right amount of tension on them. The illumination ability shines bright during the day, while many scopes with illumination are not bright enough to even use during midday shooting light.
Closing In
As a hunter, police officer and avid shooter, I am incredibly critical of my gear and want nothing but the best available. Being critical of things allows me to notice aspects of a product that some may overlook. Overall, this 1-10 LPVO from Riton has many great features, and the positives outweigh one noticeable negative. What is this negative, you ask? The eye box, or how your eye and head must be centered behind the ocular lens, is a bit unforgiving.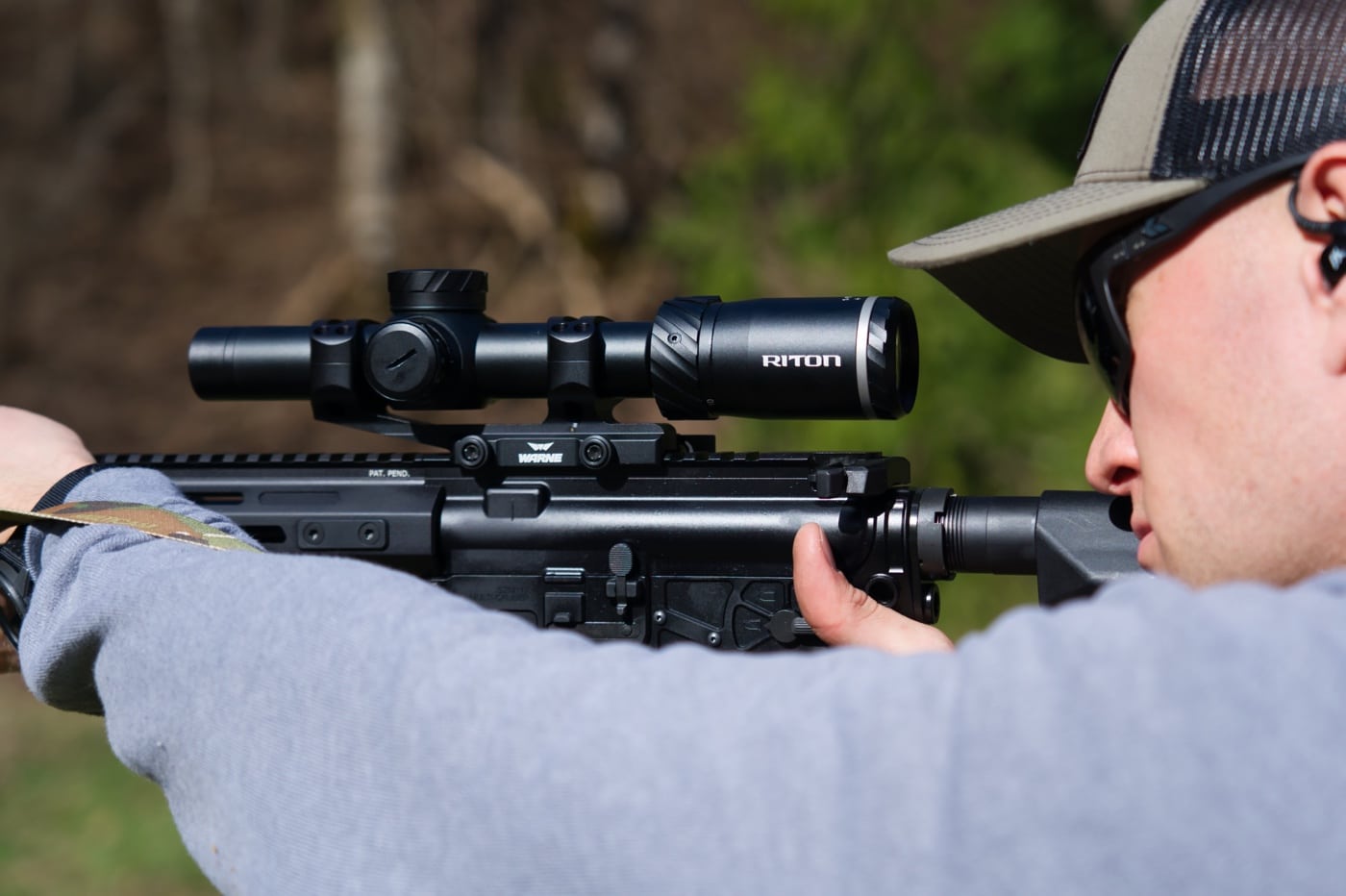 From the magnification range of 1X-6X, there are no issues with the eye box — or at least it's on par with other LPVOs. Having experience using other 1-10X LPVOs, the eye box from 7X-10X is exceptionally tight. You must center your eye perfectly and get it close to the optic to achieve a clear, focused reticle. Although not a deal breaker, it is definitely something of note.
The Verdict on the Riton 5 Tactix 1-10×24 Scope
Riton Optics created a well-built LPVO for its first foray into the higher magnification 1-10X scope range. It is packed full of features and comes in a popular higher-tier FFP reticle setting. Oftentimes scopes with features and included options like this Riton 5 Tactix 1-10 FFP scope will cost twice as much.
This scope comes in at a sweet spot with an MSRP of $959.99, which is still obtainable for those on a tighter budget but who need more than a 1-6X or 1-8X and do not want to spend $2,000 or more. And you get a lot of scope for your money with this one.
Editor's Note: Be sure to check out The Armory Life Forum, where you can comment about our daily articles, as well as just talk guns and gear. Click the "Go To Forum Thread" link below to jump in!
Join the Discussion
Featured in this video
Continue Reading
Did you enjoy this video?
36