Springfield Armory XD 4" Compact .45 ACP Review
March 6th, 2022
8 minute read
If you were forced to defend yourself, would you want a .45 in your hand? How about one with 11 or more rounds in a concealable, yet utterly reliable, package? I know a lot of people, including myself, would feel very comfortable with a gun like that.
Springfield Armory offers just such a gun. Called the XD 4" Compact, the handgun is chambered in .45 ACP and will feed from 10- and 13-round magazines. It's downsized from a full-size for ease of concealment and affordably priced. Interested? I was and recently got one to check out for myself.
The bonus for my friends in California is that this potent pistol is available to you as well.
Overview of the XD-45 Compact
For a lot of shooters, the .45 is as American as mom and apple pie. It's not hard to figure out why – the cartridge carried the country through two World Wars, fought off Pancho Villa's criminals along the Southern Border, loaded the Tommy guns of G-Men and protected tunnel rats in Vietnam. For us regular folk, the same cartridge proved to be an effective self-defense round when defending the homestead or the family.
While the .45 and Springfield Armory are both associated with the 1911 platform, both the cartridge and the company offer an alternative in the XD line. It's an alternative with some real benefits, also.
The XD-45 4" Compact is a smaller version of the Service Model. While both guns share the same length slide and barrel, the Compact pistol chops the grip by 0.75" to dramatically improve concealability. If you think about how you carry a concealed pistol, the overall height can impact printing much more than the length of the gun. Slicing off almost an inch from the grip dramatically reduces problems from printing.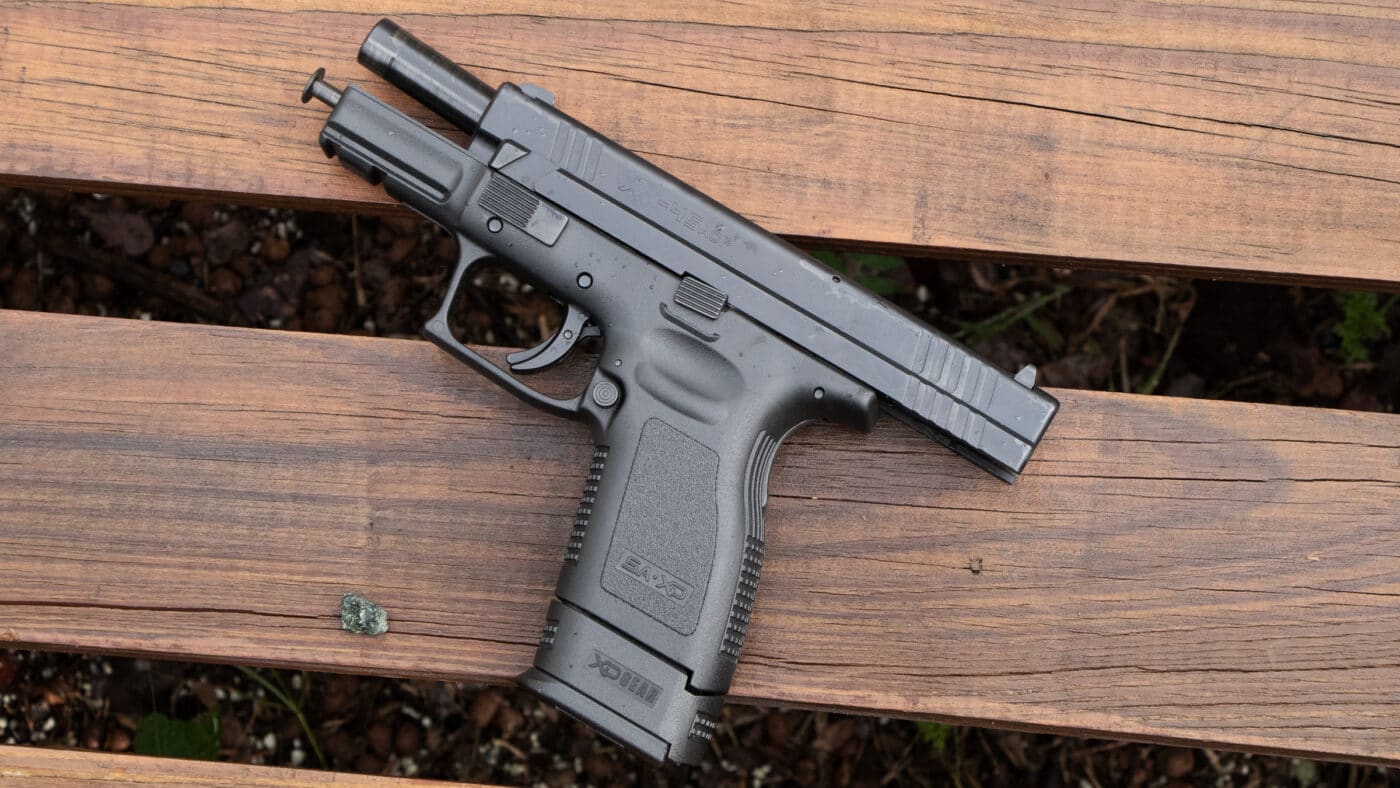 Even with the shorter grip, I'm able to get a solid two-handed grip on the pistol without any problem. My hands are medium-sized, and I had plenty of gripping space. I imagine that better than 99% of people will have plenty of frame to achieve a solid firing grip on the gun.
XD-45 Compact Features
In addition to the chambering and reduced footprint, what other features does the XD-45 4" Compact sport?
To start with, this XD-45 is tough. In addition to the proven ruggedness of the high-strength polymer frame, both the slide and barrel are made of forged steel. Moreover, Springfield Armory finished the barrel and slide using the Melonite process for extreme corrosion and wear resistance. I own several pistols with a Melonite finish and all of them look great after years of service.
Springfield installs three-dot sights on this pistol. The sights are steel and the rear sight has a flat edge for emergency slide manipulation. Many shooters prefer this sight configuration. I find three-dot sights functional, but I much prefer the U-Dot sights like those found on the Hellcat. Fortunately, the sights on the XD 4" Compact are dovetailed into place. If you want to swap them out, replacement is simple work.
Springfield backs the XD-45 Compact .45 with a warranty that covers the original purchaser from any defects in workmanship or material. I'm not a legal scholar, but it seems to me that Springfield intends to take care of you should the gun give you problems – short of user abuse, of course. Sam Weitzner did a great review of the Springfield Armory warranty. I recommend giving it a look.
Low Cap or Just California Friendly?
If you take a look at the Springfield Armory website, you will see this pistol described as "Low Capacity." What does that mean? Put simply, it means the company did not abandon the citizens of California and other states that limit how many rounds can be carried in a magazine.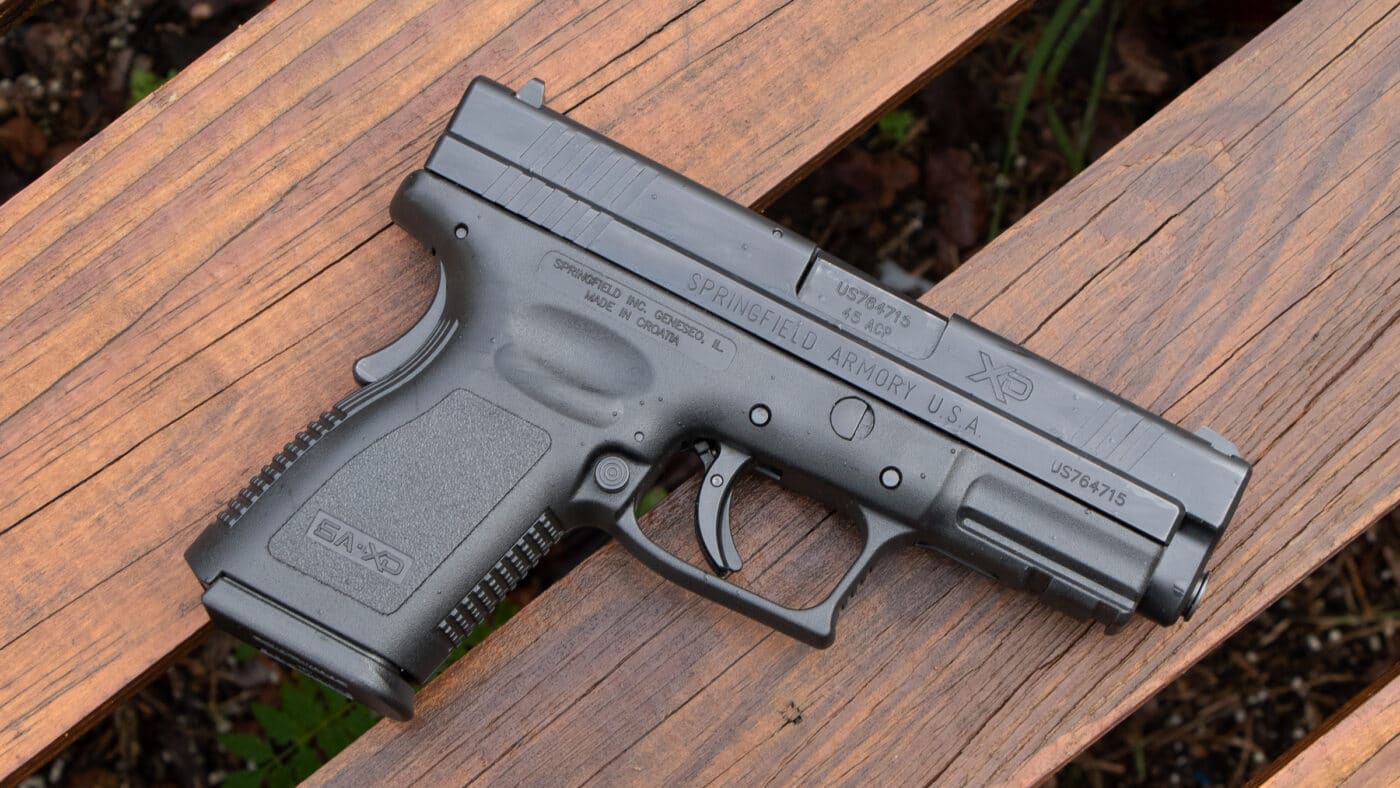 The XD 4" Compact .45 ACP handgun ships with two 10-round magazines that fit flush with the end of the magazine well. Frankly, this is the magazine I choose to carry in the pistol even though I can purchase the extended 13-round magazines here in Florida. I simply prefer the improved concealability.
Nevertheless, California residents can purchase this gun as Springfield Armory was able to get the pistol on the dubious Roster of Certified Handguns. While many consider the California list to be unconstitutional, it is what California's residents are currently saddled with. And the Springfield XD-45 4" Compact in .45 ACP is listed on it so citizens can buy the gun – something many guns from other companies cannot claim.
I appreciate Springfield's continued support of firearms owners in California – especially since the gun is both potent and remains available to the rest of us around the U.S. without any problems.
Specifications
Here are the factory specs on the Springfield XD-45 4" Compact .45 ACP pistol:
| | |
| --- | --- |
| Chambering | .45 ACP |
| Barrel | 4" |
| Weight | 29 oz. |
| Overall Length | 7.3" |
| Sights | Dovetailed three-dot |
| Grips | Integral polymer |
| Action | Striker-fired |
| Finish | Black: Melonite slide, polymer frame |
| Capacity | 10+1 (13-round magazines available) |
| MSRP | $573 |
Range Testing
One of the hurdles I have to overcome as a writer is devising engaging ways to describe the total, if not downright boring, reliability of the XD pistols. Every XD pistol I own or have tested has been completely reliable.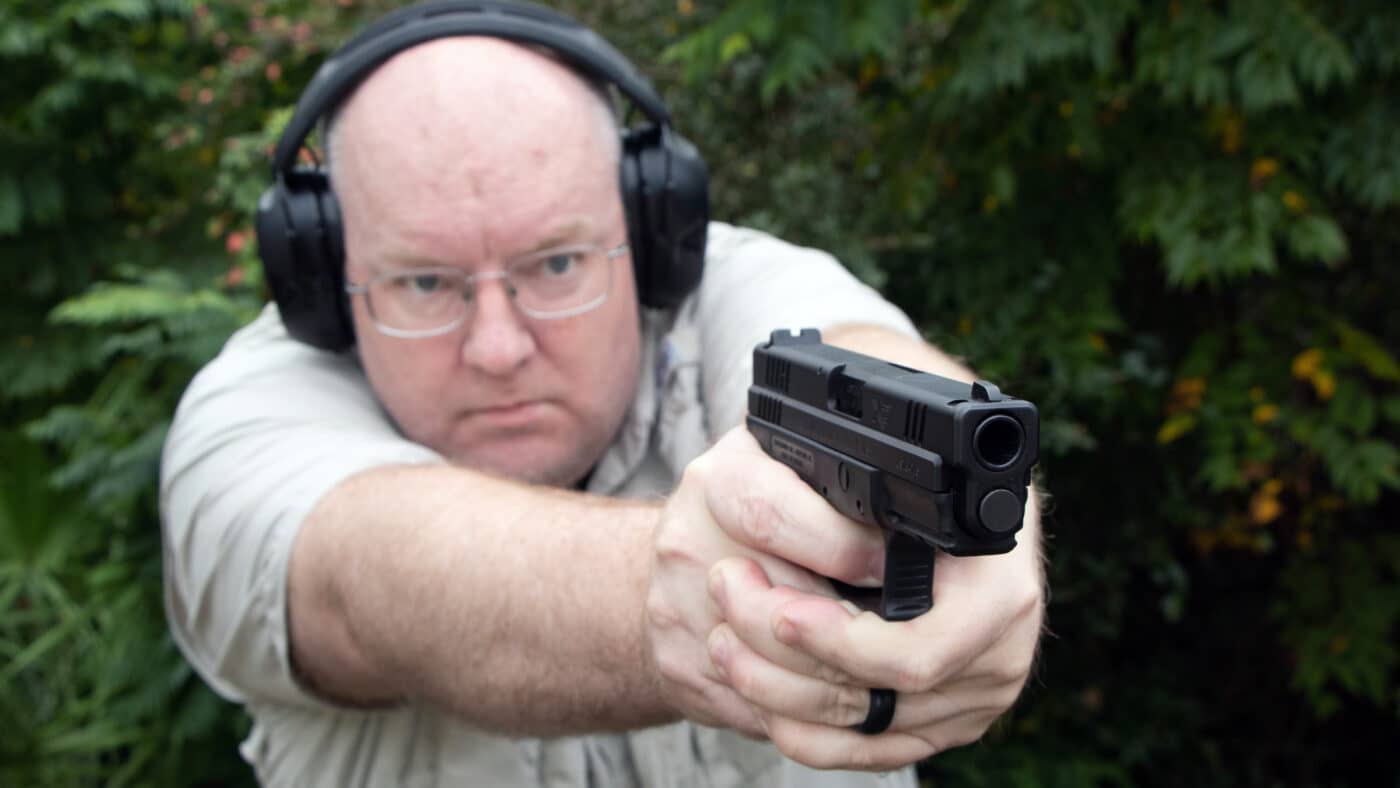 I shoot my guns a lot – and polymer-framed, striker-fired pistols tend to be reliable. They are certainly a major improvement over prior generations of guns from all manufacturers. The XD line is a perfect example of how reliable modern pistols can be.
Nevertheless, all guns can fail and should be thoroughly tested on the range prior to carry. That's exactly what I did with the XD-45 4" Compact .45. With more than 500 rounds of ammo, I headed to the range to give the gun a workout.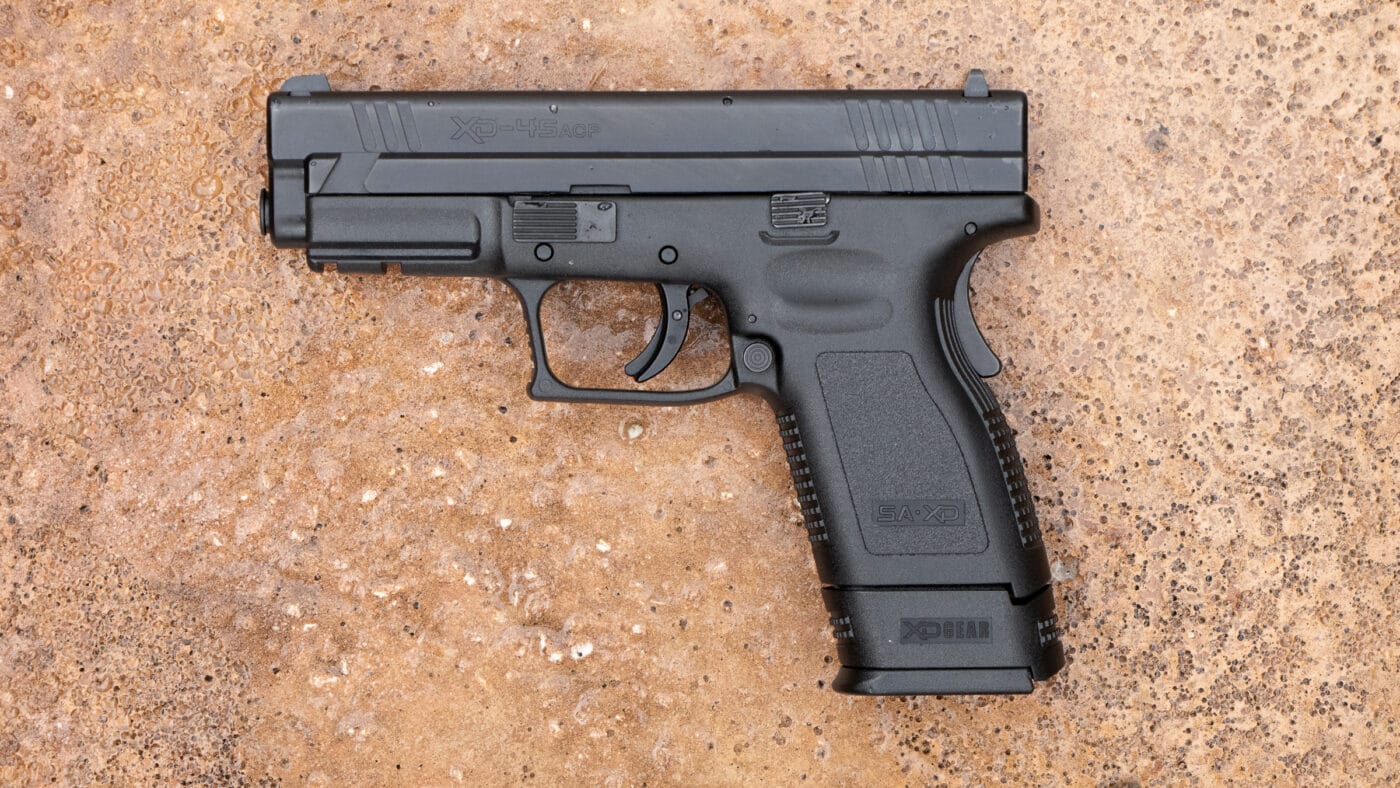 As expected, the XD-45 Compact .45 ACP delivered wholly reliable performance. With full metal jacket (FMJ) and jacketed hollowpoint (JHP) loads, the ammo fed, shot and ejected as expected. Neither standard nor high-pressure rounds caused any issues.
Scary Moment
While testing the gun, I had a brief scare that seemed to prove the strength of this XD pistol. I loaded a magazine of JHP ammo from an overseas manufacturer. When I shot the first round, I felt recoil that was substantially greater than any other .45 ACP round I've fired. Additionally, the muzzle blast and visible fire ring were incredibly intense.
My chronograph measured the 185-gr. JHP round at more than 4,000 fps. If that seems impossible, I agree. I suspect that the device mismeasured due to unburned powder, the flash or some other interference.
It appeared to me that the ammo had a double charge. I discontinued using any more of that ammo and did not include it in my shooting results in this article. I inquired with the ammunition company about the issue I experienced, but I do not yet have any answers.
The takeaway for me was how strong the XD-45 Compact proved to be. I don't know what pressure was generated with that ammo, but I suspect it was in excess of proof loads. However, the XD took it all in stride. Instead of spontaneously disassembling, the gun functioned as normal and did not send shrapnel into my hands or face. Thanks Springfield!
There was no obvious damage to the pistol, and it continued to function reliably throughout the rest of the testing.
Ammunition Performance
Here's a look at how several of the defensive loads performed in the Springfield XD-45 .45 Compact.
| | | | |
| --- | --- | --- | --- |
| Ammunition | Velocity | Energy | Accuracy |
| Fiocchi 200-gr. JHP | 881 fps | 345 ft-lbs | 1.89" |
| Hornady Custom 230-gr. XTP +P | 882 fps | 397 ft-lbs | 1.86" |
| Liberty Ammunition Civil Defense 78-gr. JHP +P | 1,853 fps | 595 ft-lbs | 2.10" |
Accuracy measured from edge to edge of five shots at 7 yards. All shots fired unsupported from a two-handed grip. The reported velocity is an average of five shots measured by a Competition Electronics ProChrono set up 10' from the gun muzzle.
High pressure, or +P, loads tend to generate additional recoil and muzzle blast as compared to standard pressure rounds. I observed that to be true with the Hornady Custom 230-gr. XTP +P load. Compared to some 230-gr. FMJ practice ammo I was shooting, the Hornady +P load had a bit more bark. Nevertheless, it was still easily controlled in the XD pistol.
The Liberty Civil Defense load is a fun one to shoot. Liberty Ammunition uses nickel-jacketed copper hollowpoint bullets. For the same size as a typical lead hollowpoint projectile, the Liberty bullets are much lighter. In .45 ACP, the bullets weigh only 78 grains. With a bullet so light, the Liberty engineering team can drive the rounds to much higher velocities.
My testing confirmed the high velocity of the Civil Defense load. Out of the 4" XD, I measured the .45 ACP rounds zipping along at more than 1,850 fps. That's nearly 600 ft.-lbs. of energy from these rounds. While they make a very loud bang when shot, the recoil is ridiculously light. There is very little muzzle rise for fast follow-up shots.
Final Thoughts
This pistol represents an impressive value in the self-defense market. It is a proven design that demonstrated its capabilities once again during this testing. Accuracy, reliability and ease of shooting are all standard features for the XD-45 4" Compact .45.
Pricing on this pistol makes it a true bargain. The MSRP is less than $600, giving you a lot of money left over for training, ammunition and a holster. If you want to carry a big bore pistol for personal protection, this XD is worth a close examination.
Editor's Note: Please be sure to check out The Armory Life Forum, where you can comment about our daily articles, as well as just talk guns and gear. Click the "Go To Forum Thread" link below to jump in and discuss this article and much more!
Join the Discussion
Featured in this article
Continue Reading
Did you enjoy this article?
114