Seven Top Still-Hunting Tips: Get the Drop on a Buck!
September 12th, 2022
6 minute read
Tagging a buck "Indian" style is no easy task. In fact, it is one of the toughest ways to punch a tag. Indeed, all it takes is one false move, one unnecessary head-bob and the buck of a lifetime will vanish without a trace.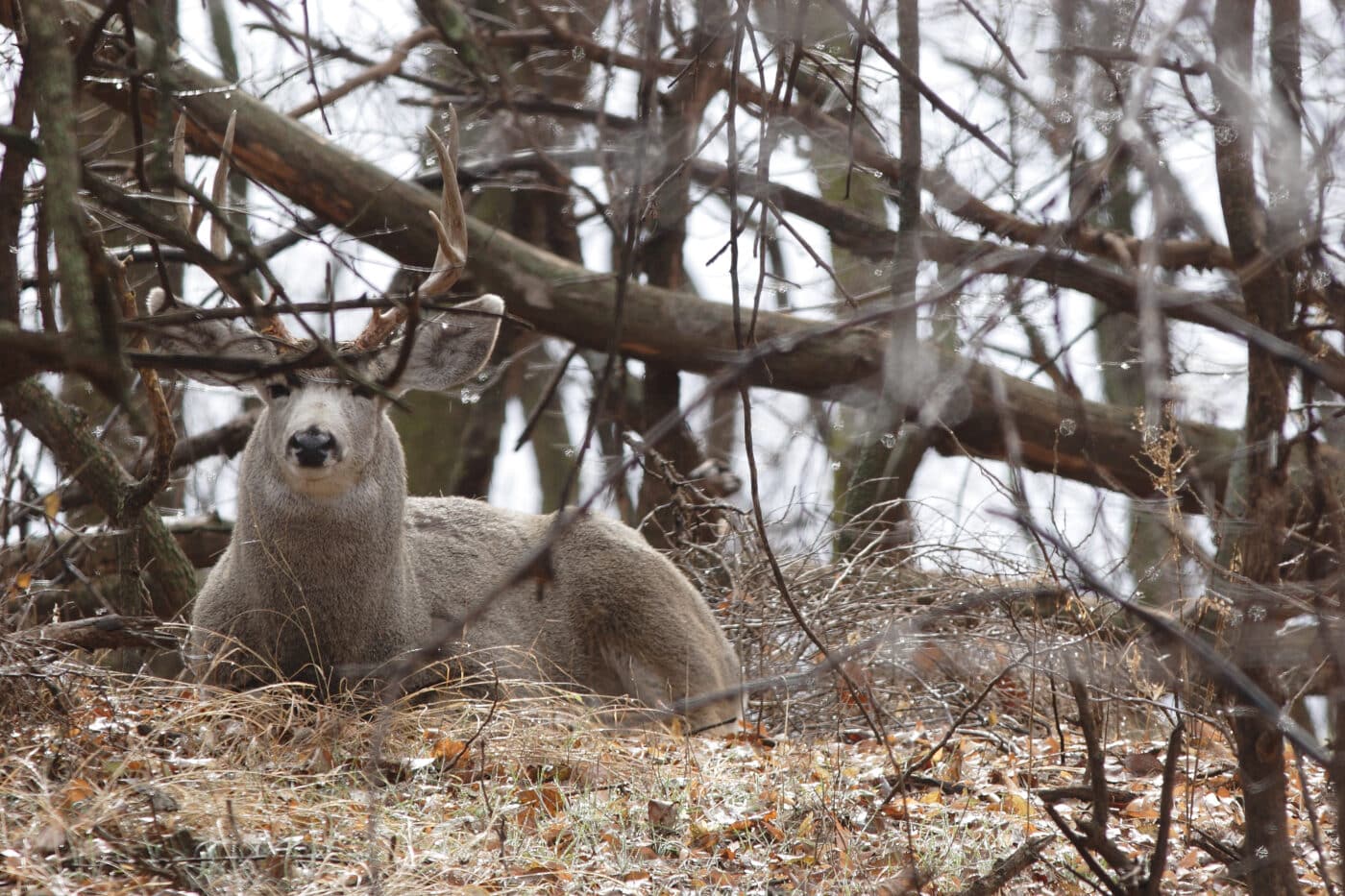 Nonetheless, still-hunting is also the most rewarding of all the deer hunting methods. Here's how to get the drop on an unsuspecting buck at spitting distance from ground zero … and smile about it for the rest of your life.
Total Camo
The first step is total camouflage, meaning all outer clothing PLUS exposed skin and equipment must be dulled with earth-tone colors. Waypoint 2020's hand-painted carbon fiber stock in Ridgeline Camouflage has got you perfectly blending into your surroundings as you sneak and peek through thick cover hoping to get the drop on a racked buck.
Your encounters with a deer are likely to be up close and personal, so close in fact that a waxed and brand new shiny walnut stock just won't cut it in the wild with a buck's tremendous eyesight. He will catch you flat-footed every time!
See Him First
Your goal is to see the buck before he is even remotely aware of your presence. Start by glancing down on the ground for a spot to put your foot for the next two or three steps. Then, without looking down again, take those steps while your eyes are searching each new vista for a leg or antler of a buck.
Spend 10 seconds of every minute looking on the ground for deer sign, and 50 seconds of every minute looking up ahead for a live deer — any less and you are just wasting your time. Even then, don't sneak around if there is no fresh deer sign nearby. You need to still-hunt where deer habitually frequent if you expect to fill a tag.
Do not however still-hunt with your rifle slung over your shoulder. A buck can suddenly appear unannounced affording you precious few seconds to slip your sling off your shoulder, aim and shoot.
Thumbing a Nose
A buck's sense of smell is legendary, and he will bolt if he catches even a faint whiff of you. One way to thwart his sniffer is to become intimately familiar with your hunting turf. Why?
You'll no longer be spreading your odor to the four winds as your wander about aimlessly. Instead, you will be skulking about downwind or crosswind of known concentrations of deer.
Sound Advice
A buck does not have to see you or smell you to be alerted to your presence. A buck can easily identify you solely by your gait. Instead of marching purposely through the woods and with a single destination in mind, learn to zigzag about like a feeding deer.
Their muted steps coupled with a stop-n-go tempo suits me just fine and does not unduly disturb forest residents. If small critters like foxes, coons, squirrels, chipmunks and rabbits do not flee in terror as you pass, then you are moving just about fast enough.
Striking at the Right Time
My favorite pre-rut strategy is to still-hunt along a fresh scrape line. Study ancillary sign to determine his preferred bedding and feeding areas as well as his direction of travel and the time he is likely to freshen his scrapes. With any luck you should also be able to learn his age, body weight and rack characteristics. Think about it!
Scrape lines are generally hot for 10 to 14 days, but cool off as the rut kicks into high gear. So the best time to still-hunt downwind of a fresh scrape line is as soon as possible!
If you want to get a crack at a racked buck during the peak of the rut, then hunt the does. After all, that's what the bucks are doing! Indeed, one way to catch a rutting buck flat-footed is to play the wind as he does. He will work crosswind in an effort to scent check as many does as possible as they feed in a cut corn lot or abandoned orchard for example. You do the same, and you catch him in the act!
To catch a bedded buck at ease, the Holy Grail of still-hunting, work your way slowly crosswind through suspected bedding cover. Why? A buck usually beds facing downwind. If you sneak along into the wind he will undoubtedly see you first and be long gone before you raise your rifle.
Colorful Choices
Can you still-hunt effectively dressed like a giant pumpkin? Yes! For starters, consider 3-D or crinkle-cut clothing. These garments reflect less light than a solid block of cotton or twill, and therefore distort the human form better, making it less likely you will be seen by a wary buck.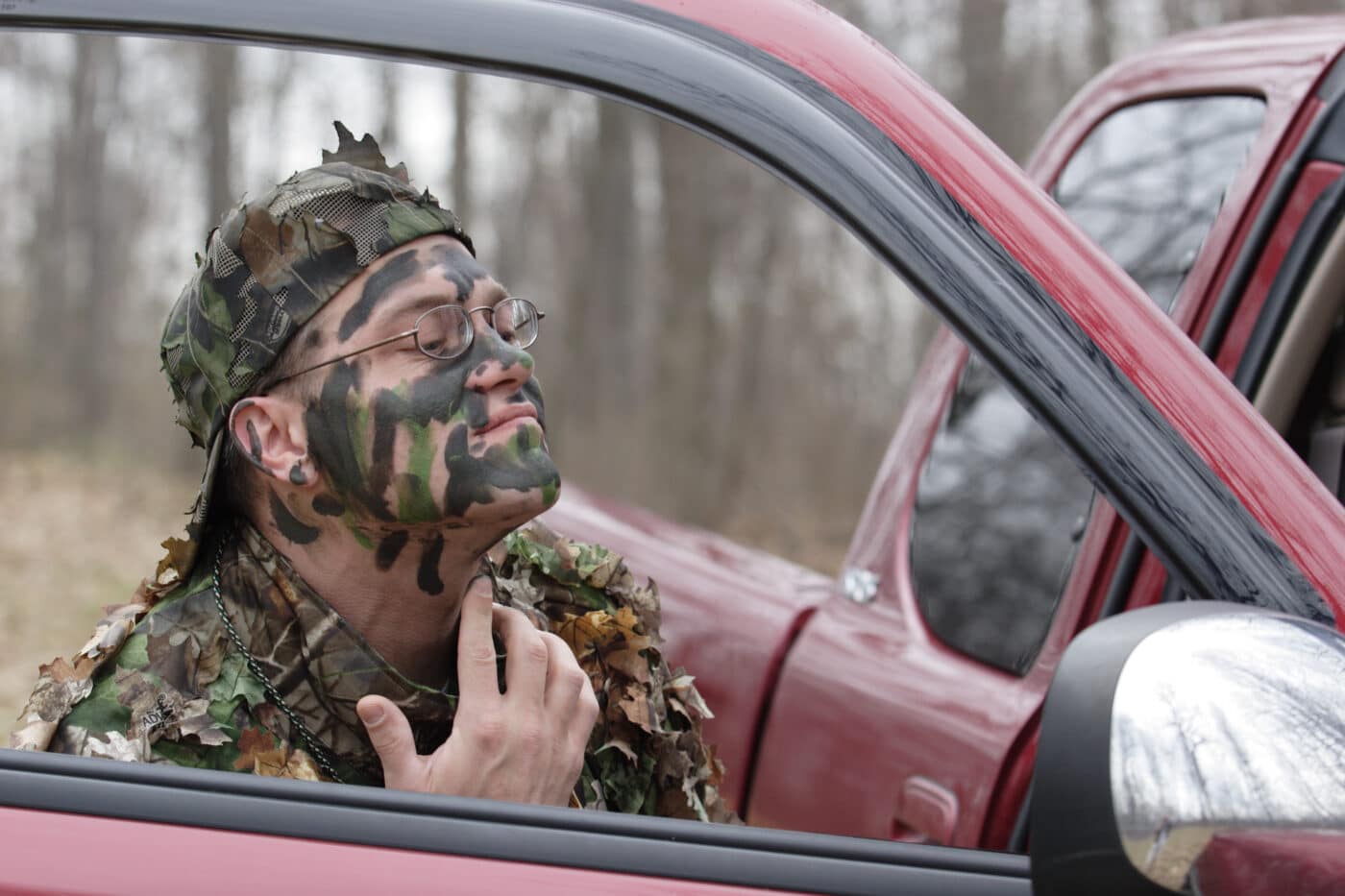 Where legal, consider blaze-orange camouflage with its black splotches and squiggles printed on top of a solid orange background. This pattern can also go a long way toward breaking up the human outline.
Now think about this. Even in states with high compliance rates, there are 5 to 10 percent of hunters who do NOT wear the required amount prescribed by law. Some are poachers and trespassers, while others simply do not believe in the law. Their actions pose a substantial risk to all deer hunters. Why? Some nimrods believe that if it moves and is not wearing orange, it MUST be a deer; "if it is brown then it's down" mentality. The lesson is clear: Be safe and wear some orange!
The Moment of Truth
To that end, still-hunting during stormy weather can be very productive, but there is always the chance of your scope fogging or the lens suddenly covered in droplets. One option is to install a see-thru scope mounting system on your rifle and then affix either a rear buck horn or a large peep sight underneath as a quick and reliable back-up. Be sure to get the best deer hunting scope you can afford to avoid optics problems.
The Model 2020 Waypoint's trigger from TriggerTech features a low-profile, non-snag safety and employ's the company's Frictionless Release Technology. It is easily adjustable from 2.5 to 5 lbs., and I prefer to keep the trigger pull closer to 5 lbs. In my mind, there is no need for a hair trigger when still-hunting, especially when cold weather and a gloved hand could get the best of you, inadvertently resulting in an inaccurate shot. [Editor's note: Be sure to check out how to improve your deer hunting accuracy from Bill Vaznis also.]
Editor's Note: Be sure to check out The Armory Life Forum, where you can comment about our daily articles, as well as just talk guns and gear. Click the "Go To Forum Thread" link below to jump in!
Join the Discussion
Featured in this article
Continue Reading
Did you enjoy this article?
50