Top 10 Tips to Improve Your Deer Hunting Accuracy
February 14th, 2022
5 minute read
What level of accuracy is "right" for deer hunting? Although shooting 1" cloverleaf bull's-eyes at 100 yards at the local rifle range is a good beginning, it does not automatically make you a crack shot in the deer woods. Not by a long shot!
Here are my top 10 tips for your consideration.
Firearm of Choice
To become a crack shot in the deer woods, you must hunt with a rifle capable of delivering pinpoint accuracy when called upon, like Springfield Armory's Model 2020 Waypoint. It is offered with either a steel or carbon fiber barrel, each boasting a .75 MOA accuracy guarantee.
To my mind, when chambered in the proven .308, it will give you all the confidence you will need to drop any buck in North America. Guaranteed!
Rock-Solid Rest
While at the practice range, prove to yourself which stance is most accurate: Standing, kneeling, sitting or prone … each with and without the use of a sling. You will eventually learn that each stance in descending order is increasingly more accurate than the former, and each is undoubtedly more precise when you add a tight-fitting sling to your shooting regimen.
Of course, when available, a tree trunk is about the best you can rely upon when the chips are down in the wild. Indeed, it only takes a second to lean against a mature tree trunk, or curl your fist around a stout sapling and then balance your barrel on your wrist. Even if you don't think you have the time, take the time and find a suitable rest.
Firearm Familiarity
Horror stories abound in deer camps today of nimrods who confess to missing the buck of a lifetime simply because they were hunting with a different rifle than they were most accustomed. For example, "I couldn't find the safety in time. On my personal rifle, it is a thumb switch situated on top of the receiver." Or, "I couldn't find the safety, and I forgot if the button was in front or behind the triggerguard!" Another old-timer tried to pump his lever-action for a follow-up shot while another accidentally unhinged his floorplate, dumping a "full internal clip" onto the ground!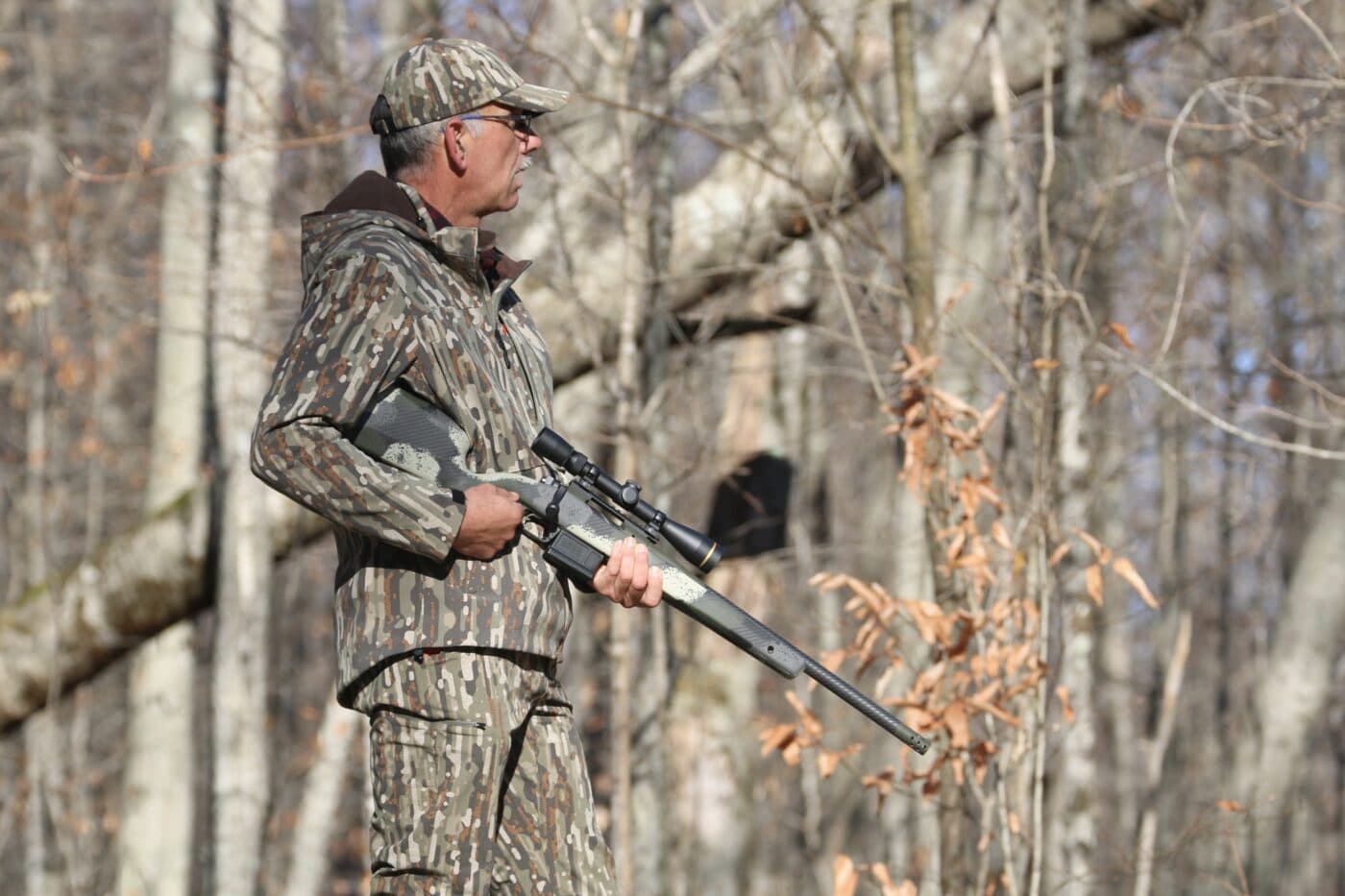 These errors can be easily rectified by lots of practice on the firing range, so much so that shooting without fumbling for the safety is all second nature.
The Waypoint's TriggerTech trigger features a low-profile, non-snag and easy-to-find safety, and employ's the company's Frictionless Release Technology. It is easily adjustable from 2.5-5 lbs., and its patented, free-floating roller allows a crisp, clean and repeatable pull.
Practice on the Cheap
Practice with an air rifle in your basement or garage, where you can hone your breathing and trigger skills needed to be a dead shot in the deer woods. That is without suffering the repeated shoulder-pounding recoil or the financial cost of shooting a big-game rifle.
Practical Practice
Take a tip from bowhunters and set up a realistic 3-D shooting range in a nearby ravine or along a wooded hillside — of course, on your property and where safe to do so. Erect life-sized paper deer targets at various distances along a pathway that leads you around the range. Make sure there are opportunities to safely shoot from standing, sitting, kneeling and prone positions, with/without natural rifle rests available.
To add to the excitement, set up a moving deer target on a pulley system. A little friendly competition will quickly separate the men from the boys!
Set Your Sights
Adjust your deer hunting scope to fit the scenario you are most likely to encounter on that particular day afield. The lowest setting is always a good bet, even when hunting open terrain. I once rifled a fleeing B&C contender at 100 yards with my variable cranked down to 1.5X.
The Right Sight Picture
When you decide that the buck in front of you is a "shooter", visualize the crosshairs or sight bead on a small section of the body before you raise your rifle, a tuft of hair behind his elbow for example, and then after aligning your sights maintain that sight picture for a full second before squeezing the trigger.
Scope Confidence
If you are concerned that a recent hard fall in the woods may have knocked your scope out of whack, store a Laser Bore Alignment kit in camp. This inexpensive tool allows you to check your scope without actually firing your rifle, and it can be done in minutes after supper back at camp. Knowing your scope is still "on target" for the morning's hunt will help give you a good night's sleep!
The Moment of Truth
Deer hunting during stormy weather can be very productive, but there is always the chance of your scope fogging or the lens suddenly being covered in droplets. One option is to install a see-through scope mounting system on your rifle and then affix either a rear buckhorn or a large peep sight underneath it as a quick and reliable back-up.
Follow-Up Shots
Over the years, I have had two "dead" deer suddenly jump up and flee when I approached. Always walk up on a downed buck with your rifle at port arms, and be prepared to shoot again if needed. The cost of a cartridge is cheap insurance guaranteeing you a successful hunt … proof positive you are a dead shot in the deer woods!
Editor's Note: Please be sure to check out The Armory Life Forum, where you can comment about our daily articles, as well as just talk guns and gear. Click the "Go To Forum Thread" link below to jump in and discuss this article and much more!
Join the Discussion
Featured in this article
Continue Reading
Did you enjoy this article?
39