Springfield Waypoint on the Hunt
December 29th, 2021
6 minute read
A few years back I ended up in the Springfield booth at a live-fire media event, and the guys from Springfield brought out this top-secret new product. It was a brand-new bolt gun called the Waypoint, designed and built with performance in mind. I got behind the new gun and immediately took aim at the 1,000-yard target, squeezed the trigger, and clank — smoked steel my first time behind the gun. I had to have one.
Let's fast forward to 2021. I'm in need of a new hunting rifle. I need something that can go with me on any hunt I decide I want to do — whitetail, elk, coyote, and whatever else I may decide I want to hunt. There was really no question in my mind what I wanted — that Waypoint I shot at the media event.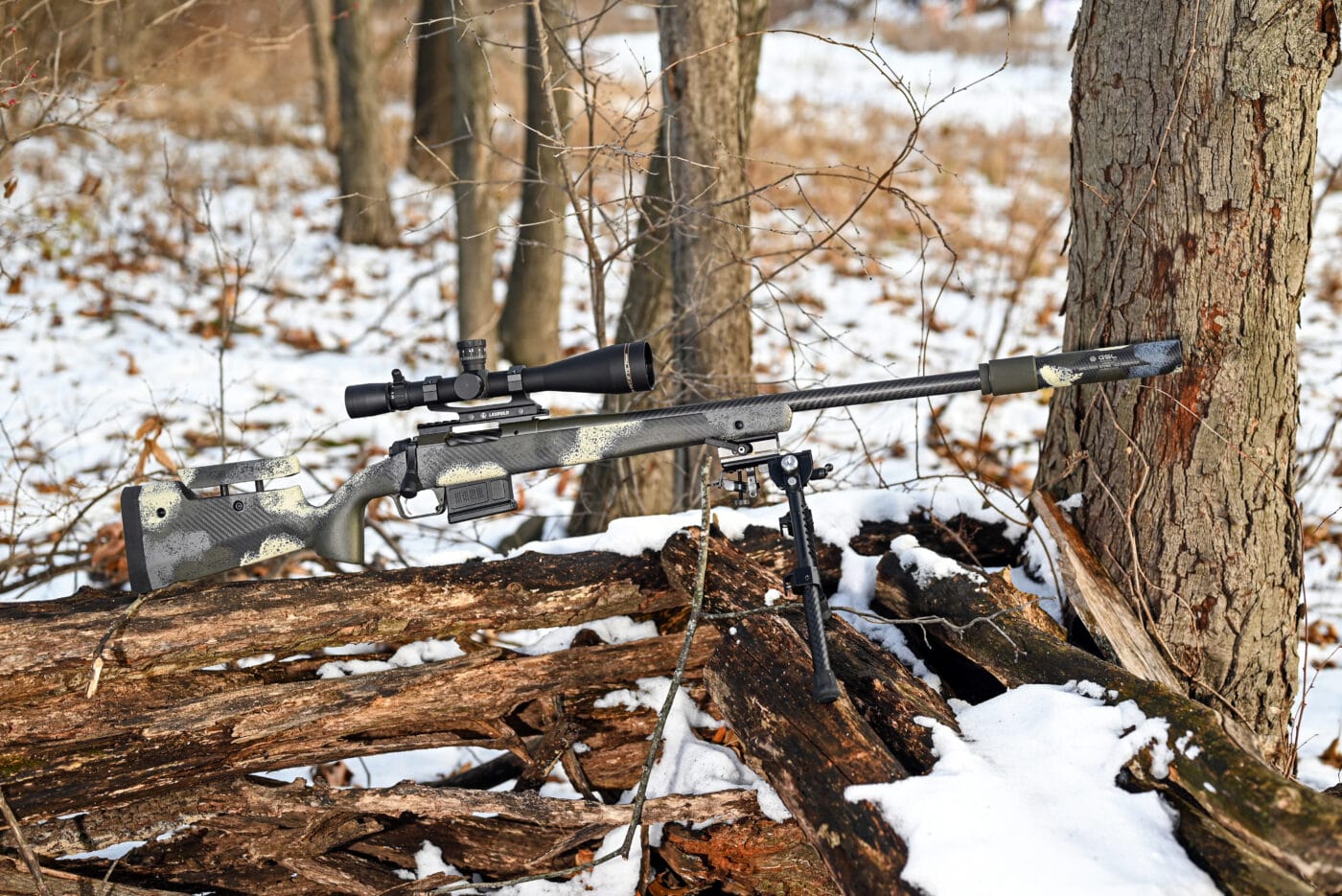 So, what makes the Waypoint such a popular choice for hunters everywhere, and why did I have to have one? The answer is simple. To my mind, the rifle is simply perfect.
Stay With Me…
I know it's a pretty crazy claim to say a rifle is perfect, but for me it really is. First, these rifles are manufactured in the USA. Additionally, Springfield offers its lifetime warranty (standard for all its guns), which is nice in the rare occasion your gun may have any issues. Also, all the Waypoints come with a .75 MOA accuracy guarantee.
The Waypoint is built to deliver the performance you would expect from a custom-grade rifle but in a package straight from the manufacturer. It features a premium carbon fiber lightweight stock finished with an evergreen camo blotted pattern that looks fantastic over that carbon fiber. Also, it features an adjustable cheek riser.
The model I picked up came equipped with a carbon fiber barrel. The 22″ barrel has a unique roll-wrapped carbon fiber sleeve over the stainless-steel fluted barrel. This creates air gaps that help keep the barrel cooler and promote cold bore to warm bore repeatability.
The rifle features dual locking lugs on the fluted bolt, which ensure the bolt runs insanely smooth for repeatable engagement. The knob at the end of the bolt is removable. Below the bolt, you will find one of the best triggers I have ever put a finger on. The Triggertech field trigger features a low-profile, non-snag safety and uses Triggertech's Frictionless Release Technology. It is adjustable from 2.5 – 5 lbs. and feels incredible no matter what you set the trigger pull at.
My gun came with the trigger set at around that 5-lb. weight from the factory and I easily was able to adjust it down to about 3 lbs., giving me the perfect feel for my shooting style. The gun came with a short magazine that holds five rounds of 6.5 Creedmoor, and the entire package only weighs an incredible 7 lbs. 8 oz.
On the Hunt
I was excited to take the gun out for the Michigan whitetail opening weekend of rifle hunting. I got my hands on the gun about four days before I was scheduled to head up north to hunt my friend's property, so I headed right to the range for break-in and sighting in. (Editor's note: Make sure you read Wayne van Zwoll's article on rifle scopes for deer hunting.)
The gun didn't disappoint at all on the range. I broke in the barrel shooting some American Eagle 120-gr. open tip match ammunition, running a bore snake down the barrel after every round at first. I did not want to chance messing the rifling up on this precision monster.
Once the barrel was broken in, I really started trying to pull good groups. Shooting .75 MOA groups consistently at 100 yards wasn't even a challenge. I moved out to 200 yards and saw the exact same results immediately. I shot some of the Hornady American Whitetail 129-gr. InterLock that I would be hunting with and achieved the same exact results. The Waypoint did not care what I fed it; it shot straight and accurate every time. (Editor's note: This matches with Sean Utley's experiences in his Waypoint review.)
I knew I was ready for opening weekend, so I packed up the rifle and headed north. Up at hunting camp, the Waypoint was the envy of all my friends. I decided to sit in my hunting blind the day before opening rifle with my bow and got lucky, taking a nice young buck at about 50 yards with a perfect double lung shot.
I had two tags to fill, so with that early deer during bow season taking the pressure off filling the freezer, I was looking for this nice eight point we had on camera multiple times. That was where the Waypoint came in. After sitting in the blind handling this beautiful rifle for four days and letting a few nice doe walk, I finally caught sight of that beautiful buck running straight across my shooting path about 75 yards out.
He was on the move, and I didn't even have time to get my rifle set before he was in the woods. I could still see him though, so I grabbed my call and gave a few grunts. To my delighted surprise, he liked what he heard and turned, walking straight towards me — deep in the brush, though. He ended up about 10 yards out from me behind some trees. Grunting back at me and flicking his tail. Watching through my scope, I was waiting for him to just step out a little further.
Even though he was so close, I didn't have a good shot because of all the trees and brush he was behind. Three more steps Mr. buck. Just walk out three more steps. At this point, we had been grunting at each other for almost 10 minutes. One of the coolest experiences I have ever had hunting for sure, but it was time to finish this interaction by harvesting this beautiful animal.
He was moving slowly in the right direction. But every time he took a step forward, he would end up taking two steps back with the next movement. He had turned and started walking the wrong way when I let out one more grunt. This one really got him excited, and he turned and ran a few steps right in my direction.
I clicked the safety off on the Waypoint, anticipating his next steps would put him out in the open. He stopped again just short of me having a good shot, put his head up sniffing the air hard, and my heart dropped. I knew I was caught when the wind shifted. He had caught a whiff of me, turned, and walked into the depths of the woods out of sight to not be seen again the rest of the week.
Conclusion
Unfortunately, this was my last day at hunting camp, and I was unable to harvest a deer with the Waypoint on this trip. This is why it is called hunting and not shooting, I suppose. Trust me, though, this rifle is going to see lots of action and harvest plenty of animals in no time.
The Springfield Armory Waypoint 2020 rifle is an incredible package for any hunter looking for a lightweight, precision, performance-based rifle to use on pretty much any hunt. The model I picked up with an adjustable cheek riser and carbon fiber wrapped barrel has an MSRP of $2,399. If you ask me, it's worth every penny.
Editor's Note: Please be sure to check out The Armory Life Forum, where you can comment about our daily articles, as well as just talk guns and gear. Click the "Go To Forum Thread" link below to jump in and discuss this article and much more!
Join the Discussion
Featured in this article
Continue Reading
Did you enjoy this article?
57