Duty Grade at a Bargain Price? Swampfox Blade Review
August 6th, 2022
5 minute read
In a sense, Swampfox Tactical Optics is the new guy on the optics block. While they have only been around for a few years, they have made an impact with well-priced, yet good quality optics. Their stated mission is "…to make you a better warrior, or at least give you an edge … by designing and building reliable, high performance tactical optics at prices that won't break the bank."
The Blade 1x25mm prism scope (available with reticles in red, green or amber — be sure to read "What's the Best Reflex Sight Dot Color") is Swampfox's foray into combining a cost-conscious optic with a duty grade dot. And let me tell you … it's a tank. Packed with features, it was designed from the beginning to be at home in the trunk of a police cruiser or patiently waiting next to your bed.
The Upstart
Swampfox founder and CEO Christopher Cox (no relation to the former NRA official) spent 20 of the last 25 years living and working in Asia. His background in optics engineering, manufacture and supply line management convinced him that there was a place in the market that was not being fulfilled.
Chris, who is fluent in Chinese, uses his many years of living in Asia to leverage his supply line management and manufacturing background to produce what Swampfox claims to be quality glass at prices considerably lower than the major players in the optics market.
As the company entered the market and started expanding their product offerings, they caught the attention of police officers in smaller police departments. The officers were looking for duty-grade optics for their patrol rifles but, because they have small department budgets, many were running around with $50 red dots and/or having to pay for optics out of their own pocket.
Mike Branson, Swampfox's marketing director, spoke about this request on the "We Like Shooting" podcast. "We decided we're going to make something for these guys. What can we make that won't break, no matter what, is always going to be ready, it's not going to suck, and it's going to be under $400?"
A Solution
Swampfox's response to the officers' requests comes in the form of the Blade 1×25 prism sight. Guaranteed for 50,000 rounds and shock rated for 800g, the Blade's large single-piece housing holds its precious cargo in monolithic fashion.
The Picatinny rail is built into the base along with the CR123 battery housing, allowing battery changes without removing the optic or needing to worry about various bases or adapters. Windage and elevation turrets move in 0.5 moa increments and the turret caps are tethered to the scope with a coated steel line.
The illumination buttons are weatherproofed, large enough to be felt with a gloved hand, and are front to back instead of side-by-side as with some other sights, making adjustment on the fly simple and intuitive. The fast-focus ring adjusts the reticle's focus, not the target, and only needs to be set once unless there are multiple users. The Blade includes an optional honeycomb anti-reflection ring and fairly standard rubber flip-caps.
That monolithic body also hoists the optic to a standard height over bore and what appears to be a 1/3rd co-witness. But what about the battery dying or some untold malfunction? Worry not, the BRC reticle is etched into the glass and preserves a crisp black image that not only provides a back-up in case of failure, but also prevents headlights or other whiteout conditions from obscuring the reticle.
Building out your rifle? Congratulations, you just saved yourself $50+ in flip-up sights. With the Blade's price of $239, significantly lower than multiple "duty grade" prisms in circulation, the extra $50 savings simply enhances its value to departments and shooters with tight budgets that still demand duty-grade equipment.
BRC Reticle
On an AR-style rifle, or other platforms with a similar mounting height for optics, the "height over bore" mechanical offset can make it appear that the bullet "rises" from the muzzle. To address this, the Blade's Bullet Rise Compensating (BRC) is designed to eliminate the guesswork and put the round on target. Regardless of caliber, the bottom of the trident is the aiming point at 15 yards, the dot at 10 yards, and the tip of the bottom chevron at 5 yards.
Add in shake-awake, 10 brightness levels including two for night vision, and a choice between red, green or amber reticle for the same price, and you have a serious return on investment that will make the bean counters, or your wallet, smile.
Durability
When I originally wrote this article, I only had the opportunity to put a couple of hundred rounds downrange with the Blade mounted. I wasn't able to say a whole lot about durability. I did drop the rifle, optic down, onto hard-packed dirt (I purchased the Blade with my own money, so I wasn't in the mood to try concrete). After a few of those and a couple of tosses onto its side, it held its zero.
But now, I have a different take. It's not an up-armored Humvee, it's a tank. I accidentally smashed it against a tree and threw it in my trunk cluttered with tools and other gear more times than I can remember. After a couple of years of abuse, I decided to go for it and dropped it, scope down, on concrete. Only once, though. After all, my budget is small town PD, not military. Still held its zero.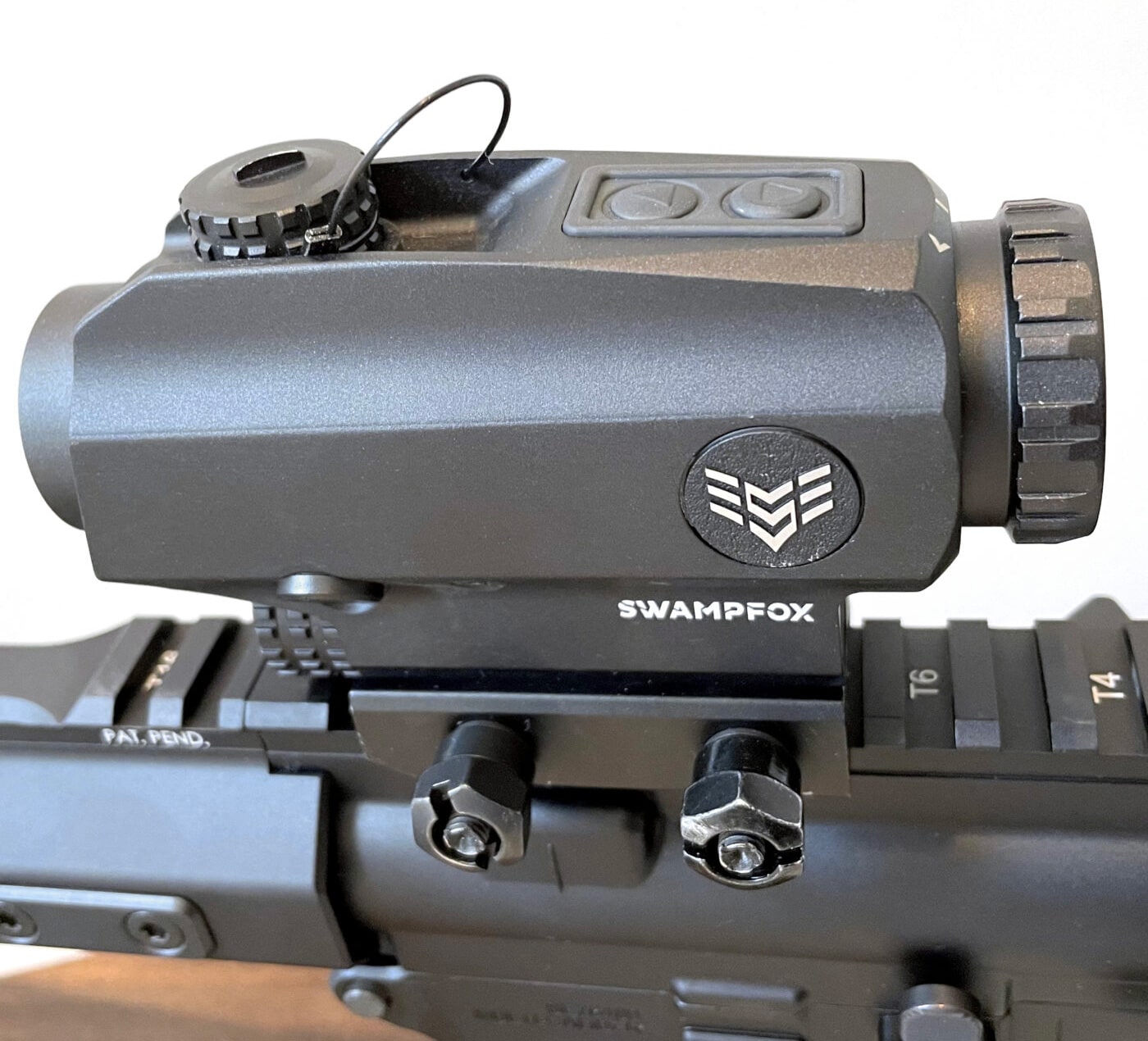 While the Blade does tout its 800g shock rating over competitors, its only other stated rating is IPX7. The "X" meaning not tested for intrusion by solid particles like dust or dirt and the "7" indicates submersion in 1m of water for up to 30 minutes. Between the outdoor range and slogging through the woods, I'm pretty confident that dust/dirt isn't going to be a problem.
I also tossed the optic in my bathtub for 25 min (again, my money). It's not one meter, but I also didn't gently place it in the tub as the IP ratings required for water intrusion tests. The optic entered with a movie-like plop and a scream from my kid, who also occupied the tub at that time.
Conclusion
Whether you're a police department looking for a quality duty red dot or a homeowner needing a reticle that takes the thinking out of holdover, the Blade has to be at the top of the list. Affordable, durable, & intuitive, for me Swampfox hit this one out of the park.
Editor's Note: Be sure to check out The Armory Life Forum, where you can comment about our daily articles, as well as just talk guns and gear. Click the "Go To Forum Thread" link below to jump in!
Join the Discussion
Featured in this article
Continue Reading
Did you enjoy this article?
70