In the long-range precision world, we chase sub-MOA groups. Bolt guns have been known to punch holes through holes, and achieving .3 MOA through a quality bolt-action rifle (in capable hands) is very common.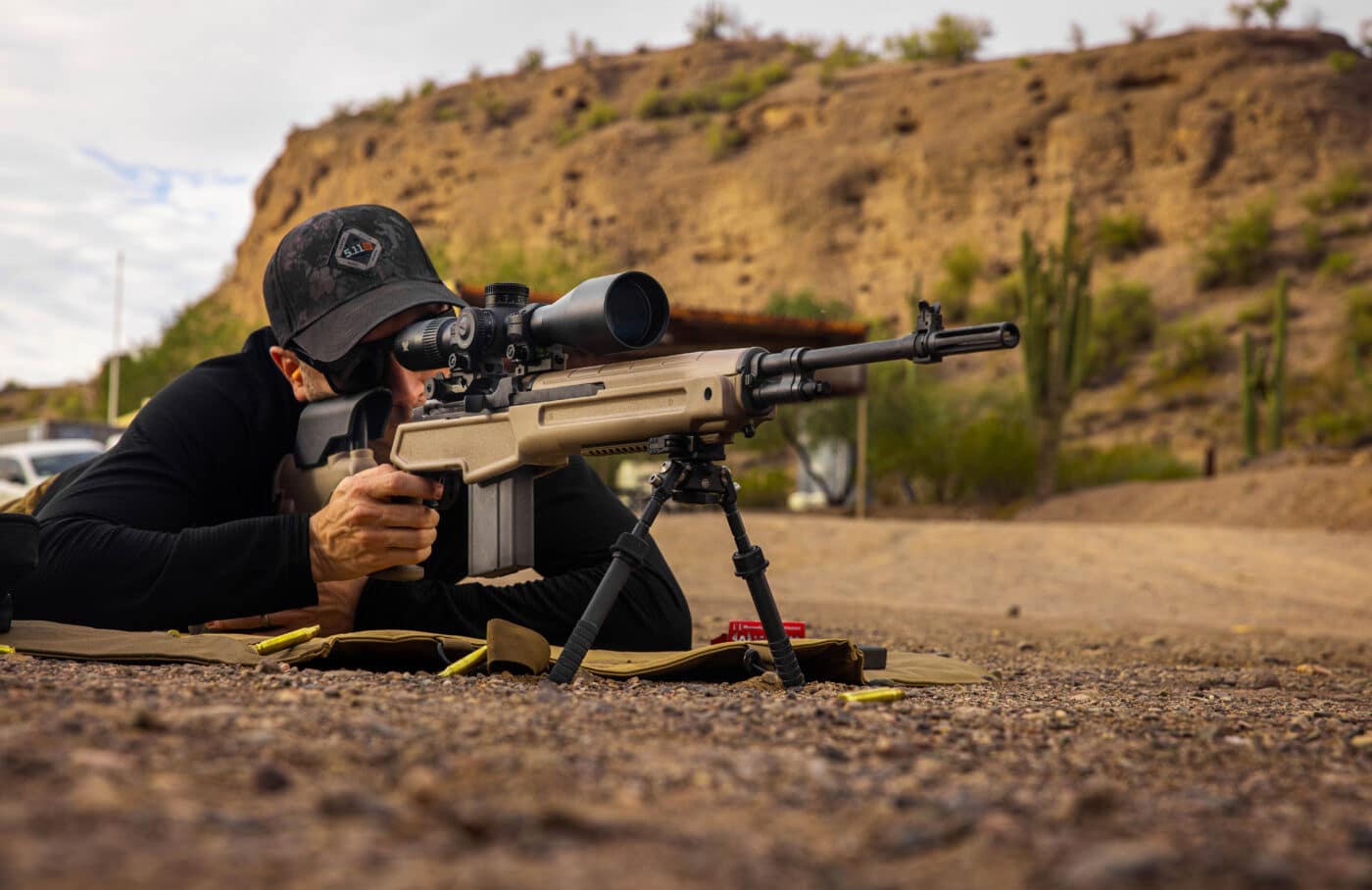 Trailing close behind are modern gas guns, or semi-auto precision rifles — usually in the AR pattern. These most often utilize a direct impingement gas system and are chambered in .308, 6.5, 6mm, etc. These guns are capable of extreme accuracy, comparable to that of a bolt gun.
Looking Back
But what about "non-modern" firearms? Specifically, older gas guns? What kind of accuracy should we expect out of something designed in the 1950s? The M14 has legendary roots in military service at the squad level and as a designated marksman rifle. So, I wanted to see if the M1A — a semi-automatic rifle based on the M14 — could still hold up as a ragged hole punching rifle.
Springfield Armory of Geneseo, Illinois, offers numerous variants of the M1A, ranging from standard configuration rifles all the way to precision versions. For my accuracy testing, I chose the M1A Loaded Precision chambered in .308 with FDE furniture. For ammo, I had some Hornady American Whitetail 165 grain lying around that I wanted to use in this test since I was looking for a load for a future deer hunt.
The optic I chose for this test was the Vortex Venom 5-25x56mm. It's a fantastic optic that I recommend to a lot of folks looking to get into the long-range game, or a scope for their first hunt, but don't have a ton of money to spend. For my bipod, I went with my tried-and-true B&T Atlas Bipod. It's rock-solid and easy to use. In fact, I have this bipod on every one of my long-range guns.
The M1A Loaded Precision uses a rugged, customizable Archangel Precision Adjustable stock, 4- to 5-lb. National Match Tuned trigger, as well as a 22" medium weight, air-gauged 1:11" right-hand-twist barrel. The combination of these parts makes this rifle a force with which to be reckoned. This ain't your grandpa's rifle.
After a bit of research, I was seeing that most people online consider the M1A a 2 MOA rifle. I figured with these specs and a little skill on my part, it should be easy to get under 2 MOA at the very worst.
Range Time
I set up at my local range exactly 100 yards away from the paper, deployed the bipod and set the Archangel stock on a rear bag. I loaded some basic IMI ammo just to sight the optic in for this specific rifle. The Vortex Venom 5-25X was nearly on target already; just a few easy adjustments and we were ready to rock and roll. I fired a few random shots around the target to get the feel of the trigger. I am most used to a 2- to 3-lb. trigger on precision guns, so it took me a few shots to get the feel for where the M1A was breaking the shot. I then loaded up a mag of the Hornady American Whitetail and prepared myself to shoot a tight group.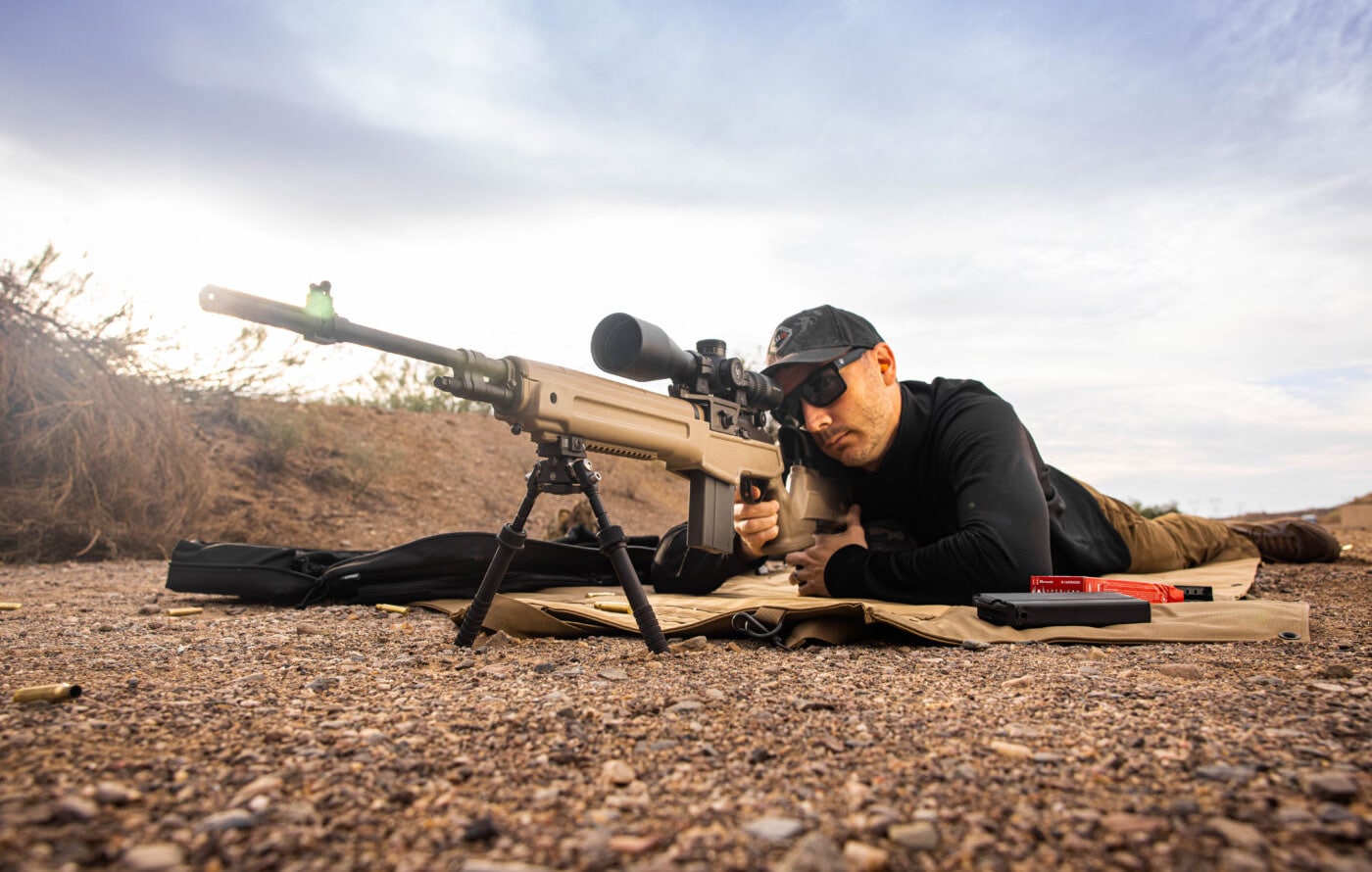 Remembering the training I've had from long-range classes, I settled into position behind the M1A and input as little of me into the rifle as possible. I set the reticle dead on the target, pressed and broke the shot, saw the impact and then sent two more.
From my spotter's view, they looked stacked. I am just glad he didn't tell me that in between shots two and three or I may have gotten ahead of myself and pulled a shot. We walked downrange with some calipers to check my handiwork. Sure enough, I shot a .5 MOA group with my set-up. So, to those who may think the M1A is an outdated piece of firearms history, I say to you, the proof is in the pudding.
While my training in long-range shooting did play a role, the rifle itself clearly was up to the task. The Archangel stock is very comfortable and allows for a great deal of adjustments to fit the shooter. The trigger is heavier than I am used to, but it also has a very satisfying trigger break that surprises you just enough to maintain a high level of accuracy without anticipating the recoil. The optional steel scope mount from Springfield Armory is rock-solid and keeps the optic low enough with the Archangel stock for you to get a perfect cheekweld on the rifle. The Loaded Precision variant does a great job modernizing the venerable M1A.
Conclusion
In my opinion, the M1A still stands up today against some of the finest modern gas guns in production. I am a huge M1A fan; ever since I was a little kid, the rifle just spoke to me. It's a beautiful piece of machinery that has a storied history, from the M14's role with the U.S. military to the M1A's long life in the civilian market with collectors and match shooters. I love that Springfield is providing customers with a top-of-the-line, precision-crafted rifle that they can own and hand down for generations to come.
Editor's Note: Please be sure to check out The Armory Life Forum, where you can comment about our daily articles, as well as just talk guns and gear. Click the "Go To Forum Thread" link below to jump in!
Join the Discussion
Featured in this video
Continue Reading
Did you enjoy this video?
74