Thin Red Line Wear Medic Bags
July 3rd, 2022
6 minute read
Outside of space flight and combat, there are few human pursuits more gear-critical than medicine. It's honestly tough to capture in prose what it's like to work in a busy Level 1 Trauma Center Emergency Department. I would describe it as marginally controlled chaos.
The blood, death, tragedy and pain were a given. However, throughout it all I have to admit that it was also fascinating. So long as I could depersonalize and just do my job, I honestly appreciated my time there.
When your patient is bleeding out or turning purple, you don't have time to hunt for gear. A proper flashlight, a set of trauma shears, latex gloves and similar stuff always had to be quickly at hand. If you want to find out the best way to organize your life in a crisis, just ask the charge nurse.
The Guy
Alan Harvey has been a busy man. He served in the Marine Corps from 1995 through 1999 before making a lateral move into the U.S. Army. Like most of us in uniform, he took his mail in places like Germany, Texas and Korea. However, he actually spent much of his professional time in sketchier spaces like Panama and Afghanistan.
Alan is a bit of a renaissance man. He has published three books under the pen name James Garmisch. His titles are for sale on Amazon. His hobbies include shooting, physical fitness and martial arts. He is married with a brace of teenagers and an ample assortment of animals.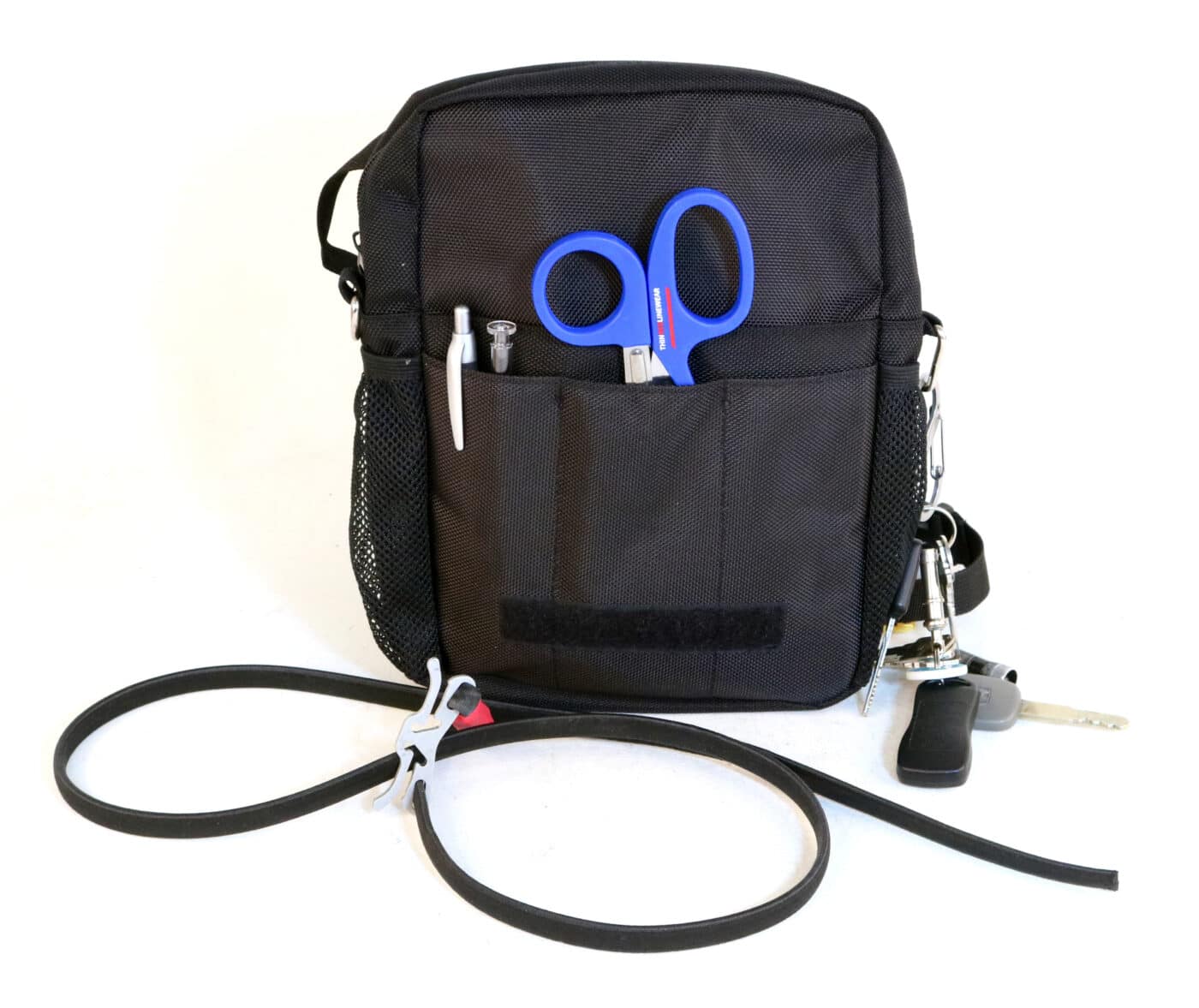 Now, after a distinguished career as an Army OR nurse managing chaos around the globe, he is moving on to the next stage of his professional life. This seemed a good time to take some of that hard-earned experience and share it with the rest of us. As a result, Alan started Thin Red Line Wear, with 10% of his proceeds going to charitable agencies to fight human trafficking. My favorite of his offerings is the inspired "Operator Bag".
Details
The Operator Bag is designed for hospital applications, but it also does a great deal more. The bag can be worn on the shoulder or across the body with the included strap. Reconfigure the support straps, and it rides comfortably around your waist. There is a thigh strap to keep things close in any configuration.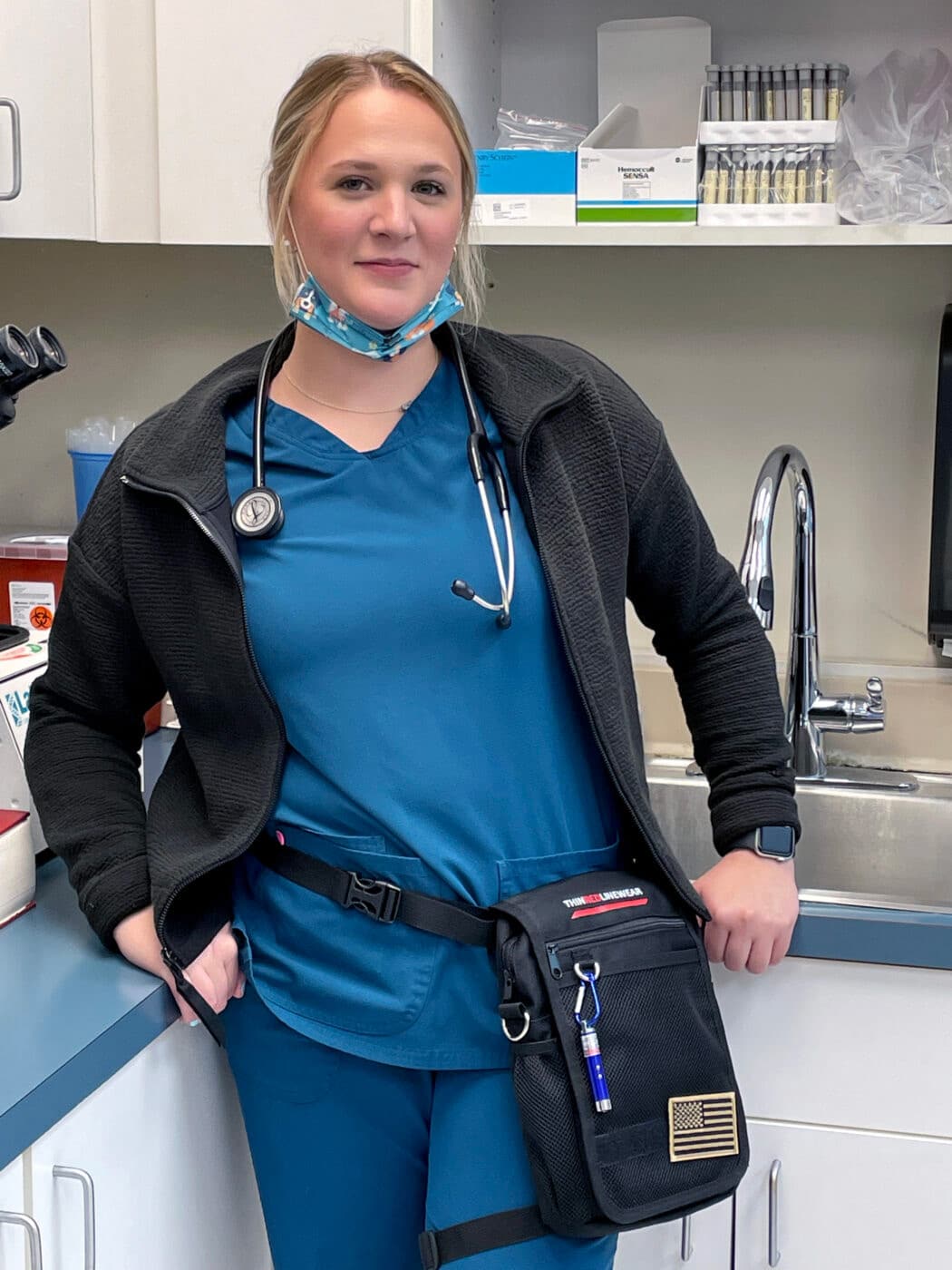 This thing is festooned with pockets. It is made from rugged nylon and features a top flap that keeps everything secure inside. The flap itself sports a zippered pouch that's perfect for a notebook, cell phone or similar kit. Outside pockets behind the pouch tote pens, syringes, and similar slim cylindrical stuff. The voluminous interior is big enough for an iPad Mini or a bag of IV fluids. Zippered pockets on the inside beg to pack your keys or wallet.
The Operator Bag is designed for medical applications. As such it will keep your personal stuff safely separated from patient care items. The Operator Bag is also easy to clean, something that is critically important in the kinds of nasty spaces where Alan works. Each bag includes trauma shears, a retractable ID holder, a combination laser pointer/mini flashlight, two pens and a highlighter.
Think Outside the Box
When first I pawed over my Operator Bag, I imagined all the things I could do with it at work. Throughout a busy stint at the clinic or in the Emergency Department, this is the kit that helps you keep all that critical stuff both handy and organized. However, not just everybody works in a busy emergency room.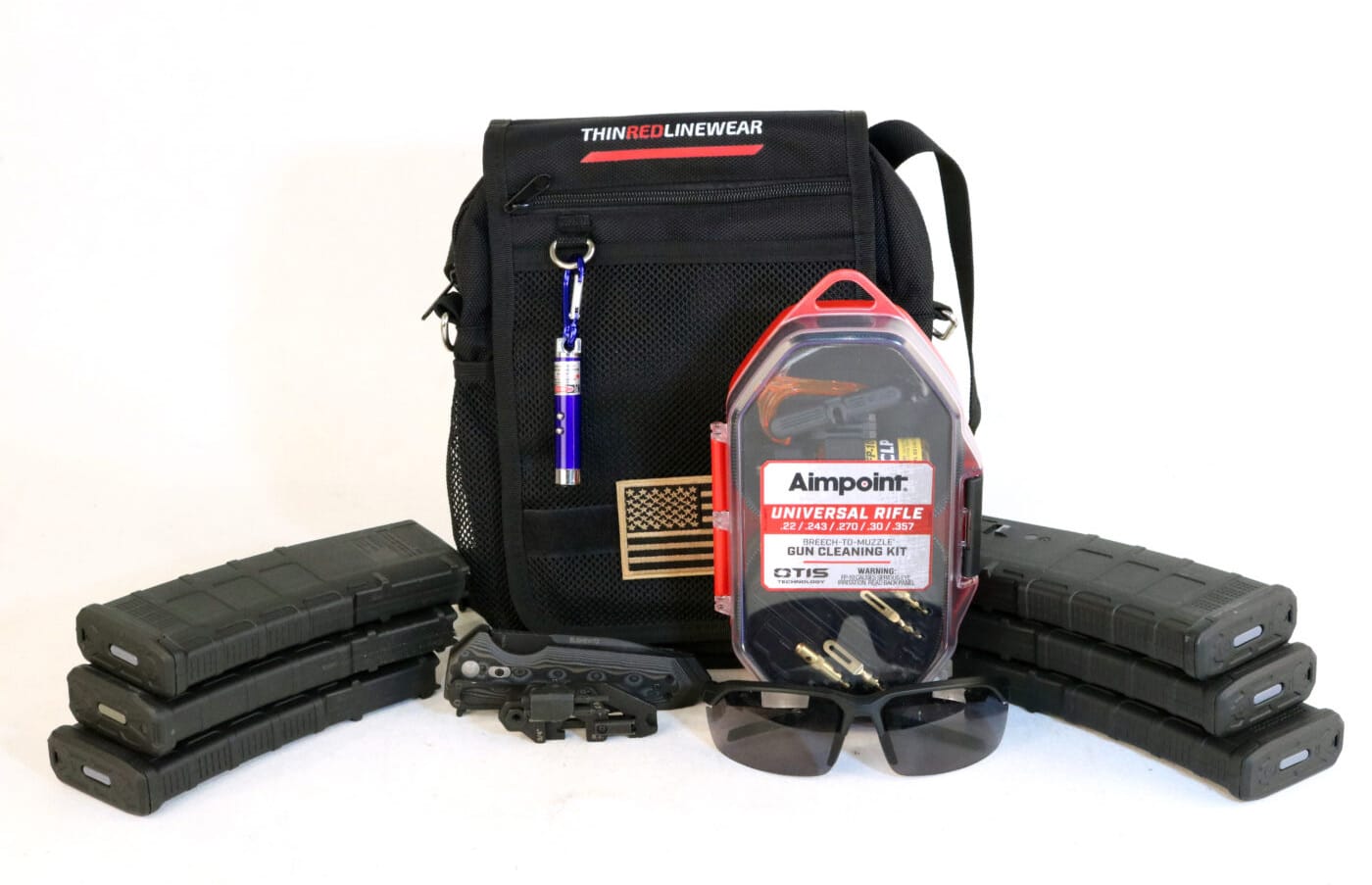 In addition to being eminently functional, the Operator Bag from Thin Red Line Wear also doesn't look lame. Regardless of your gender, you could strap this puppy on your leg and stroll through the park looking cool. That opens up all kinds of options.
The Operator Bag will quite comfortably pack half a dozen M4 magazines or a proper combat handgun. The various strap options can be configured to optimally distribute the weight or keep the bag down low and out of the way. The practical applications of such a rig are limited solely by your imagination no matter the spaces in which you work.
Pack it with a water bottle and some granola bars while out on a hike or at the range and you can conceivably live out of it for a while. Spare magazines, empty magazines, or cleaning gear rides comfortably as well. There is a Velcro strip on the outside for your cool-guy morale patches or name tape, and it naturally comes from the factory sporting Old Glory.
Other Stuff
The "Happy Medium Bag" is similar to the Operator, but a bit smaller. The "Go Bag" is yet smaller still and comes in both black Nylon and clear to help you keep track of your stuff at a glance. If you can't find a bag to suit you on Alan's website, you are just being too picky.
The miniature trauma shears are adorable, and I snapped the light to my scrubs the day I got it. The penlight shines white or blue dependent upon how you manage the buttons and includes a laser pointer.
The Operator Bag is a seriously cool piece of kit, and Alan Harvey is a seriously cool guy. Alan spent his entire adult life serving his country and his fellow man. Now that he is leaving the military and embracing travel nursing, he is continuing that legacy of service. Thin Red Line Wear is simply an extension of that ethos.
It really doesn't matter what you do for a living. If you make a practice of leaving your house, you can find a use for one of Alan's bags. In addition to all the cool-guy swag he throws in for free, his gear is also quite reasonably priced. Surf on over and check it out.
Editor's Note: Be sure to check out The Armory Life Forum, where you can comment about our daily articles, as well as just talk guns and gear. Click the "Go To Forum Thread" link below to jump in!
Join the Discussion
Featured in this article
Continue Reading
Did you enjoy this article?
51