Spirit of EDC: ALPS Ghost 30 Backpack Review
July 3rd, 2021
6 minute read
We shooting enthusiasts often like to utilize backpacks, yet few of us put a lot of deliberate thought into our selection of them. Sometimes we need them for a simple hike with our families, other times they can be deployed for hunting scenarios, and other times they can be used for everyday carry (EDC).
The ALPS Outdoorz Ghost 30 EDC backpack, part of the company's line of "Extreme" backpacks, is one solution that looks to combine the best of hunting-style packs with the needs of an EDC lifestyle. With thoughtful and well-designed storage offering a range of carry options, this pack is one that might be just the right fit for your daily carry needs. Let's take a close look at it and see if it does.
The Details
I immediately took a liking to the Ghost 30 backpack. With a 30 liter capacity, the pack has main compartment dimensions of 21.5″ height by 11″ width by 7″ depth, and it weighs just a hair over 3 lbs. empty. It is made from Cordura fabric in a low-key and attractive "ghost" grey color.
I appreciated the thin and slender profile of this backpack. A lot of the backpacks I currently own are rather large, boxy and bulbous, protruding fairly far outward to achieve their desired storage options and capacity. As a result, you can accidentally bump into brush in the woods or people in urban settings. With the ALPS Outdoorz Ghost 30 EDC backpack, it has that lean, slender exterior to make it more maneuverable in tight spaces, while still offering a lot of storage space.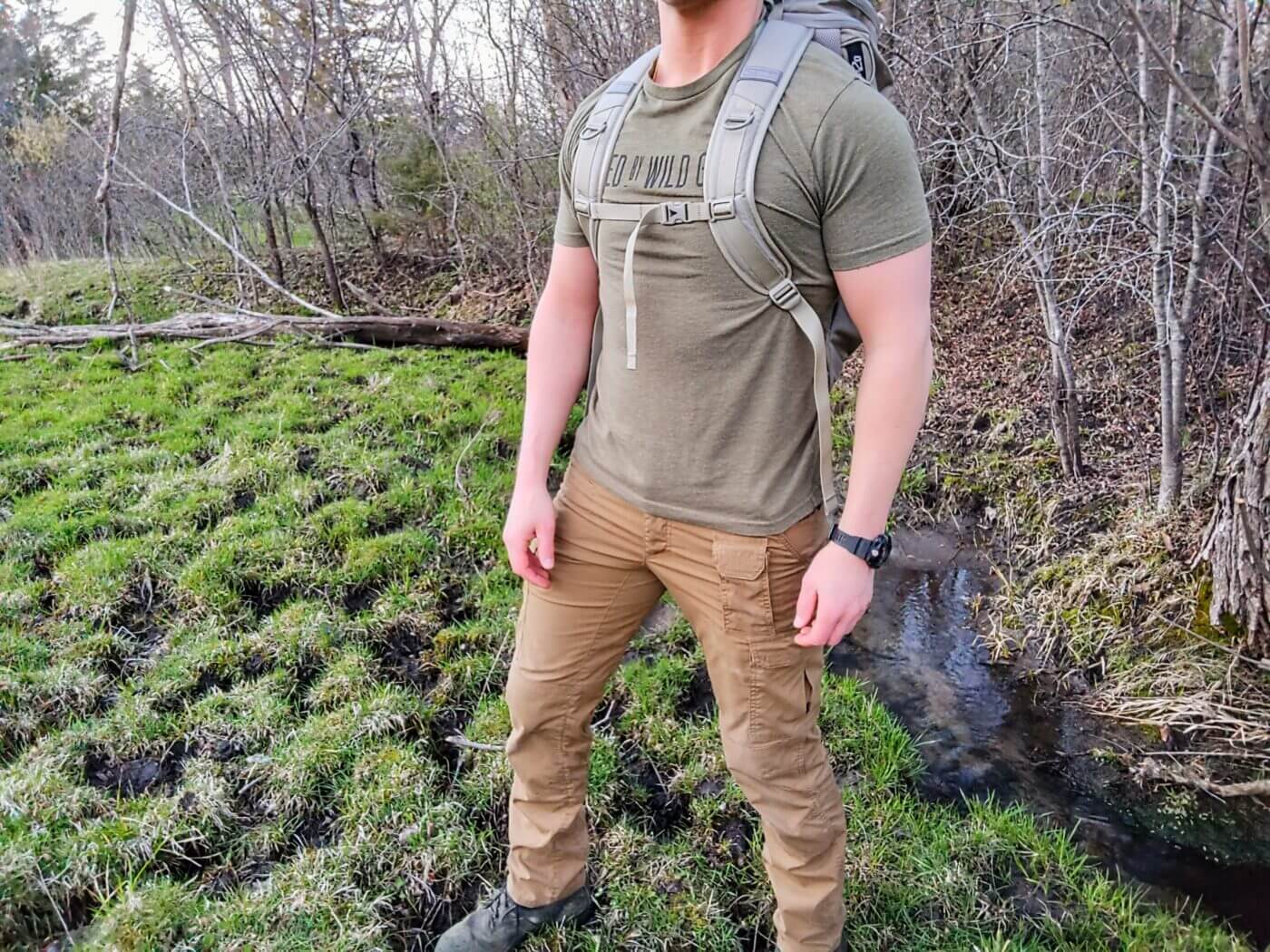 The soft rubber loops on all of the zippers were a nice touch because you could open different pouches and pockets with just one finger. Conversely, the zippers were pretty stiff. This could be attributed to the backpack being new, and they may become easier to manipulate and zip over time. All of the zippered pockets, whether for the main storage compartments or more discreet ones, all had large zippered openings. This was nice because you could easily peer into the pocket and reach a full hand in to retrieve gear.
For Shooters
The Ghost 30 backpack had a lot of thoughtful pockets designed with shooting-oriented people in mind. Working from top-to-bottom, the first pocket on the top of the backpack is a rectangular, padded pocket for sunglasses or shooting glasses. I like that this pocket is soft and padded, yet rigid enough to maintain its rectangular shape.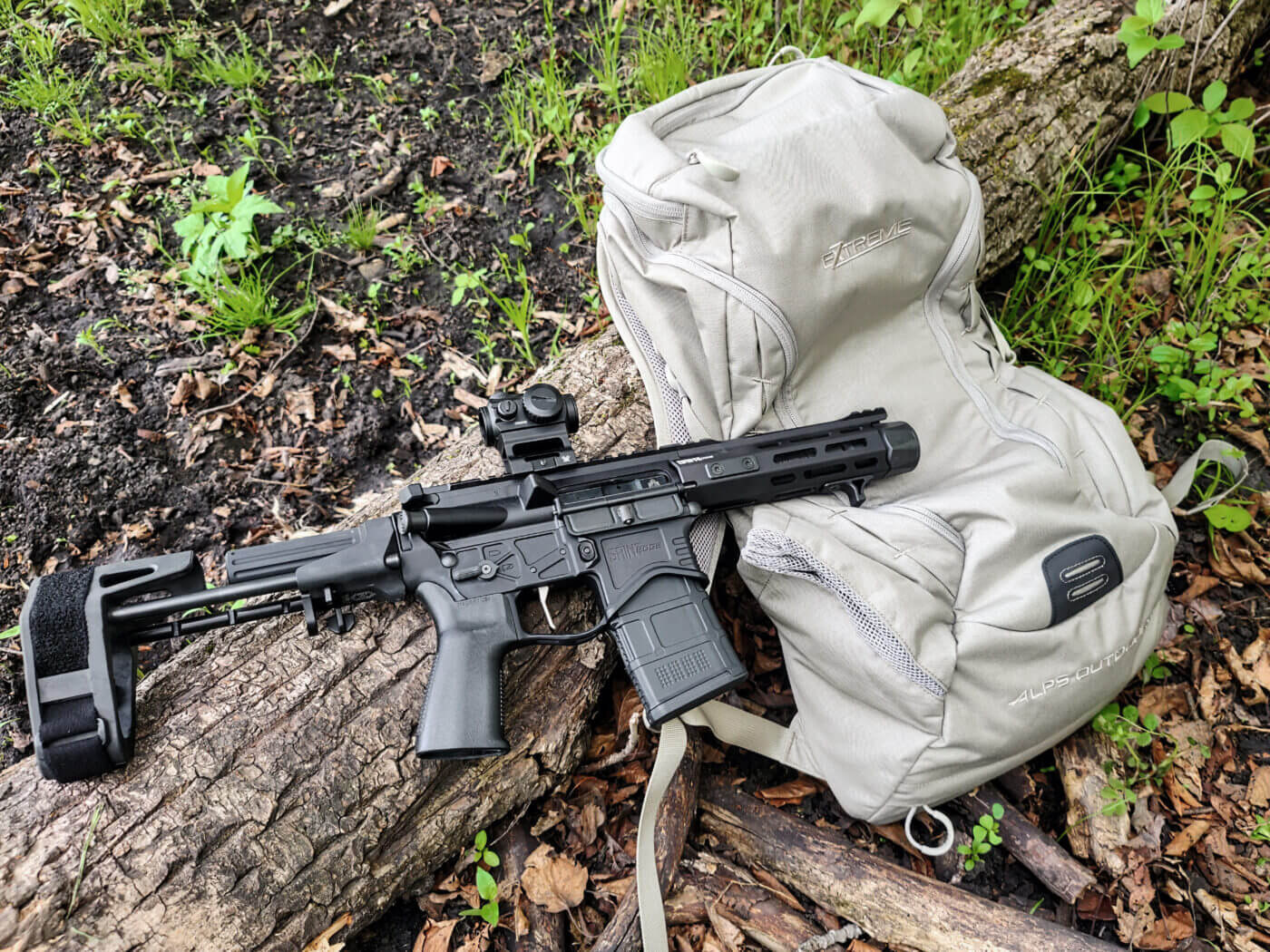 The next personal items pocket had a small clip inside to retain keys as I chose to do, or a carry pistol could be stored there if you utilized something like a clip-draw holster. The additional mesh compartment in there is perfect for a cellphone, wallet, change, or other small items you would like to keep in view yet separated from the larger area of this pocket.
Your main storage pocket had multiple partitions for potentially two laptops plus other gear. The way I chose to setup this area of the AR-15 backpack for myself was to store a laptop plus a Springfield Armory SAINT Edge PDW 5.56mm pistol with multiple extra magazines. It surprised me that the interior of the backpack in these partitioned pockets had that much storage to allow for me to discreetly carry a gun like the PDW. Everything was safely separated and cushioned from each other. This is a great way to get your PDW to the range.
But how about a traditional EDC pistol you want to carry and also to which you want to have quick access? For this, the Ghost 30 features discreet pockets on the sides where you could easily slip in a carry pistol ambidextrously from either side. The pocket will accommodate hook-and-loop style holsters. I tried it out with a Hellcat 9mm and found it to be easy to employ and access.
Then, on the very bottom of the backpack was also a rain cover stored that could be pulled out to keep the entire ALPS Outdoorz Ghost 30 EDC backpack dry. A final methodical design choice was having two water line holes near the top of the backpack on either side if you were carrying a water bladder or similar water storage device.
Hands-On
While carrying the backpack, I discovered you could cinch the shoulder straps tight to your shoulders so the backpack would not bounce and would stay close to your body. There is also a chest buckle to join the two shoulder straps together for even more secure-and-stable carry of the backpack.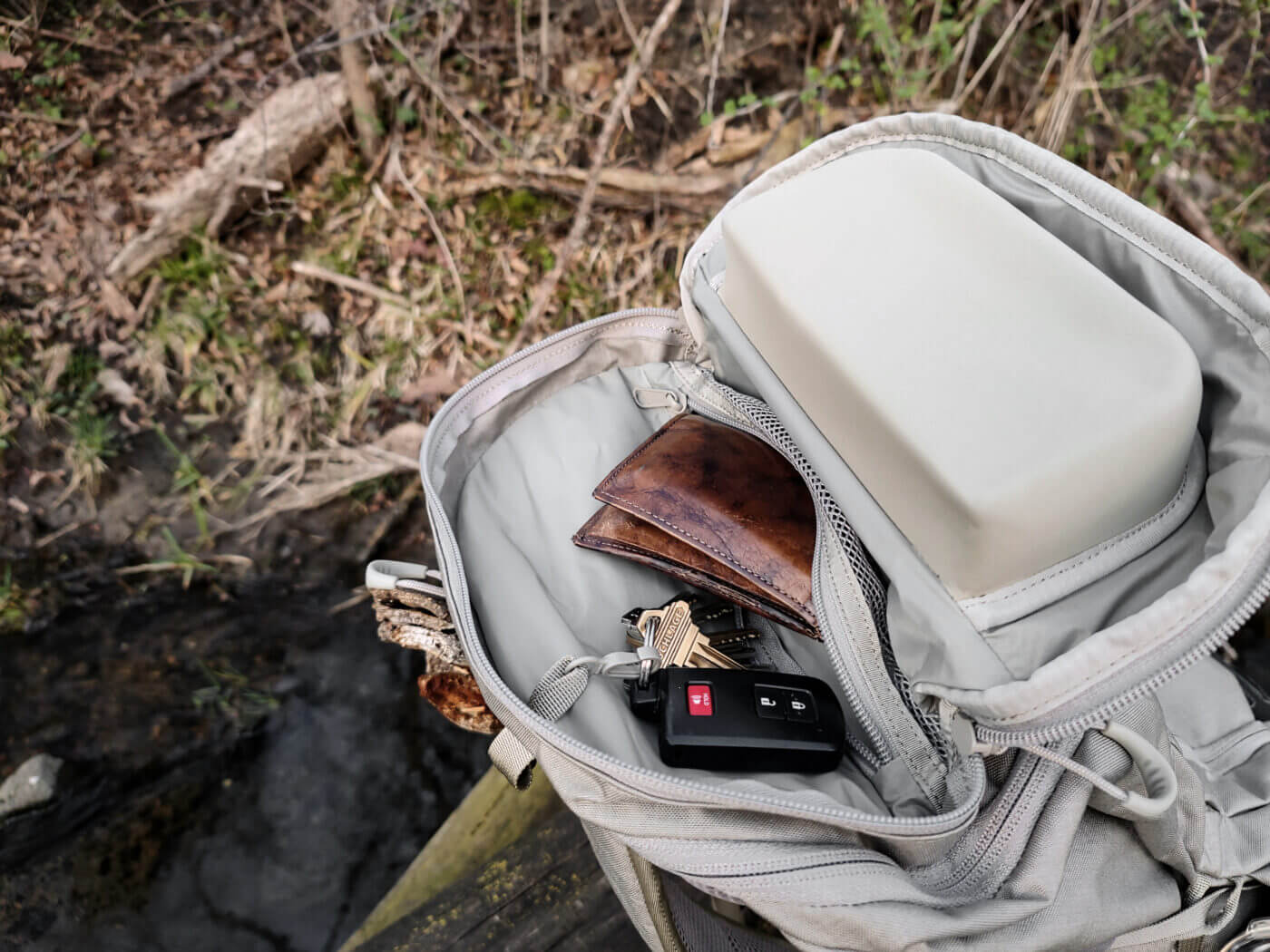 The only relative downside I found is that there is no waistband present if you were to really load up this backpack with a lot of weight. Waistbands or waistbelts are terrific for displacing the majority of the weight on your hips and lower trunk, as opposed to your shoulders and back being burdened with all of the load.
From an aesthetic standpoint, I did like the more muted gray color of the backpack. It is a soft color choice that can easily blend into the outdoors or an urban environment, and it does not scream to passersby that it's an EDC backpack. You still maintain a certain level of anonymity and discreetness with this pack.
Conclusion
The MSRP of the ALPS Outdoorz Ghost 30 EDC backpack is set at $149.99, and I believe it's definitely worth the asking price for the features it provides. All in all, it is a great backpack for everyday carry with a lot of storage. This is a bag that is easy to set up for your needs, and it won't attract a lot of attention. This is a great option for the EDC enthusiast looking for way to pack in all the gear they need, along with the firearm of their choice.
Due to an ATF ruling regarding the configuration of pistols with stabilizing braces, these firearms can be subject to NFA (National Firearms Act) regulations as short-barreled firearms. It is the buyer's responsibility to comply with all rules, restrictions and/or laws determined by your city or state. Please ensure you are up-to-date on all current laws.
Editor's Note: Please be sure to check out The Armory Life Forum, where you can comment about our daily articles, as well as just talk guns and gear. Click the "Go To Forum Thread" link below to jump in and discuss this article and much more!
Join the Discussion
Featured in this article
Continue Reading
Did you enjoy this article?
44