Tyrant CNC TacPen: Your Overlooked EDC Necessity?
September 3rd, 2023
6 minute read
Frequently, when I hear the term everyday carry (EDC), it's being used about the particular firearm someone is carrying. While the gun you choose to carry is the most obvious component of your EDC, there are many other worthwhile items to carry daily. For instance, other popular pocket gear would be folding knives and flashlights.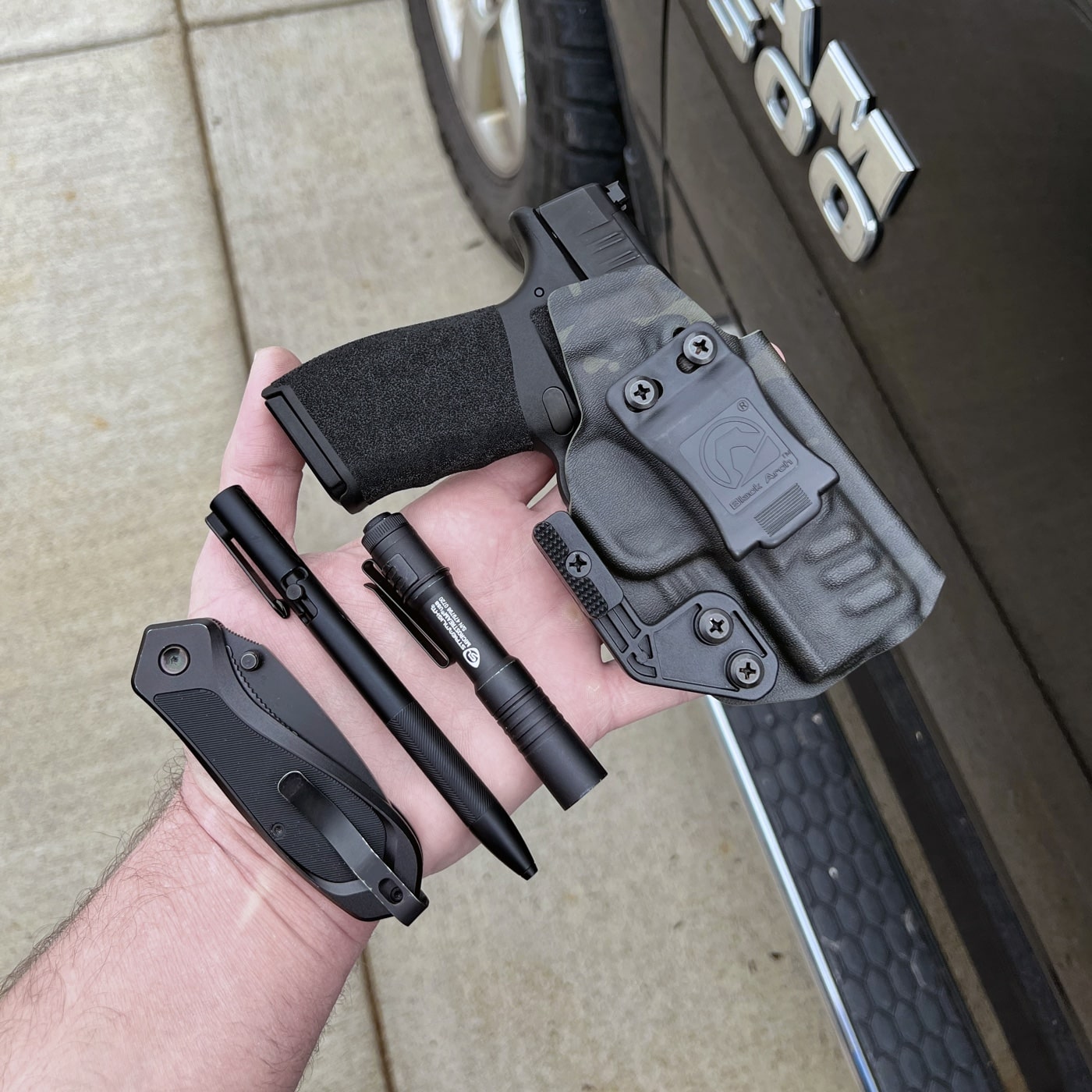 But let's take it one step further. What are some activities that you do daily? Do you drive a vehicle? Write notes or sign receipts? If so, a tactical pen could complement your other gear perfectly.
From breaking car windows in a time of need, to defending yourself from an attacker or simply jotting down notes in a meeting, a tactical pen is a multi-purpose tool you can carry everywhere…even in those pesky "Gun Free Zones."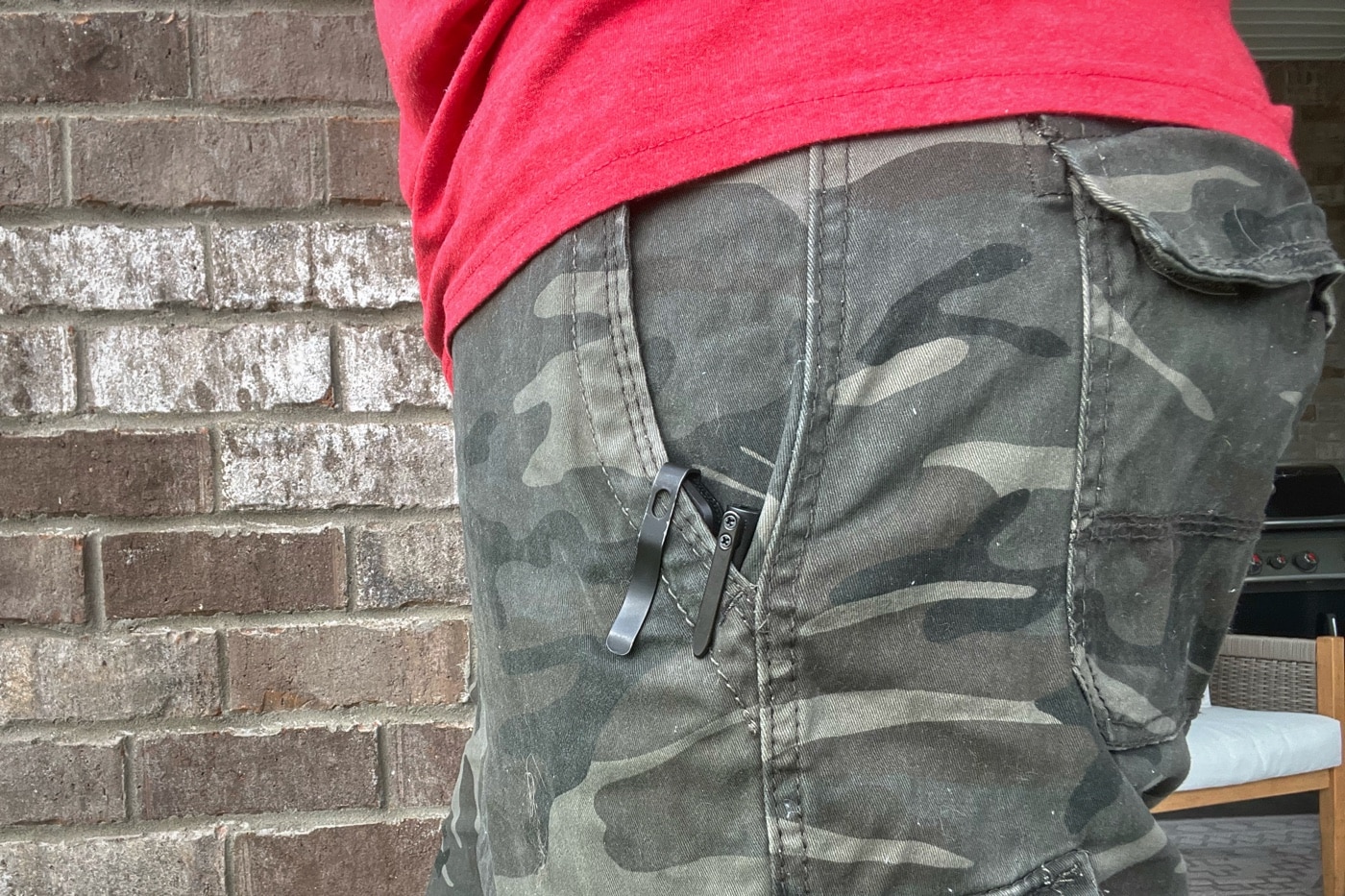 One of the newest tactical pens I've been carrying and testing is the Tyrant CNC TacPen. Now that I've had it for a couple of months, I'd like to share my thoughts and a closer look at the finer details of it.
Tyrant TacPen Features
First and foremost, if you're carrying any tool that may be used to defend yourself, you're going to want it to be highly durable. Tyrant CNC machines the pens out of aerospace-grade aluminum and gives them a bead blast & anodized finish, so you can check the durability box off on these.
What if you encounter a child locked in a hot car or see a car slowly submerging underwater with passengers stuck inside? The TacPen could give you the solution. It has a tungsten glass breaker tip that is tiny, but has an extremely sharp point to it. This focuses all the force into that concentrated spot, allowing you to easily break car windows.
To reveal the glass breaker tip or the standard pen tip on the opposite end, a spring-loaded bolt-style selector is located about ¾ of the way up the pen. It makes it easy to switch between the breaker and pen, but almost too easy. I've found myself accidentally engaging/disengaging it every now and then. With some practice drawing from my pocket over a week or two, I was able to mitigate those accidental engagements to almost zero. A warning about the selector bolt: it may become your new fidget toy!
Lastly, the TacPen actually writes very nicely. I've tested many tactical pens and would venture to say that more than half of them don't write very well. A Schneider Gelion ink cartridge comes standard with the TacPen, which I assume plays a crucial part in the smoothness. In full transparency, I don't know anything about the specifics of the actual pen cartridges, but I can tell you it writes nicely.
Having impressive features on paper (no pun intended) is one thing, but ensuring they work as intended is another.
Is It a Viable Defensive/Survival Tool?
After establishing that the TacPen had a potential place in my EDC, I wanted to make sure it wasn't just "another piece of gear" that would be taking up space in my pockets.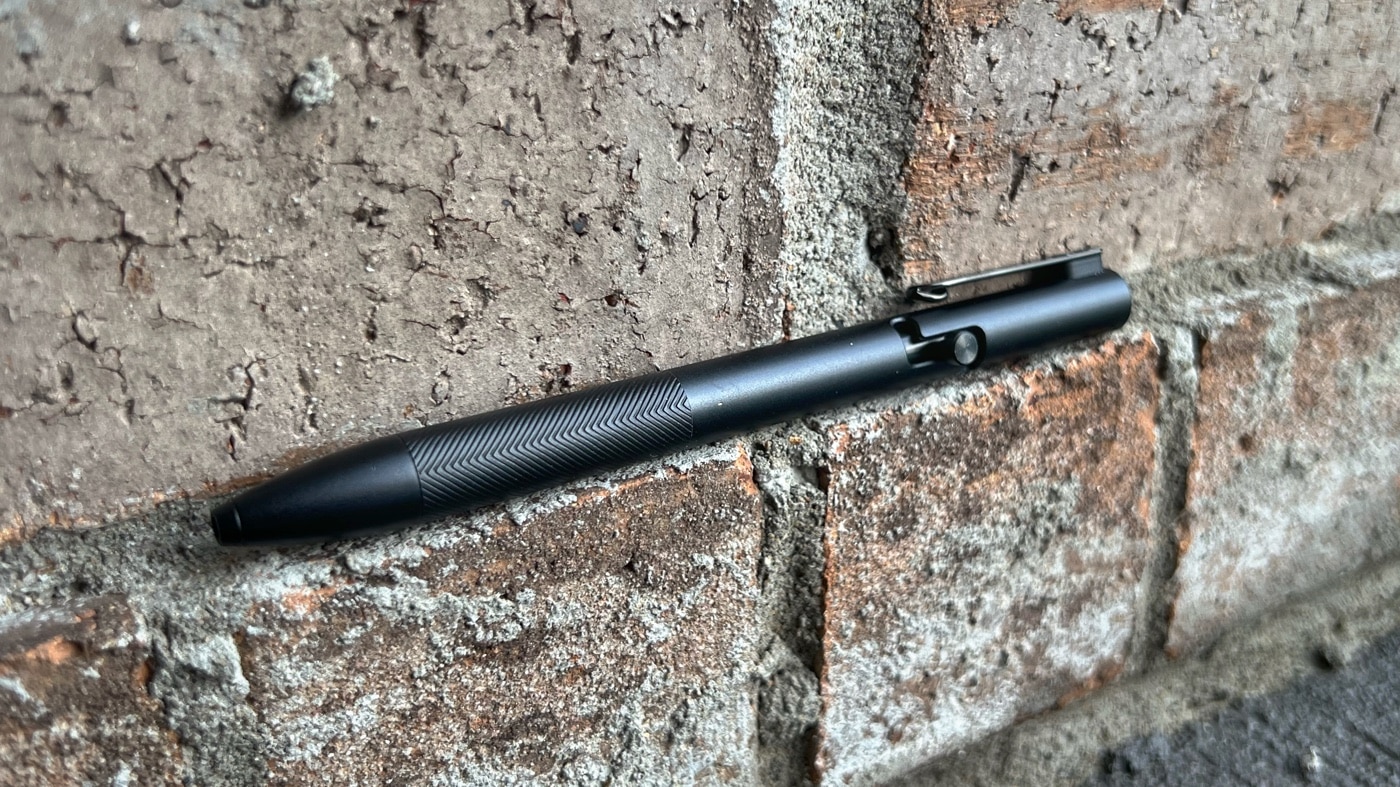 I don't normally go to these lengths to test a pen, but I felt it had to be done for the sake of the review.
Test #1: Durability & Strength: I drive a crew cab Ram 1500 that weighs just over 5,000 pounds, unloaded. If the pen can withstand being run over without breaking, I'm pretty confident it'll also hold up under defensive use. I tried it out by running my truck over it forward and back, and it bested the test.I imagine that anything you strike or try to pry with the pen in a time of need would not be an issue.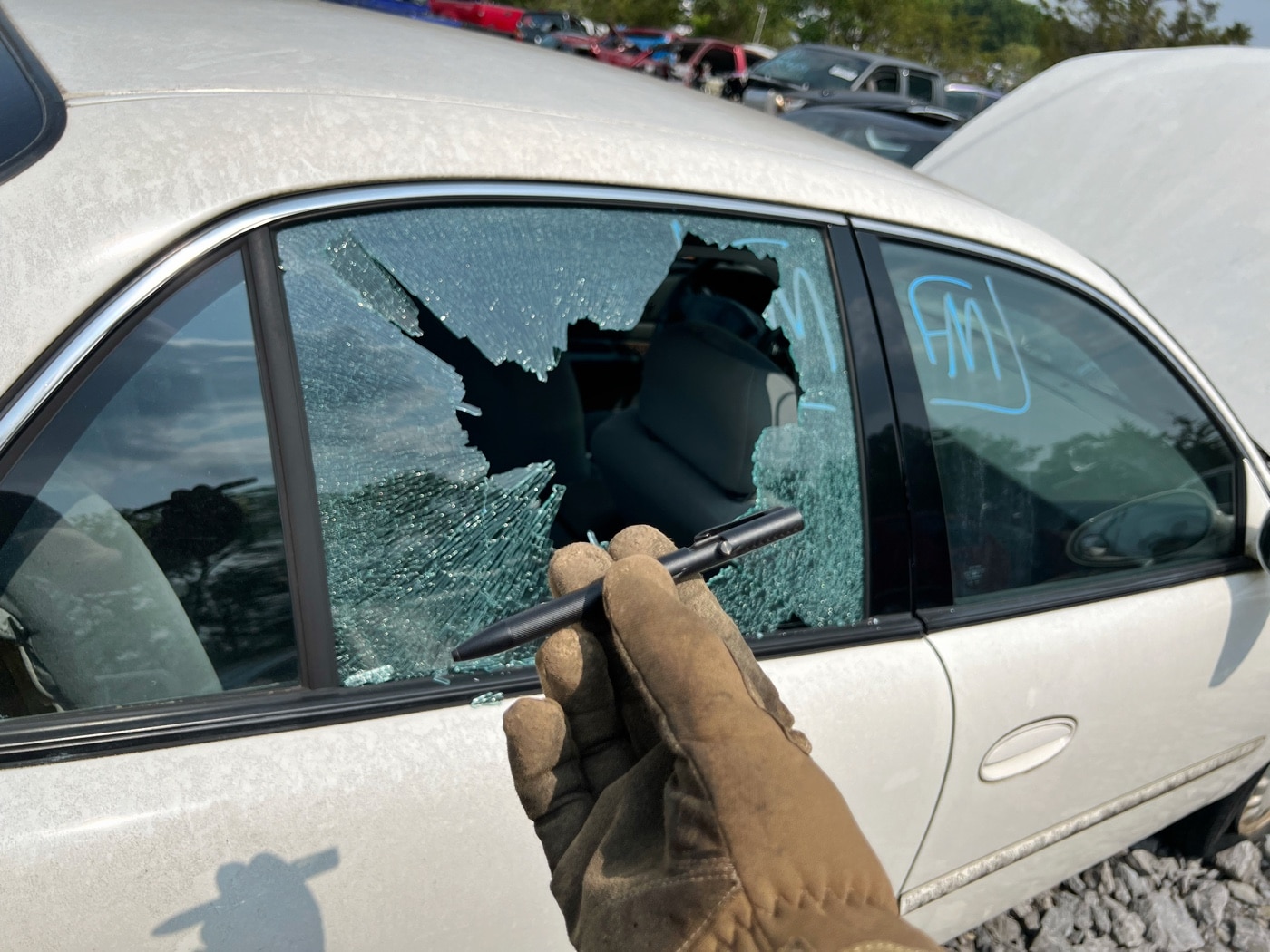 Test #2: Breaking the Ice a.k.a. Window: With the primary feature of the TacPen being its tungsten glass breaker tip, I knew I had to find a car window to test it on. I hit the old Google machine and found a junkyard roughly half an hour away. After a $25 fee to the attendant, he found me a perfectly good window to break. I was able to shatter the window with ease. So, to answer the question of this section … . Yes, I believe the TacPen is actually a viable survival tool.
How to Carry the TacPen?
It may almost seem like a rhetorical question, as pens are traditionally carried in one's pocket, right? While true, I've found myself "carrying" the pen in several ways, in addition to my pocket.
Since the main survival feature of the pen is its tungsten glass breaker tip, I often transfer the pen from my pocket to my truck visor while driving. Just in case I get into an accident and can't get into my pockets, I figure it will be easily accessible (hopefully!) attached to the visor.
Pros & Cons
As opposed to debating the pros and cons of tactical pens, the following will relate specifically to the Tyrant TacPen.
Pros:
Material, finish and components are durable
Affordable at $49.95 — won't break the bank, only glass
Breaks glass with ease
Compact and discreet
Writes smoothly
Fidget-friendly bolt-action selector
Lifetime warranty
Cons:
Body turns at the seam once in a while, activating the bolt (a miniscule amount of Loctite helps)
Selector bolt spring could use more resistance, it activates/deactivates very quickly.
Final Thoughts
A tactical pen is a no-brainer for someone who utilizes a regular pen daily. It gives you additional functionality and preparedness without having to carry more gear. On the other hand, carrying a tactical pen probably isn't worth the pocket real estate if you don't use a traditional pen often or ever.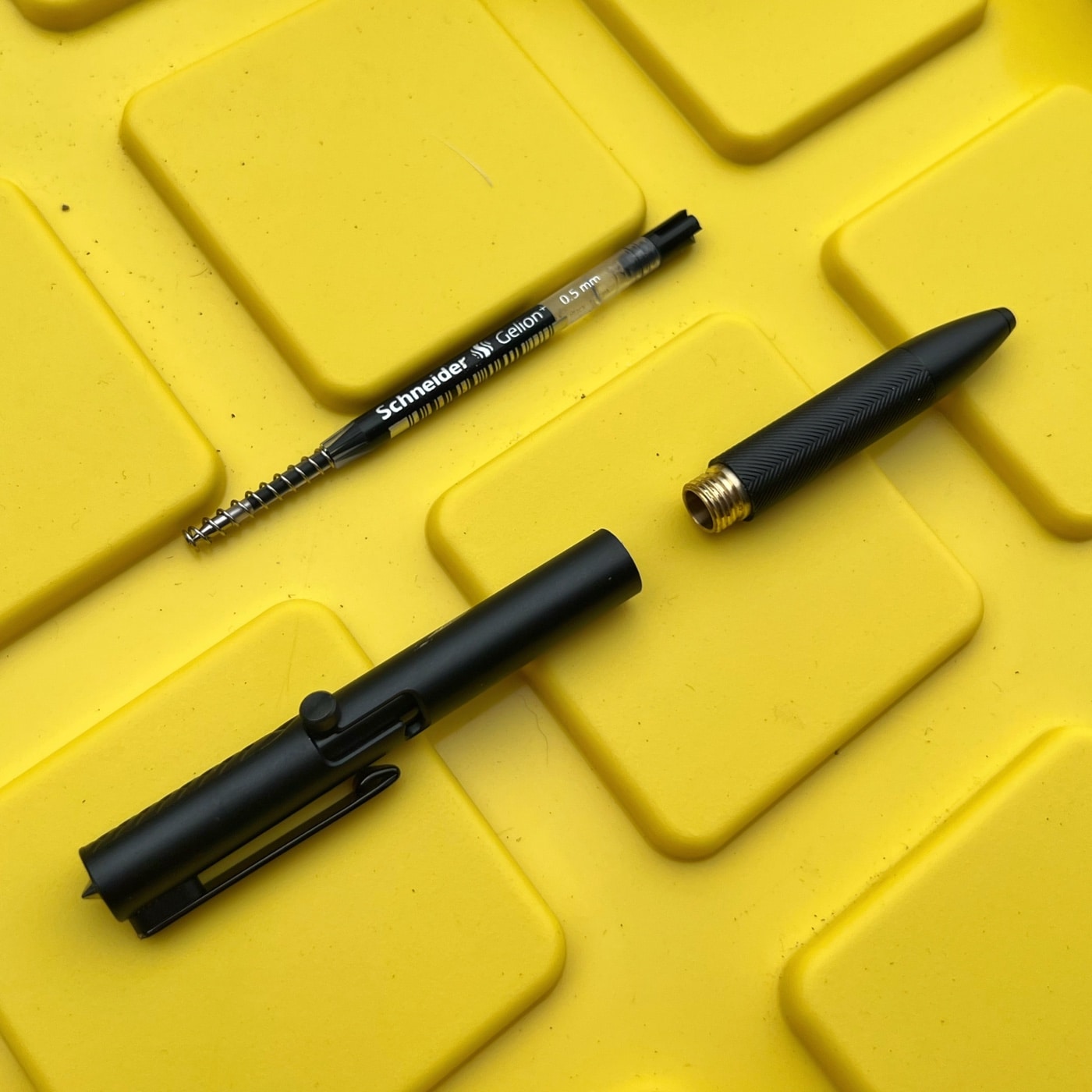 If you fall into the former, the Tyrant CNC TacPen is definitely worth checking out for yourself.
Editor's Note: Please be sure to check out The Armory Life Forum, where you can comment about our daily articles, as well as just talk guns and gear. Click the "Go To Forum Thread" link below to jump in and discuss this article and much more!
Join the Discussion
Featured in this article
Continue Reading
Did you enjoy this article?
40