Full-size 1911s are designed around cartridges the length of the .45 ACP. This is a big, capable gun with a large, powerful cartridge. However, the .45 ACP cartridge is a lot longer than rounds like the 9mm or the .40 SW. While a lot of 1911s have been chambered for a shorter cartridge like this, it takes some effort to make it all work. It also gives you a gun larger than necessary for the round.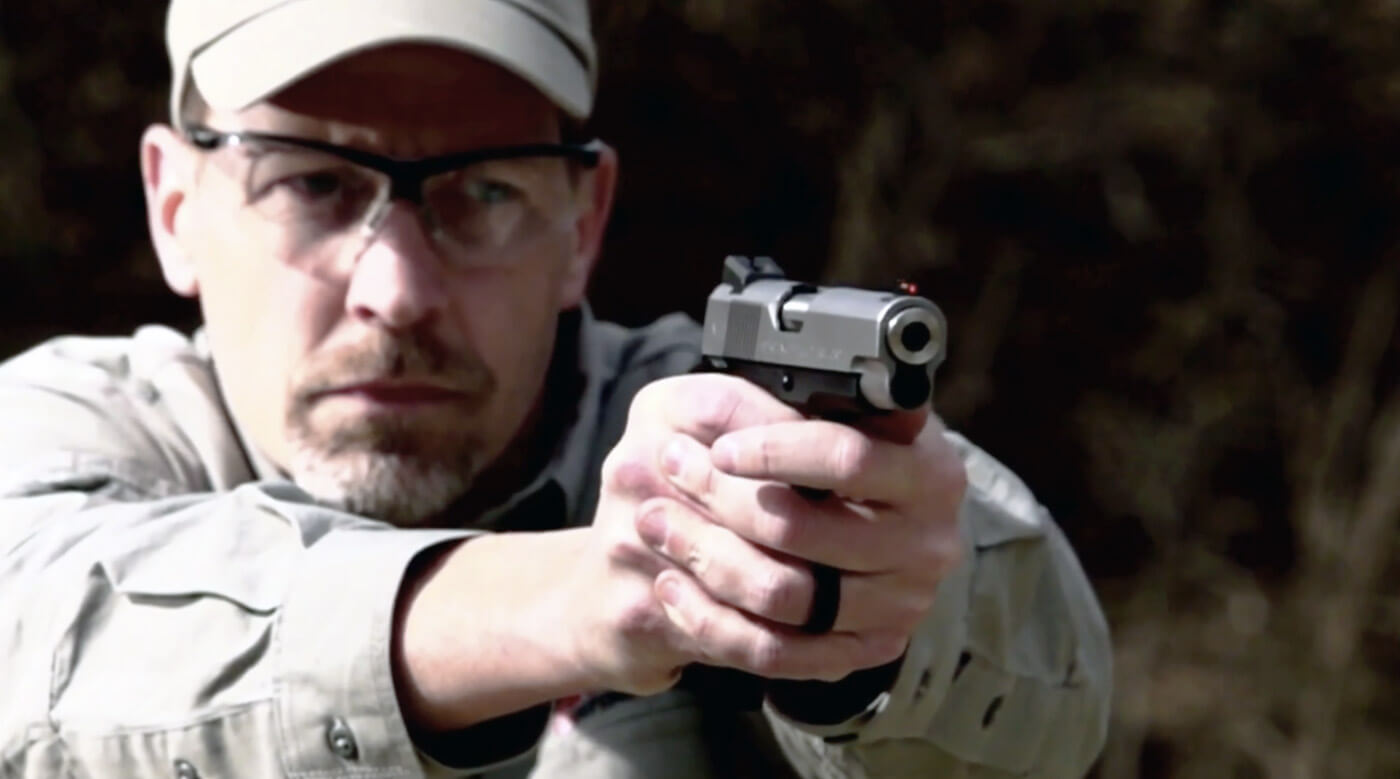 New Approach
To address this, Springfield Armory decided to think outside the box a bit and build a 1911 from the ground up designed for these shorter cartridges. Basically, they shrunk down the 1911 to fit the shorter rounds and called it the EMP — which stands for "Enhanced Micro Pistol."
The result is a compact and capable gun sized perfectly for a round like the 9mm (or the .40 SW). The first EMP offered was a version with a 3″ barrel and a short grip. What we are looking at here today in the video above is the larger EMP 4″ Lightweight Champion.
It has a longer 4″ barrel and longer, lightweight frame. It is still small, thin and lightweight, it just gives you a longer sight radius and a longer grip. With an empty magazine, the pistol is only 31 oz. making it a lot lighter than the average 1911. It comes with three magazines, and the grip is big enough to get your whole hand on it and holds 10 rounds of 9mm.
The pistol features excellent sights with a fiber optic front with replaceable inserts in red or green. Also, the magazine well is beveled for fast reloads.
Conclusion
The EMP 4″ Lightweight Champion in 9mm tested here is a great CCW gun option that gives you a bit more to hold onto than the original 3″ EMP, packs in good capacity, and would serve you well as a self-defense companion.
Editor's Note: This video features James Tarr and was shared with us by Handguns Magazine. Also, please be sure to check out the new The Armory Life Forum, where you can comment about our daily articles, as well as just talk guns and gear. Click the "Go To Forum Thread" link below to jump in!
Join the Discussion
Featured in this video
Continue Reading
Did you enjoy this video?
74