Review: Unity FAST LPVO Mount
October 8th, 2023
6 minute read
In this article, Dylan Casey reviews the Unity FAST LPVO Mount that is a great fit for AR-style rifles like the Springfield Armory SAINT line. However, the mount is taller than many which creates the question of "Why?" In this review, Casey answers that question and gets it on the range to see how well it works.
If you are reading this article, chances are you already noticed by the lead photo how tall this low power variable optic (LPVO) mount is, but there is a reason for its height. One of the first questions I'd like to pose is, how tall is too tall for a mount anyways? If you are concerned about height over bore, there have been several proven gun designs over the course of history with taller than average height-over-bore distances.
[Be sure to read What Is an LPVO Scope? for more information on these optics.]
The most common height over bore is going to be about 1.5 to 1.8 inches, but as I said, many proven designs end up higher than that. But why? Well, it's because height over bore doesn't really matter, sort of — more on that later.
The Mount
The mount used in this article is made by Unity Tactical and is called the FAST LPVO. FAST is a whole series of mounts and platforms made by Unity Tactical that focuses on giving users a quicker sight picture. The taller center line shortens the distance a shooter has to move the rifle to acquire aim on the target.
The mount itself is Type III Hardcoat Anodized in black or FDE, and it's made from the ever-sturdy 7075-T6 aluminum. The price on the website is $369, which is in the ballpark with other high-quality scope mounts in the industry like Scalarworks or Badger Ordnance. However, if you are like me and you shop at the always trustworthy Optics Planet, then you are going to save yourself some money.
The mount comes for both 30mm and 34mm scopes; for my test, I was using the Vortex Razor Gen III, a 34mm scope. The FAST LPVO is not just any mount. As you have already seen, the mount boosts the centerline to 2.05" above the rail. However, it doesn't stop there.
[Read our Vortex Razor HD Gen III 1-10x Scope here.]
The mount has separate accessories to accommodate the need for back-up red dot sights. The offset red dot mount sold by Unity Tactical can be mounted forward or at the rear of the FAST LPVO mount to fit the shooter's preference. As you would hope, they have numerous plates available to fit all the popular optic footprints.
We Just Went Full Circle
If you are like me, your brain might have just made a connection to the past and thought, "Hey, wait a minute." In the 1950s, an American engineer named Eugene Stoner designed the first AR. This ultralight rifle was like nothing the world had seen when it first came on the scene.
One unique about it was the top carry handle built into the upper receiver. Nowadays, most carry handles are attached to a 1913 rail on the receiver. In the early 1990s, Delta Force operators in Mogadishu, Somalia, could be seen with carbines that had Aimpoint red dots affixed to the carry handle. This made for a very tall height over bore of just over 2".
Most of the Unity FAST line of mounts boosts popular optics to a height of 2.05." To point out the obvious, somewhere along the line, we dropped the carry handle so that we could, among other reasons, have lower optic heights as optics became more and more popular. Then we created high mounts to boost it back up to the height where modern optics on the AR started. It appears we have gone full circle.
Why? The Pros
So why did we jump back to promoting tall optic heights? Well, there are a few reasons. The first reason I will give is probably one that is least important to 90% of shooters unless you are also military or law enforcement. The higher optic height is easier to use when you wear a gas mask or night vision. But that doesn't apply to most of us. So again, the question why would this be beneficial?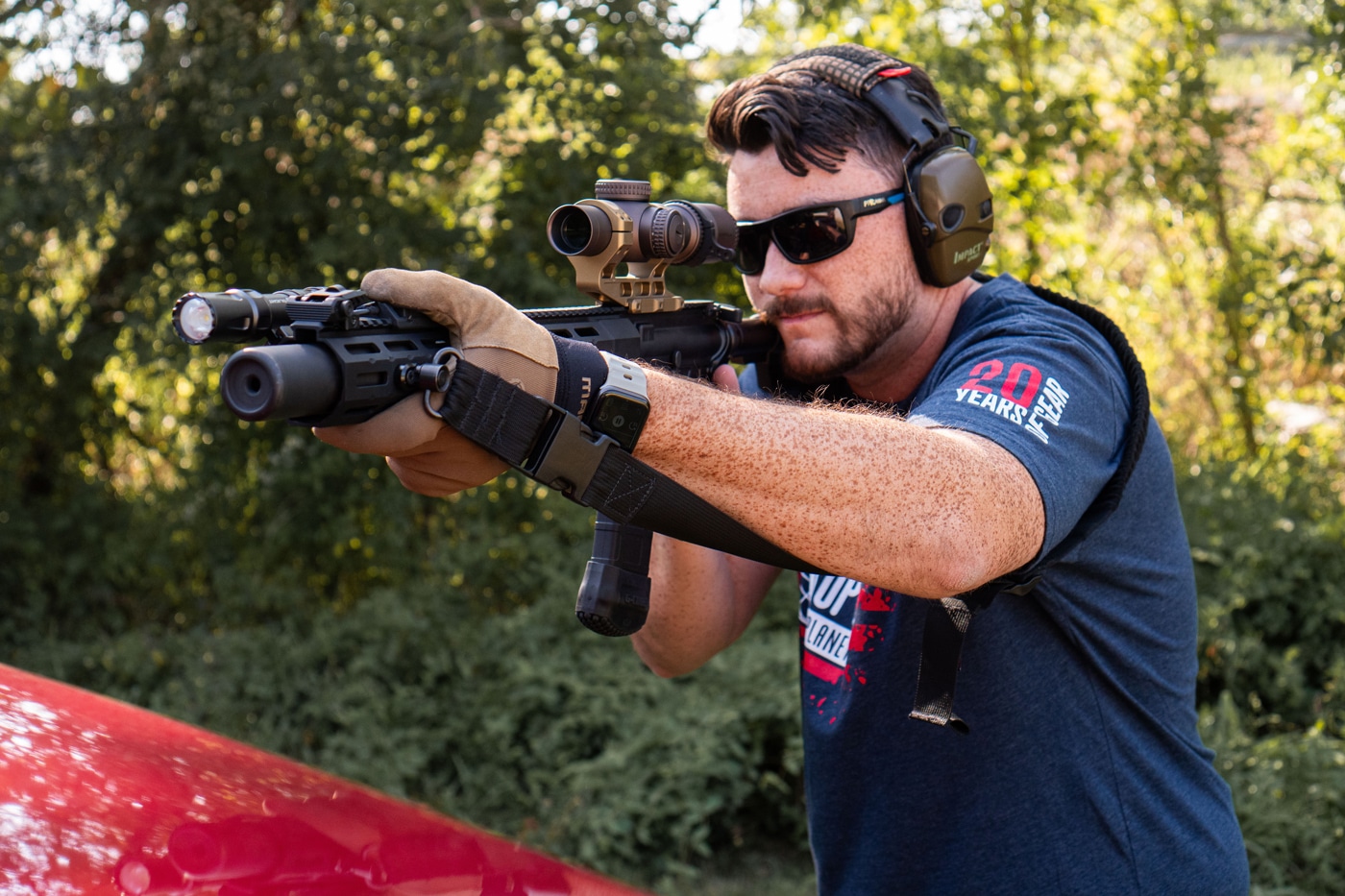 The biggest benefit, in my opinion, is the heads-up shooting posture this creates. You no longer have your cheek buried into your rifle with your head down low. Instead, you are able to shoot with your head up creating a more comfortable position for your neck.
Still, more importantly, it creates the optimal position to be able to scan with both of your eyes in either direction. I find myself able to keep my cheek position comfortably but still use my eyes and peripheral vision to scan my surroundings. Instead of ending up with a forward head posture, I am upright, and comfortable, and I feel more aware of what is happening around me.
The last reason I will give literally comes from the name of the mount. It's called the FAST mount for a reason. When you have your rifle in the low ready, and you start to bring the gun up, your optic comes into view much faster.
The Cons
So far, all we have talked about is a brief look at history and the general benefits of a tall optic height. But is it all good? If it is all good, we should all have optics with skyscraper mounts on our AR platform rifles or any rifle at that point.
Like all things, There are negatives to this. The biggest problem with tall optics really boils down to a training issue. With this Unity FAST LPVO mount, I have to train with my optic height in mind. When shooting around cover, this can be a real issue. Just because the optic is tall doesn't mean that the bore is.
The bore is still low, which means your projectile is coming out low. When shooting around objects with tall topics, you have to be sure you are clearing the object you are shooting over or around. If not, you may end up shooting an obstacle instead of that trophy game animal you are aiming at.
Also, when shooting in close quarters, be conscious of your zero and your optic height, and plan for the fact that that bullet is starting out low and still rising to meet your zero due to the orientation of your zeroing point relative to the bore. Put up a clean sheet of paper and run a hostage-taker drill and try not to hit the hostage from various close ranges. The closer you get to the target, the bigger that gap from the point of aim to the point of impact is going to be. Now all that said, training can overcome any of those problems.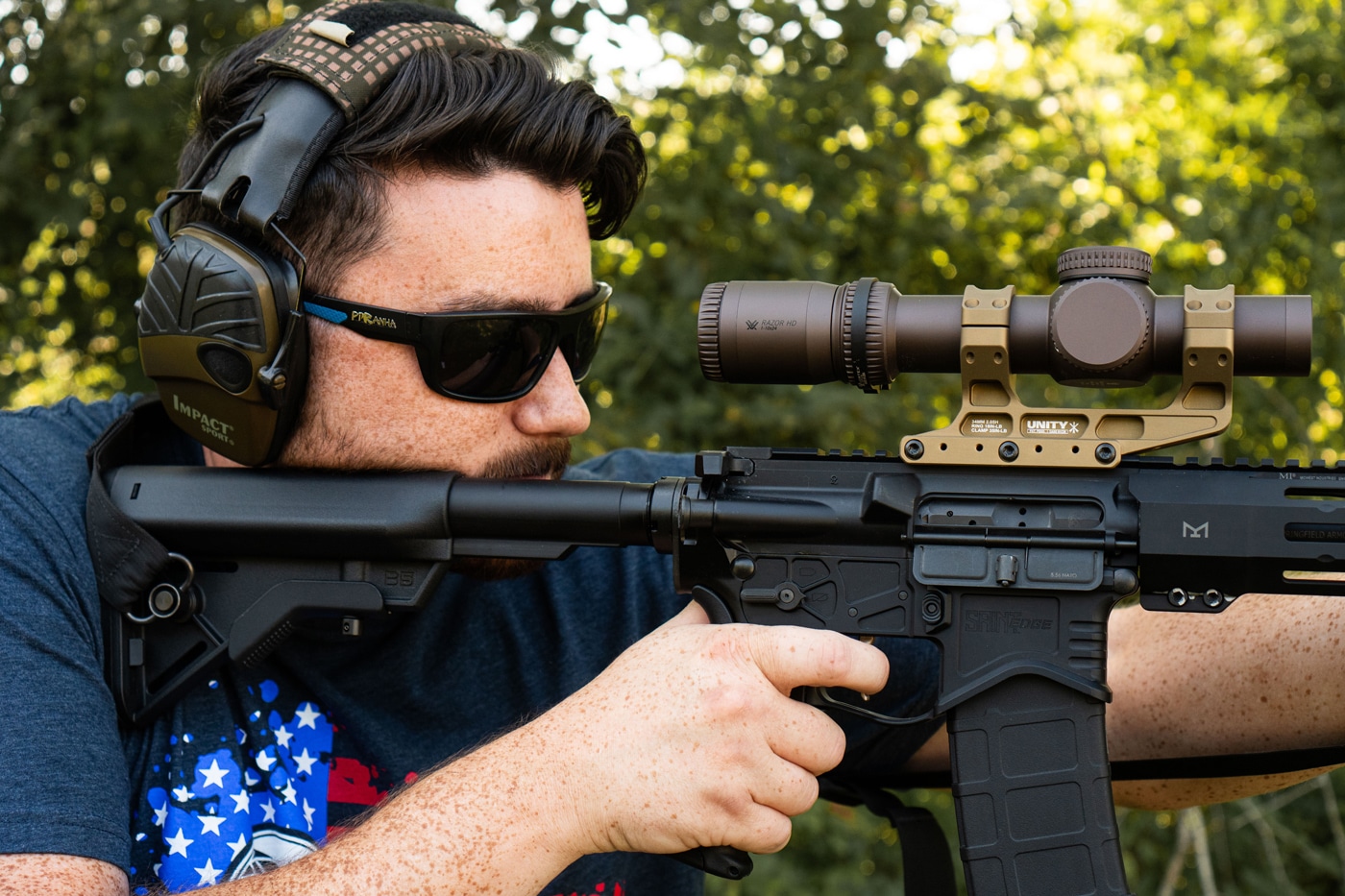 Using the LPVO mount was not a hard training issue for me. I found the 2.05" centerline to be of no issue. Actually, this mount didn't feel like the height was exaggerated at all to me. For a second, I almost wondered if I was sent the wrong item.
Conclusion
Is the Unity Tactical FAST LPVO mount worth the price point of $369? Beauty will always be in the eye of the beholder, and the same could be said for which optic height is best. But in my opinion, yes, it is. The build is fantastic, it's rugged, the finish is impeccable, and the options to add a canted red dot are excellent. I don't know what more you could want.
Editor's Note: Please be sure to check out The Armory Life Forum, where you can comment about our daily articles, as well as just talk guns and gear. Click the "Go To Forum Thread" link below to jump in and discuss this article and much more!
Join the Discussion
Featured in this article
Continue Reading
Did you enjoy this article?
36