Carrying a backpack is a common thing in modern society. From school halls to Wall Street, it seems everyone has an EDC pack. Justin Opinion takes a look at a pair of high-quality options in this Viktos Perimeter review. The company offers the bags in different sizes and colors to meet your individual needs, whether a casual EDC bag or a rugged bug-out bag is more in line with your requirements.
If you spend a lot time trekking around, you know that it's more and more necessary these days to be able to bring gear along. It seems that I can't go anyplace without bringing along my 50 favorite things. This list of favorite things very often includes a handgun and extra magazines. On that note, I've been using the Viktos Perimeter bags for over a month, for everything from range trips, hikes, wildlife photography trips and even dull boring trips to the office.
Perimeter Backpack Details
The Perimeter bag comes in two sizes: the Perimeter 25 and the Perimeter 40. Those numbers represent the liter capacity of the backpacks (25L and 40L, respectively.) They are nearly identically configured, and both have numerous pockets, pouches, compartments — and yes, even a holster for your EDC and elastic loops for your spare mags.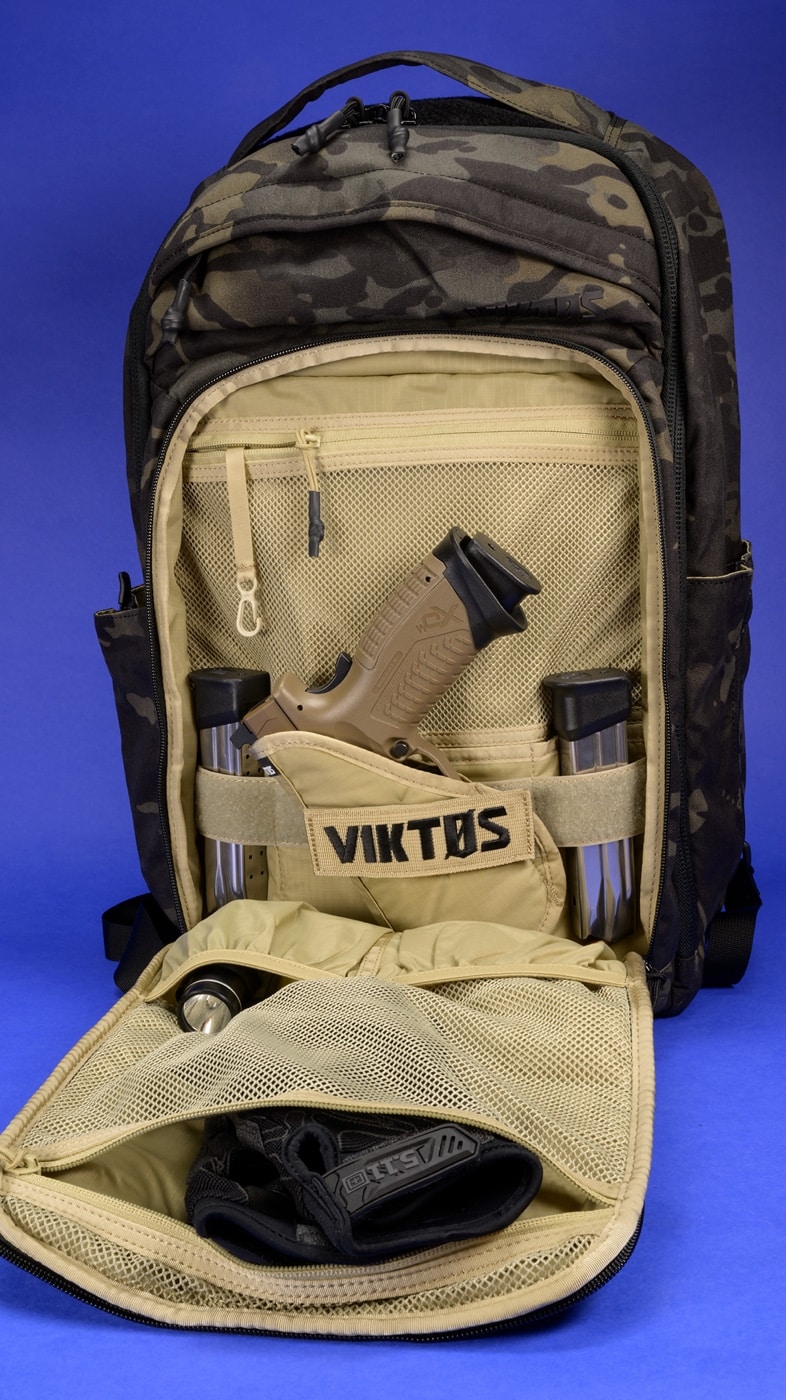 The provided nylon holster easily accommodates the Hellcat or Hellcat Pro as well as the full-size XD-M Elite. I went with a "small pack / small gun" and "large pack / large gun" method with the 25 and 40, respectively. The packs are even compatible with Premier Body Armor's Level IIIA inserts.
Here are the key specs and features of the Perimeter bags:
40-liter overall dimensions: 19″ H x 15″ W x 11″ D
25-liter overall dimensions: 18″ H x 12″ W x 8″ D
Weather-resistant 500d Nylon chassis with DWR Coating (MultiCam)
Weather-resistant 1000d Kodra Nylon chassis with DWR coating (Solid Colors)
Internal frame sheet with aluminum reinforcement
Universal CCW pistol holster fits compact to full size
Multiple pistol/rifle magazine storage
Easy-access padded laptop compartment that fits most 15″ Laptops
Expandable water bottle pockets (one of the author's favorites)
U.S. veteran designed & developed
One-year workmanship & materials warranty
Some nice touches include a soft padded sunglass compartment that is easy to access quickly, nicely padded adjustable shoulder straps and waist strap, and top-quality hardware like YKK zippers with silent pulls. I don't baby the bags I use to tote my gear around. I'll toss them, drag them, yank the zippers and use them for a rifle rest. The stitching and hardware of the Viktos bags are top notch and laughed at any abuse I dished out.
Inside storage compartments are well organized, with zip closures or elastic hems. The very plush sunglasses case also has a small inside pocket for a phone or other sensitive item and can be accessed directly from outside the bag without exposing larger compartments. On the outside, there are numerous loops and Molle sections to fasten and hang additional gear. I like to keep at least one carabiner on the bag just in case. Velcro panels allow you to personalize the bag with your favorite patches.
Everything You Need?
There are abundant compartments of all sizes inside these bags. The 40-liter even has an internal nylon pouch with a drawstring that reminds me of a little duffle bag. I found it the perfect place to keep a change of clothes or extra camo.
But I have to say that perhaps my favorite feature is the superb water bottle pouch design on the side of the bag (the 25 has one, the 40 has two). It can hold my large Yeti water bottle easily, or a thermos of coffee (or both with the 40 liter) securely with no fear of it falling out. So now, not only can I carry more volume of water versus a disposable plastic bottle, but it stays cold and doesn't scare the animals away with poorly timed crunching noises!
So yes, you can carry your laptop or tablet, all your keys and small items — each well organized and stowed in its own compartment in the bag — but did I mention that you can also carry your handgun? I mentioned the Hellcat Pro OSP and the 5.5" XD-M Elite because those are the handguns that I chose to carry in the bags. The Hellcat Pro was carried in the Perimeter 25 backpack and the XD-M in the 40-liter bag. Makes sense, right? Although, they could easily have been switched around.
The provided holster is a one-size-fits-all design and does amazingly well whether I have the Hellcat or the XD-M in it. It's a smooth nylon material that is snag-free, with well-stitched edges and seams. It attaches to the inside of the bag via Velcro but also has heavy-duty clips to secure it firmly in place.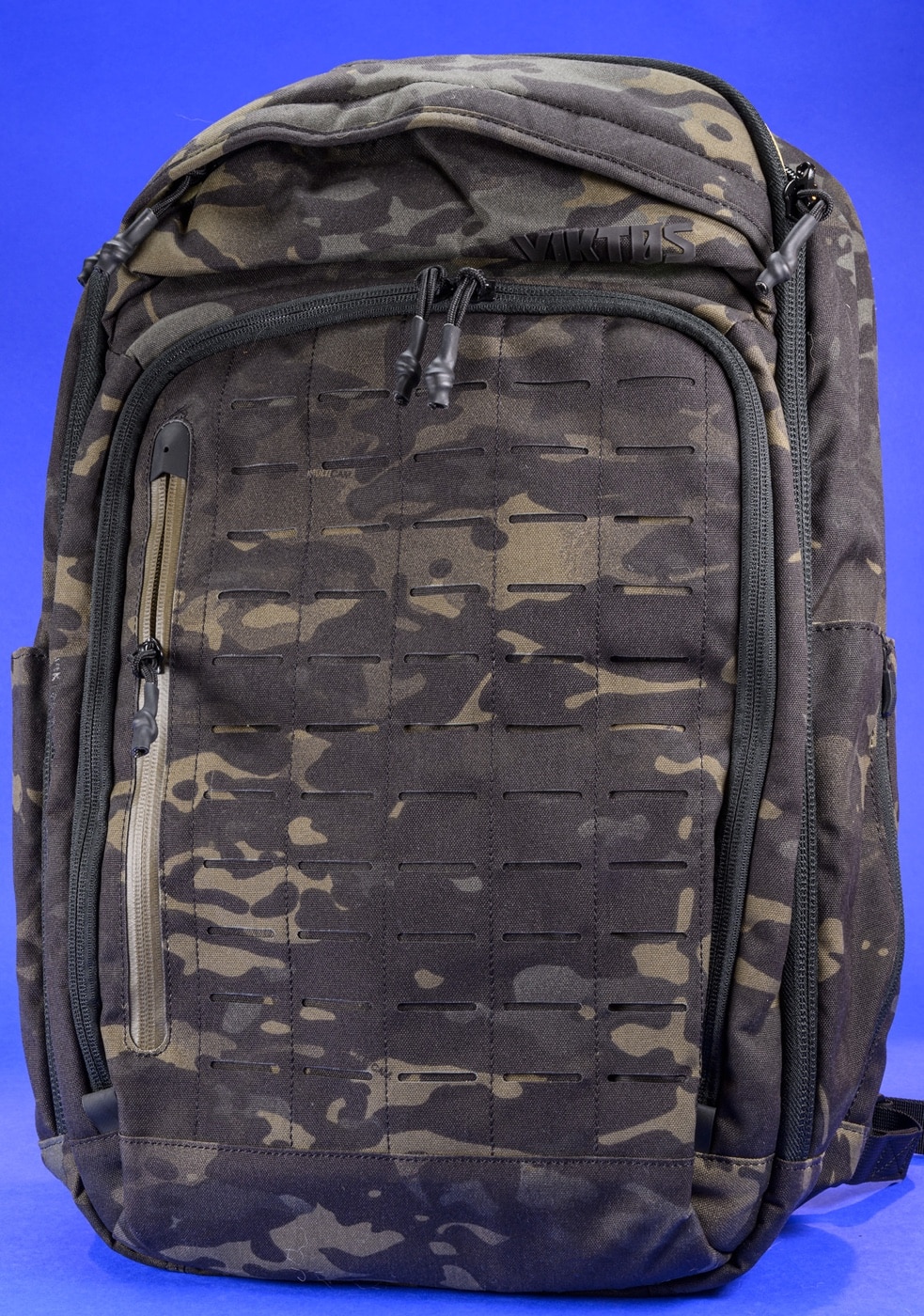 For my testing, I requested the dark camo material because I wanted to evaluate it more as an outdoor lifestyle bag than school/office — though it is clearly well-suited to either. I like the pattern, which seems to blend well with any style of camo or outdoor clothing you wear. And if you're not already wearing camo, this bag provides some.
Final Thoughts on the Viktos Perimeter Packs
I like these Viktos backpacks — in both the 25 and 40-liter sizes. Which size and which pattern is best will depend on how you plan to use it. They are very durable with great materials and workmanship — and I really like that they give you a solid way to carry your handgun when a traditional holster is just not a good option. And with or without the handgun — there is room for all your stuff.
Editor's Note: Be sure to check out The Armory Life Forum, where you can comment about our daily articles, as well as just talk guns and gear. Click the "Go To Forum Thread" link below to jump in!
Join the Discussion
Featured in this video
Continue Reading
Did you enjoy this video?
51