What Is a Get Home Bag?
August 19th, 2021
7 minute read
If you've spent any time in the prepping or tactical niches, there's an excellent chance you've heard of the bug-out bag — a pre-positioned kit that you can grab if you need to evacuate your home on very short notice.
While a bug-out bag is an important preparation, one that you might be more likely to need is a get home bag. Never heard of it? Don't worry – it's just like it sounds.
What Is It?
A get home bag is a kit of portable supplies that you can keep in your car or office that will help you return to your residence in a disruptive event. Most of the time, we give little thought to the trip home beyond the need to stop and get milk or wondering what kind of traffic we might hit.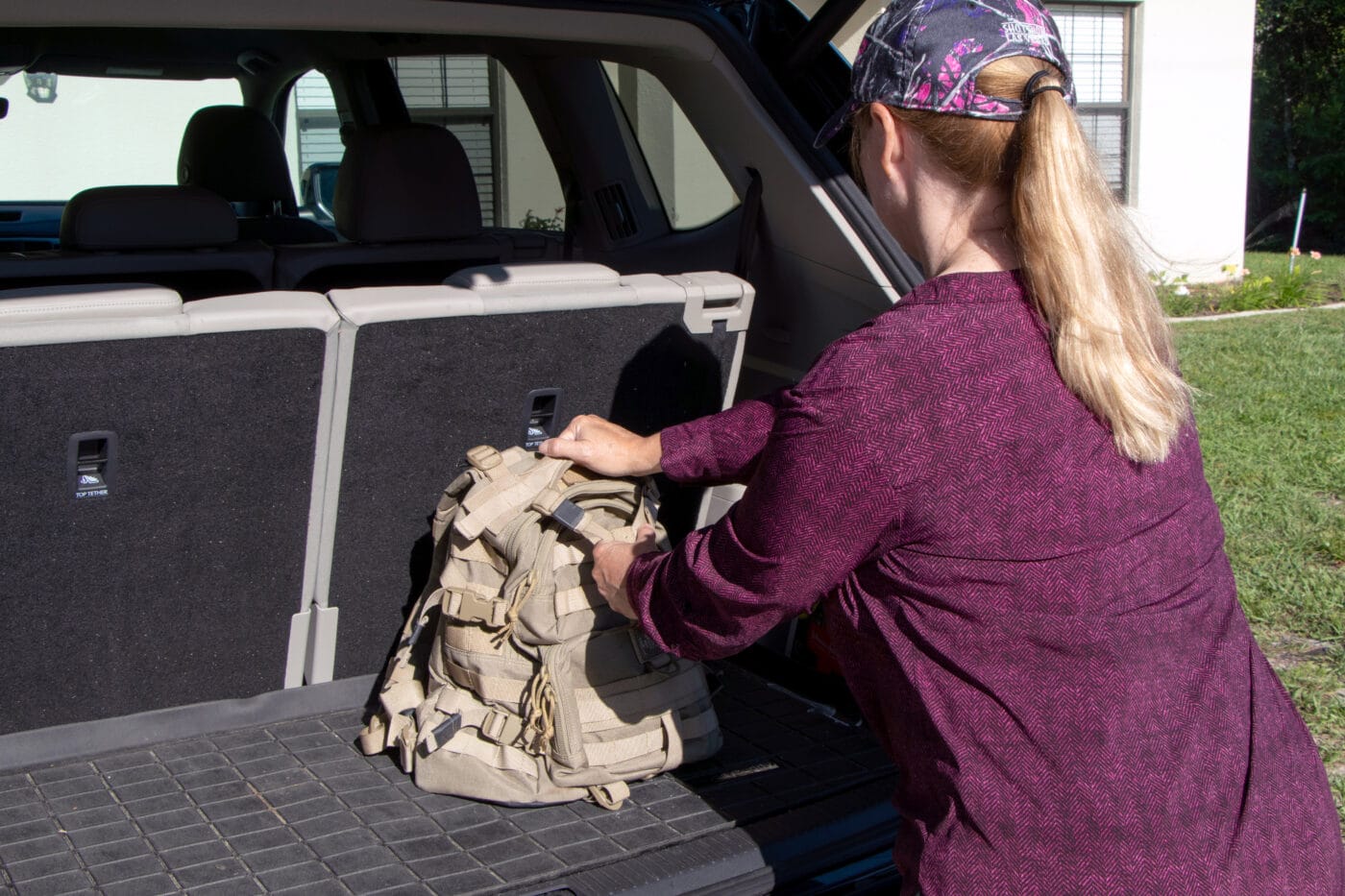 However, there are many small- and large-scale events that might interfere with our ability to easily make the trek home. The farther you live from home, the more difficult one of these events might make the return.
You might wonder what kind of event would prevent you from hopping in your car and driving home. Here are two examples that you may be familiar with.
On Tuesday, October 17, 1989, a strong earthquake struck the San Francisco Bay area just after 5 pm. Freeways collapsed and fires broke out. Those lucky enough not to be trapped inside damaged buildings were essentially trapped in various sections of the cities due to the inability to traverse the San Francisco-Oakland Bay Bridge, Interstate 880 and other roadways. Many cars were damaged or destroyed from falling buildings and debris. Mass transit was offline. Getting home suddenly became a major ordeal.
No American alive and aware on September 11, 2001, will forget the attacks. When the World Trade Center towers collapsed, so did most of the New York City non-emergency infrastructure. Do you recall seeing all of the people in suits and dresses walking across the bridges trying to get out of Manhattan and to their loved ones at home? I do.
In each of these incidents, a portable kit can make a huge impact on getting you home successfully. Let's take a look at what you should consider including in a get home bag.
The Bag & Contents
Once you move beyond the question of what is a get home bag, you probably are wondering how to build and equip one. Scott Conditt put together an article titled "Building Your 24-Hour Get Home Bag". It is well worth the read.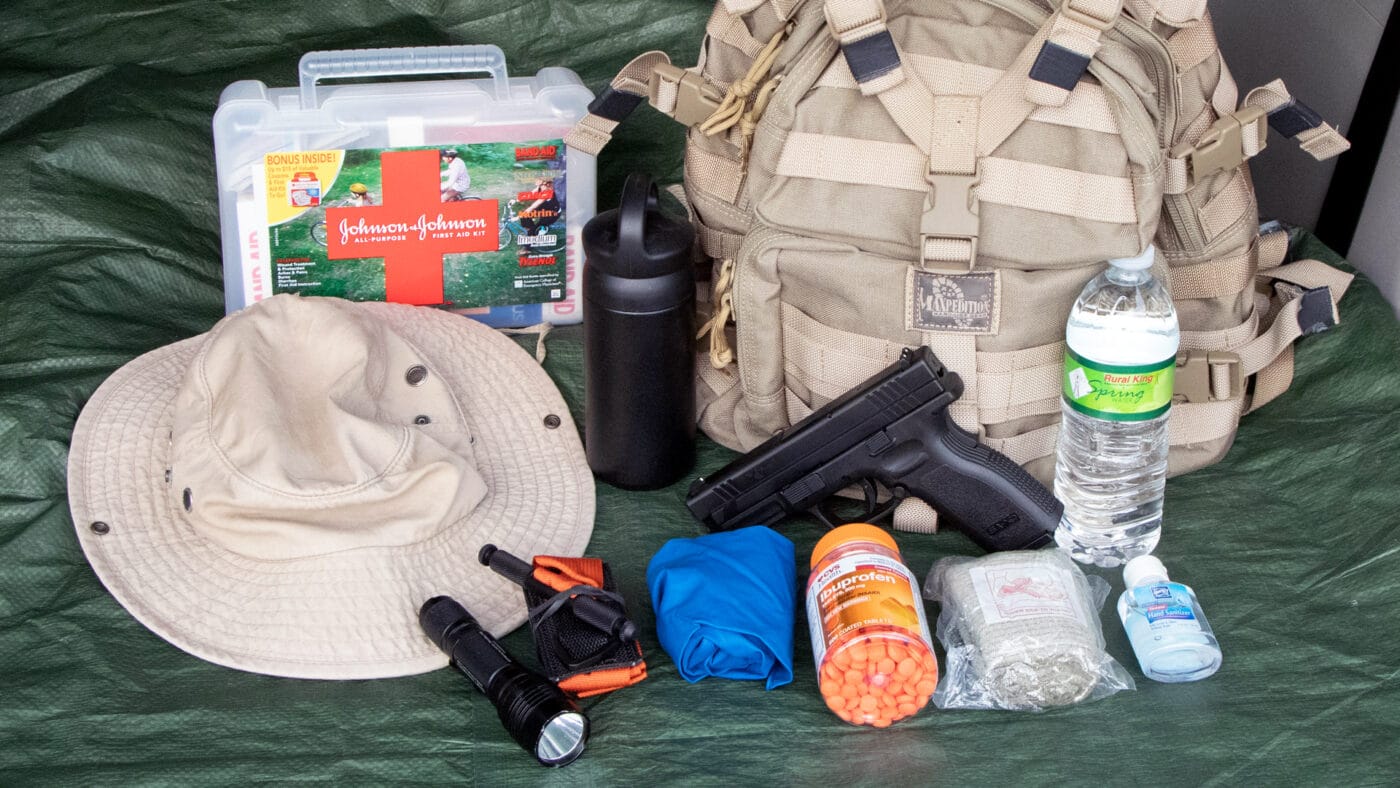 Nevertheless, all of us bring different perspectives and experiences to the table, so I thought I would share mine. For context, my background is in being a suburban dad who once spent time chasing crooks and breaking up bar fights. I'm not a high-speed operator with multiple deployments.
The base for your get home kit is the bag itself. You need something that is large enough to carry what you need, durable enough to bounce around in your trunk daily and comfortable enough to carry for hours at a stretch.
For me, that bag is the Maxpedition Condor-II backpack. It is a 23-liter backpack that I have carried around the country for years – from the SHOT Show to Disney World to martial arts competitions. It is exceptionally durable and resistant to scuffs, stains and abrasions. It is also large enough for me to pack everything I need into it.
You should design your get home bag to serve in a variety of emergencies. Some of those emergencies will include the necessity of self-defense. Even if they do not – like an earthquake – the aftermath may create an environment where criminal predators will hunt the unwary.
Where legal, I recommend carrying a pistol in your bag that you can quickly move to your belt when life goes sideways. Even if you have a compact handgun you normally carry, having a duty-sized pistol with you can give you the flexibility that a second gun and more firepower offer.
For me, I like the Springfield Armory XD Service Model. This full-size pistol offers a 4" barrel for improved accuracy and velocity combined with large sights. With 16+1 rounds of 9mm on tap, the gun offers a lot of felon repellant in a temporary collapse of societal norms. In addition to the XD Service Model being a proven platform, the gun is very affordable with a MSRP of only $399. A get home bag should enhance your ability to live your life – not be a financial drain. This pistol provides additional security without crushing your budget.
With the pistol, you need a quality carry rig. I'd recommend taking a look at the Safariland 6378 ALS holster. It locks the gun securely into place with a natural release mechanism that is easy to learn. Further, the rig includes a paddle back to make it very fast to get on. I understand that paddle holsters frequently get a bad rap as being weak and insecure. Those are legitimate complaints for some designs. However, paddle holsters from Safarliand are very secure and solidly anchor a gun to your belt. When used as directed, this rig is extremely reliable.
Another item you need in your bag is a quality flashlight. It should be bright enough for tactical use and durable enough to handle various impacts and the elements. You want a handheld light instead of a weapon-mounted light as navigation is a probable use. Even if you carry a flashlight normally, I recommend adding one to your get-home bag.
Since it is a light you are not likely to use frequently, I suggest a light that uses CR123A batteries. These tend to hold their charge for a longer period of time than rechargeables and alkalines. The Streamlight ProTac HL is an excellent choice. I've tested this model extensively and it proved to be extremely durable. In addition to having a bright 750 lumens mode, you can select a dimmer mode for extended life in non-tactical situations.
Consider adding a lightweight pair of athletic shoes and socks to your bag. While your business shoes or fashionable heels might look great at work, they are probably not ideal for walking on multiple miles of asphalt. A pair of Nikes or New Balance shoes can make all the difference.
Also consider having water and dried snacks on hand. Water is heavy, but it is also critical for staying hydrated. Heat and dehydration can take you out quicker than many other things. Plus, water can be used for washing down a couple of Tylenol or cleaning out a wound.
First aid is another concern that should be addressed in your get home bag. I recommend two kits: a bleeding control kit and a boo-boo kit. The bleeding control kit should include a tourniquet, compression bandage and a hemostatic agent. I like the Covert Carry Advanced Trauma Kit from Rescue Essentials, but there are other good choices as well.
A boo-boo kit is much like a traditional first aid kit set up to address problems such as minor cuts and blisters. These types of kits can be found in any home or outdoor store while companies like Rescue Essentials and ITS Tactical offer improved versions that combine well with a specialized bleeding control kit.
A map of the area is a good idea. Many people work in one location for years but never really get to know the surrounding area. If you had to detour around a normal roadway, or even walk out, would you know how to get around?
A poncho is another good thing to have in your get home bag. When walking out, it can keep rain off of you and retain body heat. If you are a long way from home and have to stop, you can use it for a shelter to keep the sun and elements from overwhelming you. Ponchos can also be used in a plethora of improvised ways such as an improvised pack, rainwater catch system or as a ground cover.
Final Thoughts
Bad things happen to good people all the time. You may find yourself confronted by an unthinkable event, and having a prepared kit could make all the difference in getting you home safely.
When you put together your get home bag, think about your daily activities and commute. Plan how you might get out of your work environment and make your way home if your car is inaccessible and mass transit is offline. As you think about your plan, helpful gear items will naturally suggest themselves. For example, here are a few other items that may make sense depending on your needs:
Toilet paper
Warm hat and gloves
Sunscreen and ball cap
Multitool
Folding knife
Extra cash
Fire starting tools
Insect repellant
Extra medications for any ongoing illnesses
Small solar charger for your phone and other electronics
Emergency radio
Use this article as a guide but trust your instincts. If there is something you feel you need to add, go for it. You are the one who will have to rely on it, so build it out the way that makes sense for you. Just remember that every item you adds will weigh you down over a long hike. So, keep things realistic for your environment and don't be afraid to take a two mile walk to see if your kit should lose a pound or two.
Editor's Note: Please be sure to check out The Armory Life Forum, where you can comment about our daily articles, as well as just talk guns and gear. Click the "Go To Forum Thread" link below to jump in!
Join the Discussion
Featured in this article
Continue Reading
Did you enjoy this article?
129