In the world of everyday carry (EDC) and concealed carry, having the right equipment is just as important as having the proper mindset and training. Among the essential gear for concealed carry is a reliable and sturdy gun belt, standing out as a crucial component that is often overlooked.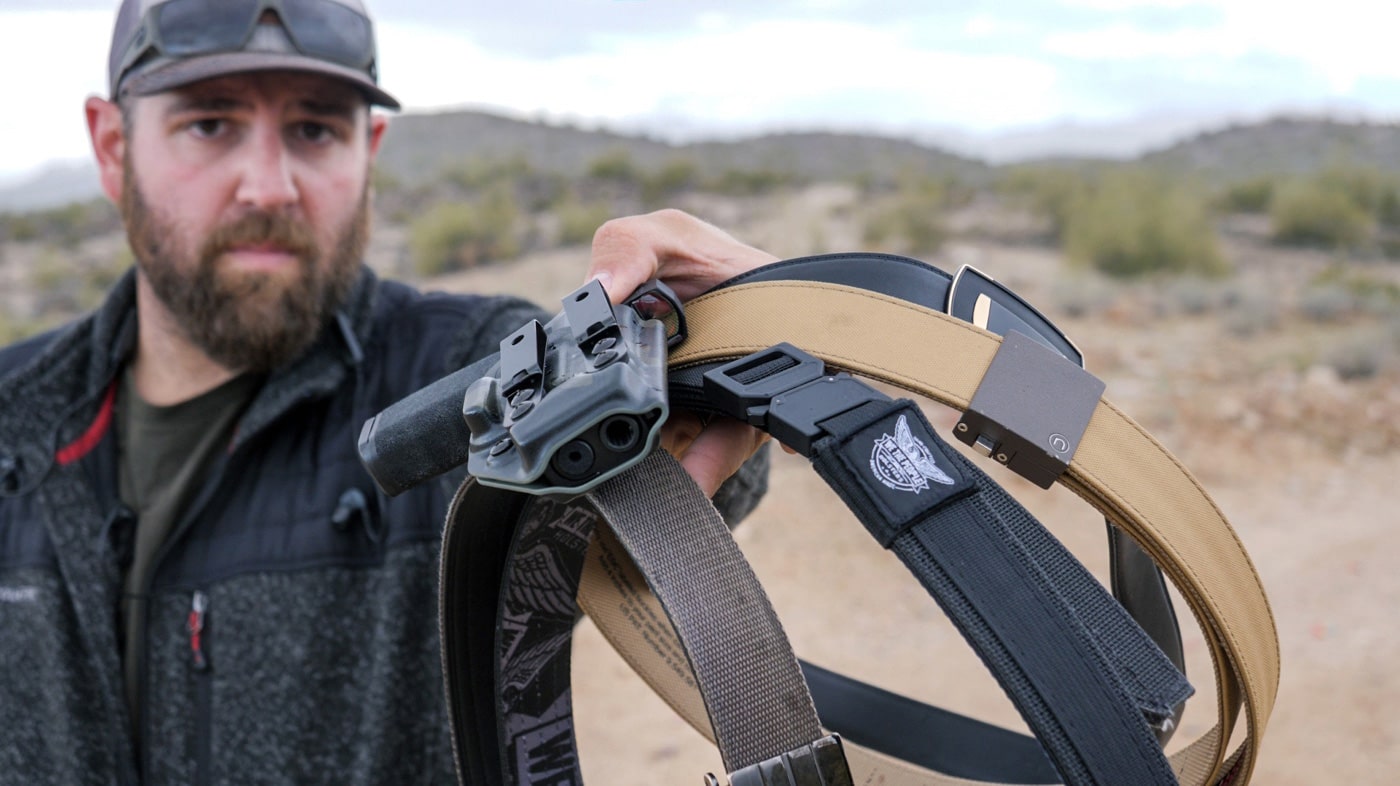 I never really considered it myself until I had a chance to try a dedicated EDC belt. That experience changed my mind instantly.
A high-quality gun belt not only ensures your firearm and accessories remain securely in place throughout the day, but also contributes to a smooth and efficient draw when needed. In this article, I will delve into the key attributes of an ideal gun belt for EDC, offering insights and recommendations to help you decide when choosing the best gun belt to complement your concealed carry setup.
Requirements for a Good Gun Belt
In my opinion, there are four requirements for a good gun belt designed for everyday carry. Let's review what I think are the top things to consider before spending your money.
Quality
In my opinion, the belt must be made of premium materials and exhibit excellent craftsmanship. I have owned many belts in the past, and I have decided to only purchase EDC belts from now on due to quality issues.
I have worn cheap belts sold by your generic goods stores that seemed to be of decent quality. Three months later, I was getting ready for work and tightened my belt. I felt a pop and realized the belt buckle was completely torn off. The last thing you want is your pants to be sitting bunched up by your feet with your rig (gun) thrown across the floor.
Sturdiness
A good EDC belt needs to be sturdy. Not only does its job consist of holding your pants up. The belt will also need to firmly hold your accessories in place, whether inside or outside the waistband.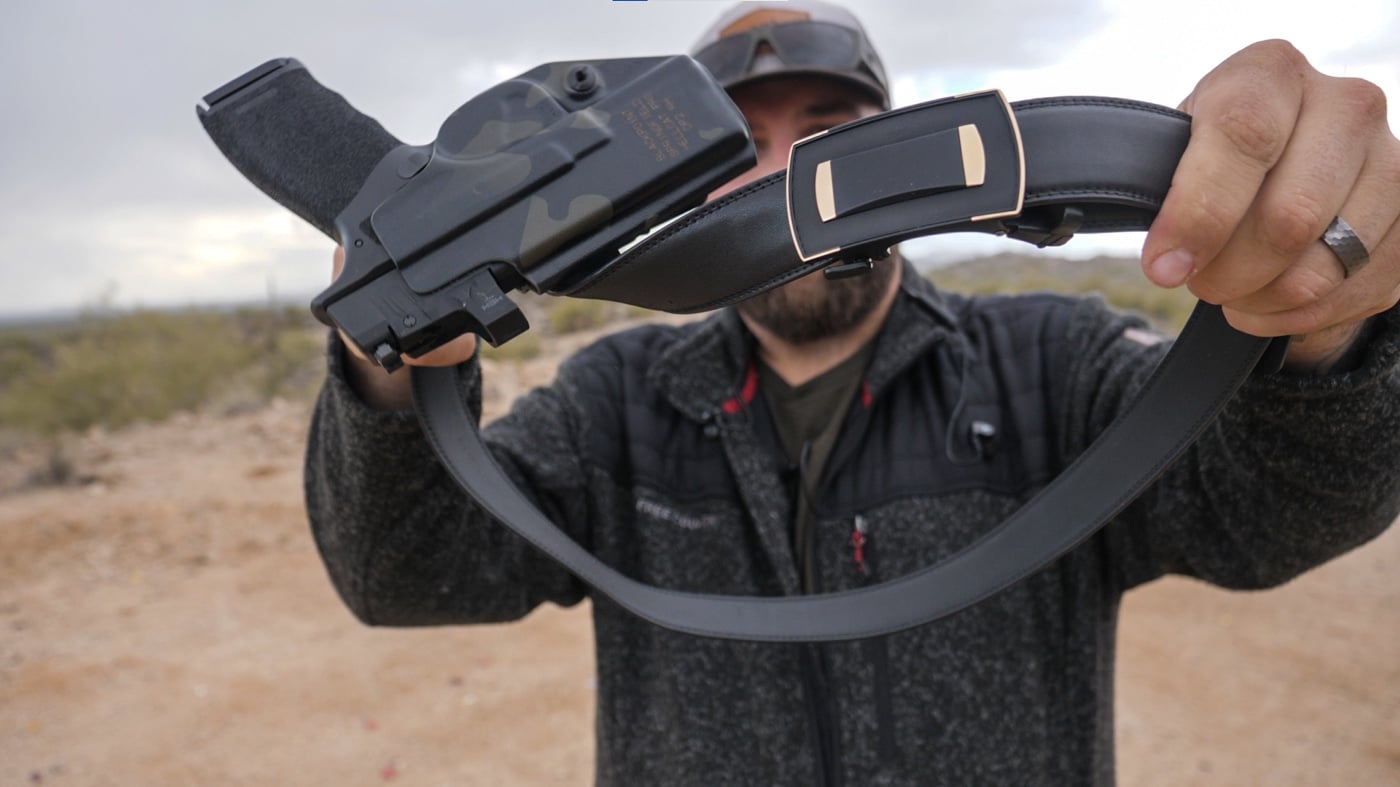 The sturdiness of a belt can also impact how easily a firearm can be drawn from your holster. If your belt "flops around," the holster might also "flop around" while still holding onto your firearm.
Comfort
Would you wear a belt if it is uncomfortable? Let's go deeper: Would you carry a firearm if it were uncomfortable? Most people would not, so comfort is critical in a good belt choice.
A good EDC belt will offer comfort due to its ridged construction. Just because the belt might feel stiff doesn't mean it will feel uncomfortable. In fact, a stiff and sturdy belt will effectively hold up your pants and rig while conforming to your waist. This equals less sagging and constant adjustment. Nothing screams, "LOOK AT ME" more than somebody's underwear showing and a handgun grip sticking out.
Rigid belts can also better distribute the weight of the gun around the waist. This helps to prevent fatigue or pain to a certain area of your hip or back.
Convenience
Convenience is critical, like what was mentioned above. If putting a belt on is inconvenient, a person is less likely to make it part of their routine. What does this mean? Unfortunately, as much as we might like our actual gun belts, they might also be a pain to put on. Large buckles are a notable culprit in this category. Don't worry! There are plenty of options out there that fill all these categories.
Belt Options and Examples
There are many great belt options for modern CCW practitioners. Let's look at a few different EDC belts which are all great options.
KORE Essentials Track Gun Belt
I have been using this belt for well over two years now, just about every day. The KORE belt is a universal belt fitted by cutting the excess length off, then installing the buckle.
One remarkable feature of the KORE belts is the variety of styles from which you can choose. You can select the buckle style and even the material finish. Whether you want a ridged tactical or classy leather look, they are all options.
This belt handles all four of the categories listed above well. This belt is made of high-quality materials, features sturdy construction, is highly comfortable and is very convenient to wear and adjust.
A unique feature of this belt is the Track ratcheting system, which offers a very large adjustment range. This also brings me to my next belt… or should I say NEX belt…
NEXBELT Supreme Appendix EDC Belt
What is so cool about this belt? This belt was designed specifically for appendix carry. Of course, you can use this belt for any type of carry that you prefer. However, the buckle is about half the size of all other options out there for the ratcheting-track type belts.
The Nexbelt features technology that is very similar to KORE; however, instead of using a small lever to loosen the belt, this uses a button. Again, this belt smacks all four categories listed above and is an excellent choice for an EDC belt in my opinion.
We The People Gun Belt with Talon Buckle
I'm going to be upfront about this one: it is one of my favorite belts that I own even though I don't wear it as often as the two previously mentioned. The We The People (WTP) gun belt is the sturdiest one I own. The buckle is solid, and its action is also very smooth. To adjust the belt, you loosen the Velcro tail, adjust, then apply the Velcro tail.
The sturdiness surpasses the mentioned belts above. But why don't I wear it as often? That is simply because the belt is slightly less convenient to put on than the ratcheting-type belts. To wear the belt, I must first remove the buckle to snake it through my pant belt loops. This is an easy process; however, it is less convenient than the ratcheting belts. This belt absolutely wins for the quality, sturdiness and comfort categories, but slightly lacks in the convenience category.
Conclusion
If you haven't noticed yet, I am passionate about my EDC life. The belt, though often underestimated, is one of the most critical pieces of your EDC loadout. Don't let your pants fall down by making a bad choice. Use a belt that is built for the task.
Editor's Note: Please be sure to check out The Armory Life Forum, where you can comment about our daily articles, as well as just talk guns and gear. Click the "Go To Forum Thread" link below to jump in!
Join the Discussion
Featured in this video
Continue Reading
Did you enjoy this video?
76