Why I Chose the 1911 TRP Operator
March 31st, 2021
4 minute read
The 1911 is a solid design. It would have to be considering it has more than a century under its belt and is still around. But which one would be right for me? There are so many choices out there, picking one can be a bit daunting.
I was looking for a handgun to carry around the farm and at home for personal protection. Well, the Springfield Armory 1911 TRP (Tactical Response Pistol) Operator hit the radar screen and I wanted to see if this was the ticket. Could this semi-auto be the right one for me?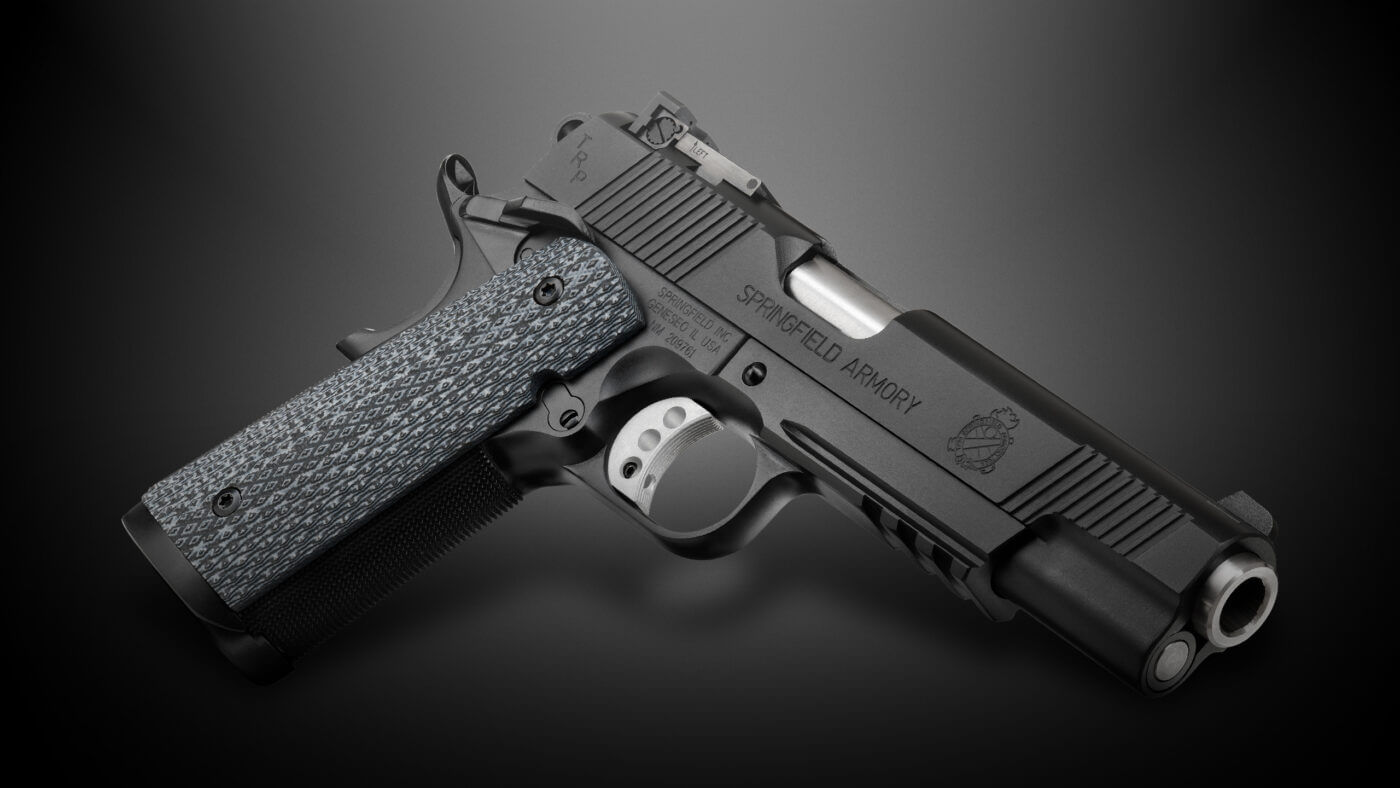 The Details
The TRP Operator is loaded with features you would expect to find on a high-end custom rig. For starters, those VZ Alien G10 grips not only look business-like, but they also provide an aggressive texture with olive hue coloration. Sweaty palms – no worries. The not-so-subtle texture will keep your hands from slipping if moisture becomes an issue. The Octo-grip checkering on the mainspring housing and frontstrap complements the gripping surface.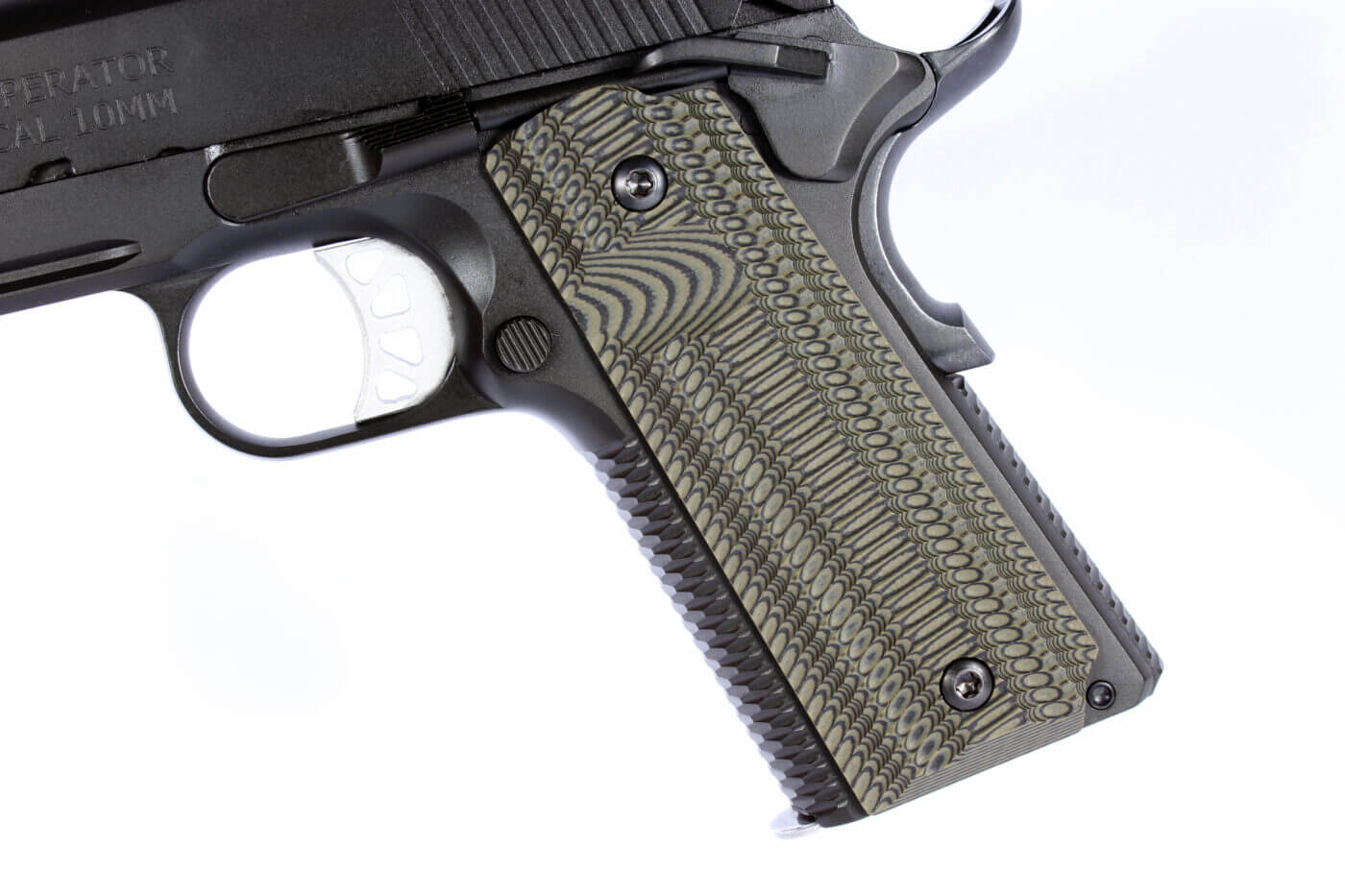 I found the grip surface very comfortable, offering a most secure grasp as well. The left side of the grip panel features a cut-out groove allowing the shooter's thumb to access the magazine release painlessly.
Fully adjustable three-dot tritium night sights are featured on the Operator. Target acquisition was quick and painless thanks to the three-dot system. In low light conditions, those tritium night sights are most welcome. The fully adjustable sights are a real asset when shooting different bullet weights, so having the capability to adjust sights accordingly becomes essential. Should you ever need to swap the sights on your TRP, the process is straightforward.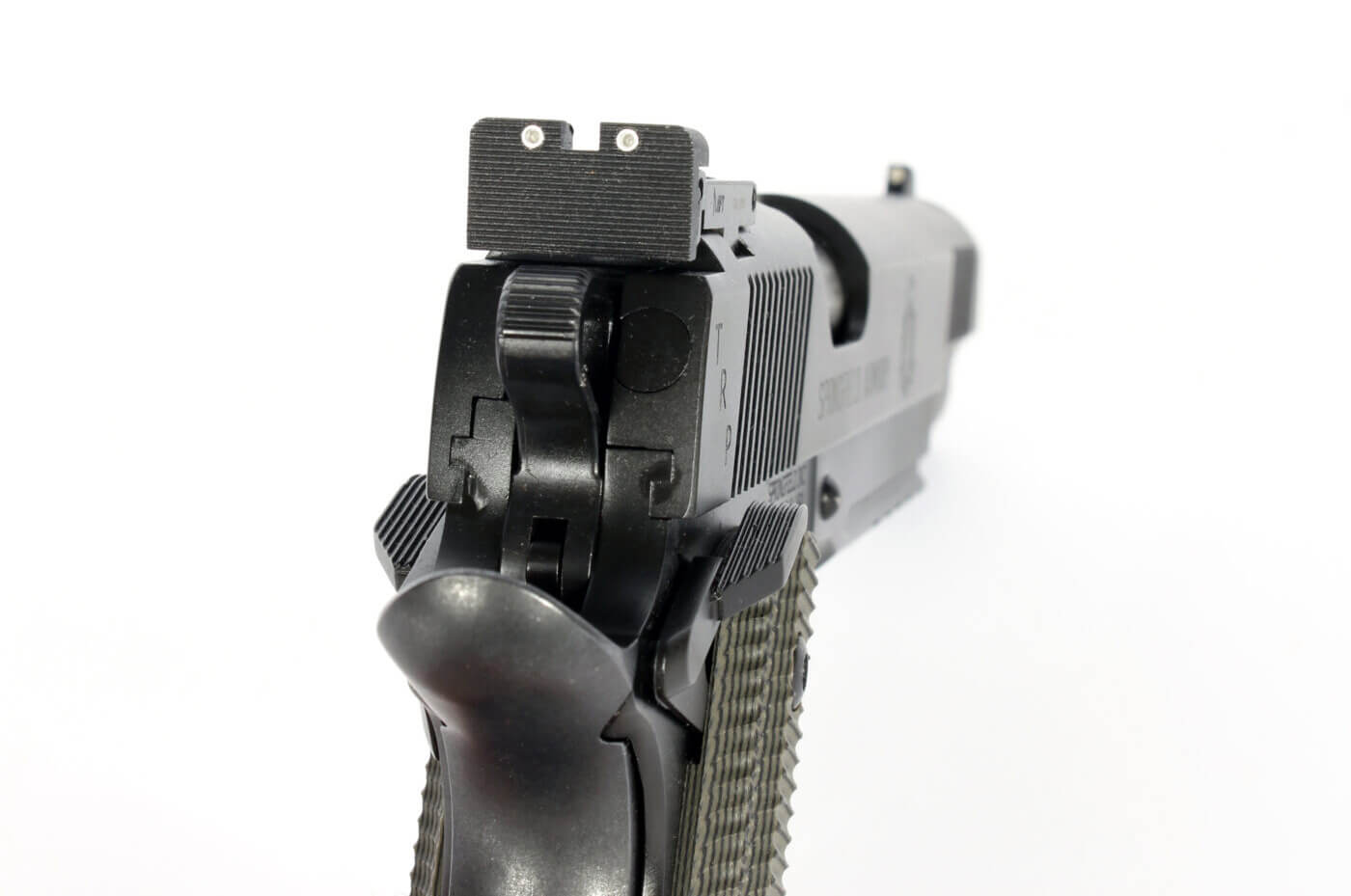 For top downrange performance, I appreciated the stainless match grade, fully supported bull barrel. The TRP Operator tips the scales at 45 ounces with an overall length of 8.6". The weight makes range sessions with factory ammo pleasurable. Even shooting considerable rounds in one session, the recoil doesn't beat you up.
The forged carbon steel slide features generous gripping serrations, front and rear. An integrated picatinny rail in front of the triggerguard is handy for mounting lights, lasers or accessories if needed. The triggerguard itself is typical of any 1911 with enough room for shooting with gloves in colder climates. The recoil system is comprised of a GI style, 18.5 pound recoil spring with plug.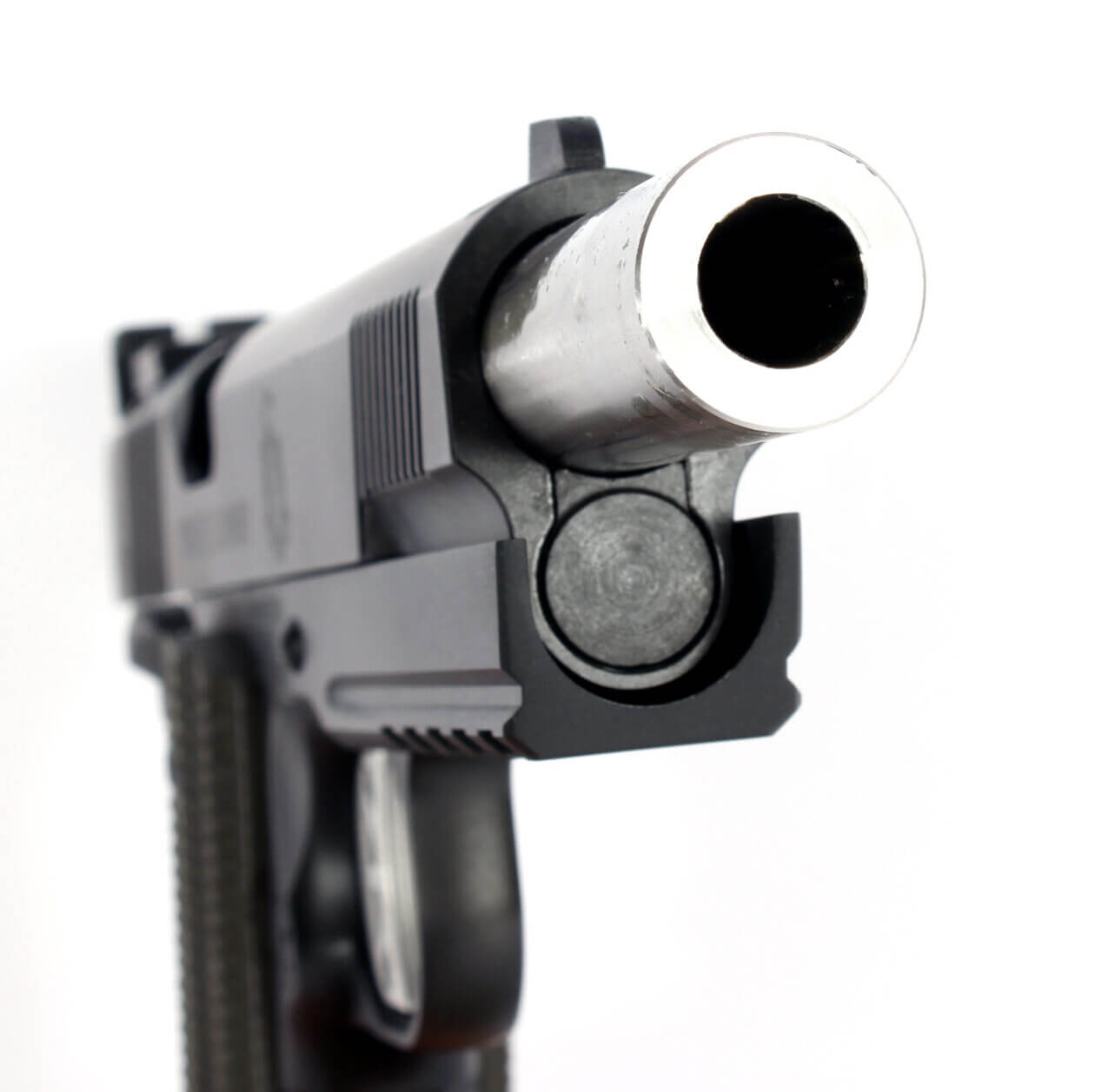 Both the hammer and trigger have been skeletonized. The trigger on my test gun broke nicely at 4.98 lbs. according to Lyman's digital trigger gauge. An ambidextrous safety comes standard on the TRP. Both the safety levers and slide stop wear subtle serrations. The extended beavertail keeps the slide from ripping precious flesh.
Range Time
A range test was in order so I loaded the truck with a variety of factory ammo and set up targets at 25 yards. A good shooting buddy accompanied me and I soon discovered this was a mistake taking him along. After a few sight adjustments during the first few rounds, we started shooting five-round groups. I had a wide variety of factory ammo to test. The TRP Operator has a good trigger which was a benefit. The weight factor really makes this an enjoyable pistol to shoot both from the bench off sandbags and off-handed.
During our range session we burned up 200 rounds from several different factory offerings. We did not encounter one hiccup, jam, or any other mishap during the afternoon. The TRP Operator was not finicky as it functioned properly for all 200 rounds with different bullet weights.
I have thoroughly enjoyed shooting the TRP Operator. As a matter of fact, with deer season approaching, a 10mm longslide example I own will be heading out to the field with me.
Conclusion
The Springfield Armory 1911 longslide is a worthy candidate for anyone looking toward owning a premium pistol. It ships with two seven-round magazines in a nice black, zippered case. Now I'll be heading back to the range for more practice, only this time I will not be taking my young friend who outshot me! A guy can only get embarrassed so much!
Editor's Note: Please be sure to check out The Armory Life Forum, where you can comment about our daily articles, as well as just talk guns and gear. Click the "Go To Forum Thread" link below to jump in!
Join the Discussion
Featured in this article
Continue Reading
Did you enjoy this article?
119