Why Your .300 BLK Won't Work…
November 19th, 2020
4 minute read
One cartridge that has taken ahold of the modern sporting rifle industry and appears to have strong staying power is the .300 AAC Blackout round. Often referred to as simply .300 BLK, it is simply a close cousin of a .223 Rem casing (technically .221 Fireball) that has a .30 caliber bullet placed in its upsized case mouth.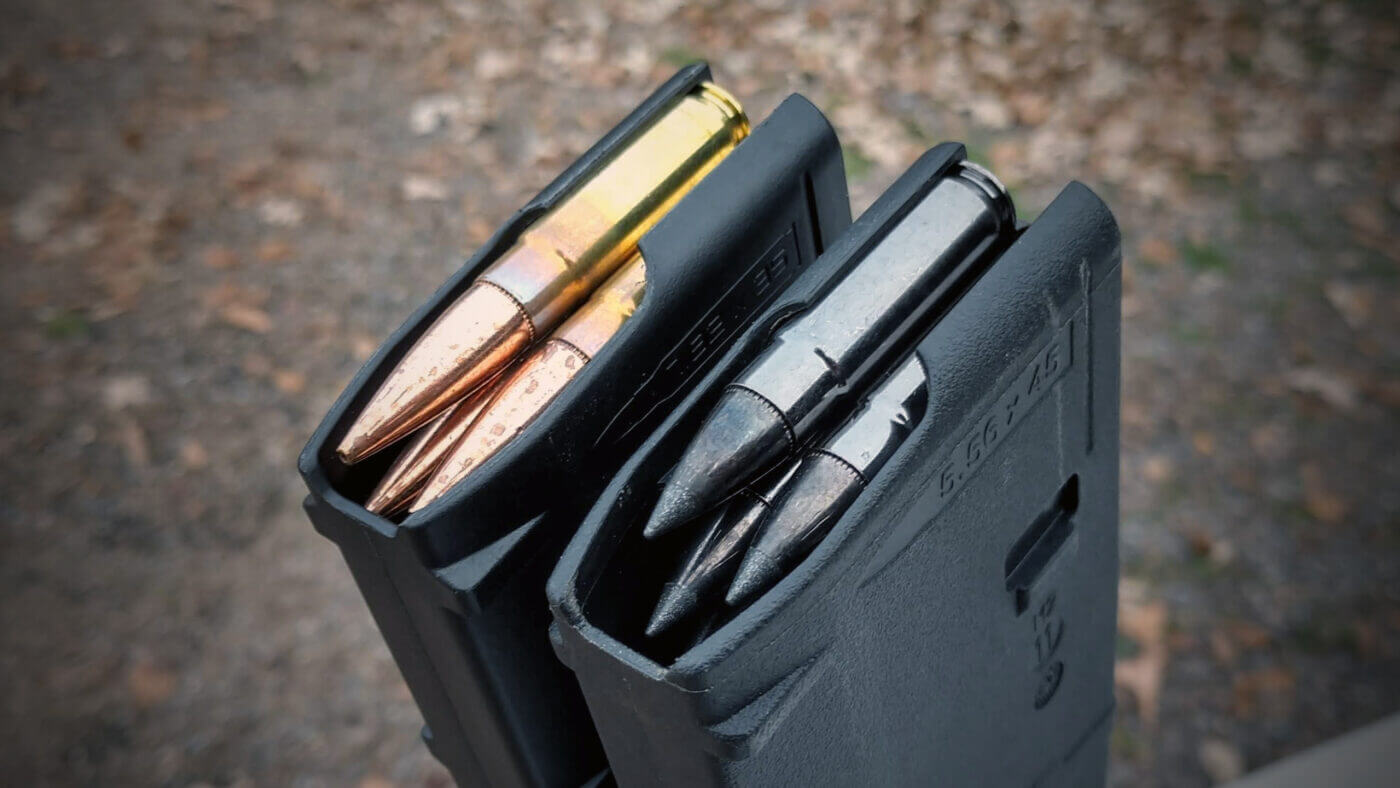 Odd, yes, but it has a lot of benefits for hunters and shooters alike. You gain a .30 caliber cartridge that can be fired from a traditional 5.56 NATO/.223 lower receiver (What's the difference between 5.56 and .223? Click here to find out.), you have the overlap of a 5.56 NATO/.223 bolt-carrier group (BCG), and you can use 5.56 NATO/.223 magazines as well… sort of. While there are a ton of advantageous crossovers from the .300 BLK to our beloved 5.56 NATO rifles, you might want to reconsider using your 5.56 NATO/.223 magazines for .300 BLK.
Failure to Launch?
Shooters who join the .300 BLK bandwagon may attribute issues they experience in failure-to-feed (FTF) or failure-to-eject (FTE) to their rifle when in fact, they should take a more discerning look at the magazines they are using.
A battery of .300 BLK owners might experience perfect functioning of 5.56 NATO/.223 magazines with their .300 BLK firearms, while others may bellow about their woes and despair. So, who is right? Potentially both.
The unknown issue many .300 BLK shooters are combating without even knowing it is their 5.56 NATO/.223 magazines will not reliable feed all grain weights and bullet profiles of the .300 BLK. It may work exceptionally for some and mediocre at best for others. This is where a dedicated .300 BLK magazine can be tremendously useful.
The leader in the shooting industry for modern sporting rifle magazines is Magpul, and their .300 BLK magazines have an "optimized internal geometry that accommodates a wide variety of .300 BLK cartridges." In layman's terms, that is exactly what we are looking for — a magazine made for the varying bullet types, grain weights and shapes that come with the .300 BLK cartridge.
A Range of Options
The reason why a dedicated .300 BLK magazine is so crucial is because of the wide grain weight range .300 BLK works in. You can find factory, boxed ammunition anywhere from a 110-gr. bullet all the way up to 220 grains. This unique cartridge, not surprisingly, has a varied grain weight range. Once you couple in the fact that ammunition and reloading component manufacturers produce extremely diverse bullet geometry as well, it is becoming clearer as to why you need dedicated .300 BLK magazines.
The alternative to not using an actual .300 BLK magazine is to employ a 5.56 NATO/.223 magazine and then exercise more than stringent ammunition management to ensure a failure does not occur. The alternative of using the correct magazine is beginning to sound more and more appealing. With a magazine follower designed around the varying profiles of .300 BLK, a larger cut for rounds to exit the magazine, and feed lips that are equally engineered for the spectrum of bullet shapes, a dedicated .300 BLK magazine is truly the way to go.
Marking Your Course
Another reason as to why a dedicated .300 BLK magazine would be beneficial is the markings on them. Using a Magpul magazine again as our example, they deploy a "distinct rib design and smoother upper-half texture… this provides the shooter a distinct visual and tactile difference from any other PMAG to mitigate dangerous cross-loading issues."
While the cross-compatibility of our .300 BLK and 5.56 NATO rifles is highly desirable, it could be a potential risk if we do not check ourselves and make sure we are putting the right rounds into the right firearm. So, having a dedicated .300 BLK magazine will not only help safeguard against such risks, it will also guarantee more reliable functioning and feeding for your firearm.
Conclusion
So while some of us have chased after .300 BLK for its usefulness in hunting medium-size game, potentially defense, or even for the recreational enjoyment of the round, it's safe to say that we will all experience more pleasurable range time with a dedicated .300 BLK magazine for our .300 BLK firearms.
Editor's Note: Please be sure to check out The Armory Life Forum, where you can comment about our daily articles, as well as just talk guns and gear. Click the "Go To Forum Thread" link below to jump in and discuss this article and much more!
Join the Discussion
Featured in this article
Continue Reading
Did you enjoy this article?
101