The semi-auto handguns that I cut my teeth on when I was young were double-action / single-action guns. Back then, they were huge blocks of solid steel that doubled as weight training tools if you were doing draw and fire drills. For a couple of decades now, the polymer striker-fired pistol has ruled the market – both for civilian buyers and LE contracts.
The move from one to the other is as distinctive as two clear geological epochs viewed in the exposed sedimentary bedrock of our planet. The bottom layer contains, along with dinosaurs, those hammer-fired DA/SA pistols. The fresher top layer – the more evolved and civilized striker-fired gun. Even the U.S. military has moved over to the poly-striker configuration, and they are rarely given to the whims of fad or fashion.
Another Option
But what if you like the DA/SA configuration, but you also prefer the lighter, simpler, and generally less expensive polymer-framed form factor? If you didn't already know, Springfield Armory makes just such a gun – the XD-E. As its name suggests, it is part of the XD family of polymer-framed handguns – more specifically akin to the single-stack best selling XD-S. In fact, for all intents and purposes, the most significant difference between the XD-S and XD-E is that the latter is a hammer-fired DA/SA pistol rather than striker-fired.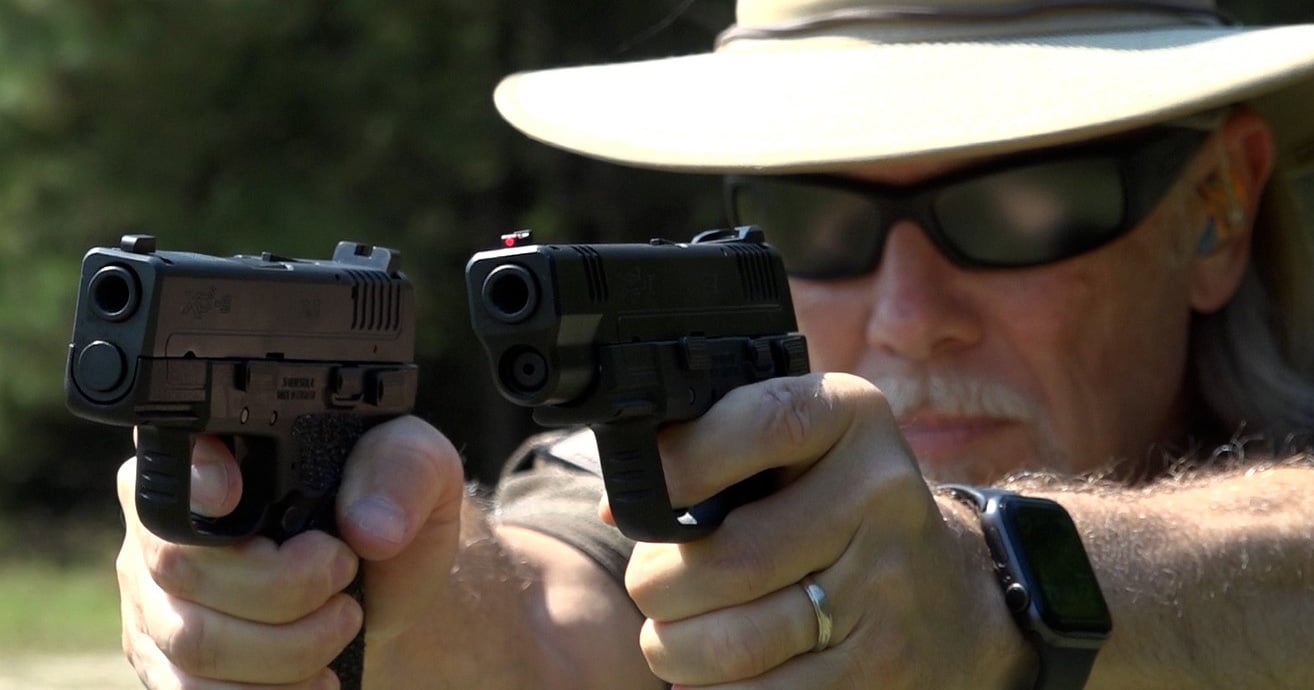 This design was immediately interesting to me since as mentioned, I really like a nice hammer-fired pistol – but I also appreciate the lighter and smaller polymer guns for practical use and carry. I chose a 3.3-inch XD-E from Langdon Tactical. If you are not familiar with Earnest Langdon's company, they take high-quality handguns with DA/SA hammer systems direct from the manufacturer and work some custom magic to the trigger and apply a few extra touches. I immediately applied a Talon Grip (Pro texture) to it, and have enjoyed it immensely.
Apples to Apples?
But it's human nature to always wonder just was behind door #3… and I've wanted to compare the Langdon 3.3" XD-E to a factory stock 4.5" XD-E direct from Springfield Armory. Well – that time is now! With the new 4.5" and the 3.3" in hand – I headed off to the range. The big question for me – do I shoot one better than the other, and if so… why?
My initial surprise with the 4.5" stock gun was the trigger. I anticipated a night and day difference between the Langdon trigger and a stock factory one. And while I can feel a difference, it is nowhere near what I thought it would be. The stock trigger in the XD-E is very nice! The double-action pull is long, as expected, but silky smooth with no grit that I could feel. It has a nice break and a good reset.
The factory sights are not just good enough – they are excellent. Although a different style from those on the 3.3" custom gun, they are highly effective and make a great sight picture. The front red fiber optic sight needs very little ambient light to glow brightly.
To ultimately answer the question of whether I shoot one better than the other – I fired several groups at targets from various distances with different ammo. The final results were so close, that I could not say that one favored the other in my hands. With its aftermarket sights, the 3.3" printed groups were a bit high – but they were good groups. The 4.5" with factory sights put the hits dead-on aim point – or, as close as this feeble shooter can do!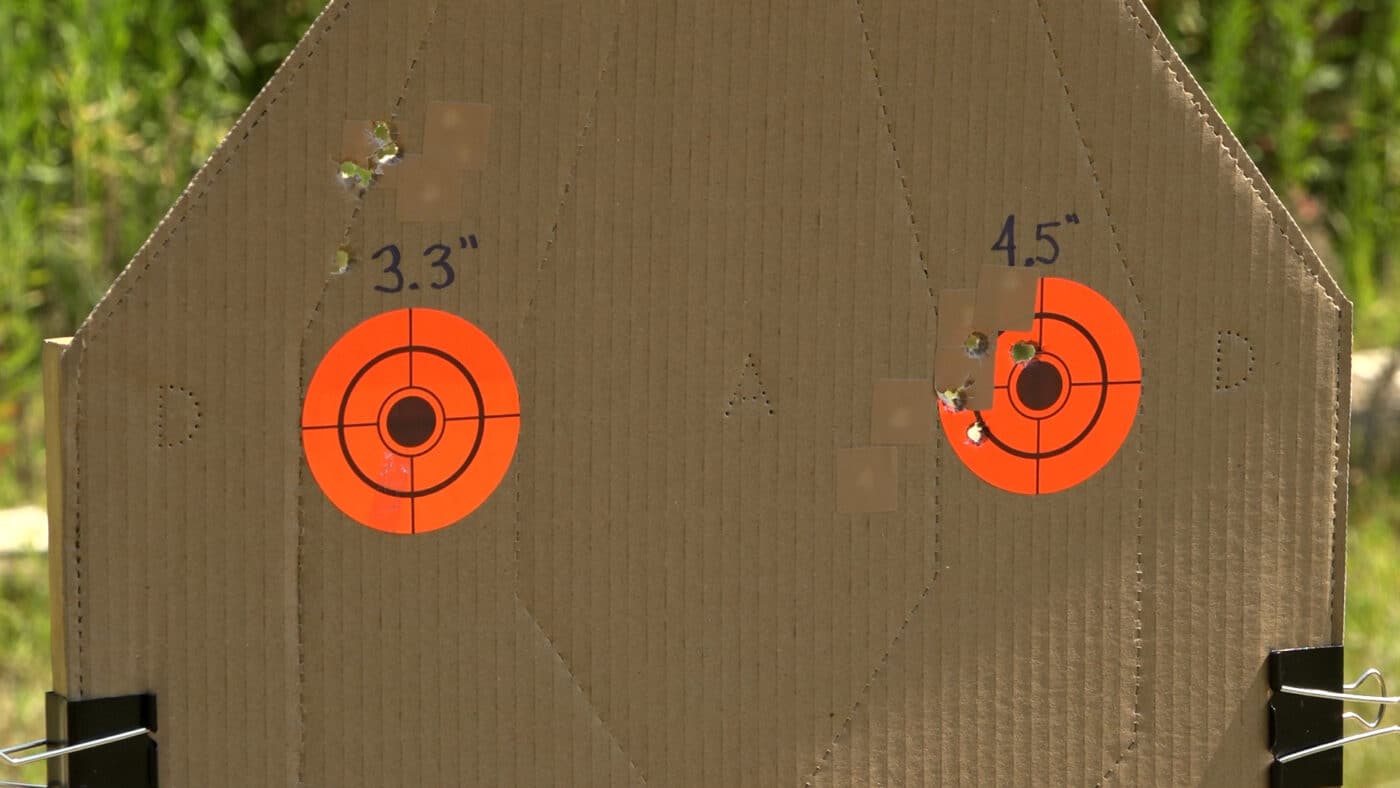 Conclusion
My conclusion is that a choice between these two sizes of the XD-E is simply a size preference. Even with all the extras of the custom treatment to the 3.3" version – the 4.5" stock gun kept pace!
For another view on these pistols, check out Richard Johnson's review of the Springfield XD-E. He took the mid-sized 3.8″ model for a test and bought it post evaluation. I guess he likes them too.
Editor's Note: Please be sure to check out The Armory Life Forum, where you can comment about our daily articles, as well as just talk guns and gear. Click the "Go To Forum Thread" link below to jump in and discuss this article and much more!
Join the Discussion
Featured in this video
Continue Reading
Did you enjoy this video?
50