A Cop's Perspective on the Streamlight
TLR-1 HL FDE
March 5th, 2023
5 minute read
I've worked with, evaluated and used Streamlight lighting products for many years as a law enforcement officer. I've worked the streets on routine patrol, as a member of a county SWAT team and in an off-duty capacity over the last 36 years.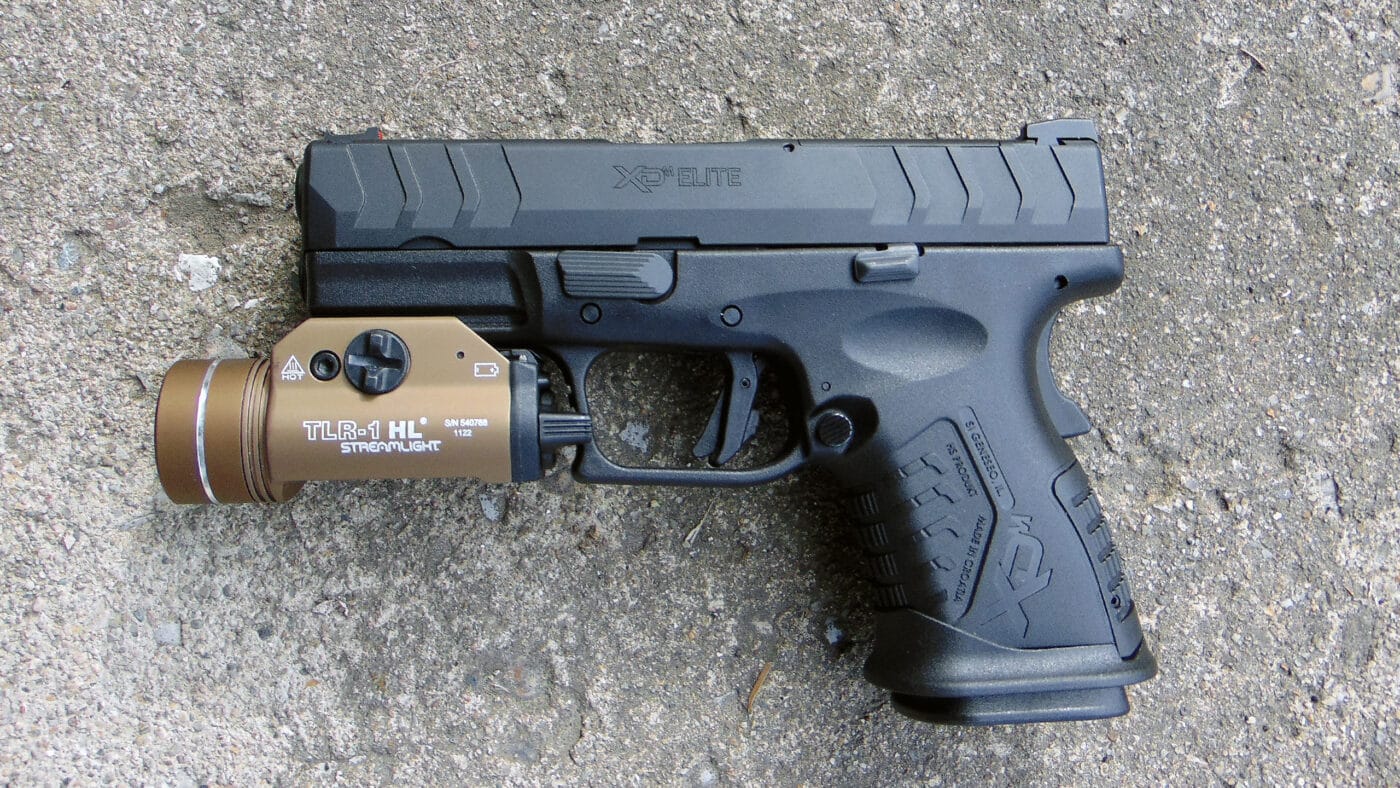 The first Streamlight product I ever owned was a magnificent rechargeable SL-20 I had purchased used from a fellow officer in 1986. It was rated at 20,000 candlepower and blew away any of the other incandescent battery-operated lights then available. And that 450 lumen LED SL-20 is still available today.
During the last 10 years of my active law enforcement career, I carried Streamlight weaponlights mounted on various duty handguns — particularly the TLR-2 units that include a laser sighting module below the LED lamp. However, I always backed up the pistol-mounted weaponlight when on duty with a full-sized patrol flashlight as well as a belt-mounted tactical light for emergency back-up — which again were mostly Streamlight products.
I became accustomed to carrying pistols with tactical weaponlights affixed during the research for my first book Own the Night: Selection and Use of Tactical Lights and Laser Sights (2009). Back then, the most powerful weaponlights for pistols were around 100 lumens. This seems unbelievably low now, especially considering the subject of this particular review is the 1,000 Lumen Streamlight TLR-1 HL Weaponlight.
TLR-1 HL: A Worthy Addition
The TLR-1 HL is one of several TLR-1 models currently available. Because of its great success, the TLR-1 would rapidly evolve into an extensive series of weapon lights suitable for handgun and long-gun applications. Today the series runs from the TLR to the TLR-10.
The TRL-1 group includes four different models — the 300 lumen TLR-1, the 1000 Lumen TLR-1 HPL that features a 490 meter beam distance, the 300 lumen TLR-1S that includes a strobe setting, and the TLR-1 HL. For me, it's the TLR-1 HL that takes things to a new level.
The HL version of the TLR-1 features a 1,000 lumen LED Lamp, which is the same size as the 1,000 lumen lamp on the TLR-2 HL G (green laser) that I also have. Unlike the 1,000 lumen Lamp on the TLR-1 HPL, the 1,000 lumen lamp is designed for much closer range searches — such as room/home/property perimeter — due to its wider-focus 283 meter beam distance. The TLR-1 HPL is best suited for use on a tactical rifle set-up.
Streamlight products are rock-solid durable. Their LED lamps will last for 50,000 hours of continuous use — which is 2,083 continuous days/5.7 years of full-power operation. I've yet to see one fail and I've never had a fellow cop tell me "Hey, guess what happened to me last night? My flashlight's LED lamp burnt out!"
TLR-1 Specifications
Case Materials
6000 series machined aircraft aluminum
Dimensions
Length: 3.39 in.
Width: 1.47 in.
Height: 1.44 in.
Weight
4.32 oz (122.5 grams) with included CR123 lithium batteries
Lens
High temperature, shock mounted, impact resistant Borofloat® glass; white gasket sealed.
Light Output
1,000 lumens, 20,000 candela peak beam intensity and 283m beam distance. TIR optic produces a concentrated beam with optimum peripheral illumination. Optimized electronics provide regulated intensity.
Power Source
Two 3-volt CR123A lithium batteries
Operation
Ambidextrous momentary/steady on-off switch. Double tap of momentary paddle within 0.4 seconds activates strobe. Strobe can be disabled.
Run Time
1 hour of regulated run time and 1.5 hours to 10% output
Features
Operating temperature: -40°F to +120°F. IPX7 rated design; waterproof to 1 meter for 30 minutes. Serialized for positive identification.
Warranty
Streamlight's Limited Lifetime Warranty
Price
Available on Amazon for $146.91
The Perfect Pairing
I requested a Flat Dark Earth Brown sample of the TLR-1 HL from Streamlight for review, since the color stands out nicely for photographic purposes against the black frame and slide of the 10mm Springfield XD-M Elite 3.8" Compact OSP I used for this article.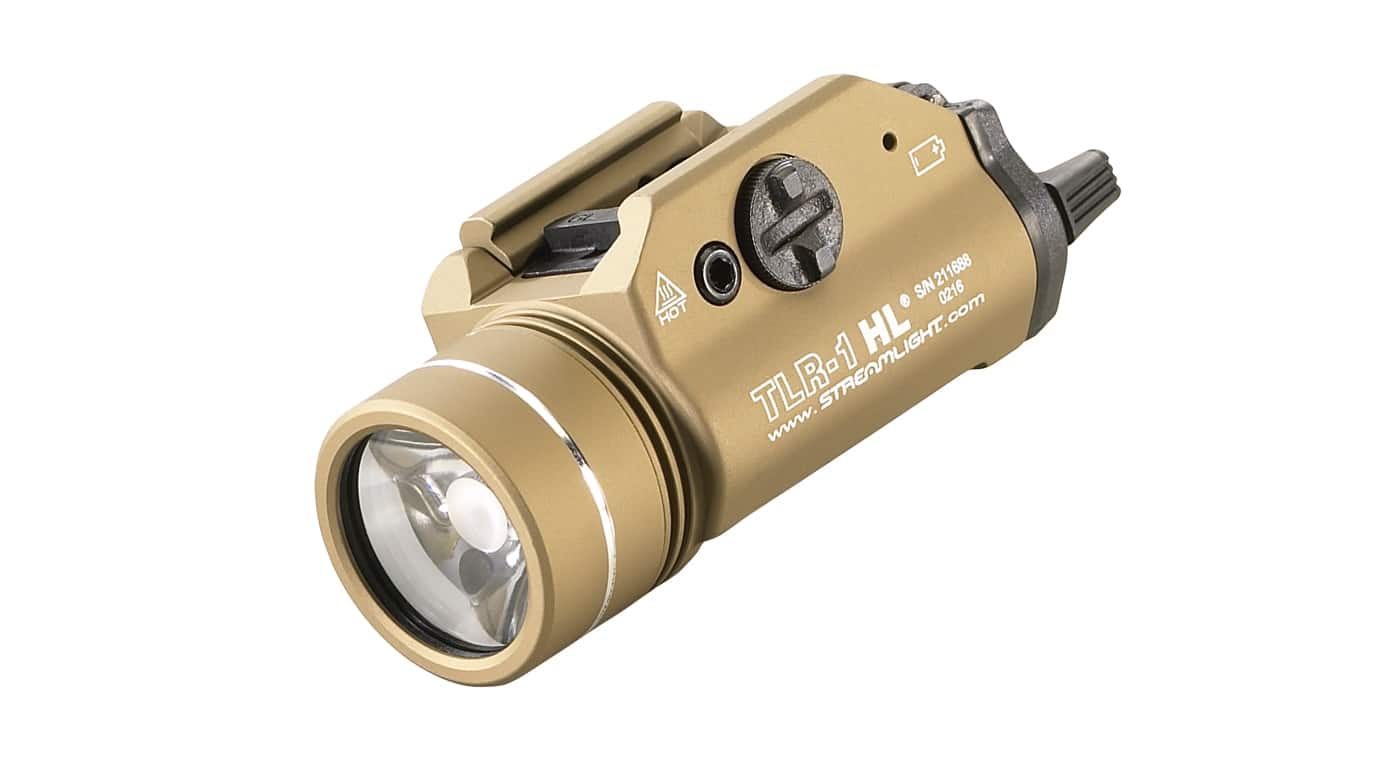 The pistol is a mid-sized polymer-framed pistol chambered for the most powerful standard semi-automatic pistol cartridge on the planet — the 10mm. I had been working in law enforcement full-time for two years when the 10mm was introduced by Norma Ammunition. I've always had a great deal of admiration for the 10mm and carried one on duty for two years. After all the teething issues the 10mm had initially — including cracked frames on some early 1911 pistols — I was amazed that this powerhouse of a round could ever be chambered in a compact, polymer-framed handgun — but it is totally at home in the XD-M envelope!
Streamlight has one of the easiest weaponlight mounting systems on the market in my opinion and has used the same system as long as I have worked with their products. They also have one of the best paper manuals in the industry with diagrams included with their products. No need to watch a YouTube video for mounting and operation.
On the left side of the TLR is the "rail clamp tension bolt", which has two small protrusions for hand tightening on the rail. There is what appears to be a wide screwdriver indentation for tightening. However, don't use a screwdriver. The indentation is perfectly sized to fit a quarter, which has proven to be the best tool for tightening the unit to the rail, and a quarter won't mar anything like a screwdriver might. Five rail keys are included to lock the light into place.
The TLR-1 HL's lamp extends 1" beyond the end of the slide when mounted on the short 3.8" barrel of the XD-M Elite. However, it's not a problem operationally. But, be aware that extensive shooting will require you to wipe the lens with a soft cloth or lens cleaner after firing to clean off the powder fouling.
All TLR weaponlights use a toggle switch for operation. When mounted, the ambidextrous control paddles extend just past the front of the triggerguard where they can be operated by either trigger finger. For right-handed shooters, pushing down with the right trigger finger locks the TLR-1 into the "on" position from the center "off" setting. Simply push up to shut off. Pushing up with the right finger is the momentary-on setting. Removing pressure shuts the light off. "Double-tapping" the switch when pushing up activates the "strobe" mode. The strobe mode can be locked out if desired. For left-handed shooters, pushing the toggle switch up on the left side locks the light into "on" while pushing the toggle down activates the "momentary" and "strobe" modes.
Wrap-Up
It's important to reiterate that I've never had any Streamlight product fail outside of the batteries — that goes for the lamp and the laser module, alike. I staked my life on them during 10 years of patrol with the final police department I worked for — weaponlights and handheld flashlights, alike.
Editor's Note: Be sure to check out The Armory Life Forum, where you can comment about our daily articles, as well as just talk guns and gear. Click the "Go To Forum Thread" link below to jump in!
Join the Discussion
Featured in this article
Continue Reading
Did you enjoy this article?
59