Weapon-mounted light technology has come a very long way in the last few years. In this review, I take a look at one of the newest tactical lights from Streamlight: the TLR-9.
I still remember the Surefire light on my M4 I was issued when I first got into the Rangers. It was about 100 lumens. Most of us will laugh at this in today's world, but it was not long ago larger lights gave far less visible light. Fast forward several years, and a pistol-mounted light is now 1,000 lumens of punishing ultra-white light.
In this piece, I'm going to evaluate the new Streamlight TLR-9 weapon light, as well as consider what lumens and candelas are, and how much they matter. Check out my video above as well as the rest of this article below.
What's the Difference, Anyway?
Streamlight has a long history of making high-quality lighting solutions. Quite a bit has changed on the TLR-9 as compared to previous lights Streamlight has offered.
One of the biggest changes compared to prior lights is this one uses a linear battery design, making it quite a bit skinnier than the company's previous flagship light, the TLR-1HL.
Thinness does come at a cost, however, and that cost is an increased length. Noticeably longer than the TLR-1, the TLR-9 is really only meant for full-size or long-slide pistols. The new addition to the Streamlight lineup fits great on the Springfield XD-M Elite Tactical OSP it was tested on and comes almost perfectly flush with the barrel.
On the unit, we get a choice of high or low switches that are far better for me than the toggle-style for which Streamlight is usually known. I personally prefer the high switch combo as it causes me to move my hand less during activation. From a top down perspective, the thinner profile is going to be about the same thickness as most modern striker-fired pistols and slightly wider than a 1911 profile.
A quick note: all flashlights are tools that require specialized training. Make sure you know how to use a weapon light properly before strapping one to your carry gun.
Do Lumens Matter?
Lumens do in fact matter, but a lot of people don't understand what they are. Lumens is a unit of measurement for the total, unfocused light output of a flashlight. At the simplest, lumens are the raw horsepower of the LED diode.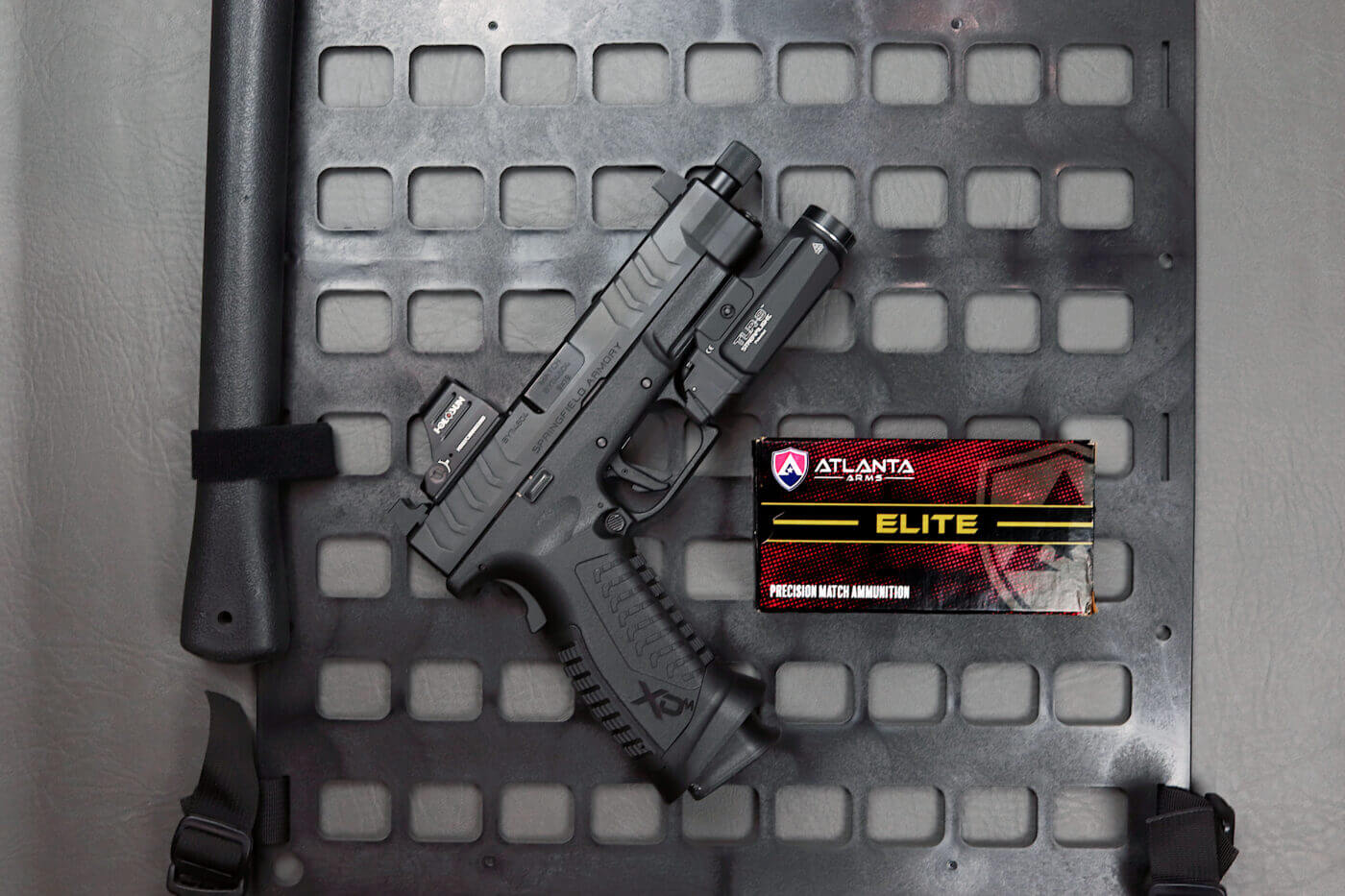 To my mind, what really makes lights powerful is the quality of the glass, reflector housing, angles of the reflector housing, and depth of the LED.
With all of these elements in mind, Streamlight has given us a slim light with 1,000 lumens to total light output. Additionally, the light throws a beam with a peak intensity measurement of 10,000 candelas.
Oh boy, another term — and yes, it means something. Candela is the unit of measurement for the peak beam intensity, or the focused power of the light. For my way of thinking, this is what really counts.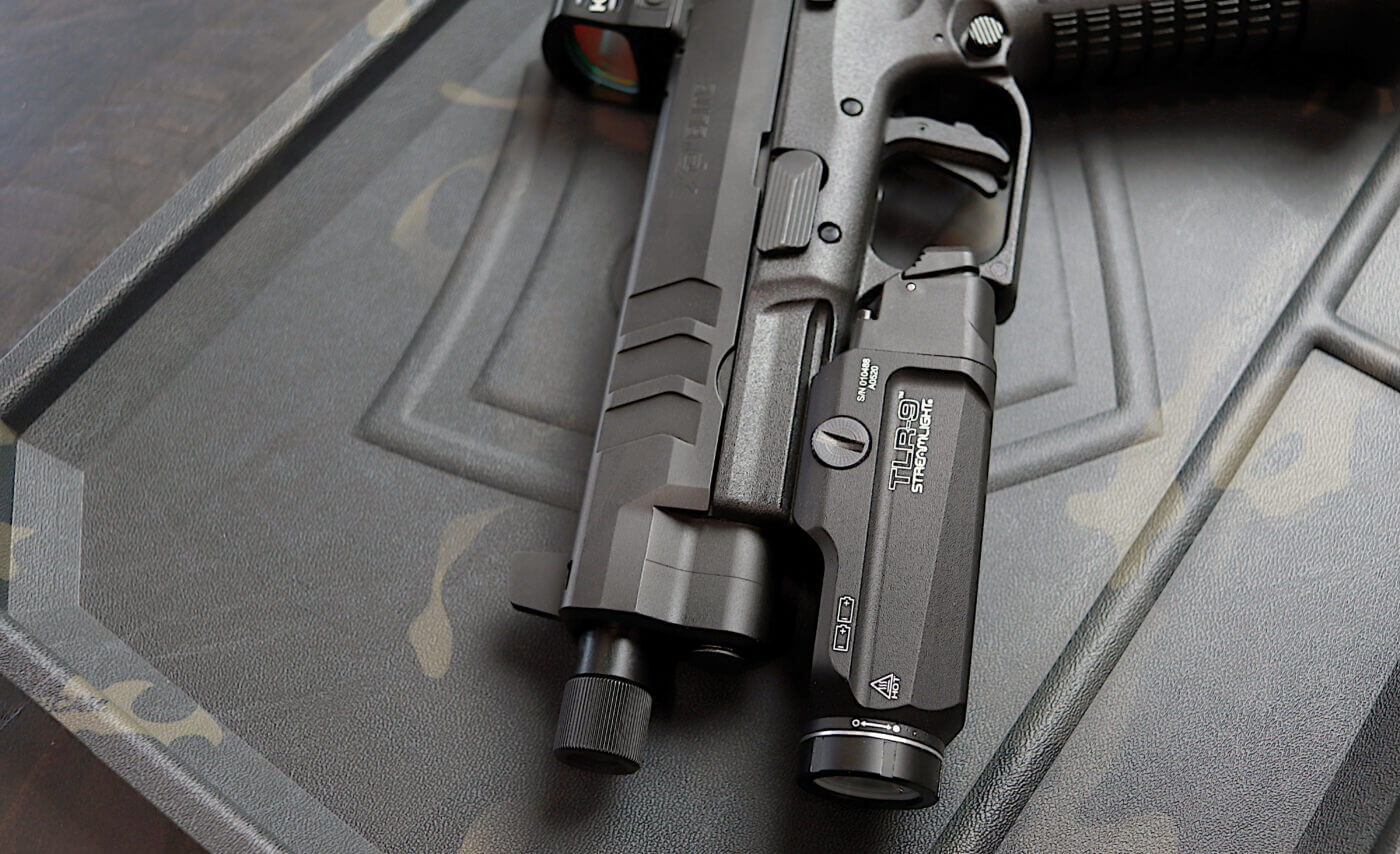 Oftentimes you will hear light referred to as a beam, throw and spill. Well, the candelas is the unit of measure for the intensity of the beam that determines the distance or throw. I know it sounds like a lot, but it really isn't. The higher the number of candelas, the longer and more focused the beam is for a given total light output (lumens).
To illustrate my point, assume you have two tactical flashlights, both with a measured output of 1,000 lumens. Flashlight A has a peak beam intensity of 5,000 candelas while flashlight B has a measurement of 20,000 candelas.
Both A and B are emitting the same amount of light. However, A has a wider spread of light that is better suited for illuminating wide areas over a short distance. Flashlight B is better suited for illuminating a target at a longer range while losing some of its spill into nearby areas.
TLR-9 Specifications
| | |
| --- | --- |
| Model | TLR-9 |
| Total Light Output | 1,000 lumens |
| Peak Beam Intensity | 10,000 candelas |
| Beam Distance | 200 meters |
| Run Time to 10% Output | 90 minutes |
| Battery Type | 2x CR123 (included) |
| Strobe Option | Yes |
| Water Resistance | IPX7 (1 meter submersion for 30 minutes) |
| Weight | 4.26 oz. with batteries |
| Lens Material | Impact resistant Borofloat glass |
| Body Material | 6000-series aluminum with anodized finish |
| Warranty | Limited lifetime |
In the Home and on the Range
Whether you are thinking of this for a home defense pistol or work pistol, this light is going to give some punishing ultra-clear light in either circumstance. There is a good amount of spill, which we referenced earlier. Spill is that light the projects outward of the main beam and allows you to really see an area.
The spill on this is tight, but still really great for lighting up even a large 30'x20' room. The beam and throw in the center are tight and absolutely punishing if you are on the receiving end of it.
As with any gun accessory, you need to make sure it runs right under realistic conditions. For this review, I spent time on the pistol range with the TLR-9 mounted to the XD-M Elite OSP.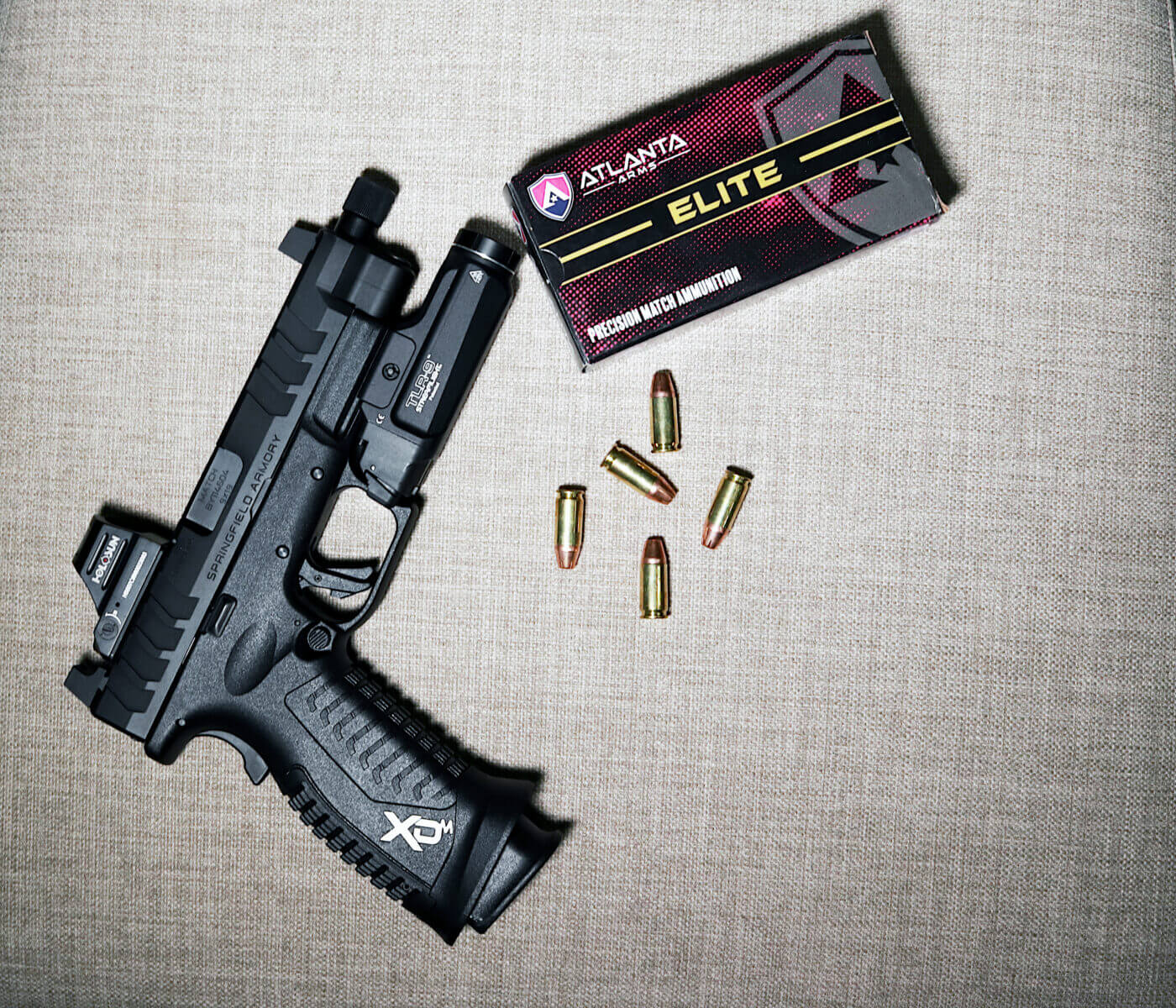 For this range trip, I was running Atlanta Arms ammo. If you are not familiar with the company, Atlanta Arms is an ammunition manufacturer located in Georgia. They make great stuff and supply a number of the law enforcement agencies and academies around the southeast with ammo.
I had a bunch of 115-grain JHP Match ammo to run. It's a moderate load with a 1,100 fps velocity at the muzzle. Accuracy is what makes this a trick load. Atlanta Arms tests this load to ensure it delivers no fewer than five 10-shot groups of 1.25″ or smaller at 50 yards. If you are shooting competition, this is the load to look for.
After a long range session, the TLR-9 continued to function as expected. It simply stood up to the punishment of hundreds of rounds without missing a beat.
Conclusion
The new TLR-9 from Streamlight is a great addition to the company's line and offers users a really good tactical light for their full-size handgun. From its slim dimensions to its capable performance, this one is a great option.
Editor's Note: Please be sure to check out The Armory Life Forum, where you can comment about our daily articles, as well as just talk guns and gear. Click the "Go To Forum Thread" link below to jump in and discuss this article and much more!
Join the Discussion
Featured in this video
Continue Reading
Did you enjoy this video?
37