Are Crimson Trace Riflescopes Right For You?
May 16th, 2021
4 minute read
To say that the AR-style rifle is extremely popular would be a notable understatement. They aren't called "America's rifle" without reason. Homeowners concerned about crime, hunters and competition shooters all own and love their AR rifles.
Unlike some of the old guns of years past, the modern AR-style rifle makes mounting optics a breeze, with strips of Picatinny rail along the top of the upper receiver a very common feature. And with a good multi-purpose rifle like the Springfield Armory SAINT Victor in .308, the proper optic selection is especially crucial to get the most out of the platform.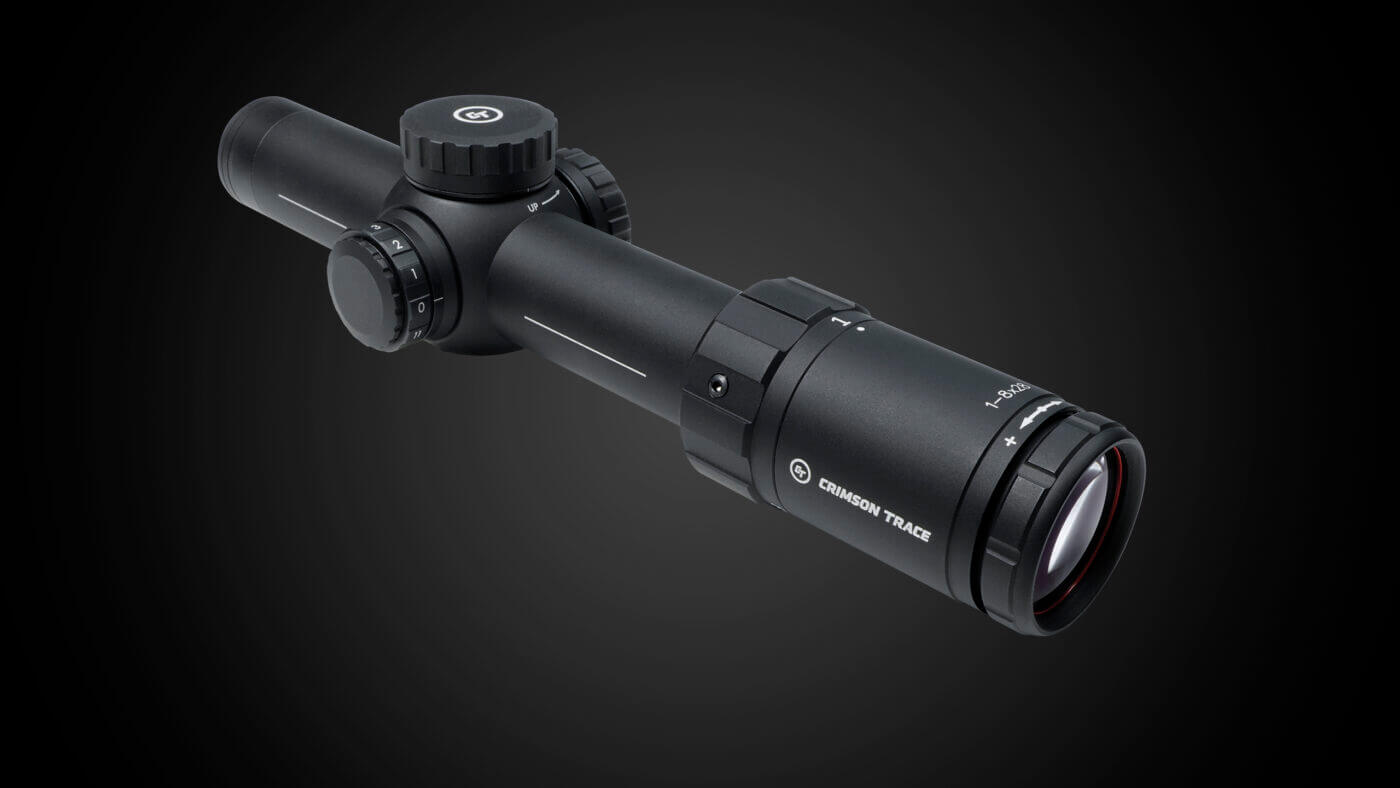 In my opinion, an optic with a range of magnification in the 1-6X to 1-8X range is ideal. So how do you get a quality optic for a good price? Say "hello" to the Crimson Trace Hardline and Brushline product lines.
Solid Foundation
I have extensive experience with Crimson Trace optics on multiple Springfield Armory platforms, including the SAINT Victor .308 rifle. No matter the mission — personal defense firearm or hunting gun — the Springfield SAINT Victor/Crimson Trace combo is hard to beat. The 1-6X magnification range is optimal for most imaginable situations. Up close is not an issue due to 1X, while permitting reaching out and touching something with greater magnification.
The Crimson Trace Hardline and Brushline optics are examples of a well-designed multi-mission capable optical sights. Crimson Trace's attention to reticle design and proper illumination levels are another subtle, yet important advantage.
Frankly, I am not a fan of first focal plane optics for most of my applications. However, with the first focal plane Crimson Trace low-magnification reticles, you have large, well-illuminated circle at 1X with a horseshoe dot reticle at the center drawing your eye to it.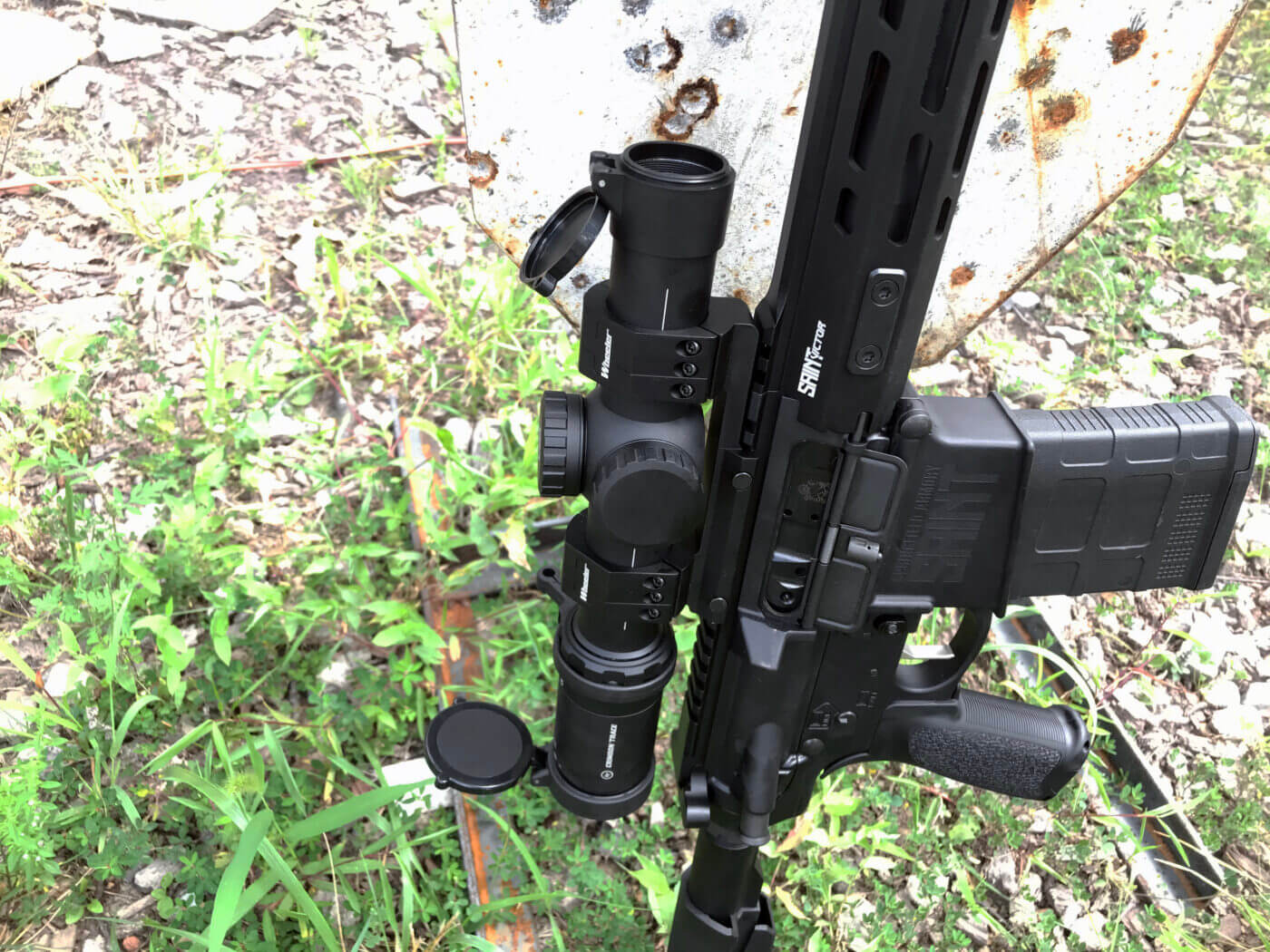 With both eyes open, which is easy with it on 1X, that bright red reticle with horseshoe dot in the middle is easy to find. The Crimson Trace reticles are a major reason for my affinity with these optics.
Are you concerned about running a variable power optic in a close-range environment? A quick introduction of the Bindon Aiming Concept will help assuage your concerns. The brain helps to merge images, especially if a bright illuminated reticle is present. The blurred image within the reticle is compensated by the open eye outside the tube while still preserving the bright aiming point presented on the target.
The Details
The ED glass Crimson Trace uses promotes clarity and light transmission. Crimson Trace optics are nitrogen purged and inspected to verify waterproof/fog proof construction. I have been using Wheeler Engineering rings and cantilever mounts whenever possible with the Crimson Trace optics. The Wheeler mount is tailored towards AR use by setting the optic slightly farther forward on the receiver for eye-relief purposes. The distinctive angled rings are not strictly aesthetic; clamping force is increased to better resist recoil forces. The fold-out level serves to alert the shooter to any canting issues when shouldering the rifle — something crucial for long-range accuracy.
The Crimson Trace low-power magnification variable optics are excellent for close range fast target engagement with shooter still able to precisely place rounds where desired at extended ranges. The Crimson Trace optic is multipurpose both in terms of versatility and roles fulfilled by user i.e. tactical, competition or hunting.
Conclusion
Without a doubt, a Springfield Armory SAINT Victor .308 with a Crimson Trace low-powered optic will change users' thoughts on how a .308 can be employed. Springfield Armory made a conscience effort with the SAINT Victor to harness .308 potential without sacrificing traditional AR handling. In terms of raw power, the SAINT Victor .308 delivers more than twice the energy on target than a 5.56mm in a comparable barrel length. And the Crimson Trace optic takes full advantage of this potential. Oh, and don't worry. Crimson Trace also offers a full selection of higher-powered variable magnification scopes if that's what you're looking for.
Editor's Note: Be sure to check out The Armory Life Forum, where you can comment about our daily articles, as well as just talk guns and gear. Click the "Go To Forum Thread" link below to jump in!
Join the Discussion
Featured in this article
Continue Reading
Did you enjoy this article?
35