There are tons of battle belts on the market currently, but in our mind, there is one that stands out among the rest. You can scour the internet and find a plethora of battle belts. However, the one we wanted to talk about today is the Blue Alpha MOLLE 1.75" Double Belt Rig.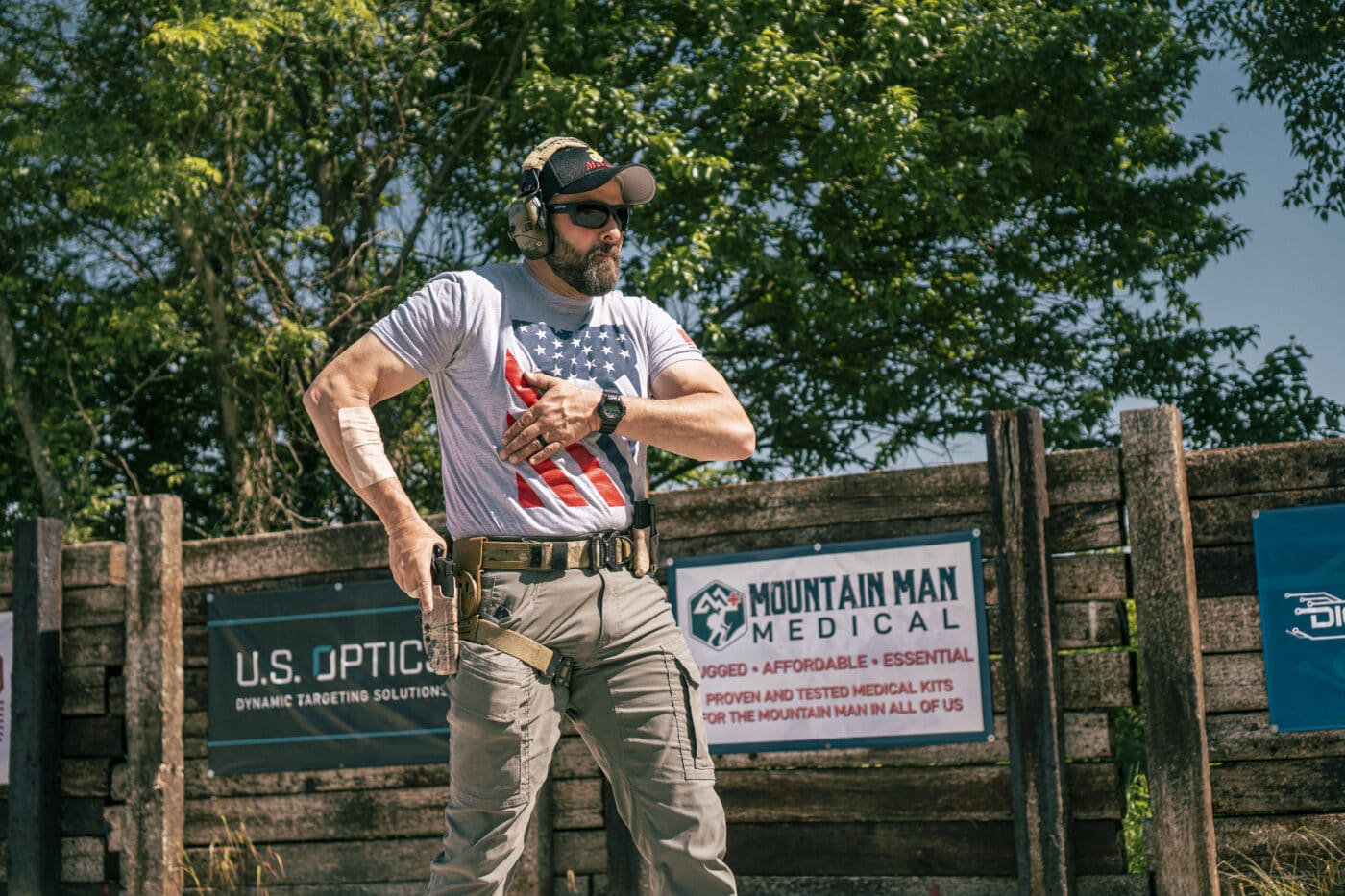 In our opinion, the Blue Alpha belt is the best one on the market that we have been able to find. The belt construction is designed to be highly functional and load-bearing. This way, it can handle all of your gear.
Insider Approach
The belt rig consists of two belts — an inner belt and an outer belt. The inner belt has two options available. The first of those is the standard overlap inner belt, featuring 1.5" of nylon webbing with a 1.5" outer velcro outer lining. It has a simple buckle-free design, and the color of the inner belt will match whatever color you order your outer belt in. The colors available are black, wolf grey, OD green, coyote and Multicam.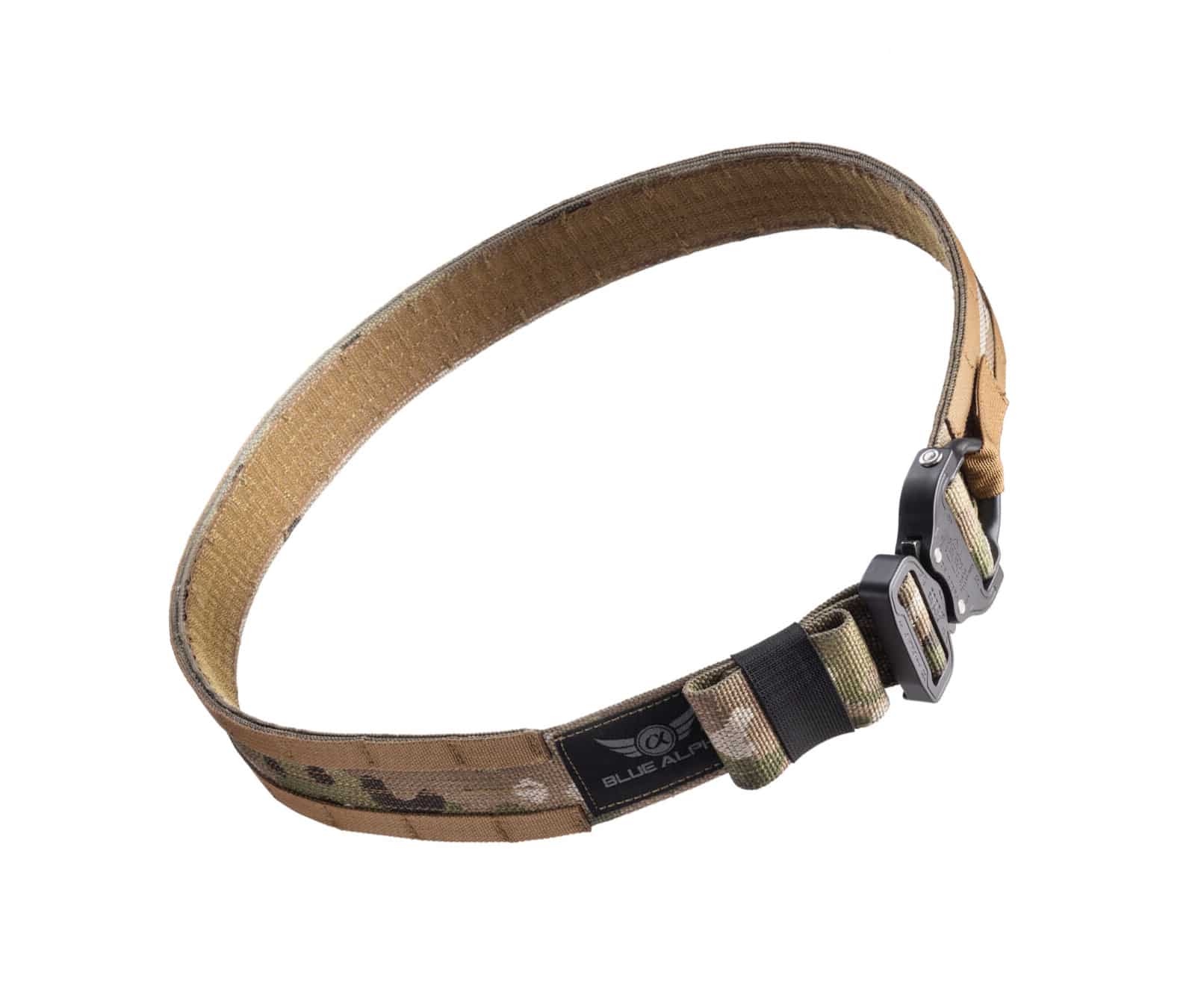 The other inner belt option is the low-profile EDC/Inner Belt. Selecting this at checkout will be a $10 upcharge. This belt is also 1.5" and made from double-layer nylon webbing, and it has a 1.5″ outer velcro lining. This belt will have a plastic buckle (as seen in the video above) that lets the belt length not overlap as much. This allows you to potentially use it for easier carry of an EDC inside-the-waistband system if you prefer. The double-layer EDC belt will give you more rigidity for your everyday carry.
An Outsider?
The outer belt is 1.75″ nylon webbing with MOLLE loops on the exterior to mount compatible MOLLE gear. For the buckle, it has a 1.75" COBRA Buckle with an optional D-Ring COBRA Buckle. Adding the D-ring will be an additional $15 dollar upcharge to your total order. However, the D-ring can provide a good potential attachment point for rappelling gear or for using the belt as a hoist if needed. This outer belt has a 1.5" hook velcro inner lining that attaches to the inner belt, and the leftover adjustment material is secured by an elastic loop to prevent any dangling of excess material.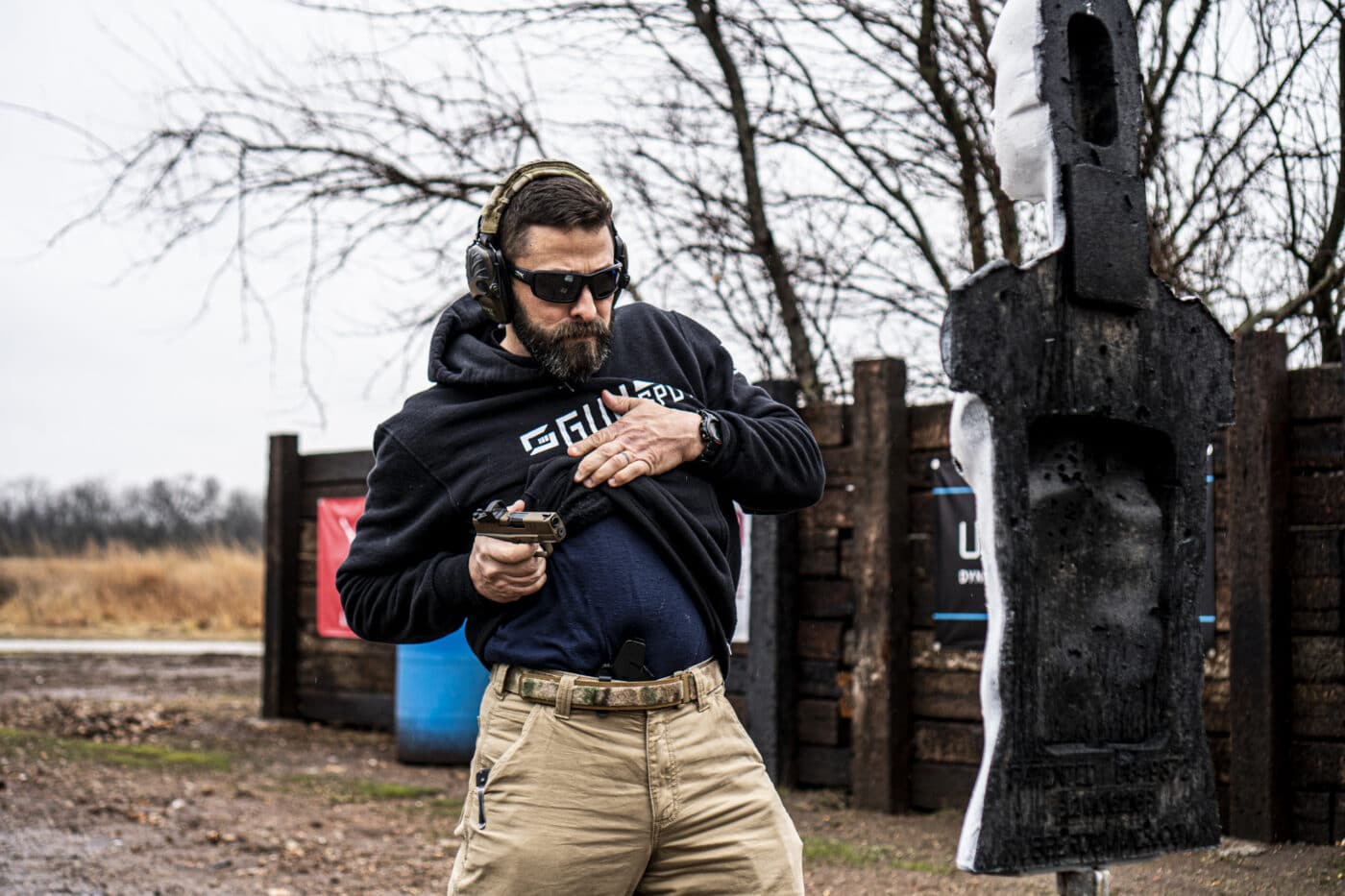 These belts are designed to be ordered by your waist size so there is no need to order larger sizes to try to compensate for the outer belt. You just order your normal waist size in pants and they will take into account all the extra calculations. The Blue Alpha belts also have a one-year manufacturer warranty that covers materials, craftsmanship and defects.
Now for maybe the only con to the belt. If you get all the bells and whistles, the price tag is $159.97. Also, they suggest giving them a two to four-week lead time to ship your order. So, the belt is pricey and it takes some time to ship. But, bear in mind that Blue Alpha is an American company located in Atlanta, Georgia, and they hand sew all their products. It's easy to see they take great pride in providing a great product and that they are passionate about their customers. They will also ship your belt for free on every single order in the U.S. according to their website. Basically, this is one of those "you get what you pay for" deals.
Hands-On
Grant purchased this belt about a year ago and has been running it for almost every video we have shot since then. Since acquiring it, we have run it with large polymer-framed guns like the XD-M Elite Tactical OSP, and heavier guns like the Loaded Operator 1911 — all of which with loaded mags strapped around the belt.
This belt definitely holds the weight and retains its shape. Having a belt as narrow as 1.75" compared to some of the wider ones out there lets this be a comfortable belt that lets you have great mobility. That width also lets you attach just about anything you want. Most belt-slide attachments have a 2" gap so you can slide this belt through. Plus, it has MOLLE webbing to let you put pouches with that attachment method.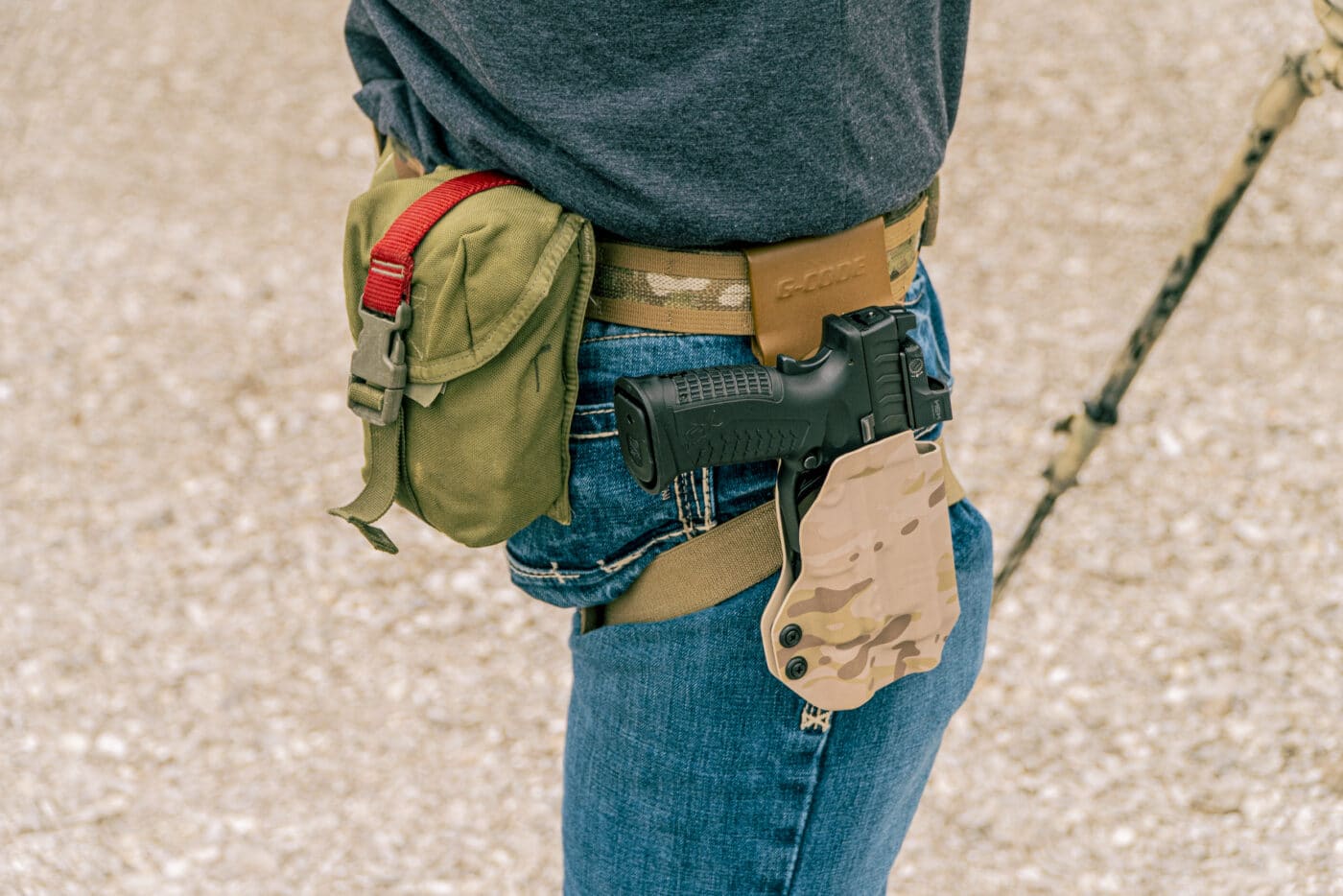 Conclusion
The Blue Alpha MOLLE 1.75" Double Belt Rig seems to us like the best choice on the market simply because it's durable, high-quality and rigid, and you should be able to fit any holster option, pouch or attachment that you want. Grant has been pleased with his purchase, and pretty much everyone who has seen his has wanted one as well!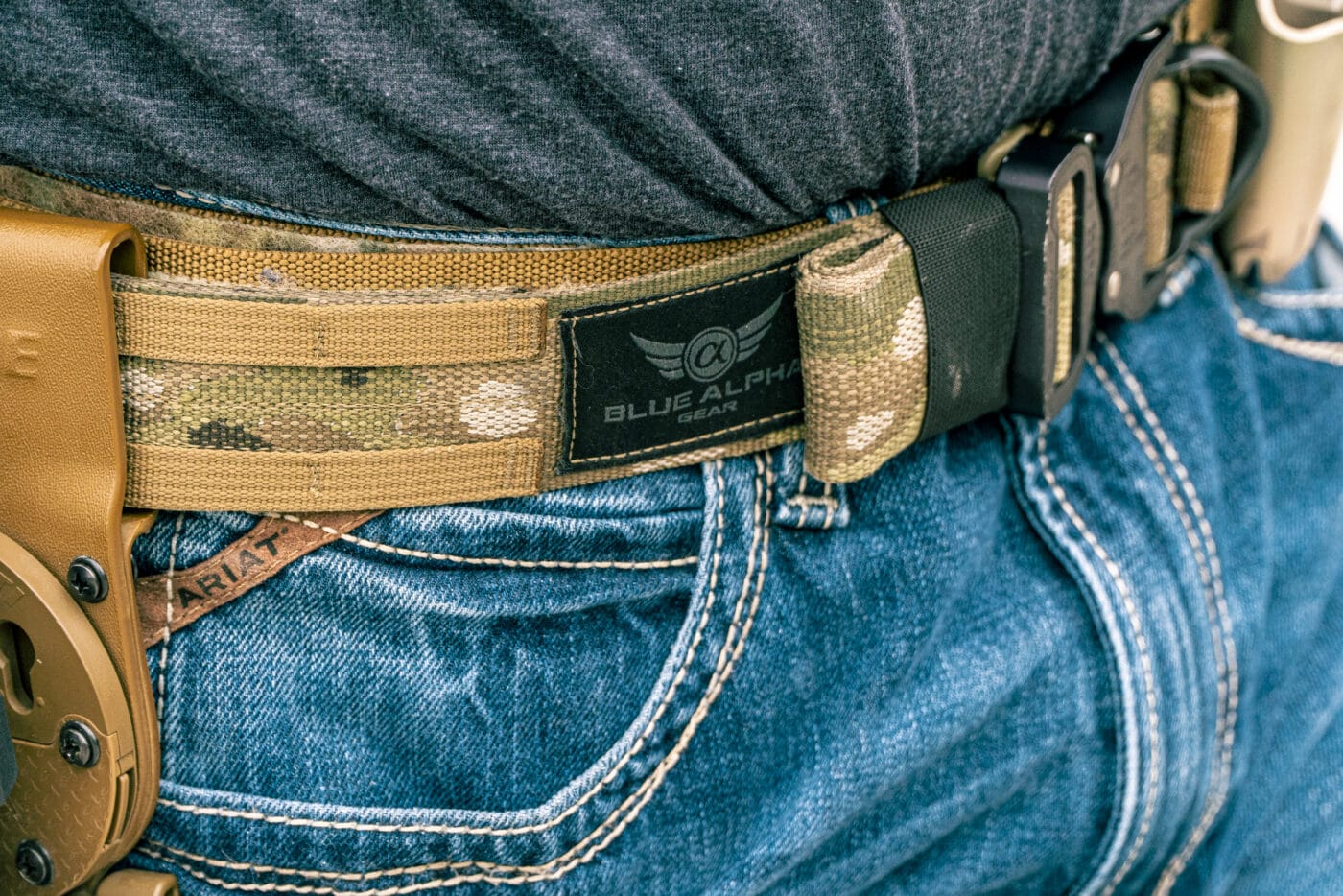 See the link below and check out their full line. They have range belts, LEO duty belts, as well as EDC belts. Over the last year, I have seen John Lovell (Warrior Poet Society), Aaron Cowan (Sage Dynamics) and Colion Noir all use this Blue Alpha belt, so it seems it's impressed more than just us.
Editor's Note: Please be sure to check out The Armory Life Forum, where you can comment about our daily articles, as well as just talk guns and gear. Click the "Go To Forum Thread" link below to jump in and discuss this article and much more!
Join the Discussion
Featured in this video
Continue Reading
Did you enjoy this video?
35