For many years, the AR-15 has been the rifle of choice for many Americans. These modern sporting rifles have been used for everything from law enforcement duties to hunting to just good old-fashioned fun on the range. But just like anything that stands the test of time, you can find many variations and tons of aftermarket support. So, just like a 1957 Chevy Bel Air, you will never see a shortage of accessories.
So, how about we consider the Springfield Armory SAINT as a foundation for a customization build? Even though the SAINT 5.56,, is a solid duty-grade rifle out of the box, today, we are going to take its factory configuration to be completely personalized for this project with the help of Armaspec.
The Source
In case you are not familiar with Armaspec, according to their website, "Armaspec is a U.S. manufacturer of firearm accessories … . We focus on producing quality, innovative products that offer a tactical advantage, at a fair price, all made in the U.S. Our product line includes magwell grips, charging handles, parts kits, selectors, stocks, recoil systems, and other accessories for the firearms industry."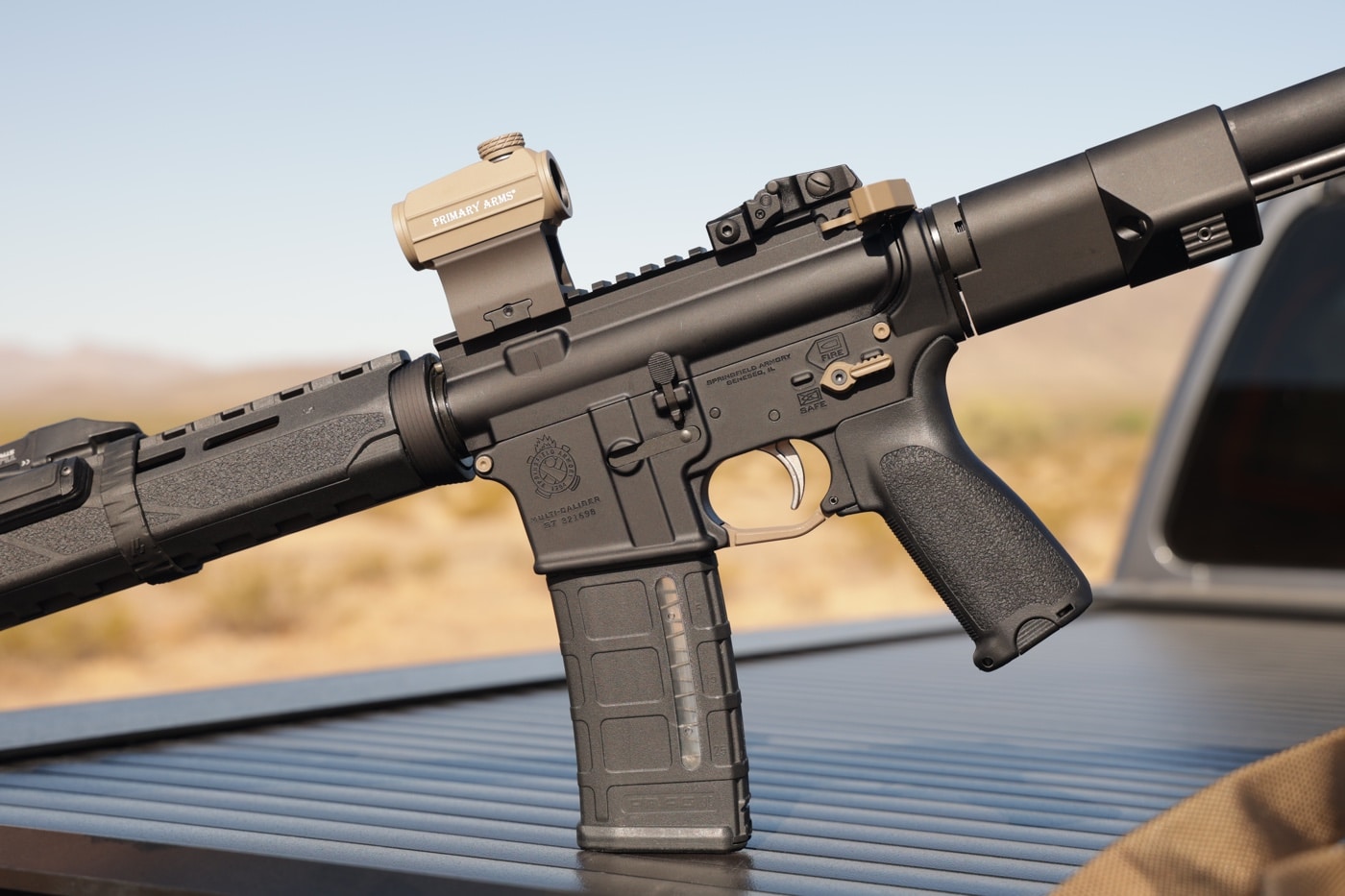 The main takeaways here for me are "Made In the U.S.A." and "innovation". I contacted Armaspec and picked out the parts I wanted to test out for this rifle. project. All of these are small parts that can be installed with basic tools at home with a little bit of skill. I also tossed on a Primary Arms SLX Advanced Rotary Red Dot in FDE to match the color of the Armaspec parts.
Parts:
Lower Parts Kit Flat Dark Earth
Victory Charging Handle
X-PDW Stock
Stealth Recoil Spring
Muzzle Brake/Blast Shield
Picatinny Rail Sections
Why These Parts?
Now that we know the parts, we should probably discuss the "why" behind them. These parts are performance-driven choices. The easiest upfront answer is that these are great parts for builders when starting with a new lower receiver, rebuilding a rifle, or spicing it up with extended and ambidextrous controls.
Extended controls add a level of ease when it comes to activation, and the ambidextrous element allows for more options when manipulating your rifle. And, of course, who doesn't love the mitigation in the recoil of a good muzzle brake?
Build Details
The lower parts kit with ambi and extended controls from Armaspec has all stainless steel springs and detents, which ensure a long life. The included ambi safety selector has 45/90 configurations, with the off-hand side being a stubby design for ease of use. I noticed the selector was extremely smooth on the rotation yet very positive when it locked into place.
The new takedown and pivot pins add a custom look and give a bit of texture to grab onto. When you go to drop a mag, the extended-release button has a clean feel and provides a slightly easier and faster action. And for those of you in cold states, the extended trigger guard will allow for those thick gloves to easily get on the trigger when ready.
Out on the back, the X-PDW stock from Armaspec not only gives a really cool look but has a minimal footprint and can be ripped all the way out to extension when you are ready to shoulder it. The all-aluminum design of the stock also inspired confidence in the recoil impulse. And that recoil impulse was definitely changed with the new Stealth Recoil Spring.
This new SRS, as it's commonly referred to, changes the entire feel and sound for the better compared to a standard buffer spring. The Victory charging handle makes running the bolt very easy and makes off-handed operations easier without being overly bulky or prone to snagging on normal range attire.
A New Range Experience
On the range, all of the parts just seemed to come together and work. I added a Streamlight RM-2 light and pressure pad to the Picatinny rail sections from Armaspec to finish off the rifle for use day and night. The Rifter muzzle device I selected is a big change from the standard birdcage and did a great job mitigating muzzle rise. Now, muzzle brakes are known for being loud and concussive to those around you, and because of this, Amaspec has a blast shield that can be threaded on over the Rifter to calm it down if needed.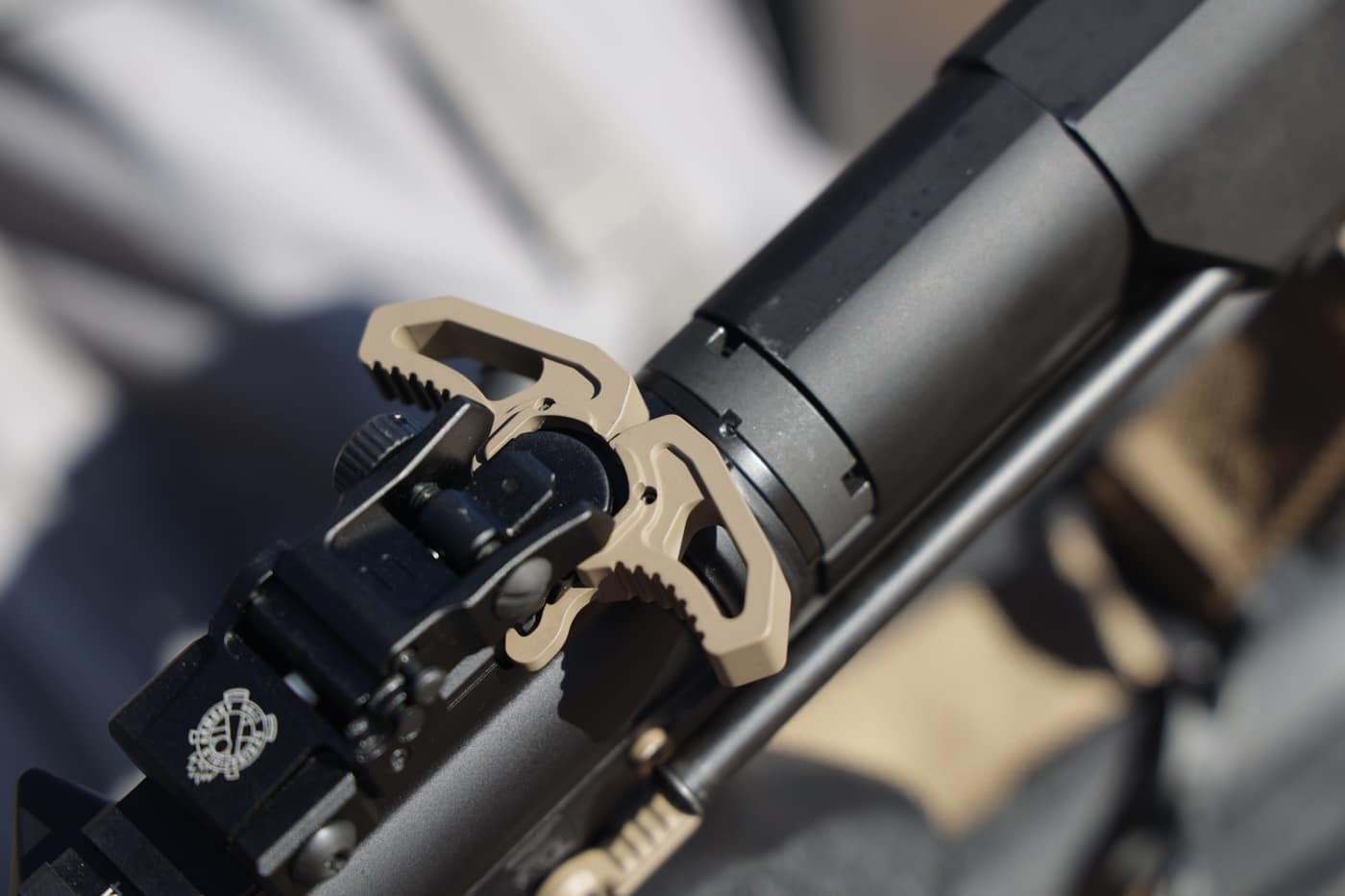 When doing drills, all of the controls operated smoothly and were positive in activation. The extended and ambidextrous controls made the rifle a little easier to run from either side and sped up operations. My favorite part had to be the Stealth Recoil Spring. This SRS gave the rifle a different feel and sound, almost like it was a singular piece of metal rather than an upper and a lower pinned together. Between the SRS and the Springfield Accu-Tite system, the SAINT will feel as solid as a rifle can.
Good Looks Don't Hurt
Armaspec offers all these small parts in various colors, so you can choose from standard black to flat dark earth like mine. Like I said at the beginning, these parts were all chosen for performance reasons, but the ability to have some personalized color variation is a nice touch. And, as I have said before, good looks may not be everything, but they sure don't hurt.
Editor's Note: Please be sure to check out The Armory Life Forum, where you can comment about our daily articles, as well as just talk guns and gear. Click the "Go To Forum Thread" link below to jump in and discuss this article and much more!
Join the Discussion
Featured in this video
Continue Reading
Did you enjoy this video?
32