Bulls vs. Bushings: Which 1911 Barrel System Is Better?
July 20th, 2023
5 minute read
Spend some quality time with 1911s, and you'll soon see not all are built the same. Sizing and finish are the most obvious differences, but be sure to take a look at the business end of the 1911. If you're perceptive, you'll notice some distinct divergences in muzzle design.
Some 1911s use a barrel bushing, as the 1911 was originally designed, and others use a bull barrel with no bushing. So, what's the difference between a 1911 with a bushingless bull barrel or bushing barrel?
The Differences
The bushing's job in a standard-configuration 1911 is to help keep the barrel properly aligned. The barrel bushing mates with the muzzle end of the slide, and the barrel protrudes slightly from the bushing. A bull barrel is thicker, with a larger diameter at the muzzle end than a barrel on a bushing gun.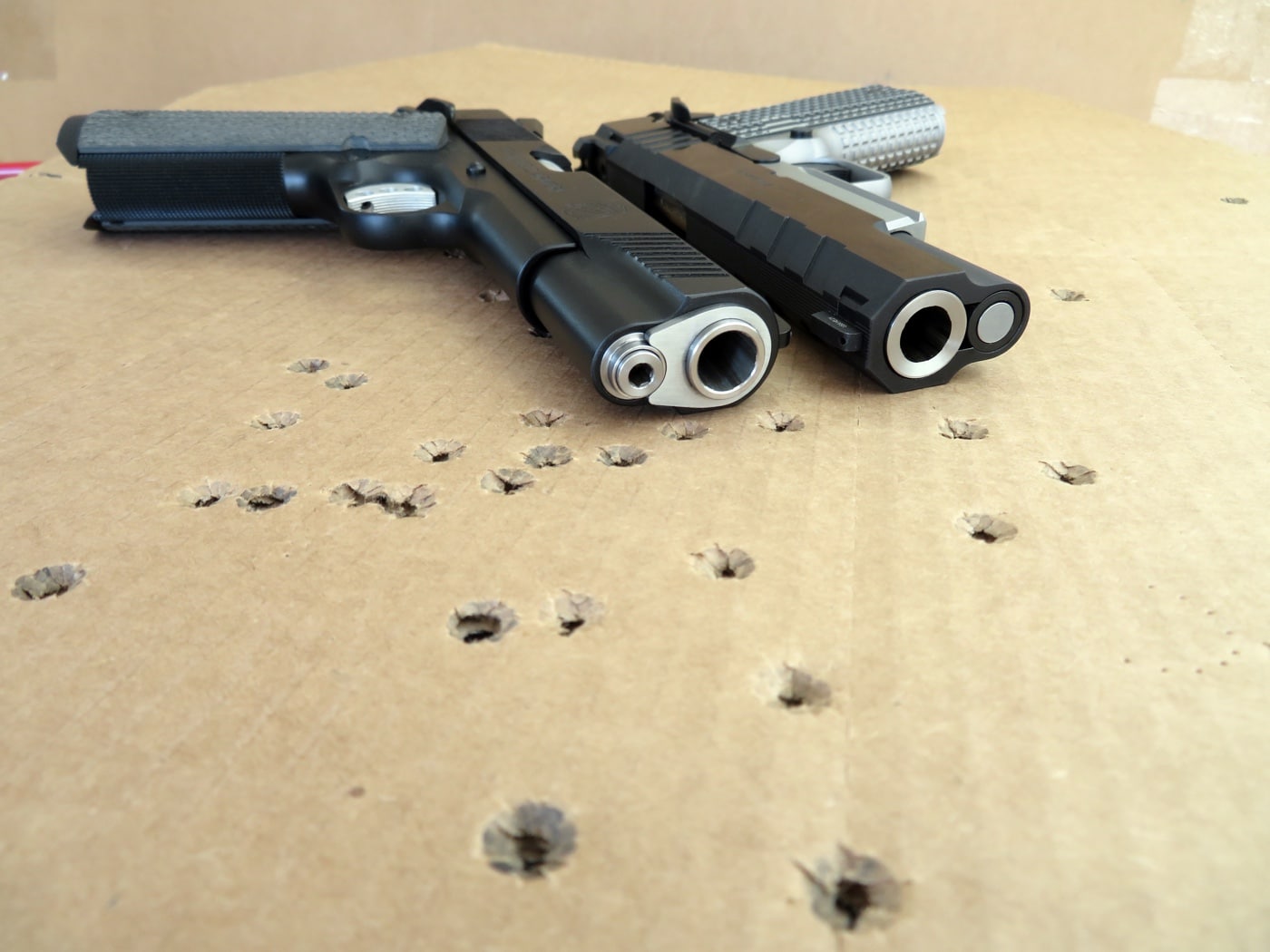 You might hear a bull barrel referred to as a cone barrel because the barrel is thick at the muzzle and tapers off as it goes toward the chamber, so it looks like a cone. A bull barrel does not use a barrel bushing; instead, the thick part of the barrel rides against the inside of the slide to help keep the barrel aligned.
Bull barrels became more common as the size of 1911s shrunk. At one time you could get any size 1911 you wanted as long as it was a 5"-barreled, full-size "government" model. Manufacturers making 1911s with barrels shorter than 4.25" found there was not a lot of room to use a barrel bushing. However, a bull barrel worked just fine.
But things have changed from those early days. Today, a bull barrel is not just found on short-barreled 1911s. In fact, many manufacturers use bull barrels on 4.25" and 5" barreled guns.
The Why
There are pros and cons for both barrel designs. Let's start with the traditional bushing barrel. On the plus side, a bushing barrel offers easier takedown and there are far more replacement options available if desired. On the negative side, a bushing barrel pistol has a light front end. That means more muzzle rise, which translates to slightly slower recoil recovery time and back on the target.
The pros and cons of a bull barrel are almost the inverse of a bushing barrel. Pros of a bull barrel are it's heavier with forward weight for the pistol, which means less muzzle rise and in theory faster time back to target after recoil. The cons are what you would expect: More complex takedown, heavier pistol and fewer replacement options available.
Is one type more accurate than the other? Not necessarily. Accuracy of either barrel design type is going to be based on the quality of the 1911 build and the sum of the parts. Either barrel type is capable of superb accuracy, if built properly. Match grade pistols of both barrel types when they go head-to-head on accuracy are mostly identical. Both can be built to operate smoothly.
Taking It Down
Bushing barrel 1911s fieldstrip differently depending on the recoil spring set up. Standard G.I. 1911 pistols use a use a recoil spring and recoil spring plug. Others use a recoil rod that requires a slightly different technique to fieldstrip. Some require use of a hex wrench to first disassemble the recoil rod, then remove the barrel bushing.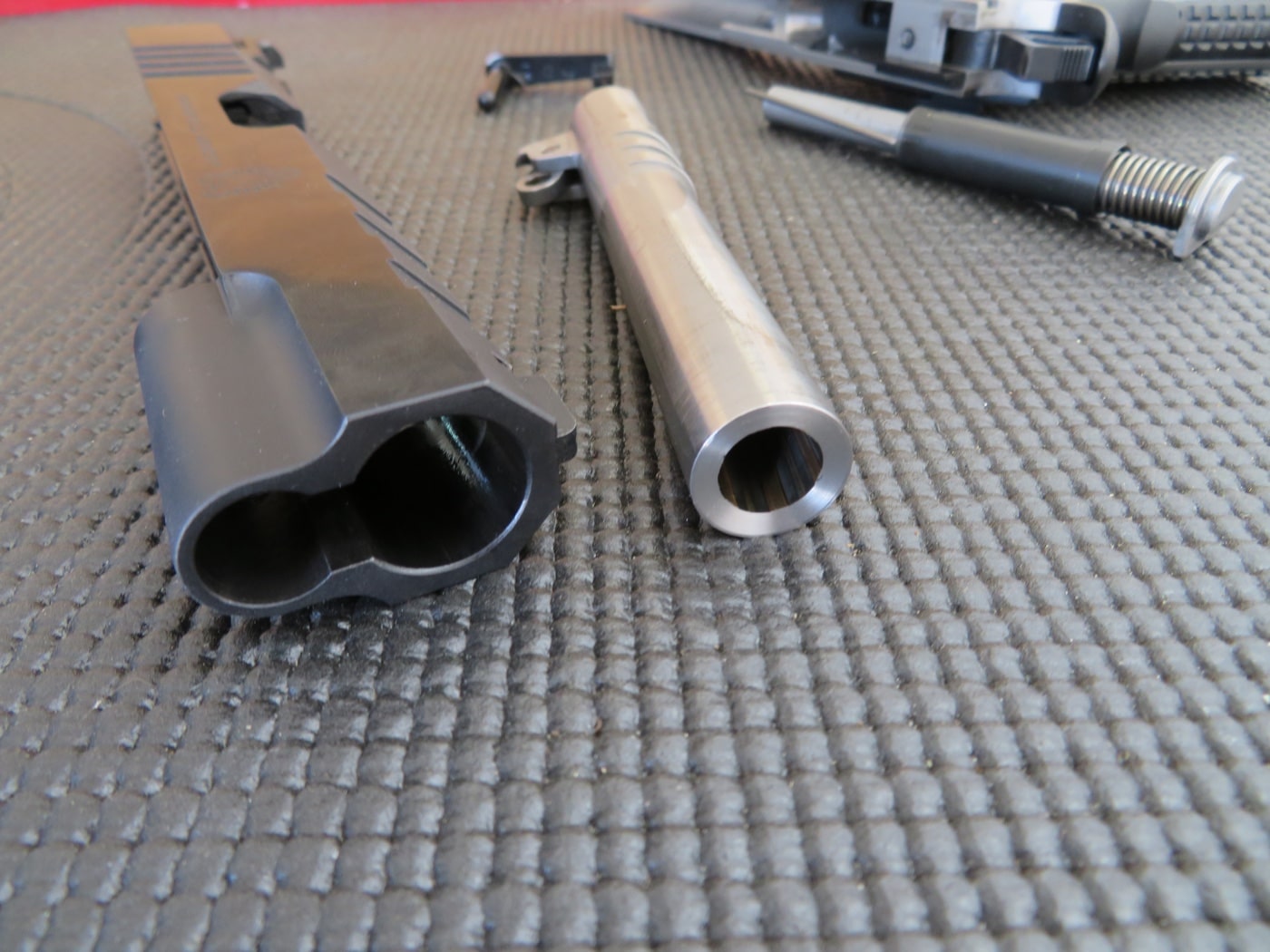 The most common bushing takedown method, however, is done by pressing in on the spring plug and rotating the barrel bushing clockwise. No tools are required and that was how the original 1911 was built, so a user in the field could easily disassemble the pistol to clean it.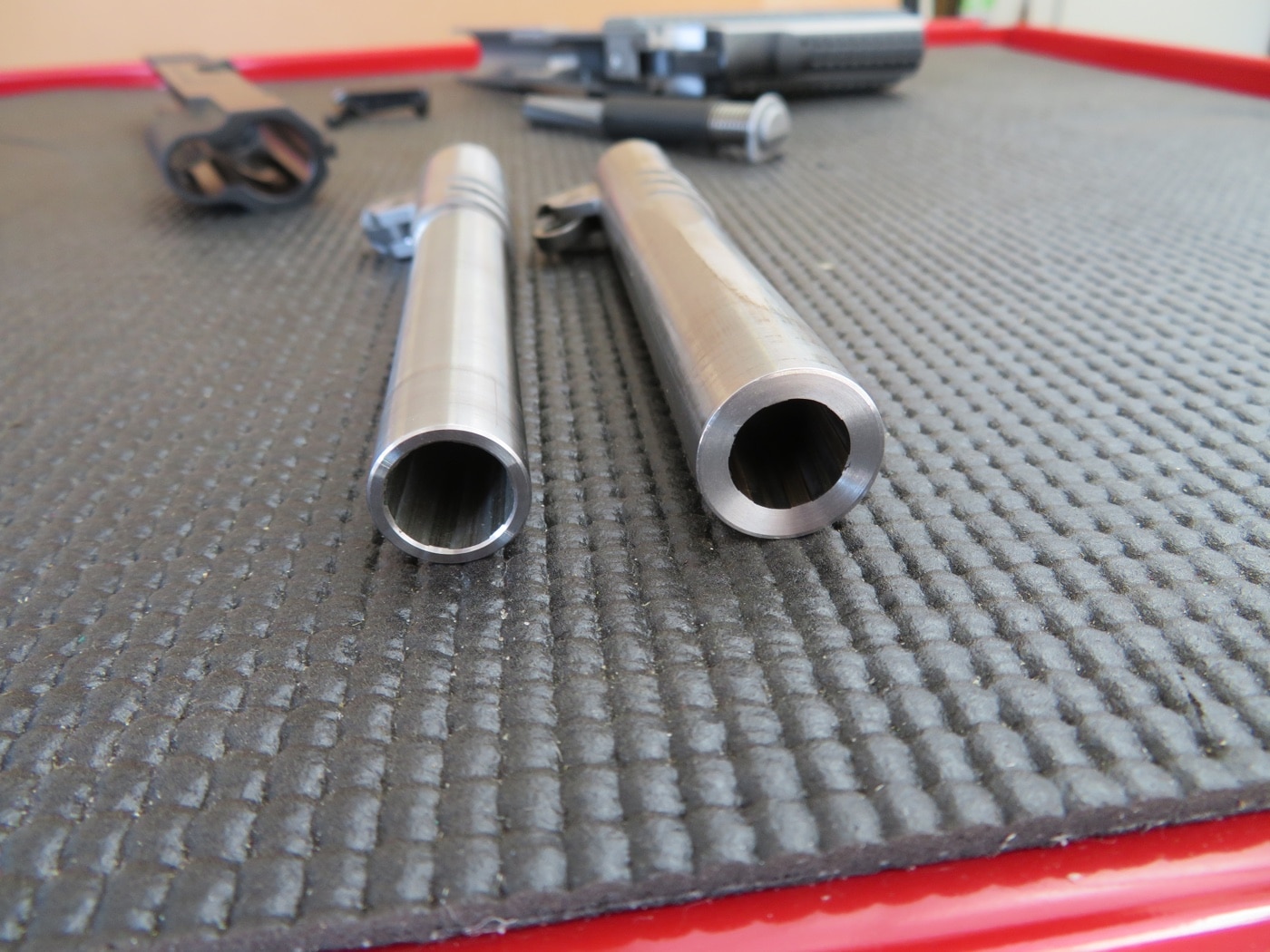 With a bull barrel pistol, you will need a tool to hold the compressed recoil spring. Typically, a paperclip is employed to trap the recoil spring so the pistol can be disassembled. Some use a small plastic takedown piece which you place over the exposed portion of the guide rod when the slide is locked back.
Conclusion
So, is one or the other better? That question is more of a personal choice as to what you like better. The question you need to ask yourself is: What is your intended use of the gun? Some shooters like the added weight of a bull barrel and how it feels when cycling. Some prefer the simplicity of a bushing barrel gun. Life is full of choices. There are plenty of choices with 1911s, too.
Editor's Note: Be sure to check out The Armory Life Forum, where you can comment about our daily articles, as well as just talk guns and gear. Click the "Go To Forum Thread" link below to jump in!
Join the Discussion
Featured in this article
Continue Reading
Did you enjoy this article?
77