I suspect you know Springfield Armory is renowned for its 1911 pistols, but are you aware of how broad its line of them is? While doing a review of every 1911 from Springfield in one piece would be just about impossible, I've decided to put together a video and article on some of the highlights of the line to give you an idea of truly how much the company offers.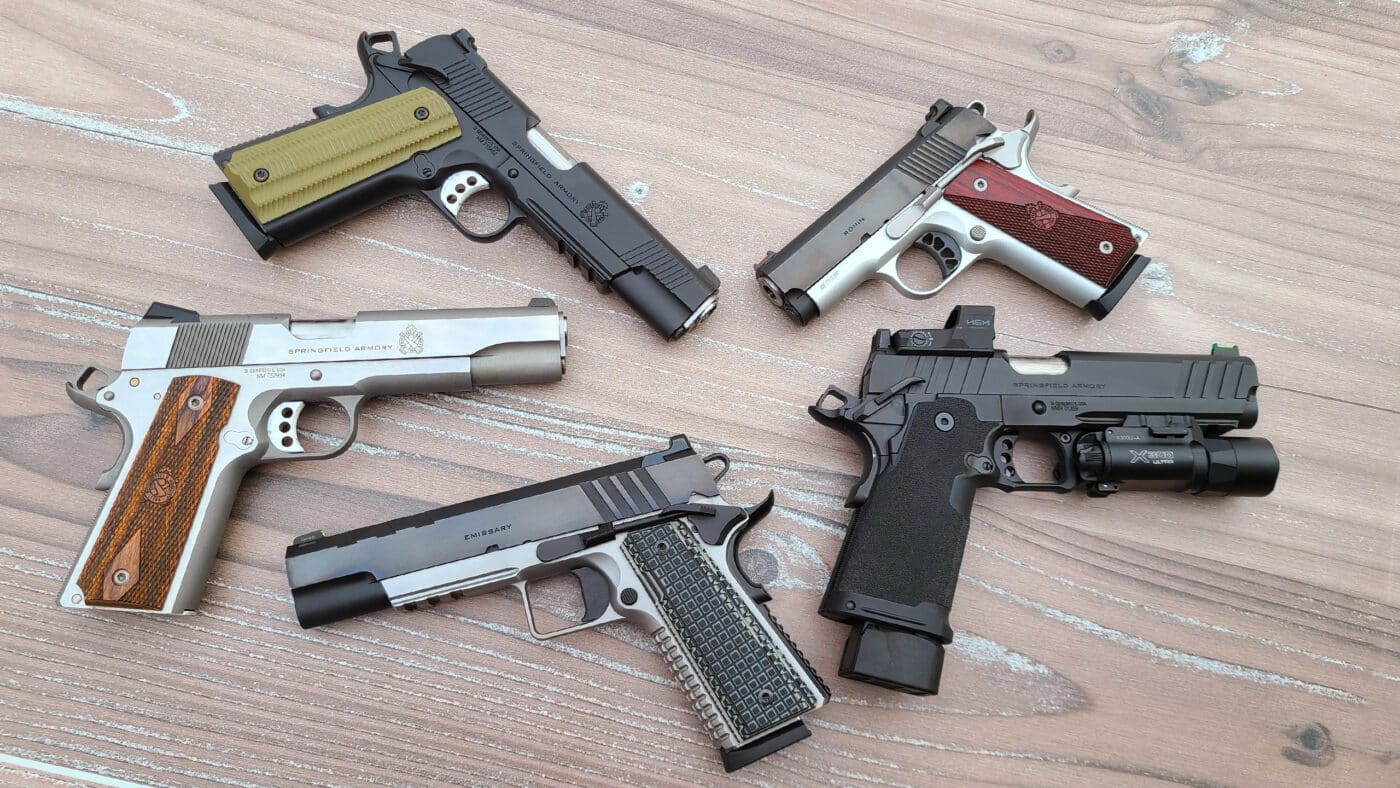 My approach in doing this video was to select one model from each 1911 category that is in current production by Springfield Armory. One thing I have learned over the years is that Springfield Armory doesn't cut costs or undermine craftsmanship with their 1911 pistols. Each 1911 handgun offered is built with high quality as a goal while using the finest parts. They are all built featuring forged steel or aluminum for strength, and they each use match-grade barrels that (in my experience) shoot quite accurately. Now that this opening is out of the way, let's dive into it.
1911 Emissary
I have never been so excited about a 1911 as I was when the Emissary was released. The Emissary takes the concept of a 1911 with modern features to a whole new level. The level of thought and craftsmanship that went into this 1911 is breathtaking.
Made with a forged barrel, frame and slide, the Emissary is a showpiece and workhorse all in one. The thin G-10 grips feature texturing that is matched on the frontstrap and mainspring housing. The two-tone color includes a silver frame with high gloss sides of the blued slide with a matte black serrated topstrap. Springfield calls this a Tri-Top slide. The sights are U-Dot with a tritium front sight.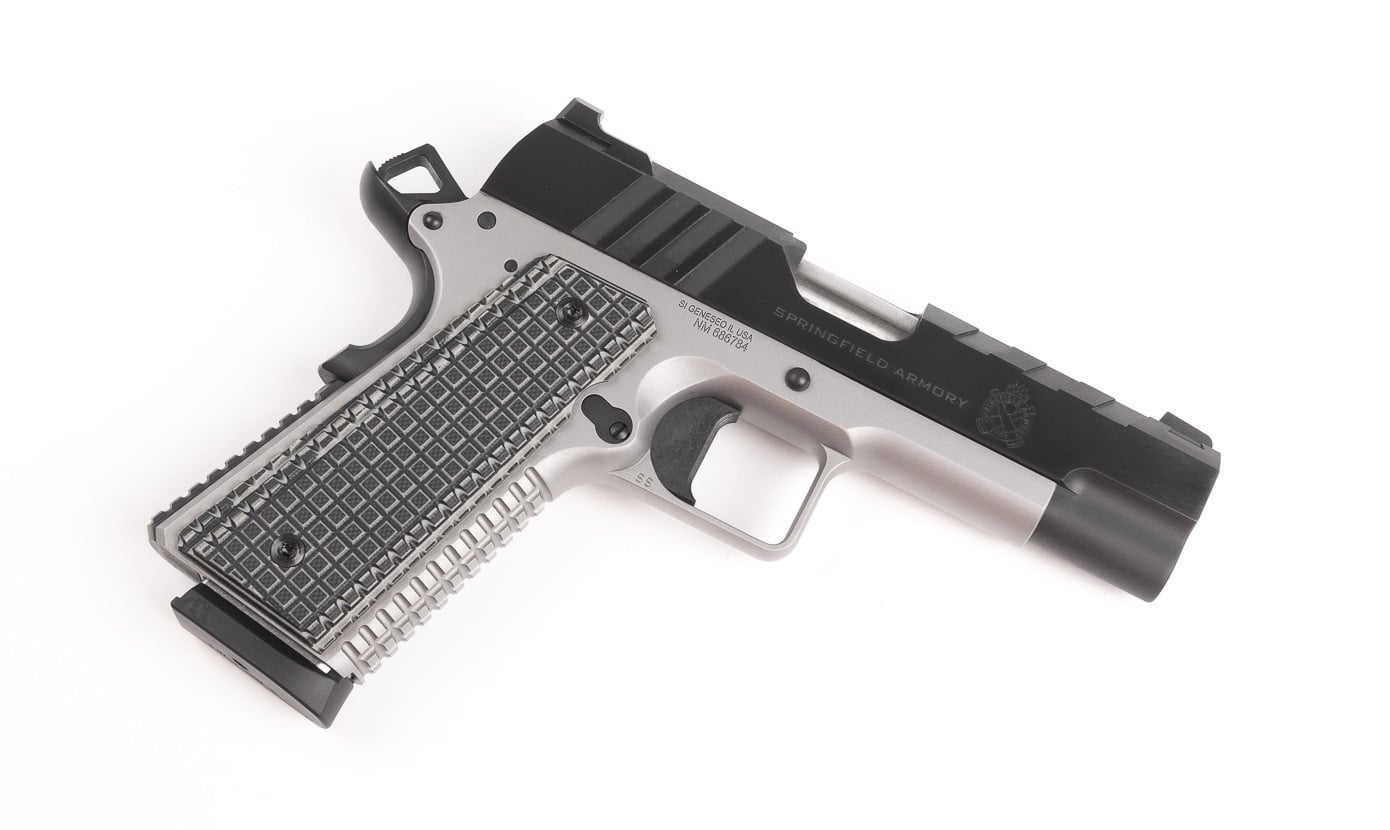 The 1911 Emissary has a bushingless bull barrel, a full-length guide rod and a 1913 Picatinny rail. It has a solid body flat trigger that breaks at 4.5 lbs. At the range, I shot the Emissary as well as any 1911 I've fired.
The bottom line is this; if you love modern features on a classic 1911 handgun, the Springfield Armory 1911 Emissary is for you.
1911 Operator
In December of 2021, Springfield released the 1911 Operator which is a beautiful handgun that offers a lot for the money.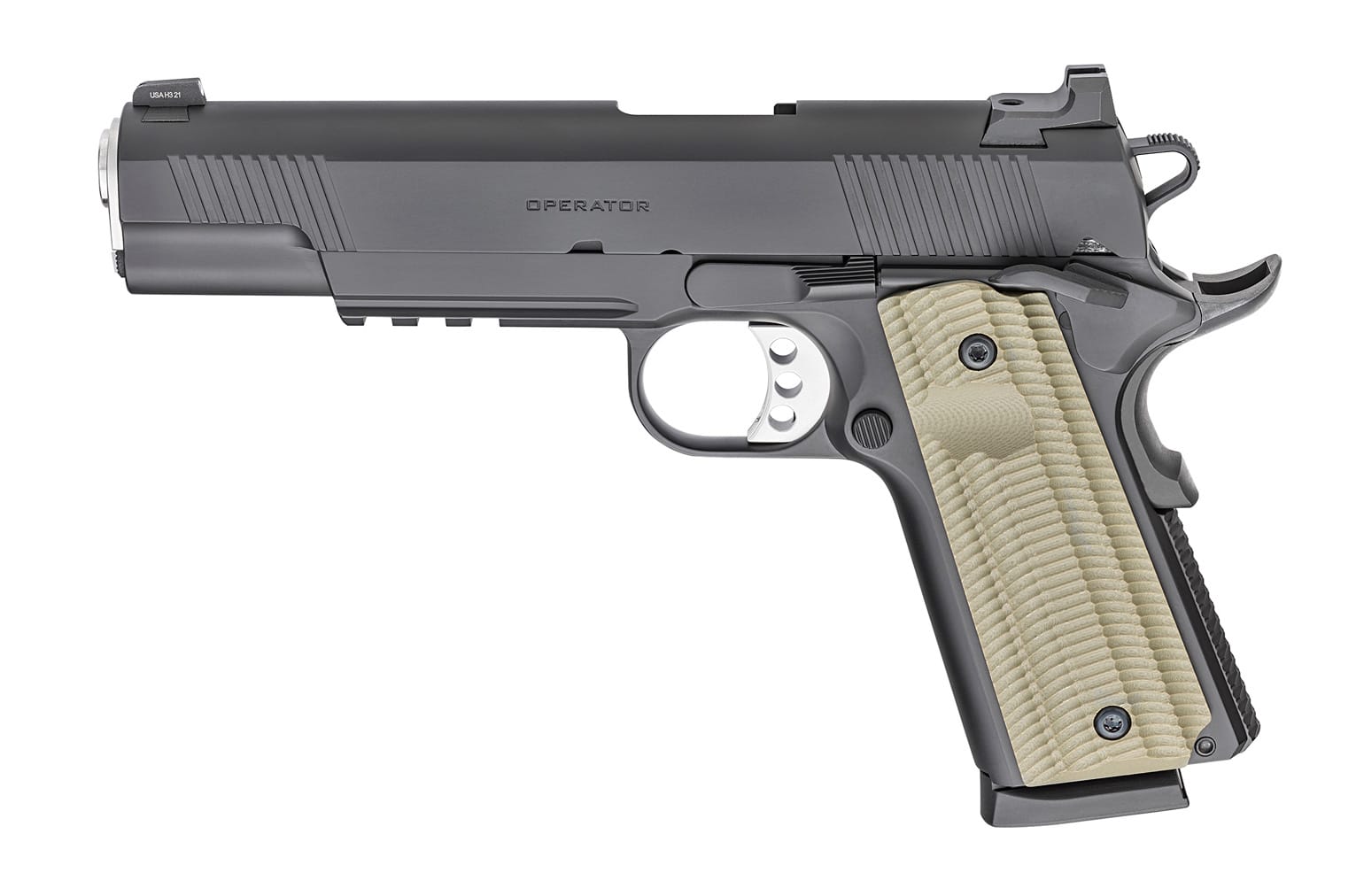 The Operator is equipped with desert tan VZ G-10 grips, eight-round MecGar magazines, a flat mainspring housing with octo-grip checkering, a full 1913 Picatinny rail, and three-dot sights with a tritium front sight. The match-grade barrel, slide and frame are all constructed of hefty forged steel.
The 1911 Operator has a skeletonized trigger that measures at a light 4.5-lb. pull. The slide is Cerakoted with a satin black finish with forward slide serrations. Left-handed shooters will love the ambidextrous thumb safety along with the accuracy the Operator delivers.
1911 DS Prodigy
When I learned that Springfield Armory was launching the 1911 DS Prodigy, I was thrilled. While they offer an expansive 1911 line, a double-stack 1911 was missing. That all changed with the Prodigy.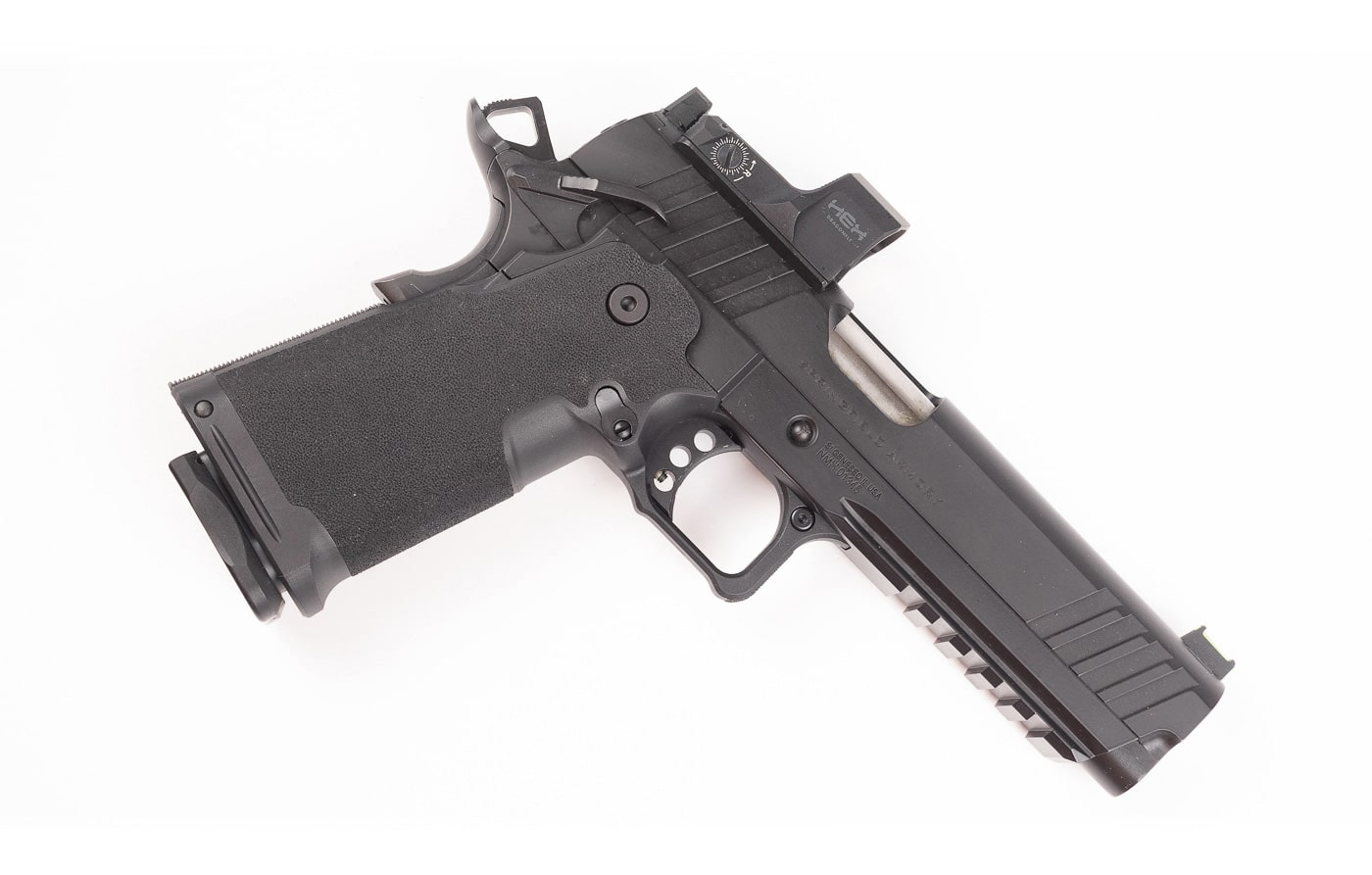 A double-stack 1911 chambered in 9mm, the 1911 DS Prodigy ships with 17- and 20-round magazines. The grip module is polymer wrapped with the "Adaptive Grip Texture" that feels like it was personally custom fit for my hand. The 1911 DS Prodigy has a bull barrel, a full-length, two-piece guide rod and is available in 5" and 4.25" models.
Springfield collaborated with Agency Arms to create the AOS (Agency Optic System) for the optic mounting platform. The pistol can be purchased with or without a HEX Dragonfly red dot optic.
The 1911 DS Prodigy AOS is the smoothest and most accurate handgun I have ever fired. I believe this 1911 will dominate the competition market once shooters experience all that it offers.
1911 TRP
Springfield's 1911 TRP takes refinement to a new level. It is solid, has a very clean look and shoots incredibly well.
The 1911 TRP is available in both stainless and Cerakote black. The features include three-dot adjustable tritium night sights, an ambidextrous thumb safety, forward serrations, seven-round magazines, a flared magwell and a two-piece, full-length guide rod.
When shooting the 1911 TRP, the precision was incredibly accurate. It was smooth and "on target", which is exactly what to expect from a Tactical Response Pistol.
1911 Ronin 10mm
For those looking for a beautiful 1911 without breaking the bank, the 1911 Ronin fits the bill. It is very reasonably priced, yet still sporting high-end features that will not disappoint. While I went with the Ronin 10mm, it is also available in 9mm and .45 ACP. There is something about the 10mm punch that I love with the Ronin.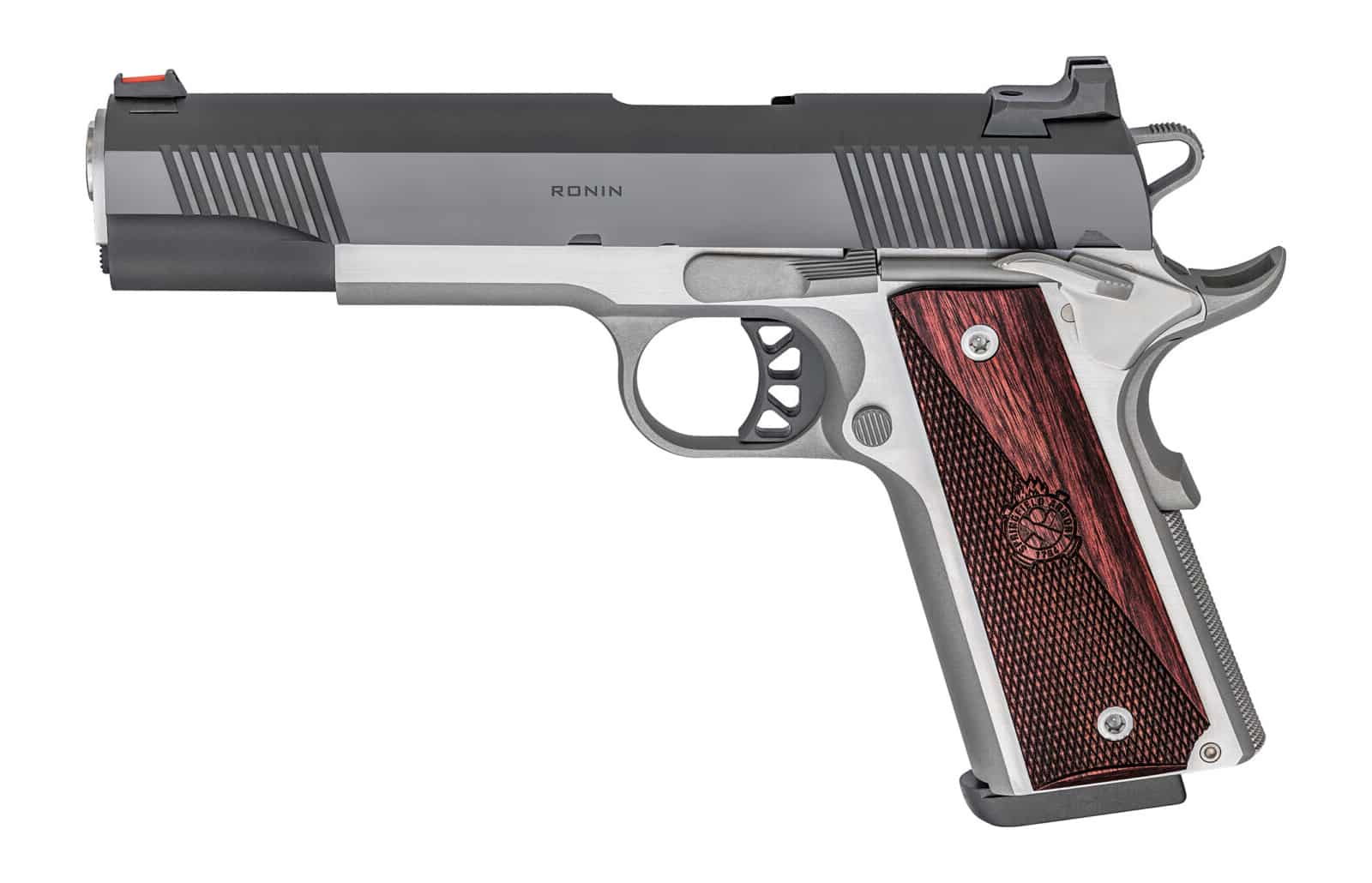 It is equipped with a forged steel barrel, slide and frame with a two-tone stainless/blued finish. The grips are cross cannon textured with magazines that carry eight 10mm rounds. The three-dot sights include a fiber optic front sight that aligns very nicely when shooting. The 1911 Ronin uses a G.I.-style guide rod, forward serrations and trigger that breaks at 5 lbs.
At the range, the 1911 Ronin 10mm was flawless. The pistol shot better than my abilities allowed as I rang steel shot after shot. The 10mm recoil was tempered with the fine mechanics the Ronin offers. To put it frankly, I love this 1911 Ronin in 10mm.
1911 Garrison 9mm
The Springfield Armory 1911 Garrison in .45 ACP has a well-deserved reputation as a fine 1911 that is priced right and functions flawlessly. In April of 2022, Springfield released the 1911 Garrison in 9mm.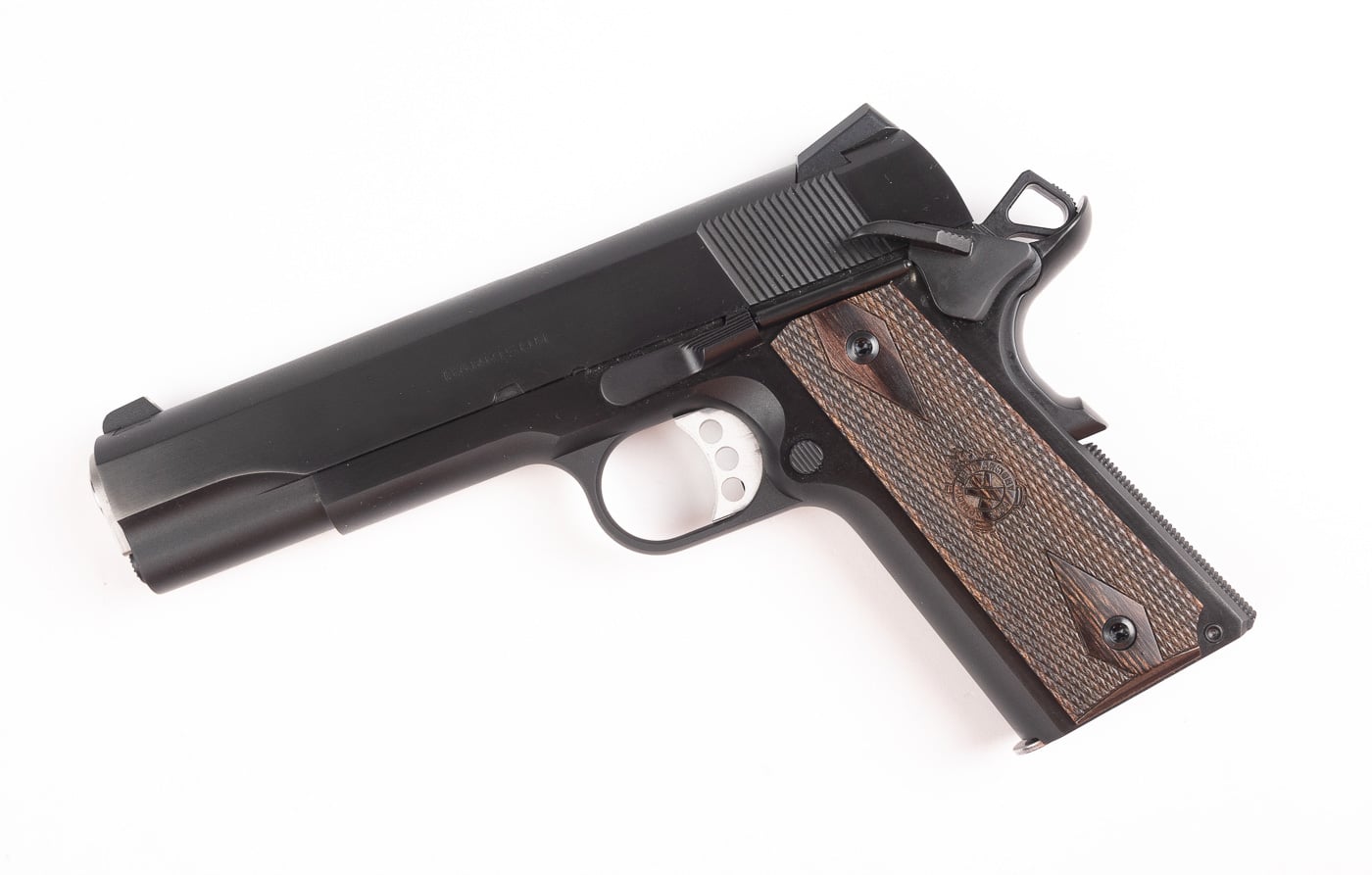 The Garrison 1911 pistols are available in blued or stainless. They are equipped with thin wood grips, three-dot sights and nine-round magazines. The frame, slide and barrel are built with forged steel. It uses a G.I.-style guide rod and has the same excellent trigger pull you will find on other Springfield 1911's.
I consider the Garrison a great 1911 for the money. The stainless model sells for under $900 and the blued model is a little less expensive. For those shooters looking for a top-notch 9mm 1911 for a fair price, look no further than the Garrison.
1911 Ronin EMP 9mm
In November of 2021, Springfield Armory accomplished a combo that nobody in the gun world saw coming. They took the popular Ronin and the EMP (Enhanced Micro Pistol) to create a subcompact Ronin EMP in 9mm.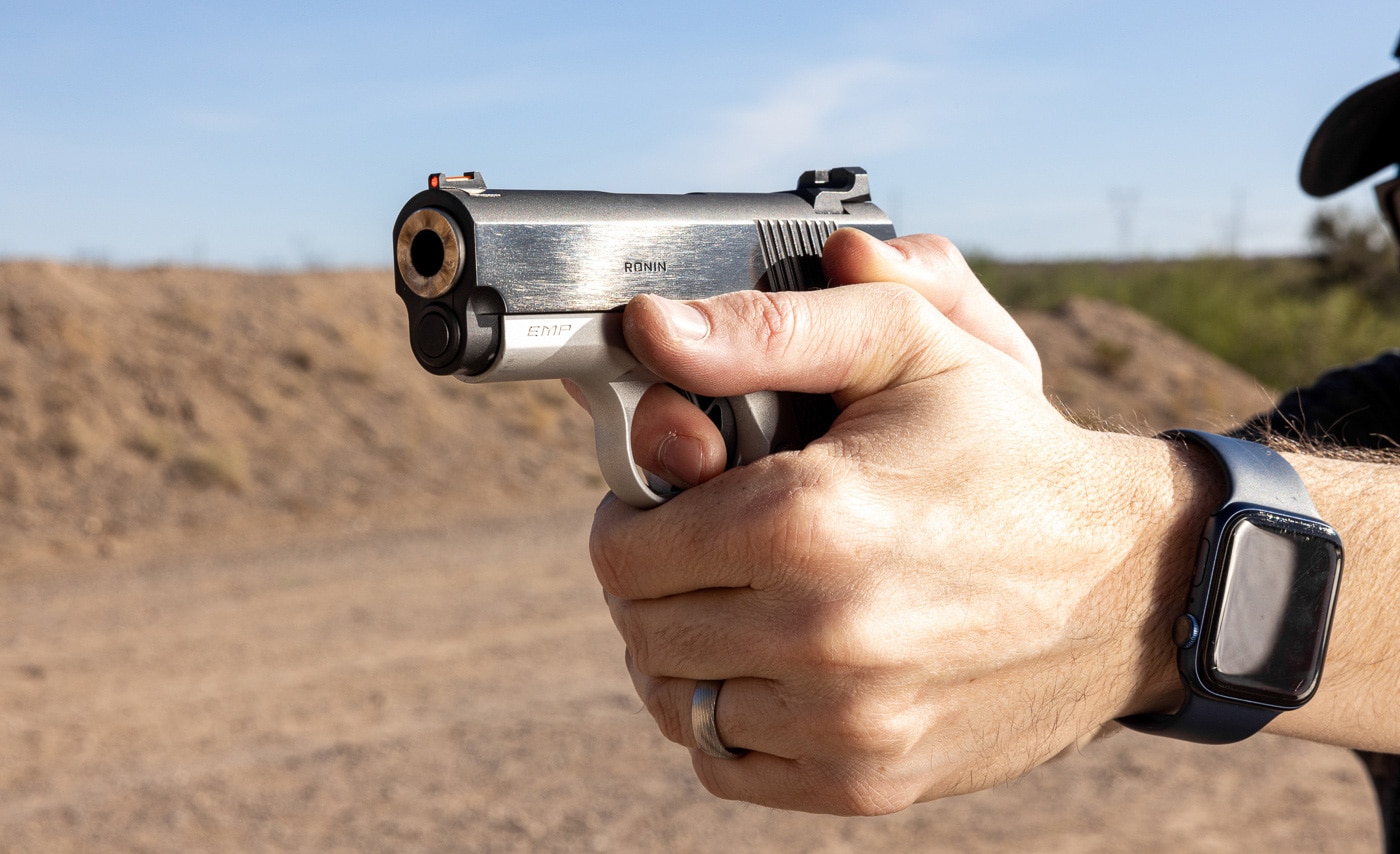 This pistol literally had shooter's heads turning. The two-tone 1911 Ronin EMP is a classy looking pistol that shoots like a dream. This 1911 features a 3" bushingless bull barrel with a forged aluminum frame. They also make a larger 1911 Ronin EMP with a 4" barrel. It has stunning wood grips, a nine-round magazine, three-dot sights with a fiber optic front sight and a shiny black Cerakote slide. This 9mm 1911 shoots like a full-size pistol.
Right out of the case I was ringing steel as if I have owned it for years. I love both the Ronin 1911 and EMP 1911 lines and was super excited when they created this combination.
1911 Loaded
The 1911 Loaded is full of features but priced right for the working man. The MSRP for the parkerized finish slide is under a grand, which is very affordable considering all of the features it offers. It is also available in stainless steel.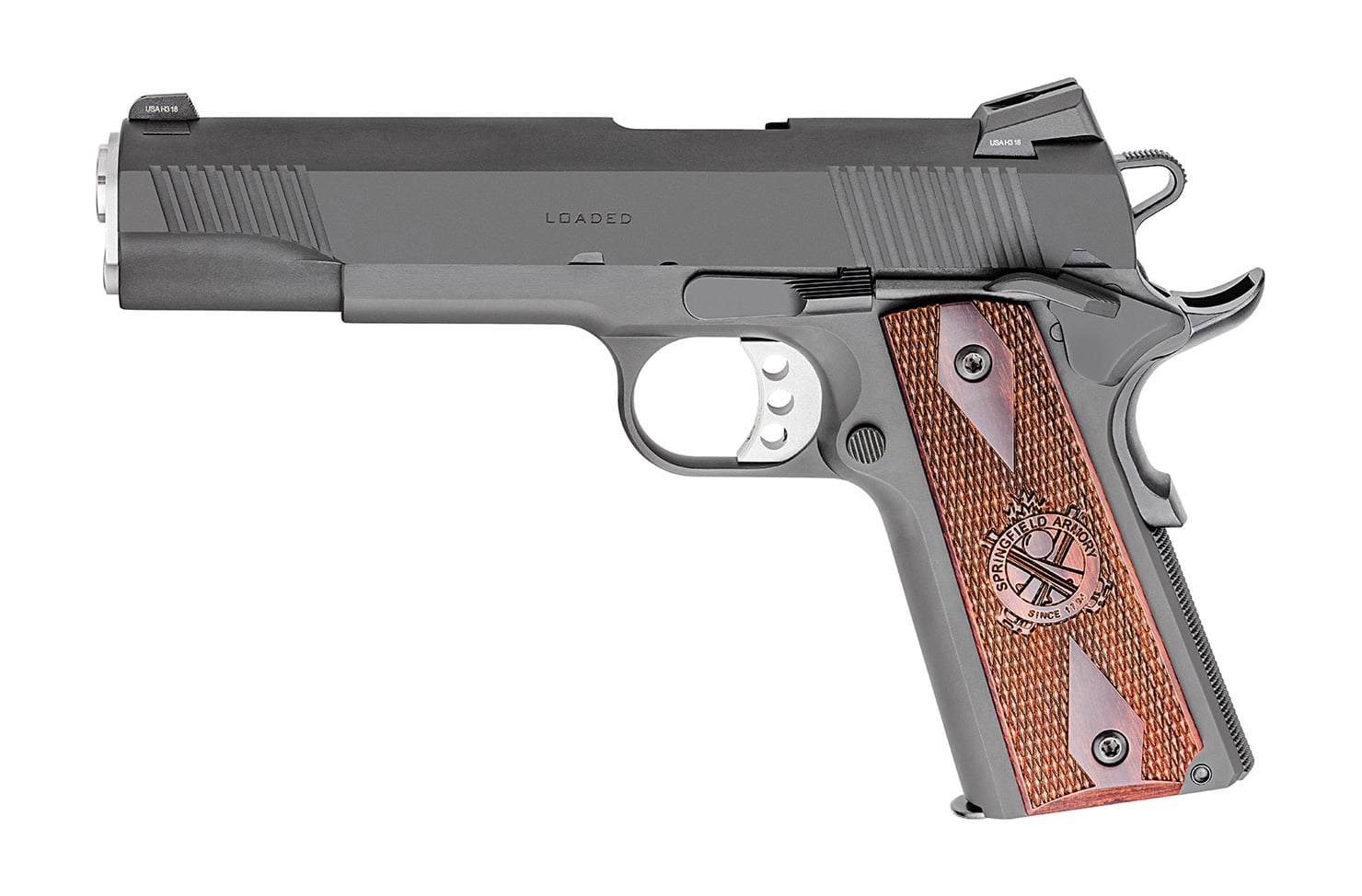 The 1911 Loaded ships with two seven-round magazines, three-dot tritium night sights, forward slide serrations, two-piece full-length guide rod, beautiful wood grips with the cross-cannon Springfield logo and has an ambidextrous thumb safety. This 1911 is also California compliant.
Mil-Spec 1911
1911 traditionalists truly love the Springfield Armory Mil-Spec 1911. For those that prefer a "bare bones" 1911 handgun just as Browning designed it the Mil-Spec 1911 delivers.
It has a matte-black finish, an arched mainspring housing, a G.I.-style guide rod, wood grips, seven-round magazines and a spurred hammer. Springfield Armory uses a match grade 5" barrel along with a lowered and flared ejection port to increase accuracy and reliability.
It shoots as fine as the "higher-end" models while keeping the traditional features that 1911 purists enjoy. If you are looking for a workhorse 1911 without spending the big bucks, the Springfield Mil-Spec 1911 would be a great choice.
Final Thoughts
It was an honor for me to review and reflect on these Springfield Armory 1911's. Each of them holds a special place in my heart as the build quality, craftsmanship, reliability and accuracy are unmatched.
The variety of 1911's that Springfield Armory offers is amazing. Everything from the bare-bones 1911 Mil-Spec to the highly modern-featured 1911 Emissary to the double-stack 1911 DS Prodigy are available, as well as numerous other options in between. Also, their 1911 line of pistols are suited to hit any budget category.
You can expect a Springfield Armory 1911 to shoot incredibly well straight out of the case. You can also rest assured that a Springfield 1911 is built with the highest quality while using the finest parts to create a shooting experience worth remembering.
When purchasing a Springfield Armory 1911, the buyer can be confident they received a fine pistol that will last them a lifetime.
Editor's Note: Please be sure to check out The Armory Life Forum, where you can comment about our daily articles, as well as just talk guns and gear. Click the "Go To Forum Thread" link below to jump in and discuss this article and much more!
Join the Discussion
Featured in this video
Continue Reading
Did you enjoy this video?
196