The 1911 has been the stuff of legend for more than a century now. Everyone chases the 1911 trigger with its smooth, consistent break and linear pull. The result is a break weight that usually ranges from 4.5 lbs. to 5 lbs., or even lower if desired. I'm willing to bet even now you can feel that "glass break" sensation as the hammer drops, even though your Springfield 1911 isn't even in your hand.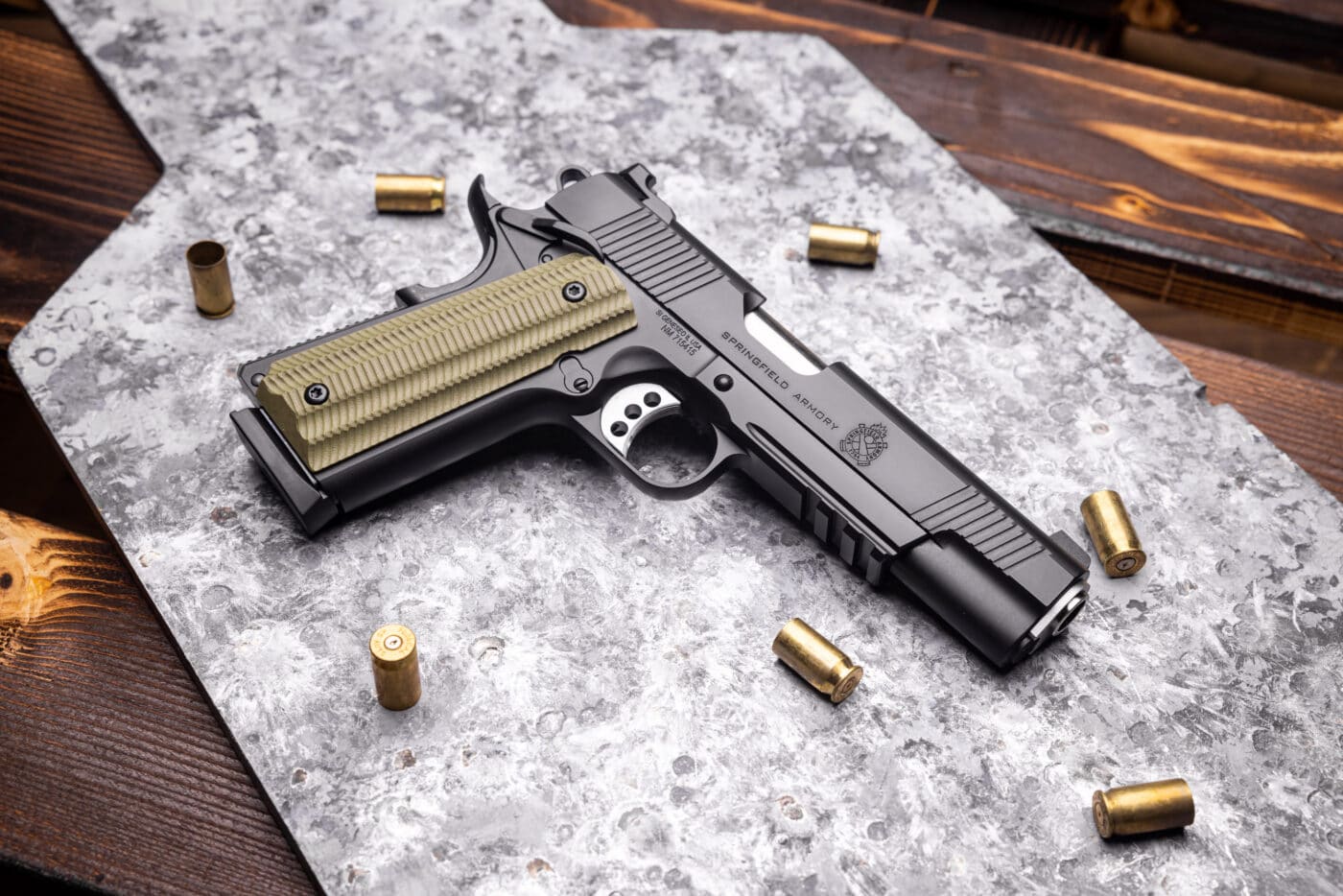 There is a lot more to the 1911, and as owners we always want all of the options — and we want it for a great price. Springfield has done this with the new Operator. Not only did they bring it in at a great price point, they packed it with options. I put this new Operator to the test with multiple ammo types, chronograph testing and, of course, lots of fun on the range.
The range days consisted of duty belt and standard shooting without equipment, with manipulation and reload drills thrown in the mix, to get a good feel for this new offering. It was also tested with different light brands and magazines brands.
What We Want
The trigger is as good as ever, with the feel and looks we want. It has a skeletonized profile that matches the skeletonized hammer. The pull is consistent, extremely short and very crisp when the hammer comes down.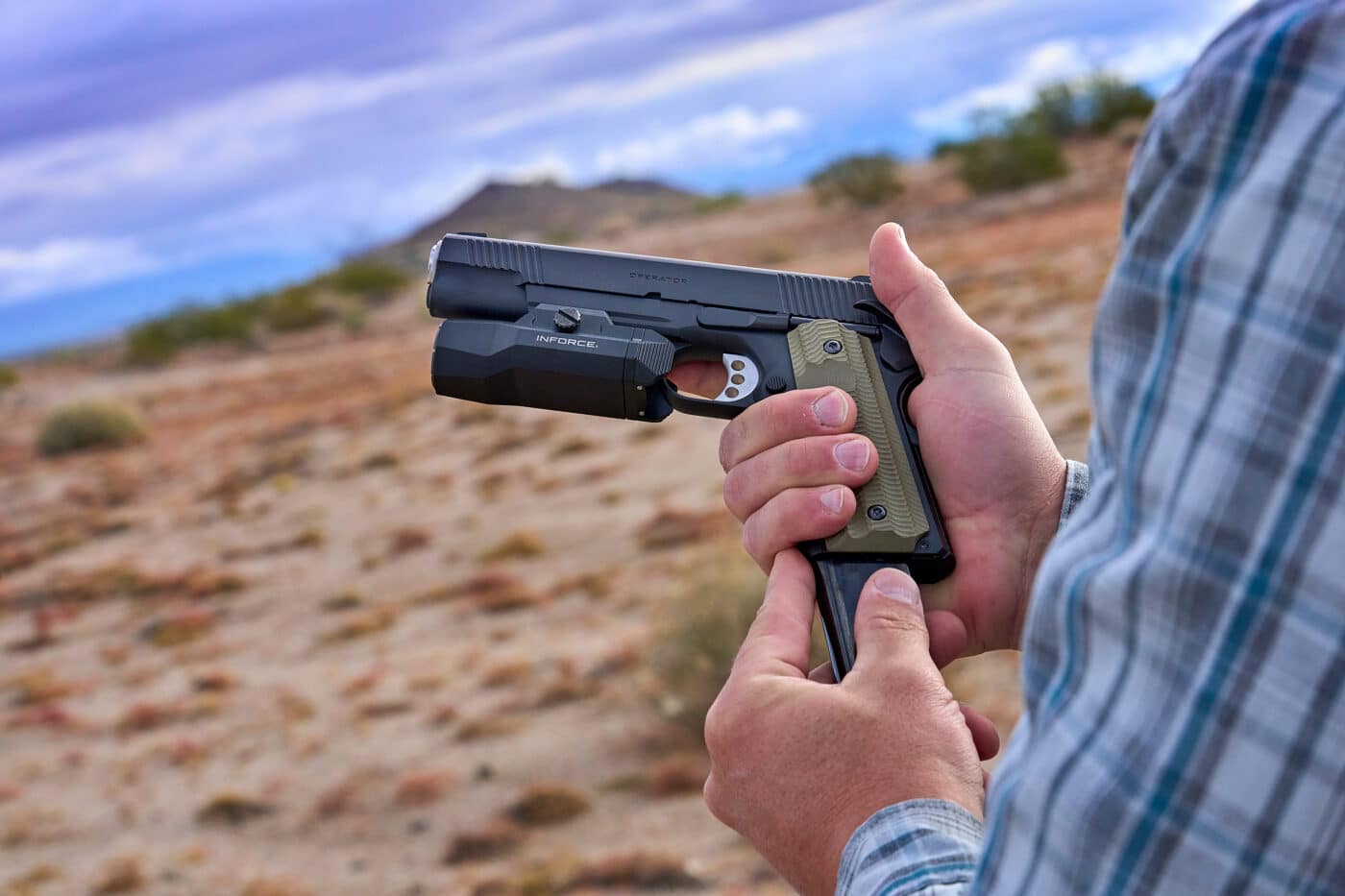 The low-key black Cerakote finish on the forged slide and frame contrasts nicely with the forged stainless steel match barrel. If we work forward from the magwell to the muzzle, we see sleek custom grip panels with an aggressive but not abrasive texture. The grips are by VZ Grips, and are made from G10. VZ Grips is the same company that makes the highly-regarded Emissary grips.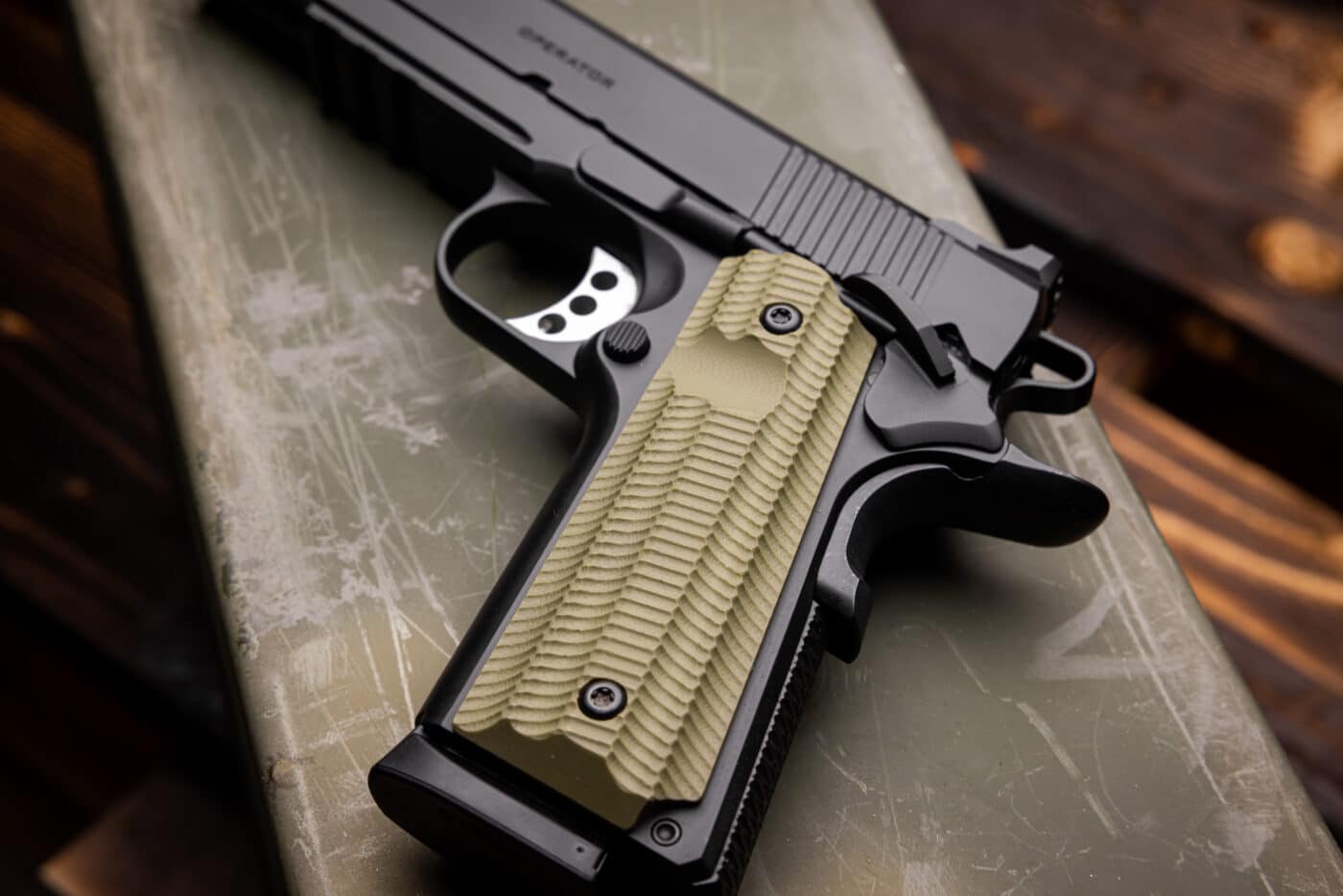 This same texture follows around the backstrap, ensuring maximum grip and recoil control — even during one-handed use. We also get ambidextrous safety controls and our standard magazine release with linear texture to ensure a positive engagement. The extended beavertail grip safety is ample in size and provides positive control, as we expect from any Springfield 1911. It also has a "memory bump" to ensure positive engagement.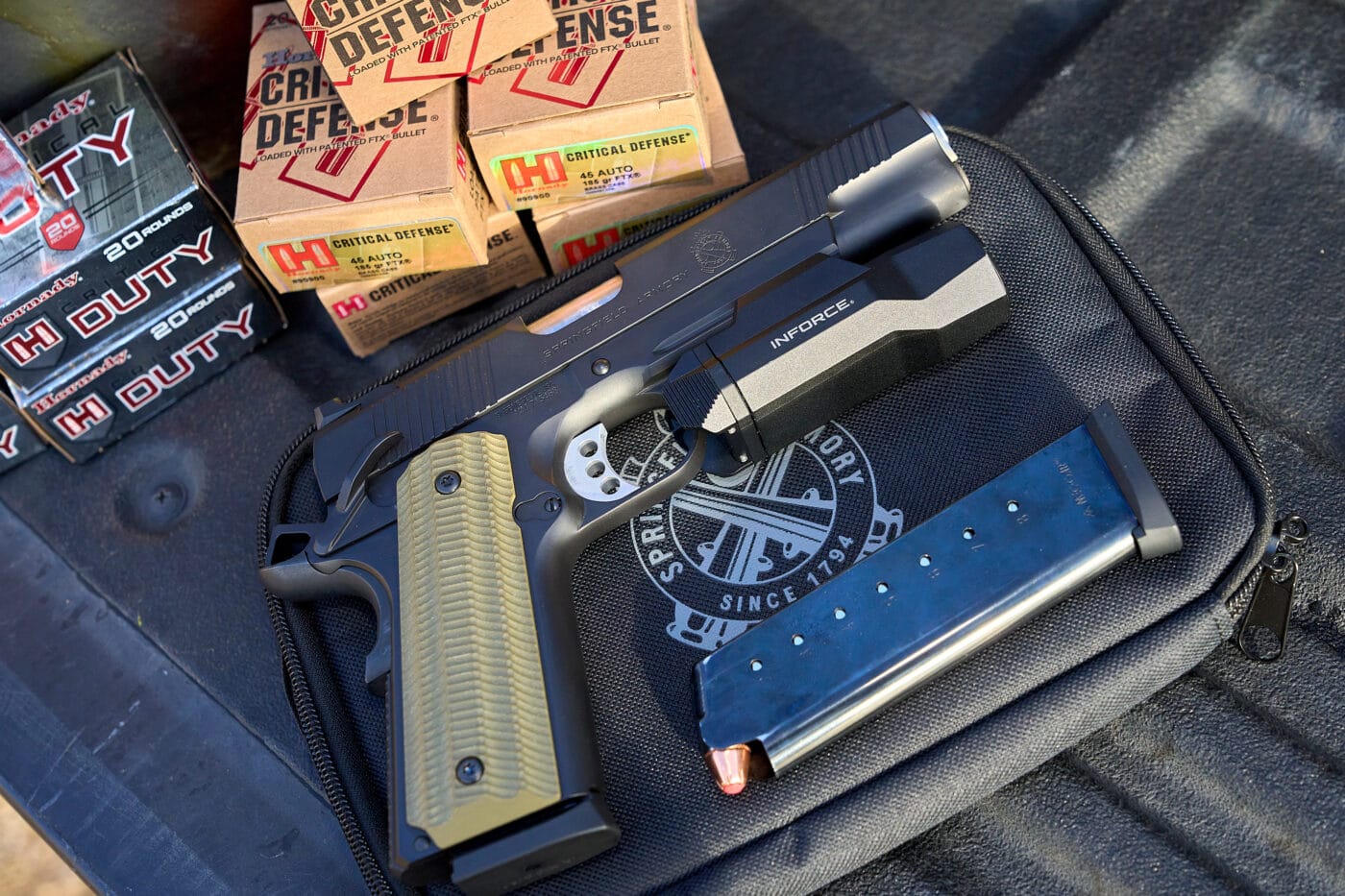 The slide has front and rear serrations and Tactical Rack sights. The sights are three-dot style, with the front being tritium and the Tactical Rack rear having an extra bit of shelf for one-handed manipulation drills. If you are unsure how this works, I will explain. In a one-handed drill, you can use the ledge on the rear site to rack the slide against a hard surface to clear a malfunction or reload. And to top it off, we get two eight-round Mec-Gar magazines in a sleek black finish.
Specifications
Here are the specs for the new Operator 1911:
| | |
| --- | --- |
| Chambering | .45 ACP |
| Barrel | 5″ |
| Weight | 42 oz. |
| Overall Length | 8.6″ |
| Sights | Tritium front, Tactical Rack rear |
| Grips | G10 |
| Action | Semi-auto |
| Finish | Black Cerakote |
| Capacity | 8+1 (two) |
| MSRP | $1,099 |
Breaking it Down
With many of today's 1911 pistols, you need a tool to take down the pistol for cleaning. The Operator goes old school back to the classic and proven barrel bushing design, which allows for totally toolless takedown of the pistol.
The barrel bushing is easily removed by pressing in on the recoil spring plug, which is nicely textured, and then rotating the bushing to clear it. The rest of the disassembly is as usual for the Springfield 1911 full-size pistols.
Range Time
For testing, I ran Hornady Critical Defense 185-gr. FTX ammo at a distance of 25 yards, while tracking velocity. With an average velocity of 1,065 fps, the Hornady Critical Defense I tested appears to be a quite capable load. I am not the best nor worst shot for accuracy testing, but I was more than happy with these results at 25 yards. Any time we can see real-world results from ammo on paper, we know it's more than flashy packaging and promises on the side of the cartridge box.
Shooting Results
| | | | |
| --- | --- | --- | --- |
| Ammunition | Group Size | Velocity | Energy |
| Hornady Critical Defense 185-gr. FTX | 3.0″ | 1,065 fps | 466 ft-lbs |
Group size is for a five-shot group, measured center to center. It was fired at 25 yards kneeling, table-supported. Velocity is the average of five shots fired across a Caldwell Precision Chronograph, oriented 10' from the muzzle.
Feel and Function
We have talked about the impressive options list the new Operator comes with, my favorite being the rail for lights and other accessories like lasers. But what about the performance? I decided to run this like a work pistol, as it's really designed and equipped for tactical use.
The feel of the ergonomics is exactly what we have come to expect from a Springfield 1911. The ambi safety worked perfectly for one-handed and off-hand drills. Recoil control was superb, with the deep texture on the grip panels and backstrap combining with the ample beavertail for impressive control. The serrations on the front and rear were easily used when loading, unloading and dry practicing. The accuracy with the Hornady ammo was top-notch, likely having something to do with that match barrel and great ammo.
When it comes to the Springfield Operator, I feel right at home with it. My first ever 1911 was a Springfield Armory, and I still own it 20 years later. The overall feel of the standard 1911 is always a comfortable feeling for me, and the aggressive grip texture of this pistol keeps the grip in the pockets of my hand under recoil.
The rail gives me options, and having that ability to run a pistol-mounted light is something I always look for. I also noted the smoothness of the action and controls. Upon receiving this pistol, I immediately noticed the slide felt like it was gliding on ball bearings, with no interruptions or grit. I also felt the controls were positive yet smooth during operation. To me, these immediate details tell me the machining and quality control are at the next level in the Springfield factory.
Conclusion
Having carried 1911 pistols at work for several years, details matter for me and options generally are of added value on a pistol. The biggest takeaway for me with the new Operator is that it was built to be used, and used for hard work. I am not sure who at Springfield decided on the options included, like the tactical racking sights, more texture on the backstrap or the much more field-friendly breakdown, but they picked the right person.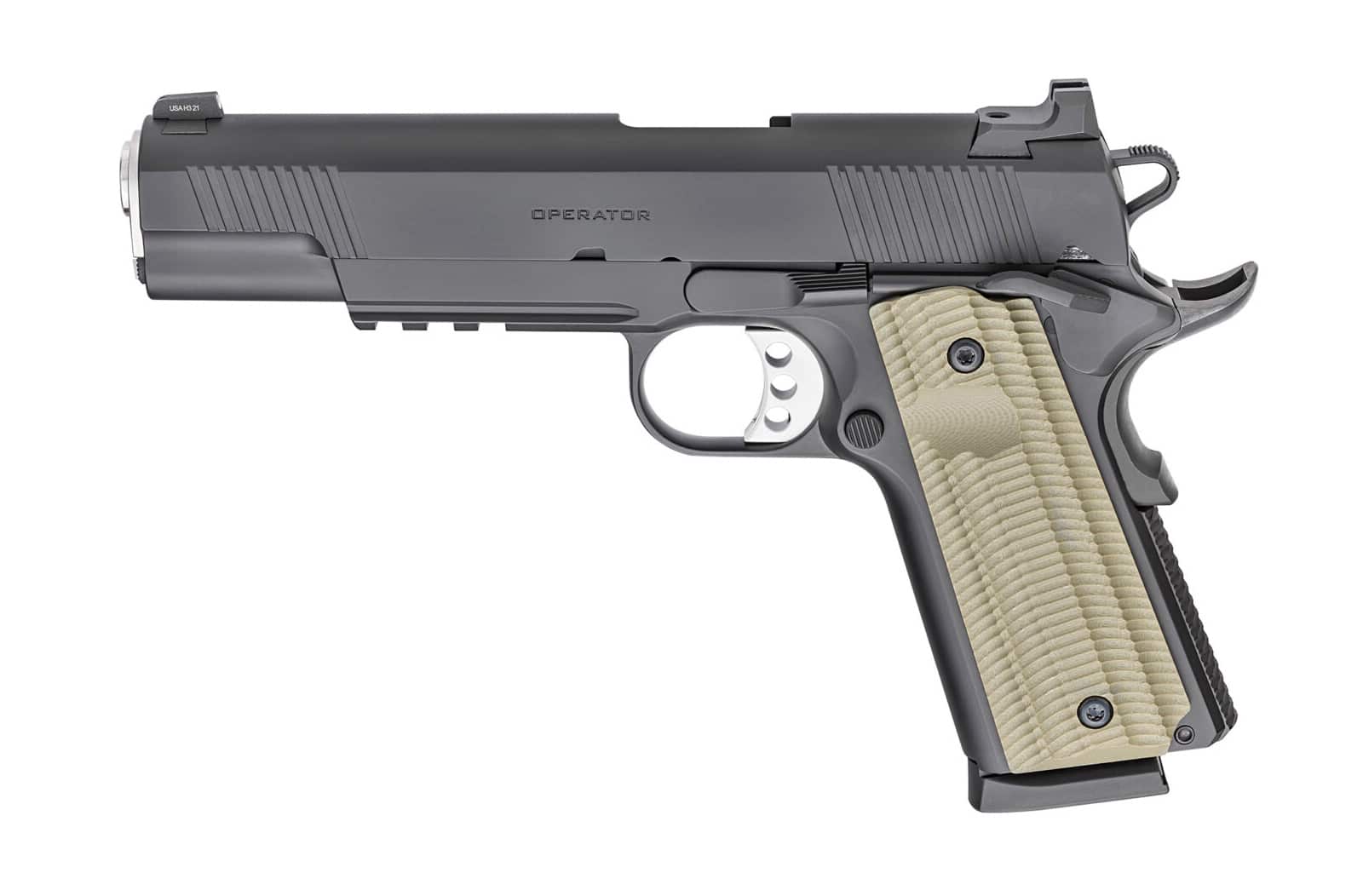 So, you're probably wondering, "What's this going to cost me?". It probably sounds expensive. The fact of the matter here is that Springfield added usable options and put together this package with a goal in mind of getting as close to a $1,000 price point as possible. Yes, read it again; the new Springfield Operator with the rail, front night sight, ambi safety and that match barrel, comes with an MSRP of $1,099. Sounds like a winner to me!
Editor's Note: Please be sure to check out The Armory Life Forum, where you can comment about our daily articles, as well as just talk guns and gear. Click the "Go To Forum Thread" link below to jump in and discuss this article and much more!
Join the Discussion
Featured in this video
Continue Reading
Did you enjoy this video?
304