Ayoob: Is There a 9mm 1911 Problem?
May 5th, 2022
6 minute read
The 2021 announcement that Springfield Armory's high-value 1911 series, the Ronin, was getting a new addition got my attention. The reason was, the new kid on the Ronin block was an EMP.
I was introduced to the Enhanced Micro Pistol at a seminar in San Diego in 2005, and instantly bonded with it. Originally, it was chambered for the then-new .45 GAP and the .40, as well as 9mm. While the .45 GAP (and even the .40) rounds have waned in popularity since those early days of the EMP, the 9mm is still going strong and is the only chambering currently offered in the EMP pistol.
Back in the mid-2000's, some thought that a reliable 1911 in 9mm was a unicorn. I didn't quite buy into that. A unicorn is a beautiful and desirable creature, but a mythical one. Up until the latter half of the first decade of the 21st century, you could find a 9mm 1911 all right, but a reliable one was rare: the 9mm has a shorter overall length than the .45 ACP John Moses Browning designed the 1911 for, so getting that round to work well in a 1911 requires some skill and 1911 know-how. (See more on the 9mm vs .45 ACP debate here. ~Editor)
A New Solution
While getting a shorter round like the 9mm to work in the "oversized" 1911 can be complicated, Springfield Armory took a totally different approach with the EMP. Simply put, it is a 1911 scaled down to the 9mm. But it was not a simple effort. The EMP design features 11 proprietary parts unique to it from a standard 1911. The result was a pistol that not only was designed with the 9mm specifically in mind, but one with a downsized grip frame (fore to aft) with a smaller circumference.
They ended up providing a pistol that not only was effective with the 9mm round, but also one that was quite compact. Furthermore, the frame is aluminum for light weight, giving the 3" barreled pistol available today compact dimensions and light weight.
I tested an EMP for a gun magazine as soon as the pistol hit the market back in 2005. I liked the test sample enough to not only to buy it and keep it, but to carry it quite a bit, teach with it and even shoot IDPA matches with it successfully. It "carried small and shot big." When my wife, a self-styled "shooter-chick", went on a 1911 kick for a while, I gave it to her. So, I was in the market for another when the EMP Ronin was announced in late 2021.
The Differences
So, what makes the new EMP Ronin different from the original EMP? The new EMP is part of the popular Ronin line of pistols, known for combining an attractive two-tone finish with select enhancements, and all at an MSRP of $899 with a single magazine.
The original EMP pistol, still available as part of Springfield Armory's "California-legal" offerings, is priced at an MSRP $1,287. While more expensive, the pistol does have some enhancements beyond the Ronin EMP, such as an ambidextrous safety, three magazines and low-profile three-dot tritium sights.
As a long-time fan of the EMP (and a guy who misses his original), I was very curious to see the differences between the two pistols. Firstly, the Ronin EMP line is offered in both 3" and 4" versions. The 3" version has a 9+1 capacity, and the 4" version as a 10+1.
At first glance, it's hard to tell the difference. On my original EMP, it had a stainless steel slide and a black anodized frame. With the Ronin EMP, it is the opposite. Like all Ronins, the Ronin EMP has a hot salt blued slide and a silver frame (a lightweight anodized aluminum frame with the two Ronin EMP variants).
As I mentioned, the EMP pistols are priced at an extremely reasonable MSRP of $899. With that price, you do get a different feature set — but it still has the same, solid foundation of the original EMP design. Firstly, you have a single-sided safety on the Ronin. Not an issue if you are a righty, but something to think about if you are a southpaw.
While the original EMP has a nice set of Novak-style tritium three-dot sights, the Ronin EMP versions have white dot rears that match up with a red fiber optic front sight. Also, the rear sight has a nice "Tactical Rack" ledge to allow you to rack the pistol one-handed against your belt or a hard edge in an emergency. Also, as mentioned, the original EMP comes with three magazines, and the Ronin EMP a single one.
Action smoothness? If my old one is the tiniest bit smoother, it's because it has been thoroughly worn in over more than a decade and a half. Reliability? I had two misfires early on with the Ronin (in the first fifteen rounds, elderly Winchester ammo), and never again in many utterly trouble-free boxes of ball and JHP, 147-gr. subsonic and 127-gr. +P+ and inexpensive Rem-UMC and Blazer Brass 115-gr. FMJ.
Shooting Characteristics
Our test team consisted of half a dozen shooters. Ranging from 53.25" to 72" tall, 70 to 200 pounds, male and female, left- and right-handed, and ages from child to geezer (specifically, 11 to 73). Experience levels ranged from a young lad firing a centerfire handgun for the first time, to an old coot who has been shooting them for 69 years.
Everyone liked the gun. One swore he was going to buy one, and another is strongly considering it.
Recoil is mild, even with the small size: it's a 9mm, after all. When the 9-round magazines are new, they have to be smacked in hard when fully filled if they're going to seat with the slide forward, but after some use that problem seems to go away. (The 3" 9+1 Ronin EMP takes the original EMP's mags.)
Trigger? Tested on a Lyman digital trigger pull scale from Brownell's, the new EMP Ronin averaged 5.175 lbs. This was actually lighter than the more expensive and well-broken-in original EMP, which at the time of comparison averaged 5.61 pounds. Each pistol has a skeletonized medium-length trigger.
Subjectively, I could barely tell them apart when dry-firing with my eyes closed (after, of course, triple-checking sight and feel with both eyes open!) The EMP may have been a tiny bit smoother, but this probably was due to years of dry firing and thousands of live rounds more than to any differences in the pistols.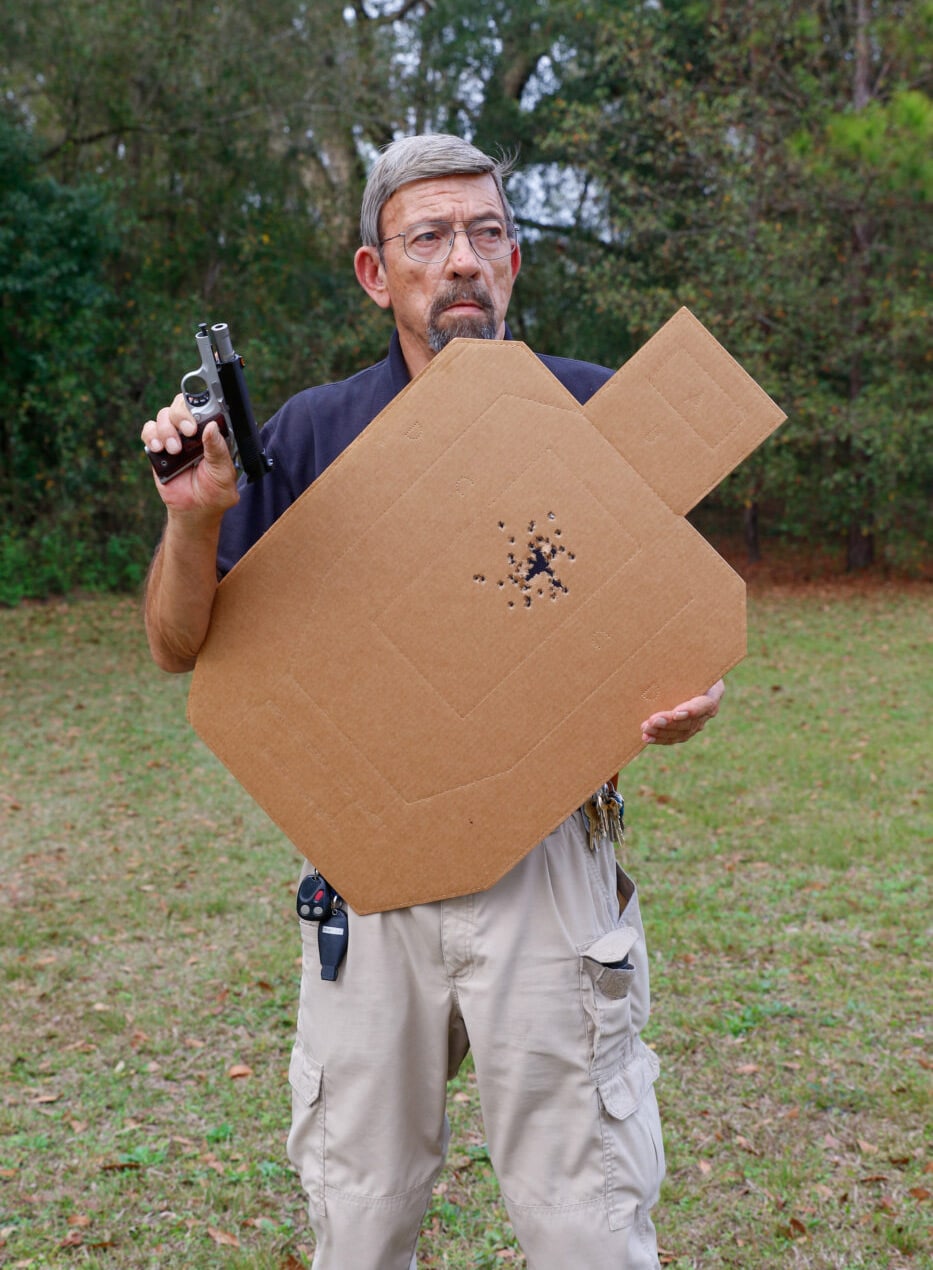 Shootability? I ran a 60-shot qualification course (left- and right-hand-only, lots of speed reloads, cover positions, multiple stances all under time) and managed an easy 100% score on an IPSC target. These pistols are shooter friendly.
Bottom Line
Easy to carry and easy to shoot well, the EMP has proven itself a winner, and the EMP Ronin is poised to follow in its footsteps. While you can take the original 1911 and make it a 9mm, it takes the knowledge and background with 1911 manufacturing that a company such as Springfield Armory has to make it work well.
And, with the original EMP and the new Ronin EMP, you get a pistol that was designed specifically around the shorter 9mm round. In addition, you get a small, compact pistol with a smaller grip circumference, giving you a pistol that is easy to pack, and also easy to shoot.
Editor's Note: Please be sure to check out The Armory Life Forum, where you can comment about our daily articles, as well as just talk guns and gear. Click the "Go To Forum Thread" link below to jump in!
Join the Discussion
Featured in this article
Continue Reading
Did you enjoy this article?
825