Review: Springfield Armory 9mm Garrison 1911
April 22nd, 2022
7 minute read
The Springfield Armory Garrison 9mm is a modern take on John Moses Browning's timeless 1911 handgun design. Incorporating cutting-edge engineering and materials science into the archetypal defensive pistol, the Garrison 1911 offers high-end custom quality at a working man's price. Now that the Garrison is offered in 9mm, it also raises the bar on practical shootability.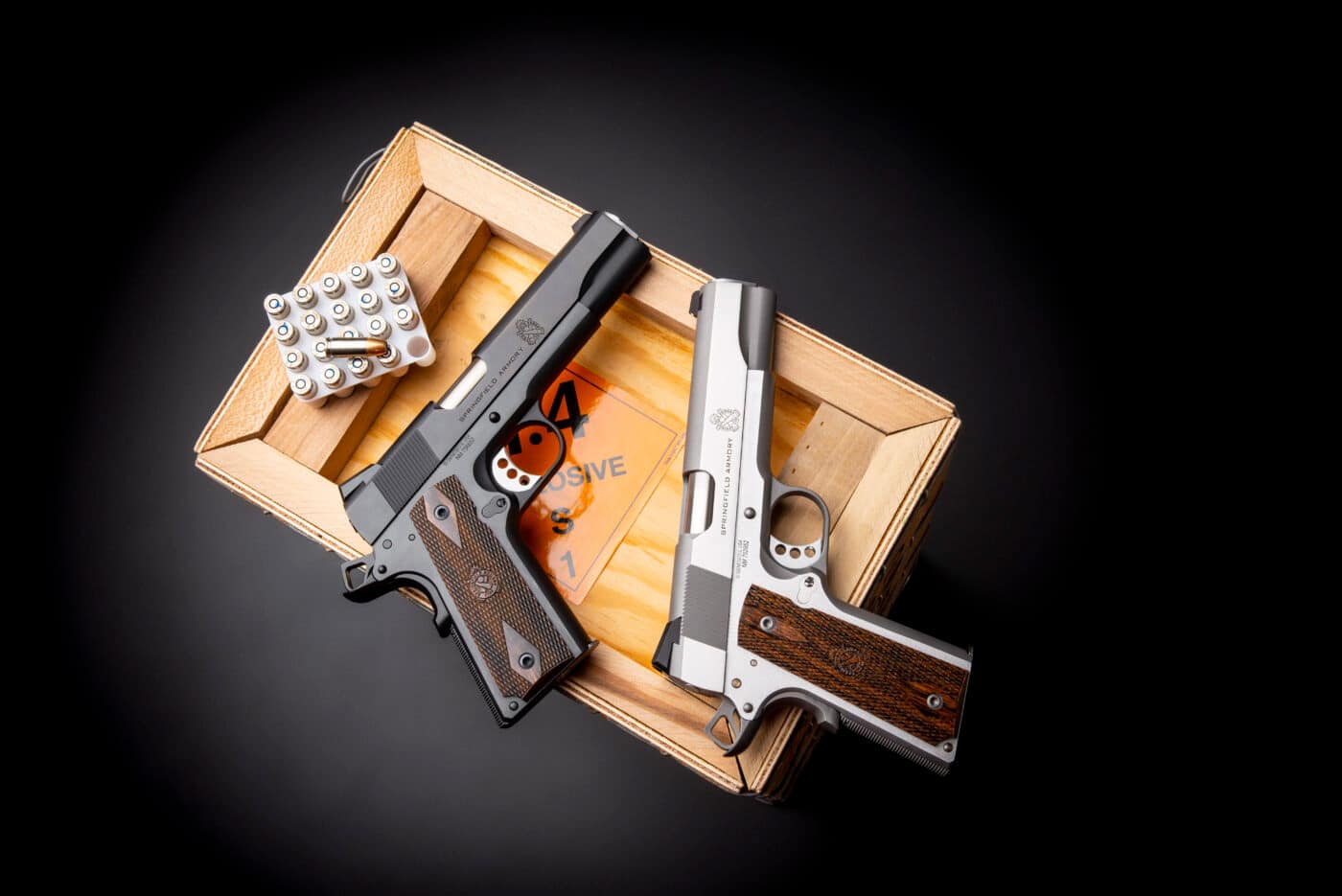 Selection of a defensive handgun is one of modern life's more intimate choices. We contemporary armed Americans have a literally unprecedented selection from which to choose. That's what makes a trip to your local gun emporium such a treat.
The Springfield Armory Garrison 9mm strikes a sweet spot. Trim to pack, fast in action, delightfully accurate and utterly divine on the range, the Garrison is the defensive handgun for the shooter of distinction. If your proclivities wander to the finer things but you'd sooner not hock a kidney to get there, this is your heater.
Philosophy
It's actually pretty spooky if you think about it. Have you ever noticed how sometimes it seems like you just think of something and ads for that something start popping up all over the place? Artificial Intelligence and Machine Learning allow our subservient devices to conduct unprecedented surveillance of our personalities and proclivities. The ultimate goal is targeted advertisement designed to efficiently separate us from our paychecks.
I recently needed a digital multimeter for a household task. Suddenly every place I clicked was simply awash in ads for multimeters. Facebook, Fox News and Microsoft Outlook seemed utterly obsessed with multimeters. Like I said, spooky.
The reason for such is that we Americans are such deplorable individuals. Where some other cultures propagate a sort of collective hive mind, here in the U.S. we celebrate and encourage individualism and free thought. That national mantra has brought us the light bulb, the airplane, the integrated circuit, Silly Putty, nuclear weapons and the Kardashians. I never implied that the process was perfect.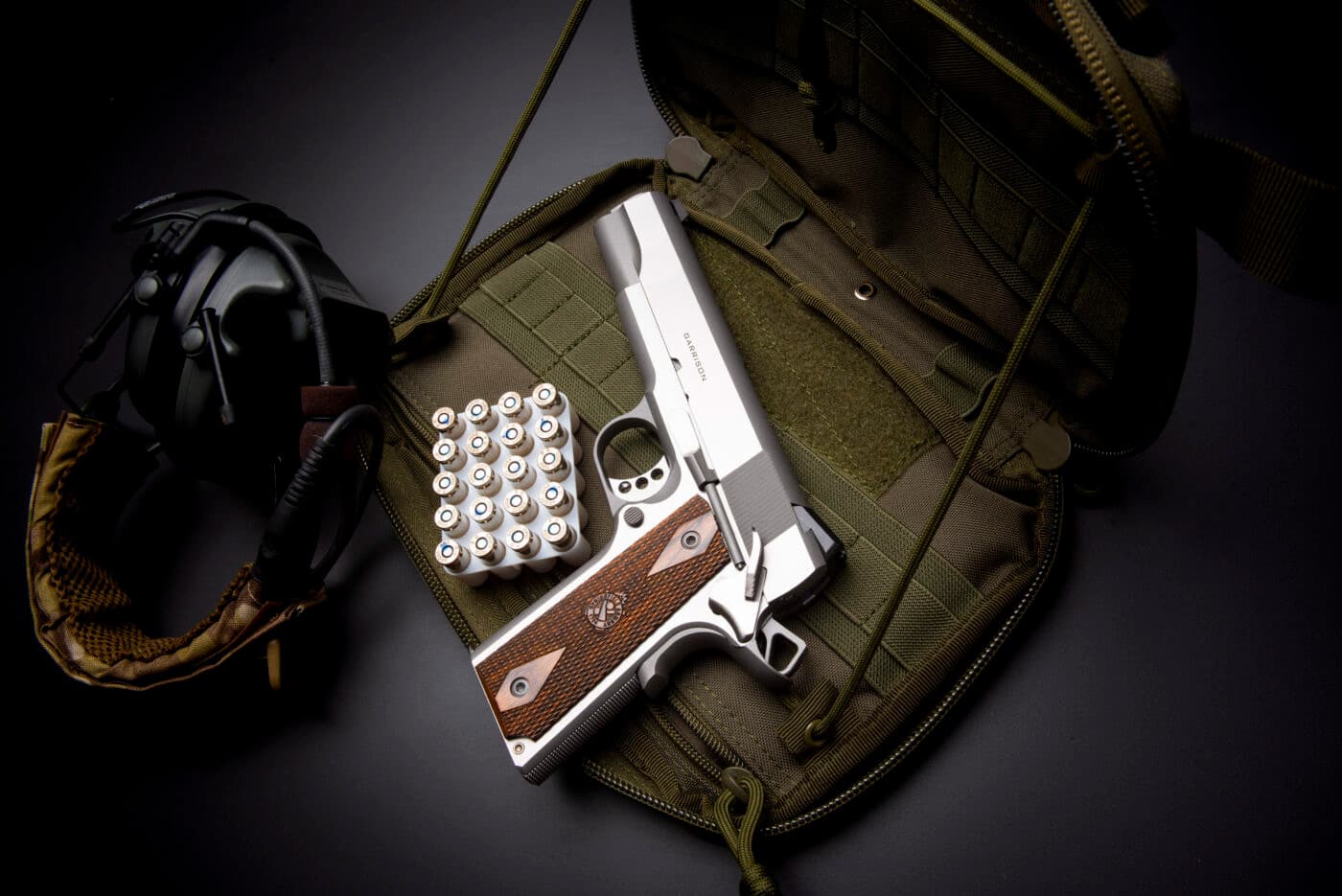 As it relates to firearms, your carry gun reflects your individual personality. You know it's true. The plastic pistol fanboys swear by their polymer wonderguns. Those who gravitate toward tiny heaters that will ride in the front pocket of your jeans fall into another camp.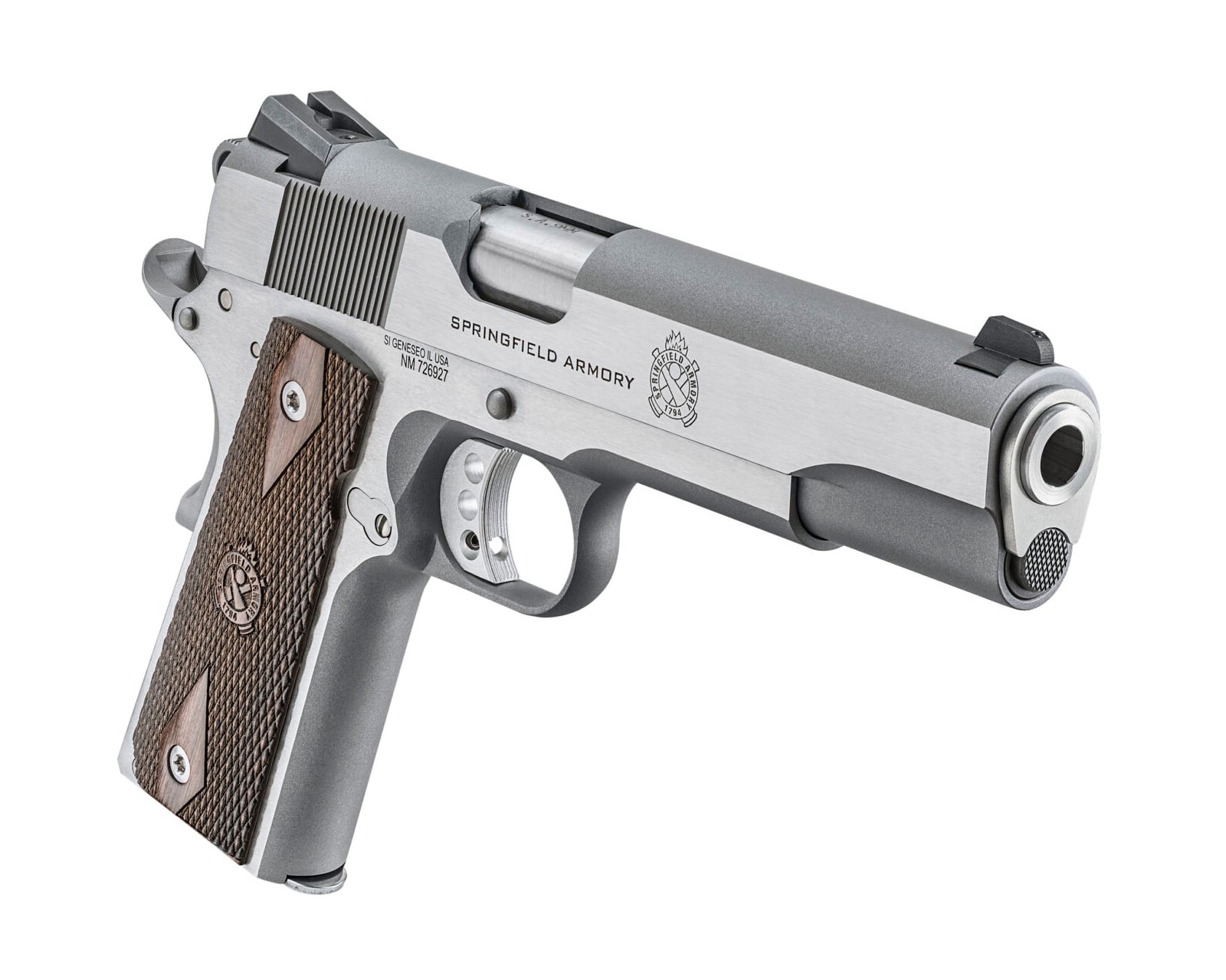 Then there are the renaissance men. These are the sort who favor forged steel and single-action perfection. They want a manual thumb safety, a sleek sexy chassis, and high-end customized everything. For those rarefied shooters of refinement, Springfield Armory offers the 9mm Garrison.
Historical Background
The beating heart of the Springfield Armory 9mm Garrison is all John Moses Browning. Browning held 128 patents when he breathed his last over his workbench in 1926. He was the most prolific gun designer in human history. Browning designed every rifle-caliber automatic weapon used by U.S. forces in World War II. If we had any sense (we don't), we'd erect a 300-foot likeness of the great man and plant it in New York harbor alongside Lady Liberty.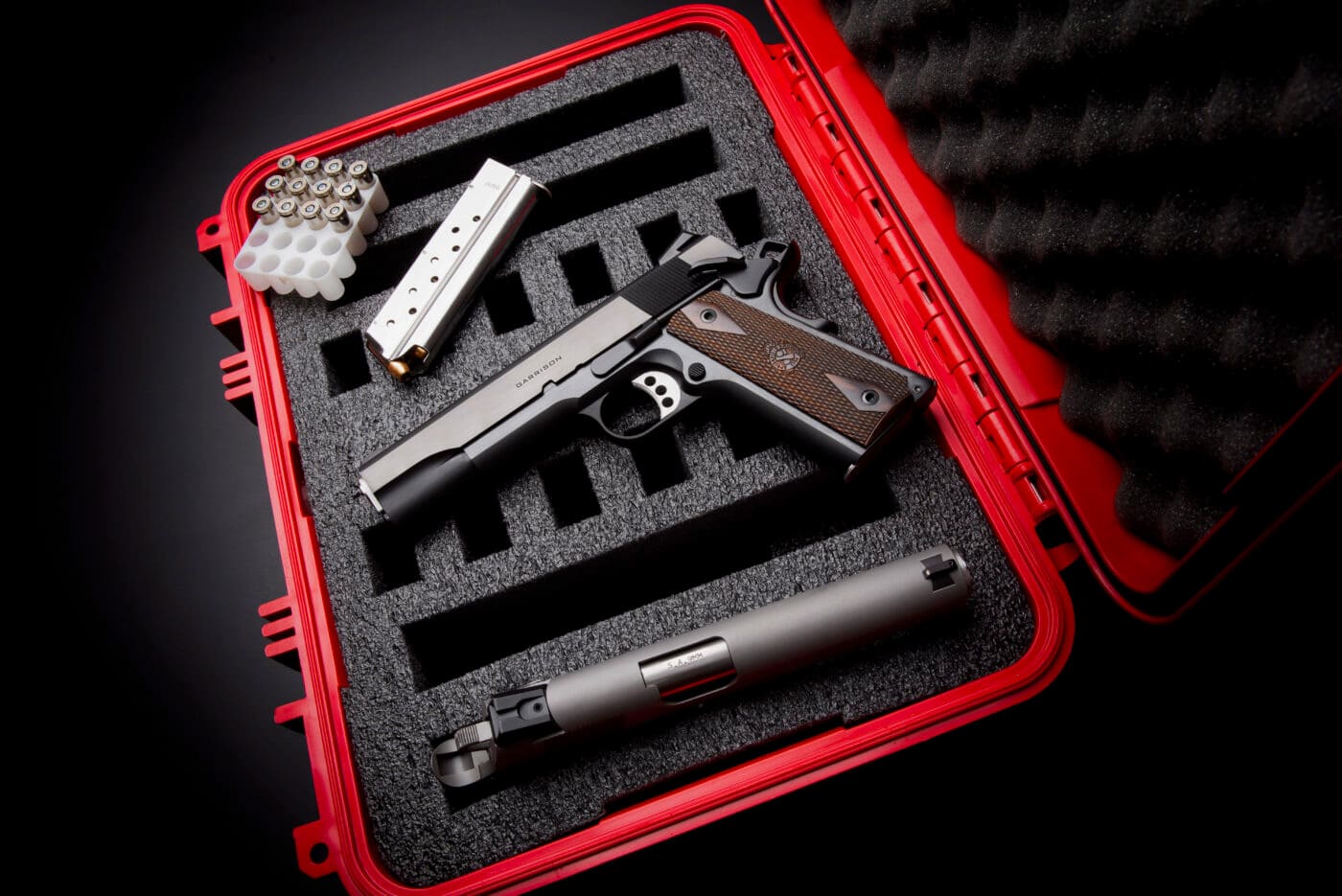 Of all his many firearm designs, the venerable 1911 is arguably the most significant. Well over a century after its introduction, this locked-breech, short-recoil masterpiece still sets the standard for precision handgunnery. The 1911 pistol remains well represented at competitions and among truly rarefied special operators even today. If you're seeking a refined handgun experience then look no further than Browning's 1911.
Technical Details
The Garrison 9mm has the heart of a custom handgun. It comes available in either blued or stainless steel finishes and offers sweet features at a rack-grade price. The Garrison could pass for a race gun in dim light yet is designed for the real-world defensive arena.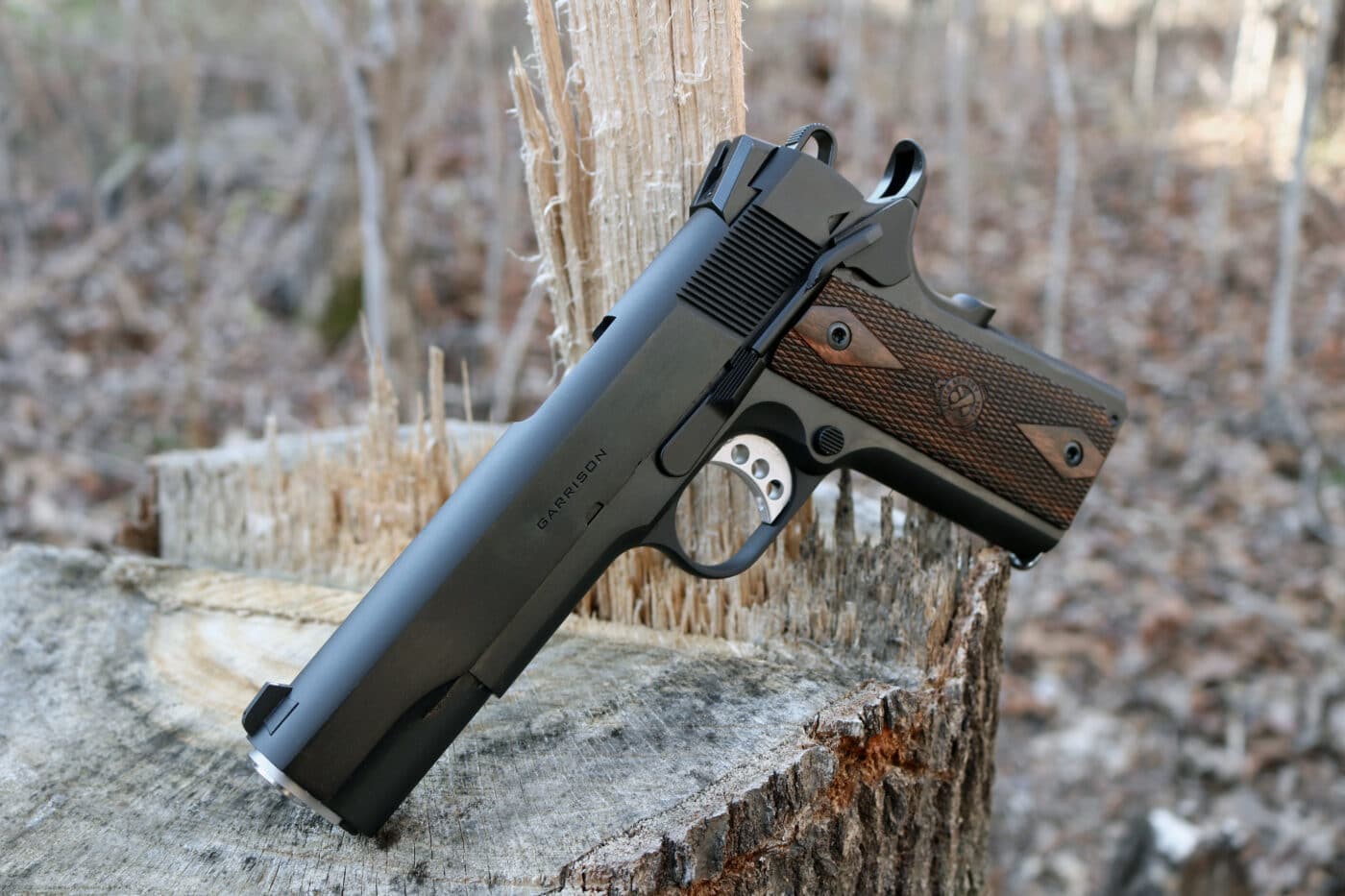 The 5" forged stainless steel barrel is cut to competition standards. Thinline wood grips are attractively checkered for an effect that is both aesthetically pleasing and eminently functional. Low-profile three-dot sights are discreet enough not to snag yet remain sufficiently stark for quick acquisition.
The Garrison's slide and frame are forged. A lot of modern steel guns orbit around cast frames because they are cheap. However, is cheap really the single most important attribute you want driving a tool that might potentially be called upon to save your life? A forged chassis ensures long life and inimitable wear resistance.
One of the reasons folks like me gravitate toward the 1911 is because of its mechanical safety systems. The grip safety sports an extended beavertail and has a discreet memory bump. Operation is automatic and stupid-proof. The left-sided extended thumb safety is just big enough for lightning-fast operation without being bulky or cumbersome. The flat mainspring housing is pleasantly checkered, while the front strap is left comfortably smooth.
If I had to pick one truly superlative attribute out of the many that define Browning's 1911 masterpiece, it would be the trigger. The beautifully crisp single-action trigger found on the Garrison 1911 pistol is simply delightful. The Garrison trigger performs as though it were nurtured by some nameless artisan wielding a needle file and a lifetime's worth of experience.
Trigger Time
The Garrison is not the gun that the newbie snatches out of the box, stokes with high-performance hollowpoints, and then drops into an IWB holster expecting to dominate the defensive landscape. There is a manual of arms to be mastered here. These weapons are most typically carried in Condition 1 with the hammer back and safety on. The draw process, therefore, involves presenting the weapon while simultaneously thumbing off the manual safety.
Don't fret over this. Literally millions of soldiers, cops, and normal armed citizens have mastered the process. It just takes a little practice. What you get for that investment, however, is a precision defensive handgun experience par excellence.
The Garrison packs easily given its trim single-stack architecture, draws smoothly and points like a Kindergarten tattletale. The extended thumb safety comes off automatically with a little practice, and the high-visibility three-dot sights keep things straight and true. The divine single-action trigger sports just enough creep-free take-up to settle your finger in place and then breaks like a prom queen's heart.
The 9mm chambering in this manly chassis means recoil is a joy and follow-up shots are fast, accurate and smooth. You could use this gun to burn 500 rounds of 9mm ball in an afternoon and go home from the range with a stupid grin on your face. Magazine changes set the standard for everything else. The slide/frame interface is glass smooth. Manually cycling the action makes you want to put the folks who physically crafted this thing on your Christmas card list.
Denouement
You have a lot of choices in life. Brunettes or blondes, paper or plastic, gas or electric, Apple or Android. Ours is the most refined consumer society in all of human history. In the Springfield Armory Garrison 9mm, you find features and quality that you would normally expect to pay thousands for all at an MSRP of between $849 and $899. While that's hardly front pocket change, it's not the $5,000 it might cost to land a custom hand-built 1911.
Heft the Garrison and one of those $5,000 custom pistols simultaneously in the dark and you'd be hard-pressed to tell them apart. Run them on the range and your groups will be about the same. Pack the Garrison for concealed carry purposes and you'll be ready for anything this ugly old world might throw at you. The Springfield Armory Garrison 9mm is the shootable piece of ballistic art for normal folk.
Editor's Note: Please be sure to check out The Armory Life Forum, where you can comment about our daily articles, as well as just talk guns and gear. Click the "Go To Forum Thread" link below to jump in!
Join the Discussion
Featured in this article
Continue Reading
Did you enjoy this article?
495