There is no doubt that Springfield Armory produces some excellent 1911 pistols. They have been known to suit the 1911 purist shooter along with producing 1911's that feature a modern flare.
When they introduced the Ronin 1911 line, shooters took strong notice. The Ronin 1911 has original 1911 internals along with numerous modern features — and all with a classic, beautiful exterior.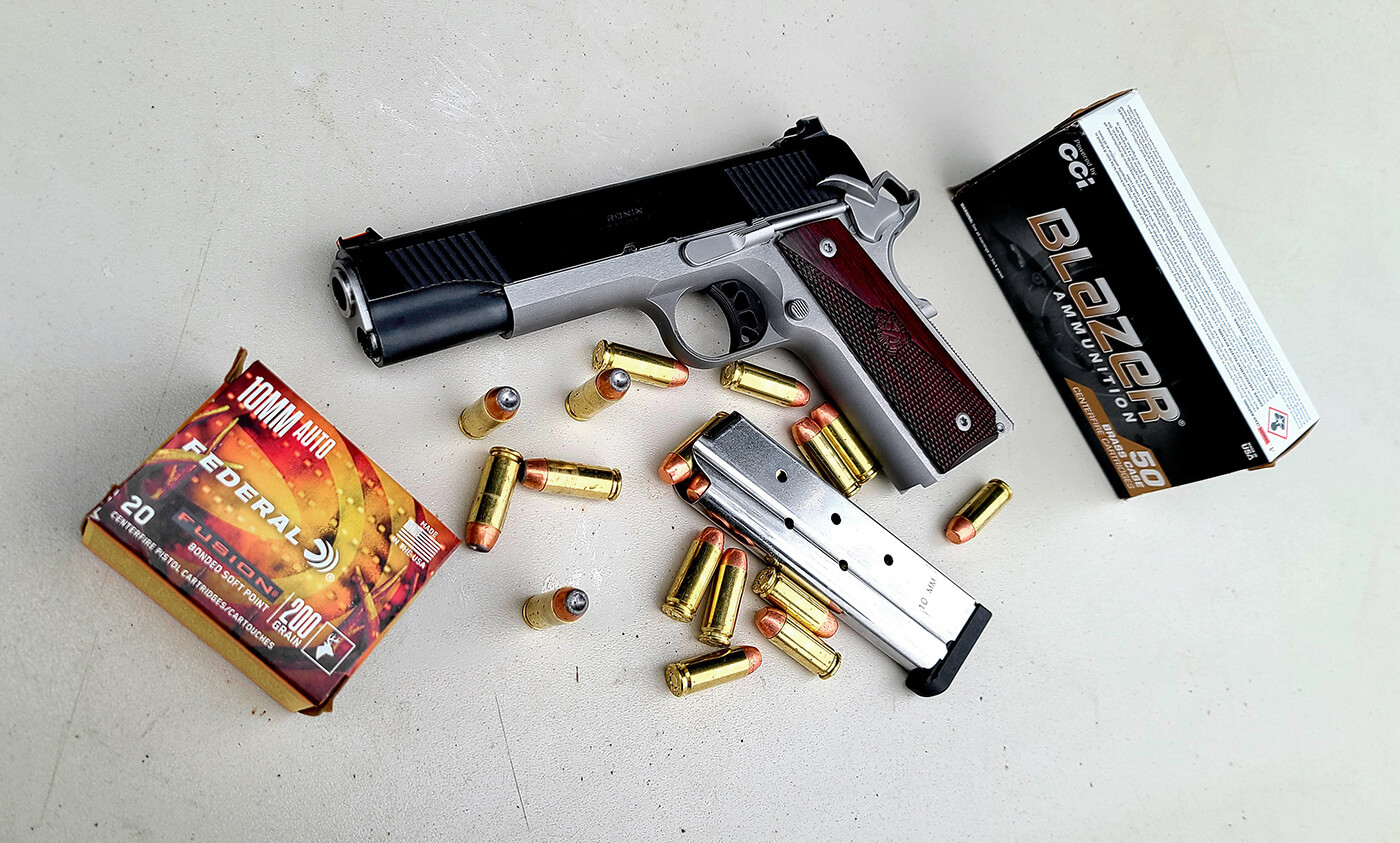 Its stainless/black two-tone profile and cross-cannon laminate grips make the Ronin 1911 a stunner. Add to that a very reasonable MSRP of $849, and shooters were lining up to check it out.
The Next Level
Recently, Springfield Armory released a Ronin 1911 chambered in 10mm. The Ronin 1911 is now available in 9mm, .45 ACP and 10mm. The 10mm is strictly an all-steel 5" gun, while the 9mm and .45 versions are offered in that configuration as well as a lightweight 4.25" model.
They all share common features and dimensions. The hot salt blued slide coupled with the stainless steel frame looks amazing. The all-metal "tactical" two-dot rear sight and the fiber optic front sight offers a precise sight picture. Add to that a 5″ barrel and a 5 lb. single-action trigger, and the accuracy is second to none.
When I took the Ronin 1911 10mm to the range, I shot the lights out with it. The recoil was easily manageable and the shots were dead nuts. I started at 12 yards, then went to 20 and then 25 yards. Hitting my steel plates seemed automatic. I figured, why not head out to my other range that offers more space for long-distance shooting? Honestly, I am not a great distance pistol shooter. Actually, this began an adventure I had little experience with. But, the greatest chance I had at successfully impacting 100-yard shots would be with this Ronin 1911 and a bench rest.
Reaching Out
I decided to start with 50-yard shots using my old silhouette steel target. I dealt with a typical Michigan winter. That included 4" of snow, 23 degrees and frozen fingers. However, I had confidence the Ronin 1911 was up to the task (more than I was!).
The 10mm ammo I used was Blazer 180-gr. target loads. From 50 yards, I hit the target five out of six shots. I planned to fire the entire eight-round magazine, but the heavy 10mm impacts knocked down my target. I grade myself a "B" and the Ronin an "A" at this stage. Instead of hammering the target stand down in the solid ice ground, I decided to move it back to 100 yards. The moment of truth was about to begin.
Sending a 180-gr. bullet downrange at 100 yards is not for the faint of heart. I shot a couple mags worth of ammo to see exactly where the bullets hit. I had to account for the bullet to drop. How much would a 10mm bullet drop from 100 yards? I had no idea.
With practice, I learned that aligning the front sight directly at the neck of the silhouette at 100 yards was my best chance for success. I noticed the bullet would drop between 8″ to 12″ at 100 yards. If I did my part, I knew the Ronin would perform well. And we all know that 10mm performance can be spectacular.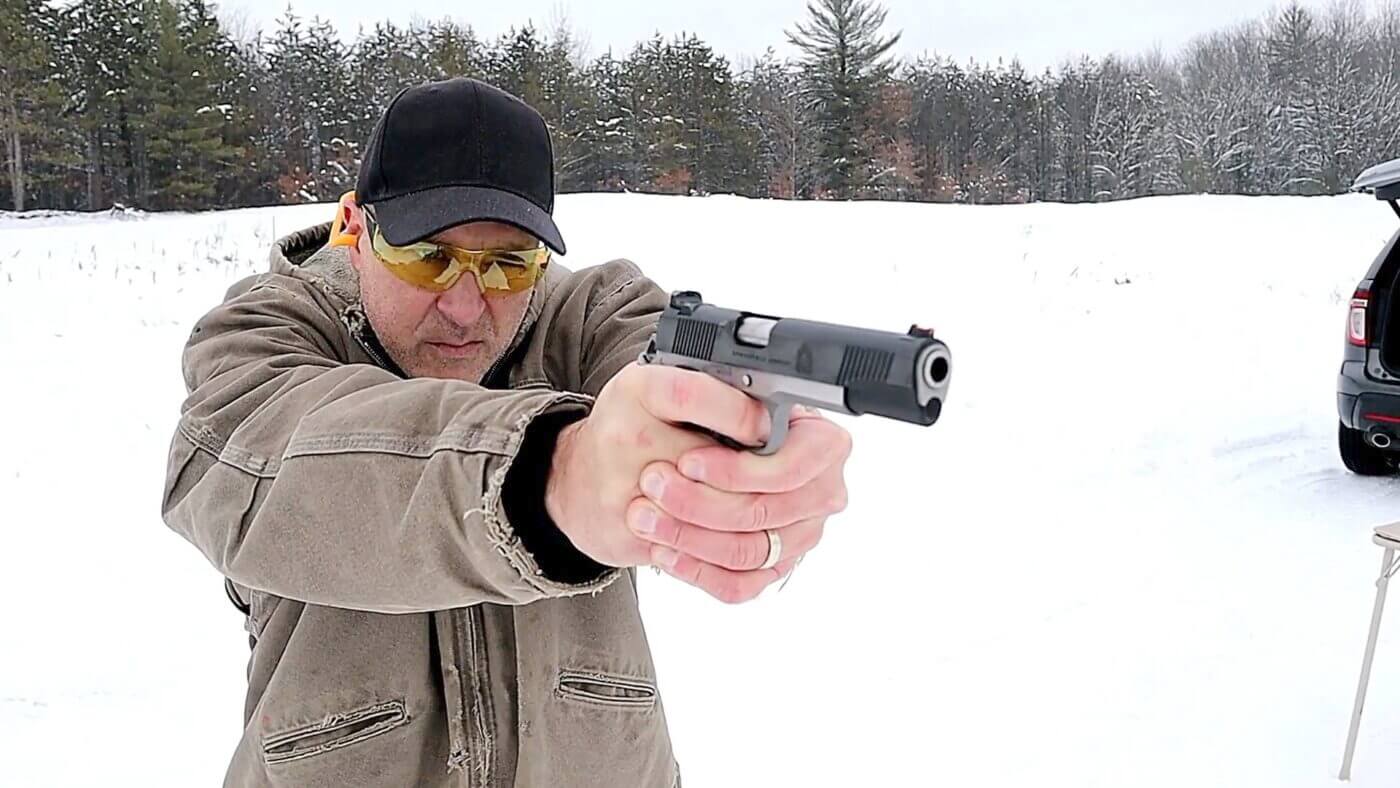 From 100 yards, I was able to hit the silhouette target six of seven shots using a bench rest. I was very happy with that performance. Full disclosure: this was the first time I have shot a pistol at 100 yards.
Conclusion
Was it a monumental achievement? Others have done this and better. However, since this was something new for me, it confirmed that the Ronin 1911 is an extremely accurate pistol that is up for a long-distance shooting task. I sure had fun seeing if the Ronin and I could do it!
Editor's Note: Please be sure to check out The Armory Life Forum, where you can comment about our daily articles, as well as just talk guns and gear. Click the "Go To Forum Thread" link below to jump in and discuss this article and much more!
Join the Discussion
Featured in this video
Continue Reading
Did you enjoy this video?
86