Bushnell AR Optics 1-8x24mm Review: Do You Need an LPVO?
May 26th, 2021
4 minute read
I live in the middle of the greatest juxtaposition in the United States. A quick train ride and I'm in the middle of a city, or a 30-minute car ride and I could walk into the woods for months. There's a constant struggle to find the best type of optic that can be utilized in each environment.
When setting up my rifles, they're designed with survival in mind. They are designed to carry me from an urban landscape to a rural one. The largest obstacle to overcome is caliber and optics. I could write about caliber choice until I'm blue, but let's stick to optics right now as it's relevant in most firearms.
A Question of Need
A variable power optic (VPO) is one that offers some type of zooming magnification capability, and this is not just exclusive to rifle scopes. Most binoculars are also VPO in design, but with a wider field of view. VPO's can divided up into two main categories: low-power and high-power.
Low-power optics tend to stick around 1X up to 10X. There's not a set distinguishing number between low-power or high-power optics, and the line differentiating them is fairly subjective. High-power optics tend to start around 12X and quickly move up.
Another significant category of distinction is the difference between First-Focal-Plane (FFP) and Second-Focal-Plane (SFP). While the distinction and functional use of these two are highly debated, the primary difference between them is a FFP reticle will grow in size as you zoom to a higher magnification while a SFP reticle will remain static as you increase magnification. Each has inherent benefits and disadvantages.
Low-Power Case Study
For this part of the piece, I selected a Bushnell 1-8x24mm AR Optic as it is a strong performer. I began playing around with different optics that will fit that low- to mid-range optic magnification, and the Bushnell drew me in. Why? It is an excellent performer for the price with good quality.
This is what we would call a low-power variable optic, or an LPVO. I'm a personal fan of the LPVO concept because of my intended use and my calibers of choice. My reasoning is as follows: I tend to focus on hunting calibers which are proven to be reliable and are a good defensive option. That narrows available calibers significantly.
A few attractive options might be the .300 BLK, 7.62x39mm or even .308. Each of these rounds carries enough mass and power to be used for defense. What sets these rounds apart is that they can all handle much of the game in North America, with minor exceptions. A mix of magnification allows me to employ a single rifle for confined urban areas and extend the visual range for hunting in wide open spaces.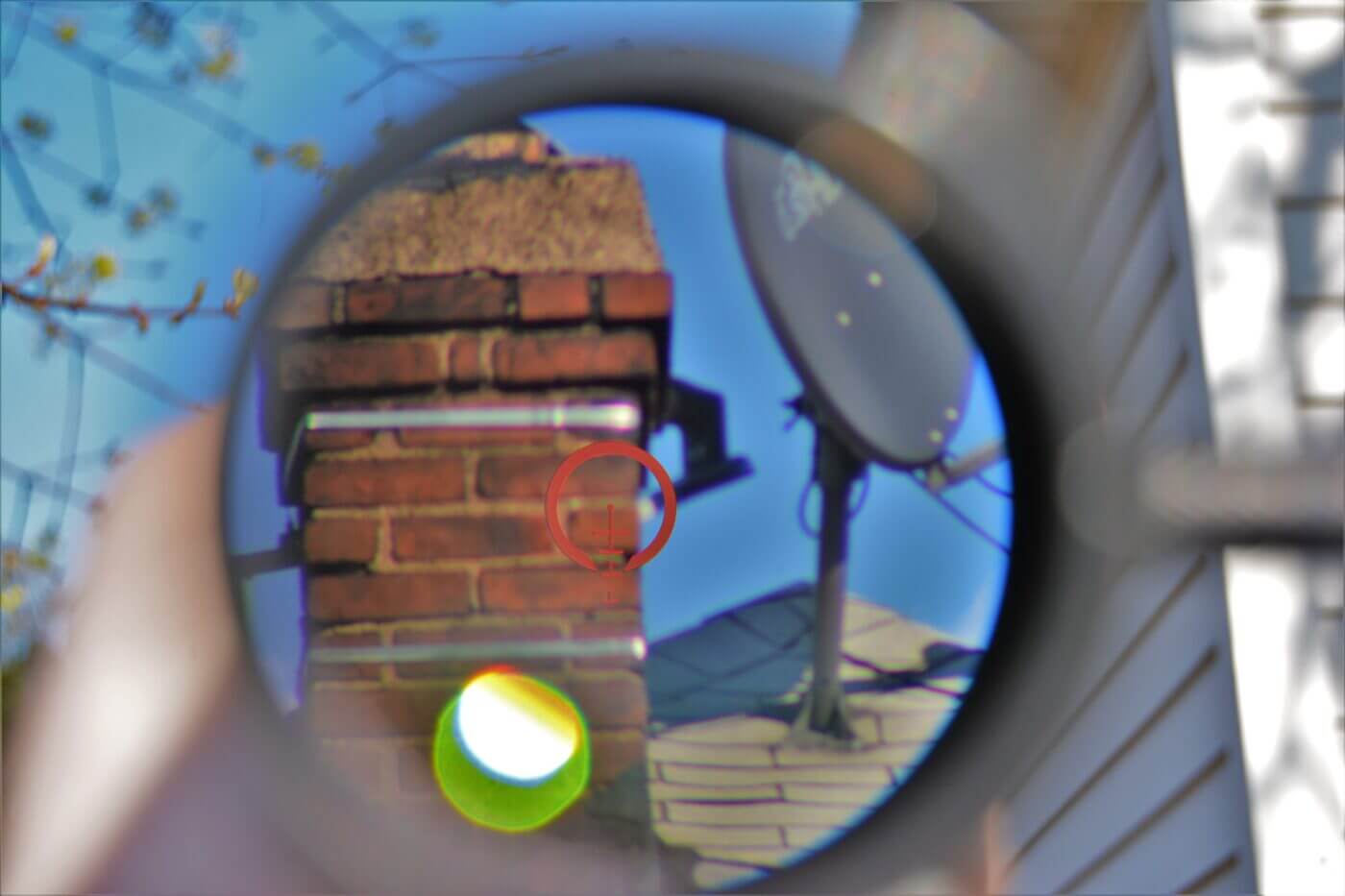 The same approach is taken into consideration for tactical usages. In highly confined areas or indoors, a 1X (no power) optic performs quite well.. Moving up in magnification, you can reach out further as needed. As a result, a lightweight variable optic can fulfill the needs of several roles in one platform.
Bushnell AR Optics 1-8x24mm Specifications
| | |
| --- | --- |
| Power/Lens Diameter | 1-8x24mm |
| Reticle | Second focal plane; illuminated BDC |
| Tube Diameter | 30mm |
| Adjustment Range | 50 mils, elevation; 50 mils, windage |
| Weight | 16.5 oz. |
| Length | 10.2″ |
| MSRP | $349.99 |
Downsides?
There are some downsides to consider. packing a significant amount of magnification into a single optic will limit the optic's field of view and eye relief. This is a reality for any variable optic. Unlike one with a set magnification, the variable optic uses several lenses curved at different dimensions. The center focus may remain clear, but distortion can be witnessed along the edges of even very high-quality glass.
Depending on the manufacturer, weight is equally problematic. To offset the downsides of a narrow field of view, many optics are made into 34mm tubes instead of the standard 30mm or 1". This means the additional materials add additional overall weight. But, its benefits can offset this. Also, that is not the case with the Bushnell I tested here.
Conclusion
The LPVO is one of my favorite optics. They're often found very reasonably priced from many different manufacturers. There is a LPVO on the market for just about everyone's needs, and it's rapidly become one of my preferred optic choices. It's worth trying for yourself.
Editor's Note: Please be sure to check out The Armory Life Forum, where you can comment about our daily articles, as well as just talk guns and gear. Click the "Go To Forum Thread" link below to jump in and discuss this article and much more!
Join the Discussion
Featured in this article
Continue Reading
Did you enjoy this article?
53