It's a conundrum. You have a firearm for home defense, a gun you would reach for in the most dire and unthinkable of situations. You need it at arm's reach when emergency strikes — and yet, you need to store it securely … even secretly. The key is that it not be accessible to unauthorized hands.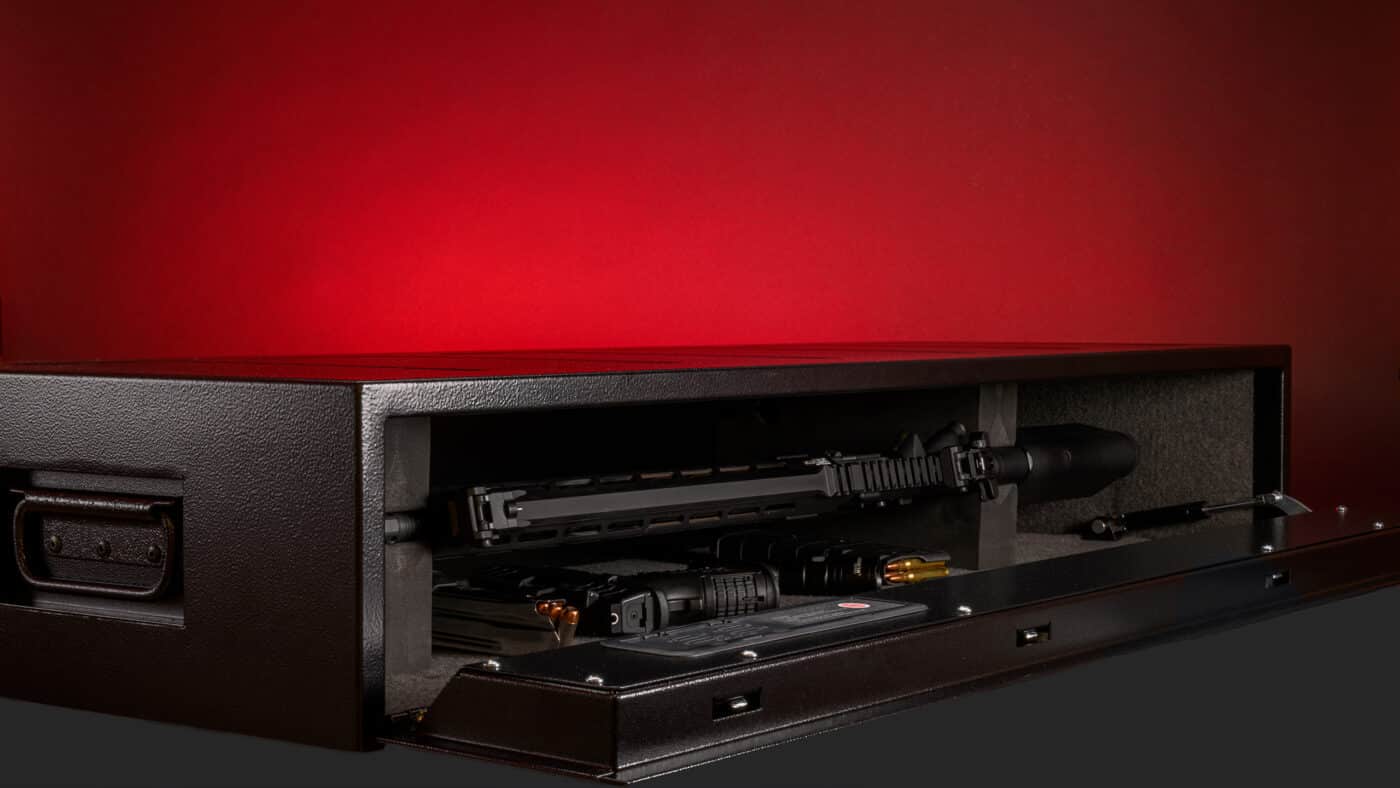 This is the contradiction faced by gun owners for as long as I can remember. You need your home defense firearm both accessible and inaccessible, and all at the same time. If you employ a long gun, such as the exceedingly popular AR-pattern semi-automatic rifle, the problem seems only to get more complicated.
The Answer?
Enter Hornady Security's RAPiD Safe AR Gunlocker. The AR Gunlocker is designed to hold either one or two AR-15 pattern rifles or defensive-style shotguns in a small footprint that provides both security from unauthorized access as well as quick entry in an emergency. I have personally spent weeks testing the AR Gunlocker, and I'm very impressed.
The unit comes pre-assembled and ready to use. All you have to do to get started is install four AA batteries, select an access method and go. More on those access methods in a moment — including the newest option from Hornady that made me smile from ear to ear!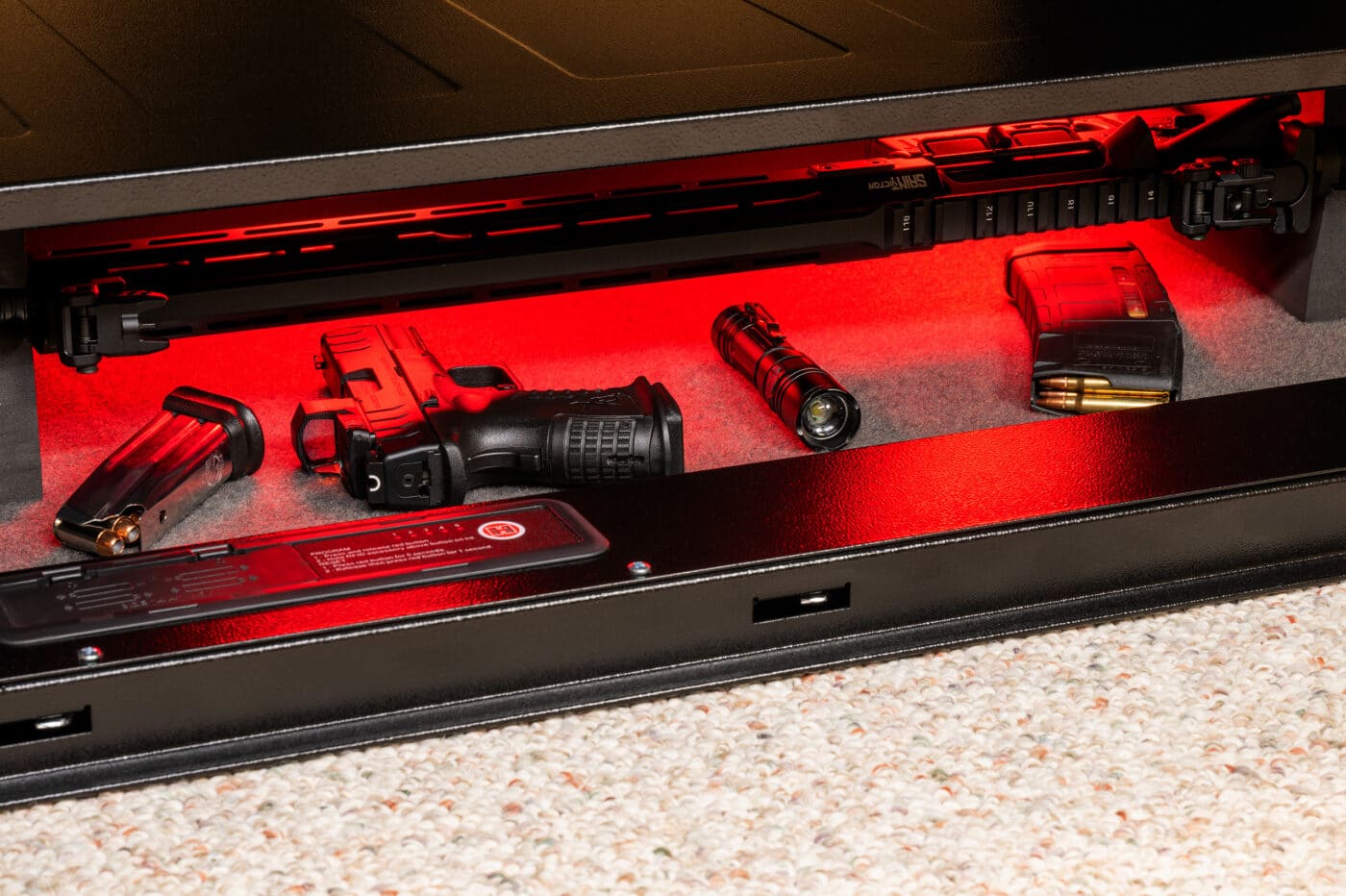 The safe weighs in at about 50 lbs. and is 42" long by 15¼" deep, and stands only 6¾" tall when laid flat. Interior dimensions are obviously a bit smaller, to allow for the tough 16-gauge steel construction, insulation and padding. There are convenient carry handles — foot locker-style — on each end of the safe to help you get it where you need it.
And speaking of that, it can be placed in a number of places and orientations to suit the storage and access needs you have. The obvious use to me is under a bed in the master bedroom, but it can also stand vertically and be tucked neatly away in a closet. There are even pre-drilled mounting holes to secure it to the inside wall of that closet. A cable is also included, to secure the unit to a bed frame or similar.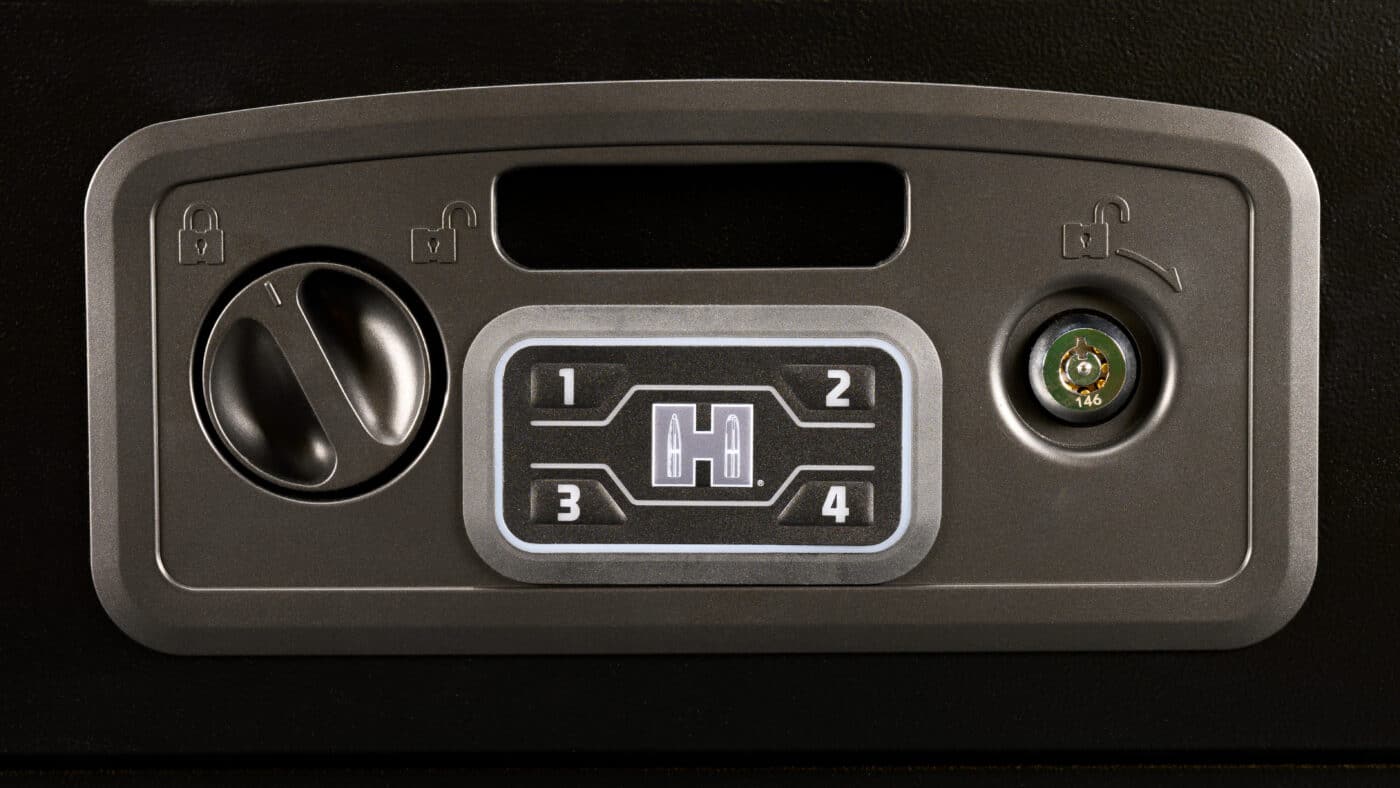 Another great use is in the enclosed bed of a pickup truck as secured transport to and from the range. Hornady even includes four rubber pads that you can stick on the bottom to prevent sliding and damage to surfaces like hardwood or tile floors.
If you need more space, the available AR Gunlocker XL is 10" tall and holds up to three rifles or shotguns. MSRP for the standard RAPiD Safe AR Gunlocker is $500.99, while it is $611.99 for the XL model.
Best of All Worlds
Now, about those access methods I mentioned earlier. Hornady's AR Gunlocker is one of the company's RAPiD Safe products, and it is made to be quickly accessed via RFID (radio frequency identification) devices. Provided with the safe are two RFID stickers that you can put on inconspicuous items, or practical items like a cell phone. An RFID key fob is also included.
And last, but by no means least is my personal favorite — the RFID watchband tag accessory. This last item replaces the previous dedicated wristband Hornady provided. This is where our personal preferences might part ways, but for me this is a huge improvement. I don't tend to wear jewelry or wristbands except for my watch, and I was never a fan of having to put one on to be able to access my firearm. I also feel it is highly conspicuous, if you're trying to avoid advertising that there is an RFID safe somewhere about.
In my opinion, the new watchband tag RFID device is pure genius. It fits perfectly on my Apple watch's standard band and even matches the color and material. I simply don't notice it being on there. What's more, it ensures that I almost always have instant access to the safe.
Two other ways to gain access are the programmable touchpad combination lock, which illuminates when touched, and two barrel keys that are provided. Setting combinations and registering the RFID devices is a cinch, and the instructions are clear and easy to follow.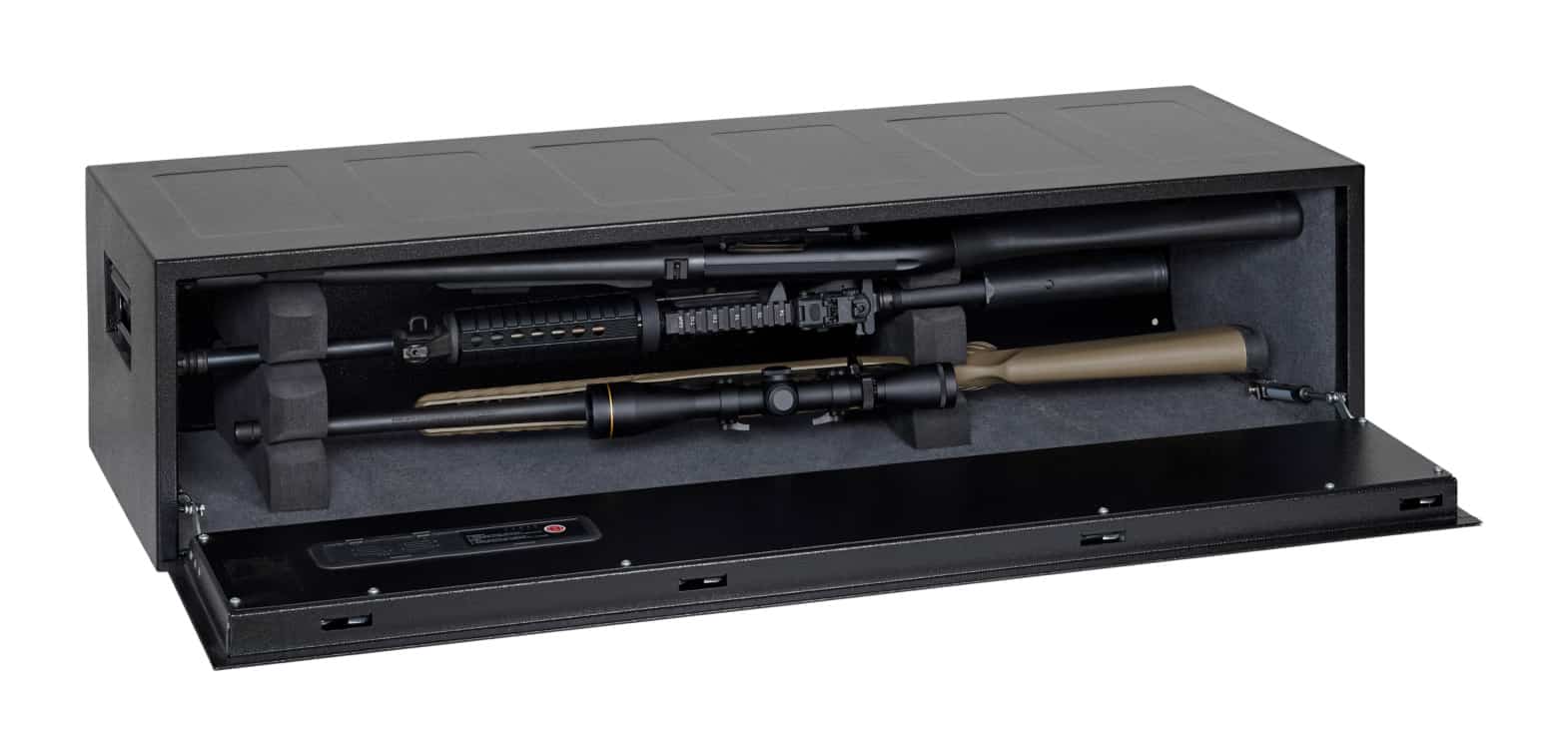 The electronic locking mechanism runs on four AA batteries, but Hornady also provides an AC power supply cord. The ideal set-up is to run the safe on AC power with the batteries installed as back-up in case of power failure. Pro tip: Put those batteries on your list to change every six months whether you need to or not.
In Practice
When it comes to storing your firearms in the AR Gunlocker, you have some choices for personalization. This safe is designed to accommodate either one or two long guns by arranging the padded blocks in either the one-slot or two-slot configuration. These dense foam blocks are high quality and fit snuggly into the safe — but they are easily placed wherever you need them. This means you don't need to conform your rifle to fit the safe — the safe conforms to your gun.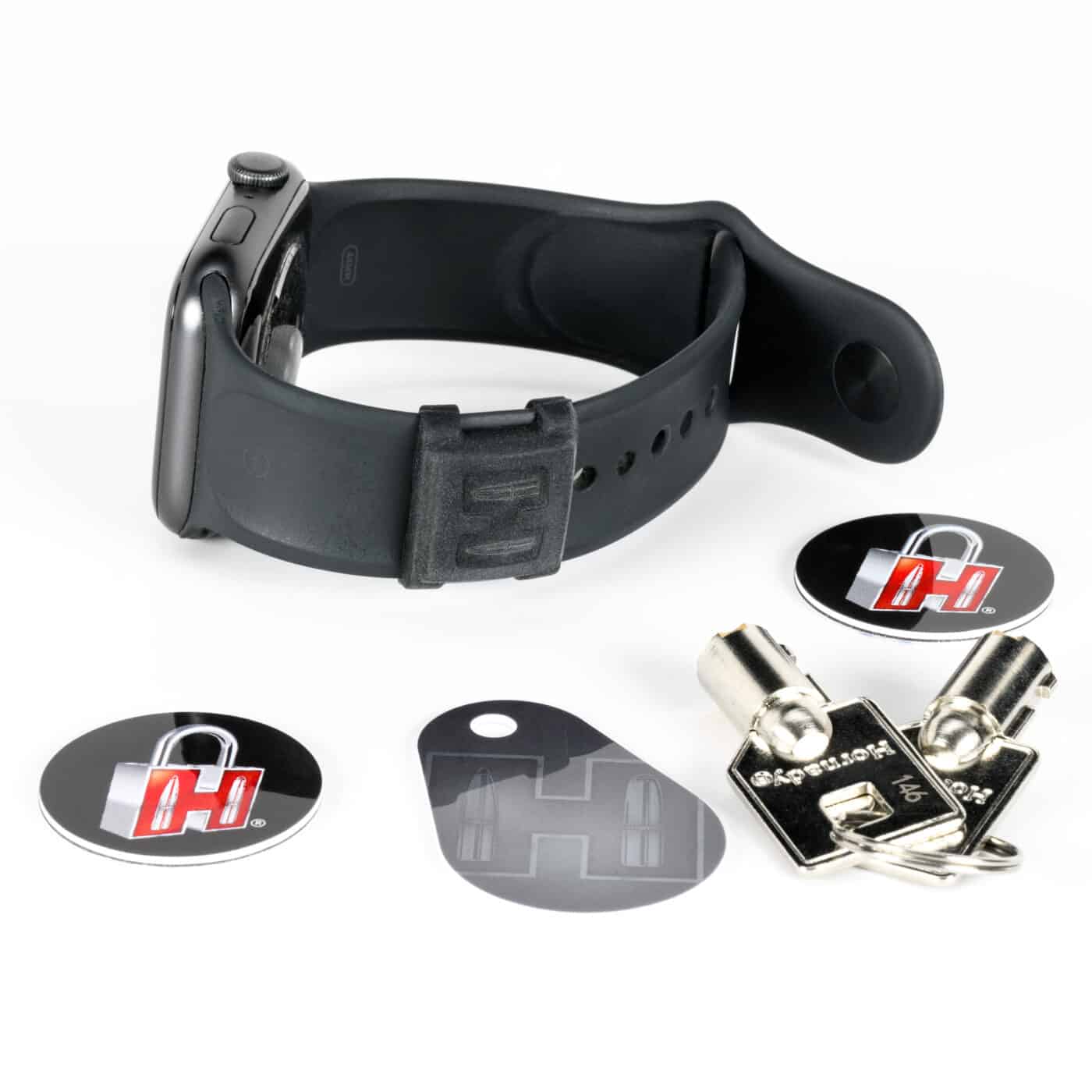 I decided to arrange the AR Gunlocker so that it would hold a single Springfield Armory SAINT Victor .223 B5 rifle, leaving room to also store a 10mm Springfield XD-M Elite handgun, and extra loaded mags for each, along with a flashlight, etc. A great piece of advice I learned from Massad Ayoob is to consider keeping some electronic hearing protection with your emergency kit. It will not only save your ears from permanent damage, but the heightened level of hearing is a great tactical advantage when you hear noises downstairs at 3 am in the morning.
Putting the Hornady AR Gunlocker to practical use was easier than I expected. As mentioned, the first important step is to ensure you have your access method chosen and set up. I chose two, and would recommend that for most users. In addition to the watchband device, I programmed a six-digit combination for the keypad (you can also program a four-digit code if you prefer).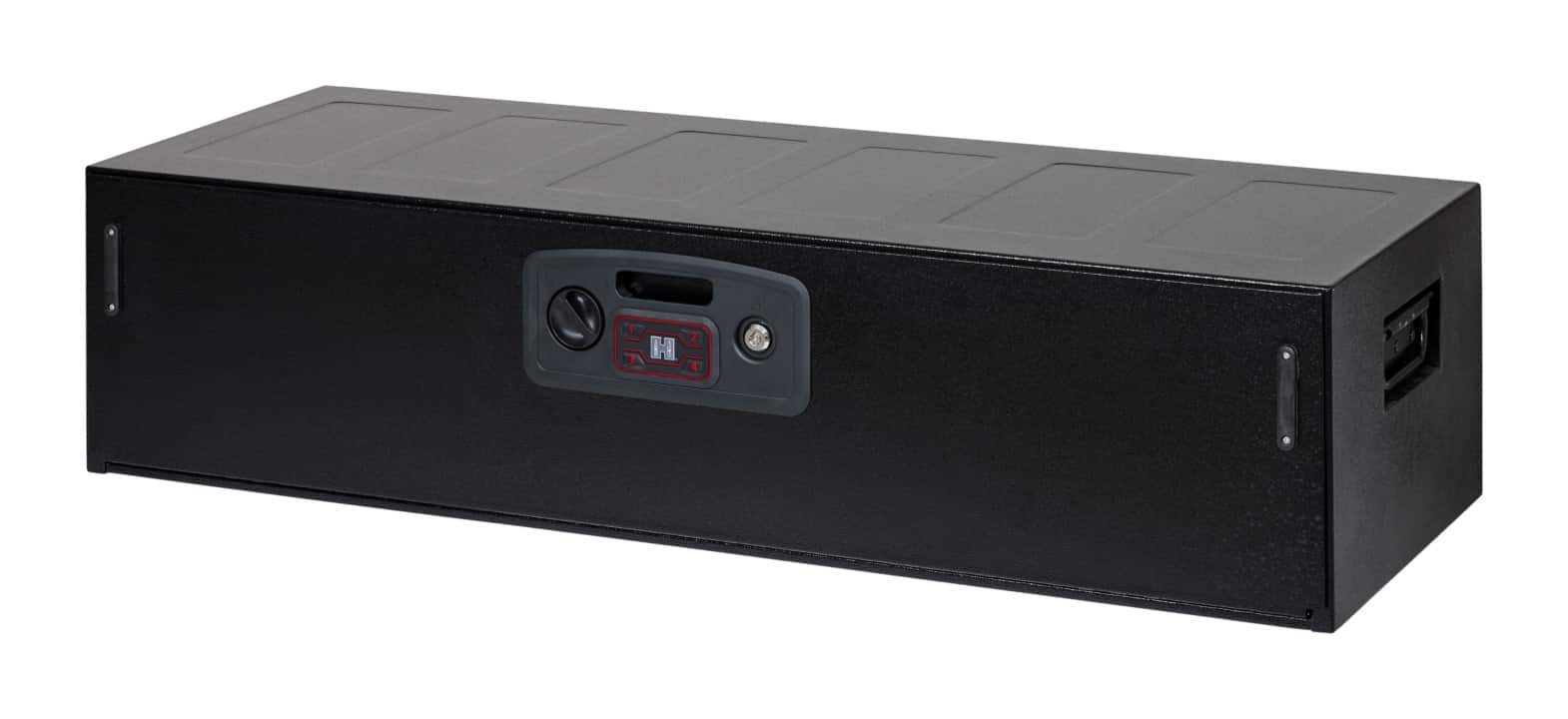 This approach gives me access if I don't have my RFID device with me, and it also is a way to share access with other authorized individuals if needed. Most other safes use one form of access or the other, so having both is a huge advantage. As for the provided barrel keys — those should be stored in a very secure place once the other access methods have been configured.
Regarding my selection of guns and gear for the safe, the SAINT Victor fit easily in it with length to spare, and without having to adjust the stock. To accommodate the rifle, I removed and re-inserted the dual-option foam blocks so that only the single slot side was facing out. This is easy to do, but the blocks are very tightly fit to ensure they stay in place.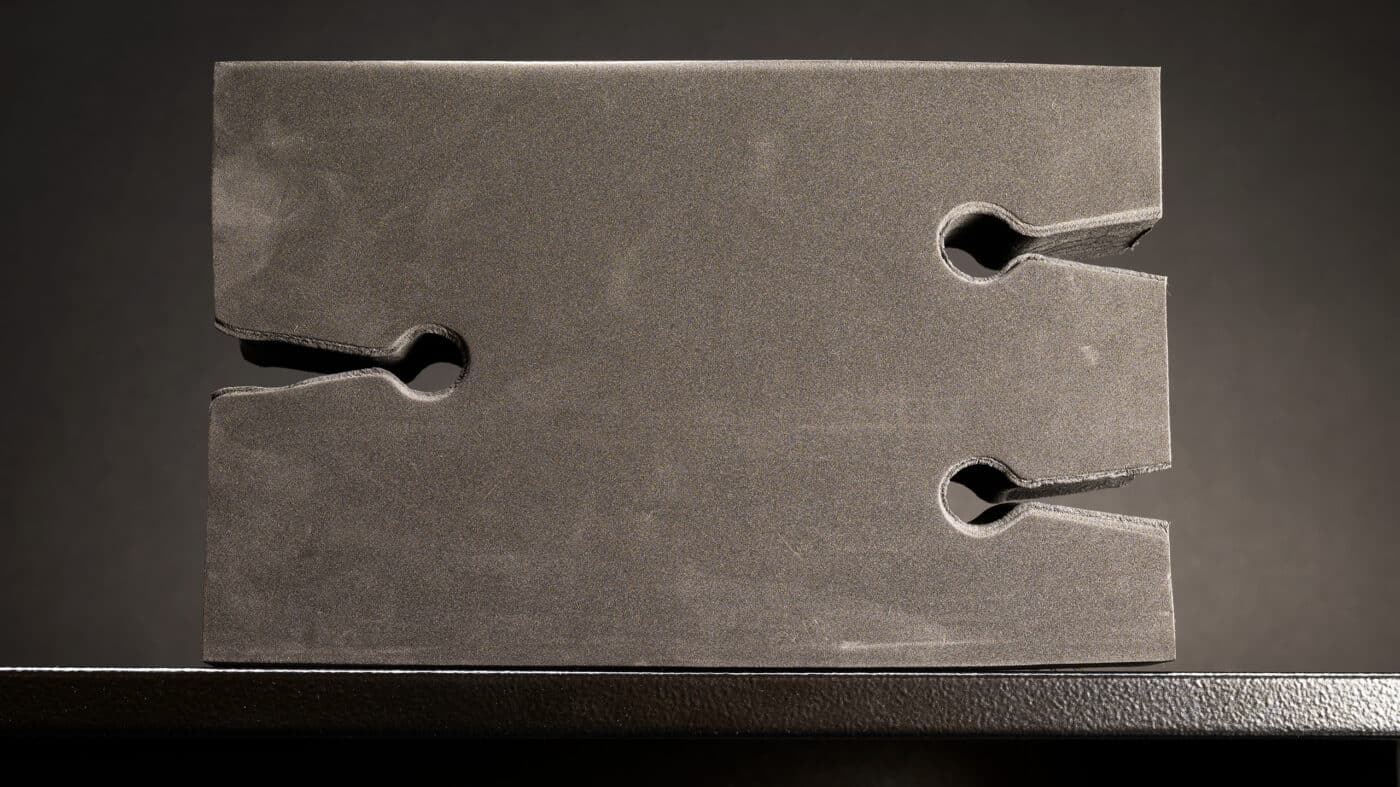 Because I decided to use the safe horizontally, I was able to just lay a handgun inside, resting it on the nicely padded surface. Extra loaded magazines for both the rifle and the handgun had ample space, and my flashlight finished my home defense kit off.
Because the AR Gunlocker is intended for your security, and not for the convenience of a snatch-and-grab thief, the provided security cable can (and should) be used to secure the safe to a fairly permanent fixture — such as the bed frame or a truck bed cargo tie, etc.
Because I am a doubting Thomas when it comes to trusting electronic locks, I always over-test them with considerable repetitions of use with every access method I plan to use. The Hornady locking system did not fail a single time, whether it was opened with an RFID device or the keypad combination.
When unlocked, the spring-loaded door will automatically swing open. The movement is dampened by the use of a hydraulic opener, which prevents it from smashing fingers or banging the floor. For the latter concern, the outside of the door is cushioned with two rubber bumpers that prevent the steel shell from contacting your floor.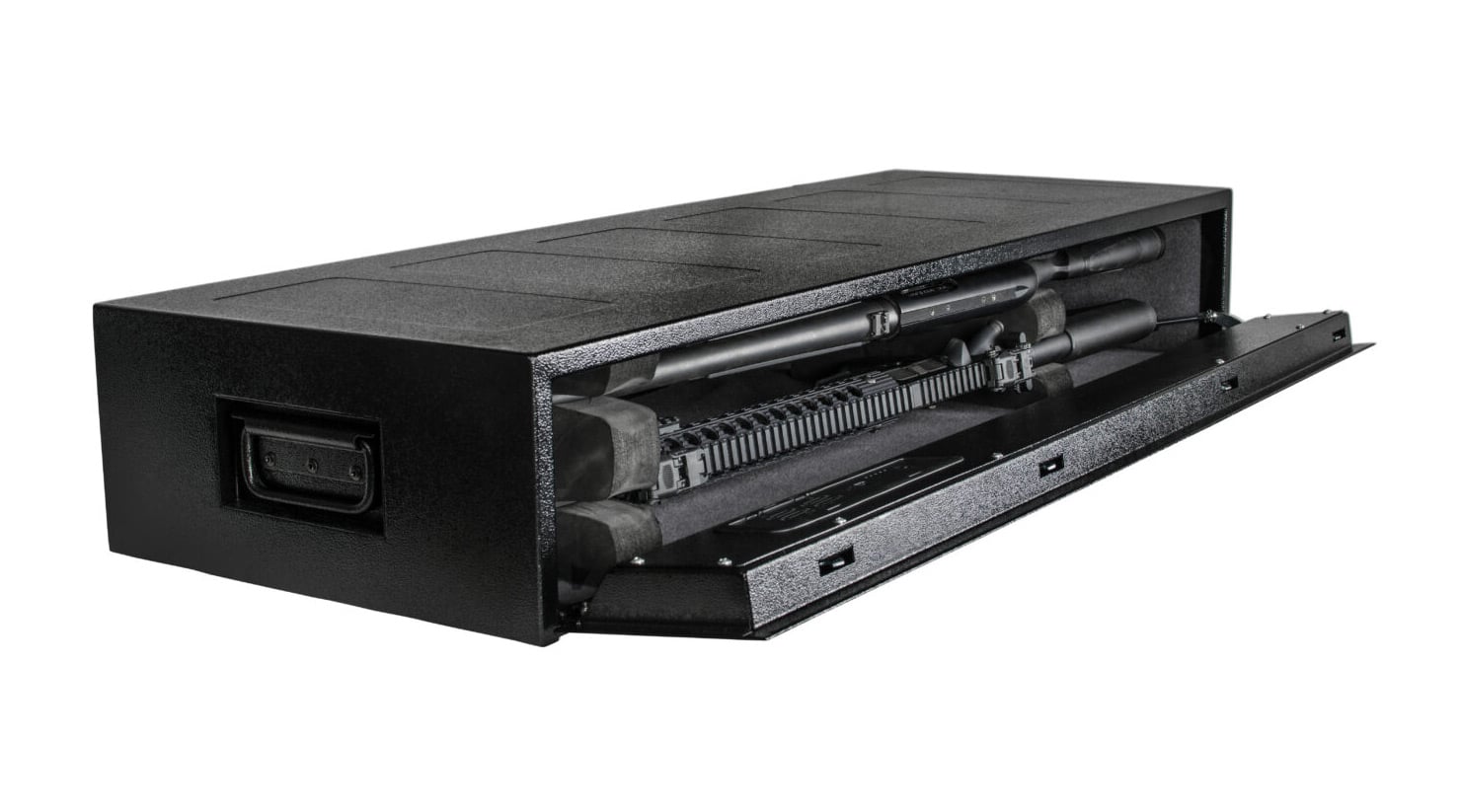 There is a bit of noise when the safe opens — the whirring sound of the internal motor, and the clanking of the releasing bolts. Total silence would be nice, but I have yet to encounter any electronic safe that doesn't make some noise.
Conclusion
The bottom line for me on the Hornady Security AR Gunlocker is that it is good to go. The build is strong and secure, the capacity is more than adequate for most needs — and you have the XL model if you need more space, and the functionality is both versatile and reliable. I'm already wondering how I made it this long without one. Looks like that's one conundrum solved!
Editor's Note: Be sure to check out The Armory Life Forum, where you can comment about our daily articles, as well as just talk guns and gear. Click the "Go To Forum Thread" link below to jump in!
Join the Discussion
Featured in this video
Continue Reading
Did you enjoy this video?
48